Do you and your date enjoy a good craft cocktail, but dislike the downsides of the bar scene? What if you and your special someone could skip the I-4 traffic and not have to push through the crowd in order to savor your favorite adult beverage? Taking a cocktail or mixology class in Orlando will make for a fun and educational date night.
It will also give you and your honey exactly what you need to make future date nights at home just as exciting and delicious as your favorite speakeasy or craft cocktail lounge! Here are a few of our favorite places to take a cocktail class in Orlando.
Get ready for Thanksgiving and the holiday season in Orlando by taking a mixology class together, or visiting one of the local Orlando distilleries. Read on for more info!
Updated October 2022 by Beth Bell and Dani Meyering
Weekly/Monthly Mixology Classes
Sangria University at Disney's Coronado Springs Resort
1000 Buena Vista Dr, Lake Buena Vista, FL 32830
When: Saturdays and Sundays, 1:30pm
Cost: $59 per person
Book online
Every weekend, Three Bridges Bar and Grill at Disney's Coronado Springs hosts Sangria University, a hands-on sangria lesson that's perfect for couples. Learn about the history of sangria and see what goes into the restaurant's four house-made drink recipes. Then put your knowledge to work and create your own custom blend, using your choice of wine, fruit, and liquor. To wrap things up, every participant gets their own sangria flight with four drinks and a light appetizer, perfect for enjoying on the breezy waterfront patio.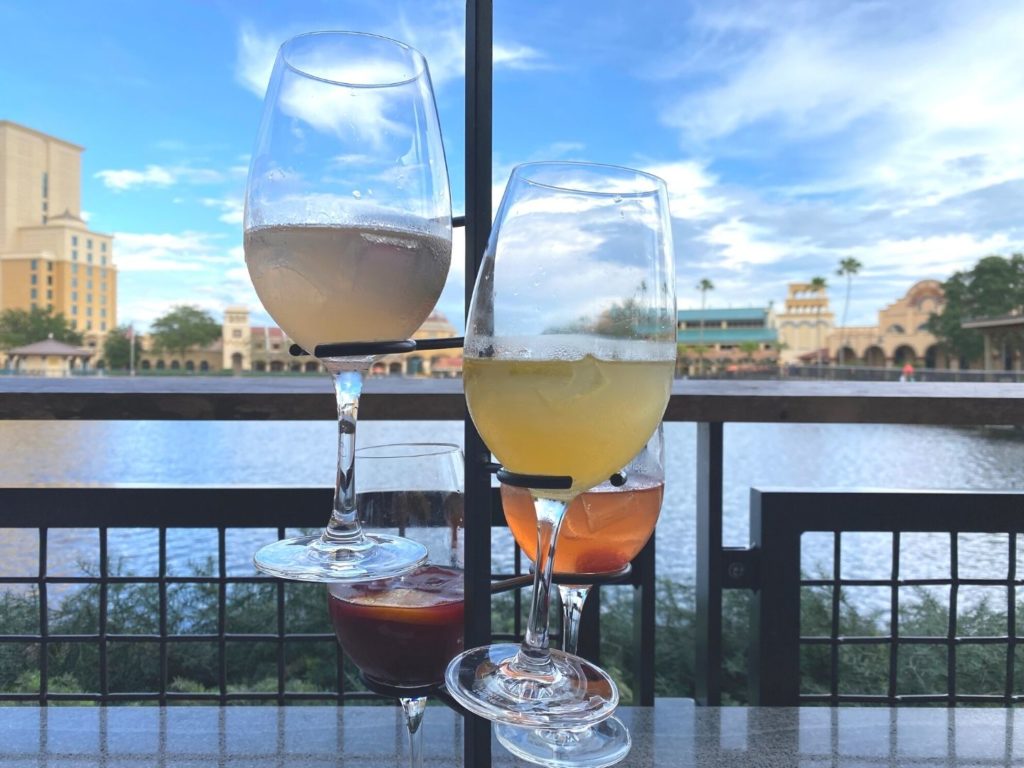 Sangria Flight at Coronado Springs Resort – Dani Meyering
The Courtesy
1288 N Orange Ave, Winter Park, FL 32789
When: Every 1st and 3rd Saturday of the month, 5:15pm
Cost: $60 per person
Contact: info@thecourtesybar.com
Cocktail classes at The Courtesy are a staple of Orlando's craft cocktail scene. Classes are currently suspended while the team settles into their new Winter Park location, which is expected to open in late summer 2022. Here's what you have to look forward to when the new location opens.
Classes at The Courtesy are perfect for the couple who enjoys a little history served up with their cocktails. Not only will you learn how to make full-size versions of your favorite classics and the story behind them, the cost includes all the materials and gratuity as well. Each class usually lasts around 90 minutes and includes three drink creations. Interested in booking a completely private class? This swanky bar will accommodate your party of 10 or more people on any Saturday (bachelor or bachelorette parties, anyone?).
Loading… Gastrobrunch
1023 New York Ave, St. Cloud, FL
When: One Friday a month, usually
Cost: $45 per person
Contact: Open Table reservations
Loading… Gastrobrunch in St. Cloud specializes in creative concoctions. Mixology classes are usually offered once a month. Learn how to make three cocktails while being guided by co-owner/beverage director at Loading… Jahnae Allen and bartenders Bailey Price and Laura Agredo ! Full dinner menu & tapas available until 9pm! Class starts at 6pm.
Check the Gastrobrunch events page for the latest class
Private Group Mixology Classes
Mix & Munch at Tapa Toro
8441 International Dr #260, Orlando, FL 32819
When: Varies
Cost: $49 per person
Contact: events@tapatoro.com or 407-226-2929
Tapa Toro's Mix & Munch Cocktail Class offers hands-on mixology instruction paired with dreamy Spanish-style tapas. Choose two signature cocktails, like the exciting Peachy Habanero or classic Mediterranean Mule, and four tasty family-style tapas. You can even add a fifth tapa at $5 per person! Choose from savory dishes like ham croquettes, garlic shrimp, and tomato-rubbed bread.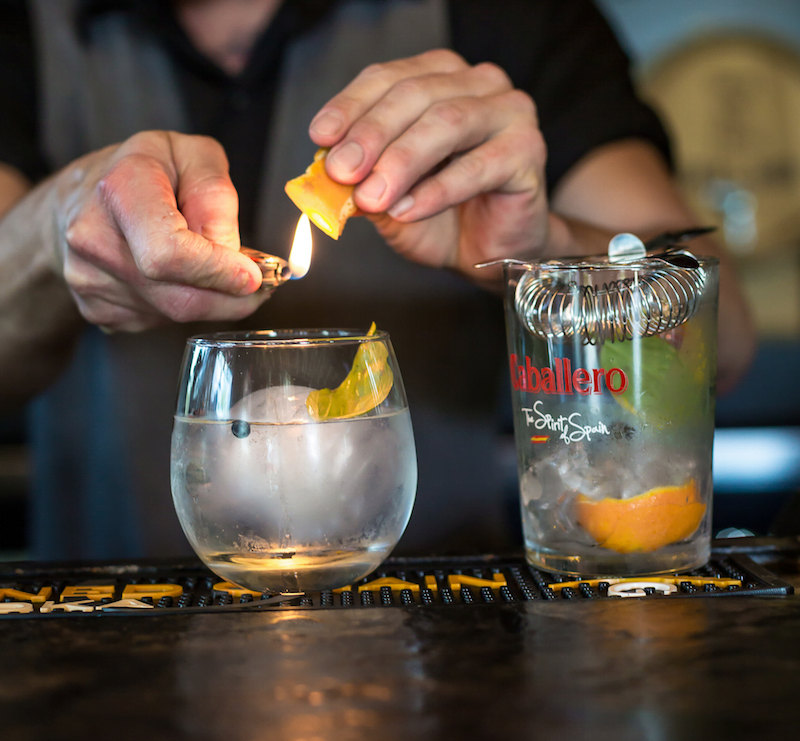 Photo courtesy of Tapa Toro
Follow along as an instructor shows you how to prepare each drink, then relax and enjoy the good vibes. At the end of the night, you'll even get recipe cards so you can recreate your favorite drinks at home. This experience is designed for a minimum of 8 people, so get the whole gang together for an unforgettable night out.
RELATED: A Guide to Orlando's Best Private Dining Rooms
Ultimate Mixology Picnic by The Picnic Drop
Location Varies
When: Varies
Cost: $100+ per person
Contact: Info@thepicnicdrop.com or book online
For an interactive mixology lesson that's truly next-level, book a private mixology picnic from The Picnic Drop. Not only do you get your own bartender instructor and three curated cocktails, but the team will provide a gorgeous picnic setup in your location of choice. The cost includes all bar equipment and cocktail ingredients, plus a picnic table, pillows and blankets, placemats and napkins, and table décor. Choose your date, time, and place, and the team will get in touch to create your perfect day. You can even book a photographer, if you want to commemorate an extra special occasion. A minimum of ten guests is required, making this an ideal option for girls' nights and lively group dates.
Encore Resort at Reunion
7635 Fairfax Dr, Reunion, FL 34747
When: Varies
Cost: $44 per person, plus $75 hourly mixologist fee
Contact: events@encorereunion.com or book online
Guests staying onsite at Encore Resort can book in-home mixology lessons starting at $44 per person, plus an hourly mixologist fee. Learn to create two craft cocktails from a selection of rum, gin, whiskey, vodka, or tequila-based recipes. Guests also receive complimentary Fiji water and can keep their own basic bar tools to mix their own craft cocktails back at home!
This is a great option if you're visiting from out of town or doing a staycation and looking for cocktail classes in Orlando.
Limited Engagements & At-Home Classes
The Alice: An Immersive Cocktail Experience
The Oliv Bar, 745 N Magnolia Ave Ste 100, Orlando, FL 32803
When: June 29 – October 30, 2022, Wednesday through Sunday
Cost: $43 per person
Book online
For a limited time, fall down the rabbit hole and follow Alice into an immersive wonderland of boozy tea parties and theatrical live entertainment. Play games and solve riddles to create two bespoke cocktails during this 90-minute experience. And that's just the beginning of this wild walk through wonderland.
Bonus: Keep an eye out for more immersive cocktail experiences coming soon to the Orlando area!
Walt Disney World Swan and Dolphin Food & Wine Classic
1500 Epcot Resorts Blvd., Lake Buena Vista, FL 32830
When: November 11-12, 2022
Cost: $75-165 per person
Contact: FoodandWineClassic@SwanDolphin.com or book online
Every fall, the Swan and Dolphin hosts the Food & Wine Classic, a two-day event packed with gourmet food and beverage tastings, seminars, and live entertainment. An all-inclusive, two-day ticket costs $165, but you can also purchase tickets for individual seminars and events if you prefer.
In the one-hour Craft Cocktails Beverage Seminar, you and your date can learn the components of a great cocktail, then step into the bar and prepare your own drinks. This is absolutely one of the best ways to enjoy cocktail classes in Orlando.
Krafty Cocktails Videos via Aku Aku
For an easy date night at home, look no farther than the Krafty Cocktails video series on Aku Aku Tiki Bar's website. Learn how to make specialty Aku Aku drinks, like the Fu Man Chu or The Zombie, as well as classic daquiris, margaritas, and manhattans. Plus, find even more drink recipes on the Krafty Cocktails Instagram page. Put on some Hawaiian music and spread out the beach towels for maximum tropical vibes.
Read on for more ideas and cocktail classes in Orlando…
Hire A Private Mixologist
Classes can be fun, but sometimes a private event in the comfort of your own home is even better. Hiring a bartender makes for a special gift if your date is looking to take their craft cocktail skills to the next level. One way you can go about hiring is to ask your favorite mixologist upfront if they are available for these types of opportunities and what their rates are (if they have any already set). Come prepared with a little info as to what you are looking for, how long you would like the private class to be and what you are willing to spend.
Another option is to inquire with a catering business. You can find bar vendors on websites like The Knot. Although many will advertise for weddings and special large events, you may be surprised how many are able to help staff your stay-at-home mixology class. Well-known vendors include Bitters & Bombs, Beck N Call Bartenders and Sol-Tree Cocktail Co., just to name a few.
Mixology Date Night at Sea
Going on vacation? Several cruise ships departing from Florida ports offer mixology classes, tastings, and beverage seminars out at sea.
Disney Cruise Lines offers beverage tastings for an additional fee aboard all of their ships, including the much-anticipated Disney Wish! Tastings typically include 4-5 sample sized pours, and in the mixology course, you can even learn how to create a few specialty cocktails. Best of all, you'll receive recipe notes to take home so that you can recreate your favorite vacation cocktails anytime you like! Mixology and tasting classes tend to fill up quickly, so be sure to reserve your spot via the Planning Center as soon as possible!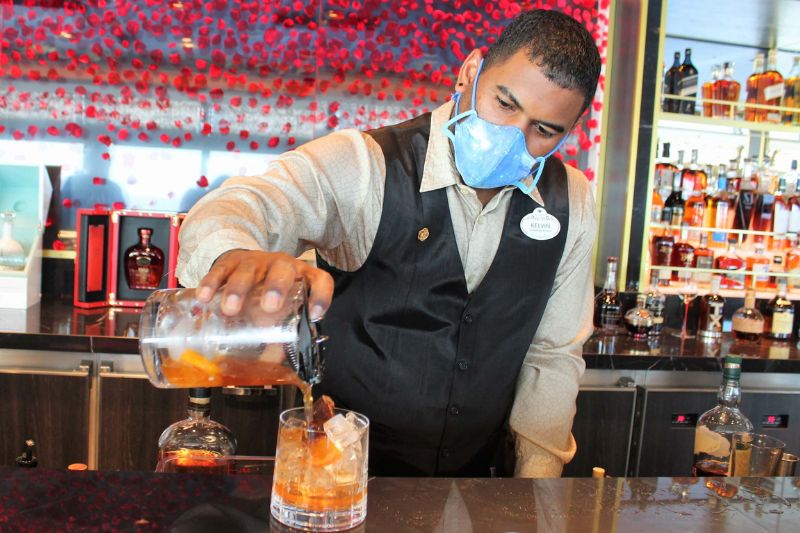 Old Fashioned at The Rose Lounge on Disney Wish – Dani Meyering
If adults-only cruises are more your style, check out the elevated offerings from Virgin Voyages. The bar upgrades are absolutely top-notch, especially the Shot for Shot mixology class at The Test Kitchen. Learn how to make delicious craft cocktails from some of the ship's best mixologists. The class even includes a mini photography lesson, perfect for capturing that Insta-perfect shot of your delicious concoction!
Local Distilleries
We have plenty of incredible distilleries nearby, where you can often take free distillery tours and sample locally-crafted rum, vodka, and even moonshine. While you likely won't find any mixology or cocktail classes here, you can go straight to the source and maybe even bring a cocktail recipe or two home! Visit a distillery near you, or add one of these spots to your next weekend getaway.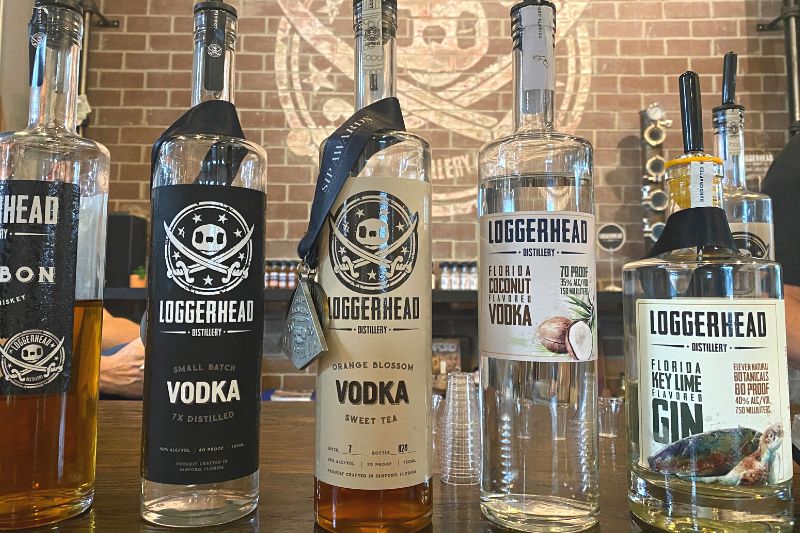 Loggerhead Distillery in Sanford makes for great mixology – Dani Meyering
Distilleries You Can Visit in Central Florida
Good news! Many Florida distilleries are offering simple cocktails to purchase while you browse their selection. Loggerhead Distillery in Sanford has a selection of simple cocktails they will make right in front of your eyes. The "Grown Up Slushie" rum punch is popular, and their tropical take on a Gin and Tonic is super refreshing.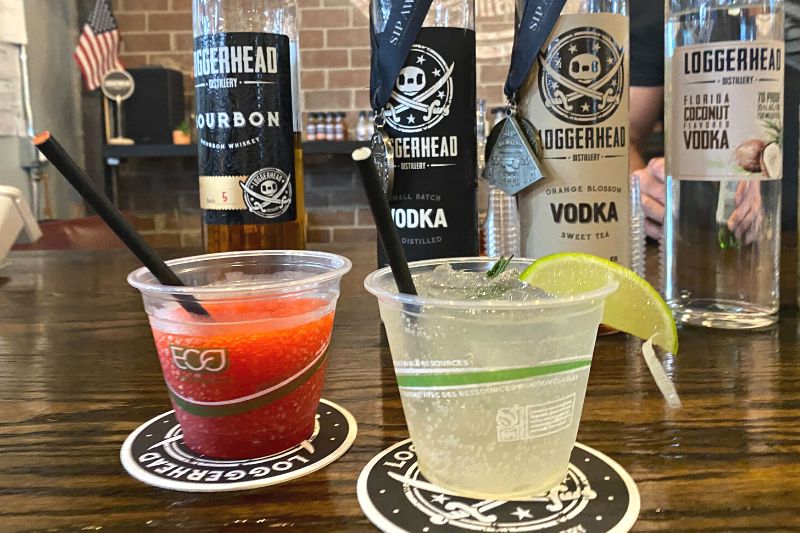 Loggerhead Distillery Sanford Serves Simple Cocktails – Dani Meyering
Florida Distilleries Worth the Drive
Feature image by Stephanie Patterson