Forget about romantic comedies, scary movies are just as ideal for date night. What other movie genre warrants consecutive hours of clutching each other for dear life through jump scares and extra spooky scenes? Rather than waiting until October 31 for a marathon, build the anticipation all month long by catching screenings of classic horror movies all around town. We've put together this guide to Halloween movies in Orlando, happy haunting!
Top pick for Halloween movies in Orlando:
Enzian Theater
Enzian Theater celebrates Halloween all month with their annual 13 Films of Halloween program. Over the course of the month, the theater screens an assortment of scary flicks ranging from cult classics to midnight movies and even a free outdoor movie in Winter Park's Central Park. Each film has an accompanying cocktail to enjoy, concocted by Eden Bar especially for the evening. Tickets range average of $12.50/person.
Don't miss the annual Halloween Party on October 29, 2022, which lines up with the midnight screening of Evil Dead 2
Here's the lineup for 2022:
10/01 at 11:59 PM | Midnight Movies: Tremors (1990, Fred Ward Tribute Film)
10/04 at 9:30 PM | Cult Classics: Hocus Pocus (1993)
10/08 at 11:59 PM | Midnight Movies: Return of the Living Dead (1985)
10/08 at 12:00 PM | Saturday Matinee Classics: Häxan (1922, 100th Anniversary Screening!)
10/11 at 9:30 PM | Cult Classics: Queen of the Damned (2002, 20th Anniversary Screening!) – This is ALSO an Anne Rice tribute!
10/13 at Sundown (8:00 PM) | Popcorn Flicks: The Adams Family (1991)
10/15 at 11:59 PM | Midnight Movies: Sleepaway Camp (1983)
10/17 at 9:30 PM | Music Mondays: Repo! The Genetic Opera (2008)
10/18 at 9:30 PM | Cult Classics: Ghost Ship (2002, 20th Anniversary Screening!)
10/22 at 11:00 AM | Book to Big Screen: American Psycho
10/22 at 11:59 PM | Midnight Movies: Basket Case (1982, 40th Anniversary Screening!)
10/23 at 10:30 AM | Kids Halloween Party Hotel Transylvania (2012, 10th Anniversary Screening!)
10/25 at 9:30 PM | Cult Classics: House of 1000 Corpses (2003)
10/29 at 11:59 PM | Midnight Movies: Evil Dead 2: Dead by Dawn (1987, 35th Anniversary Screening!)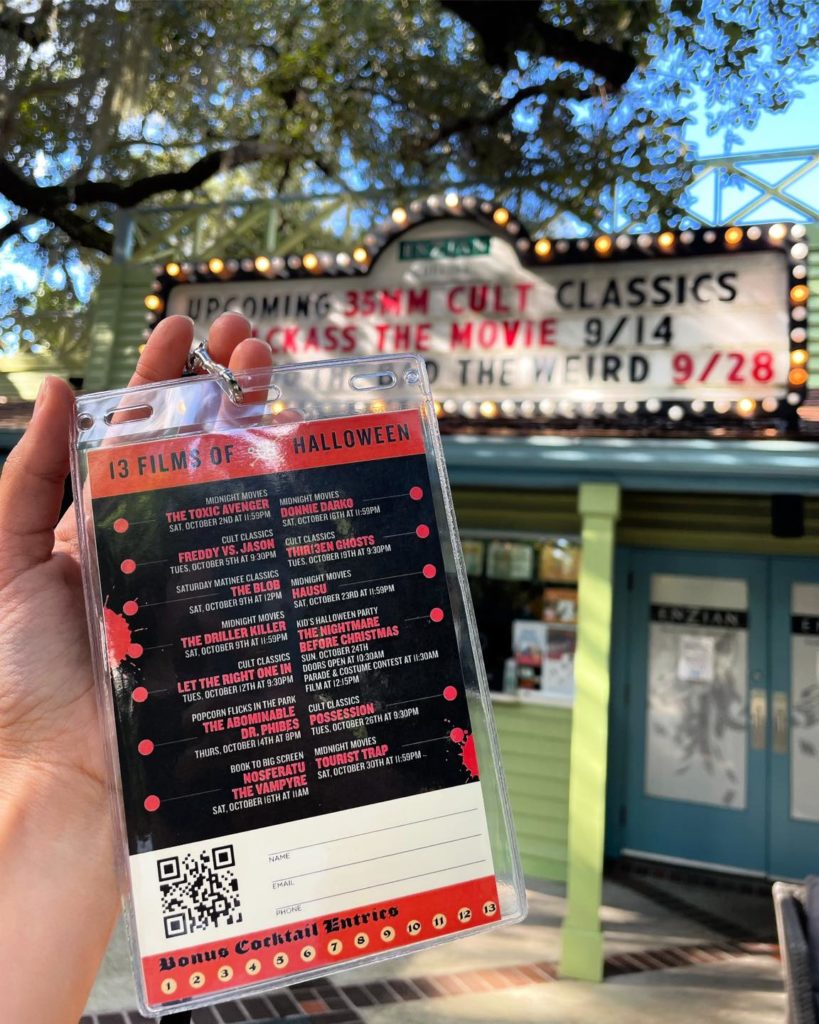 Image credit: Enzian Theater
Enzian will be offering a punch card contest for the month of October. Starting on October 1st, patrons can pick up a "13 Films of Halloween" punch card and receive a punch for every screening they attend, as well as bonus entries for each cocktail they order from Eden Bar during the month, for a chance to win a $100 bar tab! Punch cards are first come, first served with limited availability.
Ivanhoe Park Brewing Co.
The Ivanhoe Park Brewing Co. parking lot will transform into an open-air movie theater every Friday this fall! Park lawn chairs and blankets to enjoy Halloween movies in Orlando every Friday night through October 29.
Food trucks and vendors will be on site to complete the movie experience. The first Friday of each month is family-friendly, while all other weeks are more suitable for adults. Catch classics like Hocus Pocus, Halloween (the original from 1978!), Tremors, and more. Check out the schedule here.
Brew & View: Hocus Pocus 2 & Fright Free Night Market
Friday, September 30, 2022 – 7pm
Watch Hocus Pocus 2 together! Fright Free Family Night Market featuring small shop vendors, trick or treating, kids activities, and food trucks. Bring your own lawn chairs.
FREE
Garden Theatre
Garden Theatre in Downtown Winter Garden has two Halloween-worthy interactive movies on the calendar this October. Catch a screening of the iconic Nightmare Before Christmas or revisit a cult classic with The Rocky Horror Picture Show. There will be pre-show entertainment 30 minutes before each movie begins. Tickets are $15.
Nightmare Before Christmas: Sunday, October 16, 2022 doors at 6:30pm
The Rocky Horror Picture Show: Saturday, October 30, 2022 doors at 8pm and Sunday, October 31, doors at 8pm
Silver Moon Drive-In
It's a bit far to technically be Halloween movies in Orlando, but how fun would it be to watch Halloween movies at a drive-in? Get ready for a night of thrills and chills with Silver Moon Drive-In in Lakeland
Friday, Oct 28, annual Halloween movie marathon $25 per car
Retro Thrills on Screen One = Beetlejuice, Gremlins, Little Shop Horrors, Lost Boys, Nightmare Elm Street
Classic Monsters on Screen Two = Dracula, Frankenstein, Wolfman, Frankenstein meets Wolfman, Invisible Man
Oviedo Mall Regal Cinemas
Check out a classic horror movie or two during select dates in September and October 2022 at the Regal Cinema theaters inside the Oviedo Mall. While it is a bit of a drive to technically be considered Halloween movies in Orlando, this line up is worth a short drive.
Jeepers Creepers: Reborn – September 19, 20, 21
Poltergeist 40th Anniversary – September 25, 26, and 28
Double Feature with The Mummy and Bride of Frankenstein – October 1
Trick R Treat – October 6, 8, 11
Scream 2 25th Anniversary – October 9 and 10
Dawn of the Dead (1978) 3-D – October 28 – 31
This Reel from Do Orlando North has some of the details
Film Festivals
16th Annual Freak Show Horror Film Festival
October 14 – 16, 2022
EPIC Theaters at Lee Vista
The FREAK SHOW Horror Film Festival is the Largest Horror Genre Film Festival in the State of Florida
Tickets on sale soon
WANT MORE EVENTS?
Each year we create a list of more 50 Orlando Halloween events. We updated this list throughout October so our readers always have access to Orlando's most comprehensive list of ways to celebrate Halloween. Click below to visit our mega list!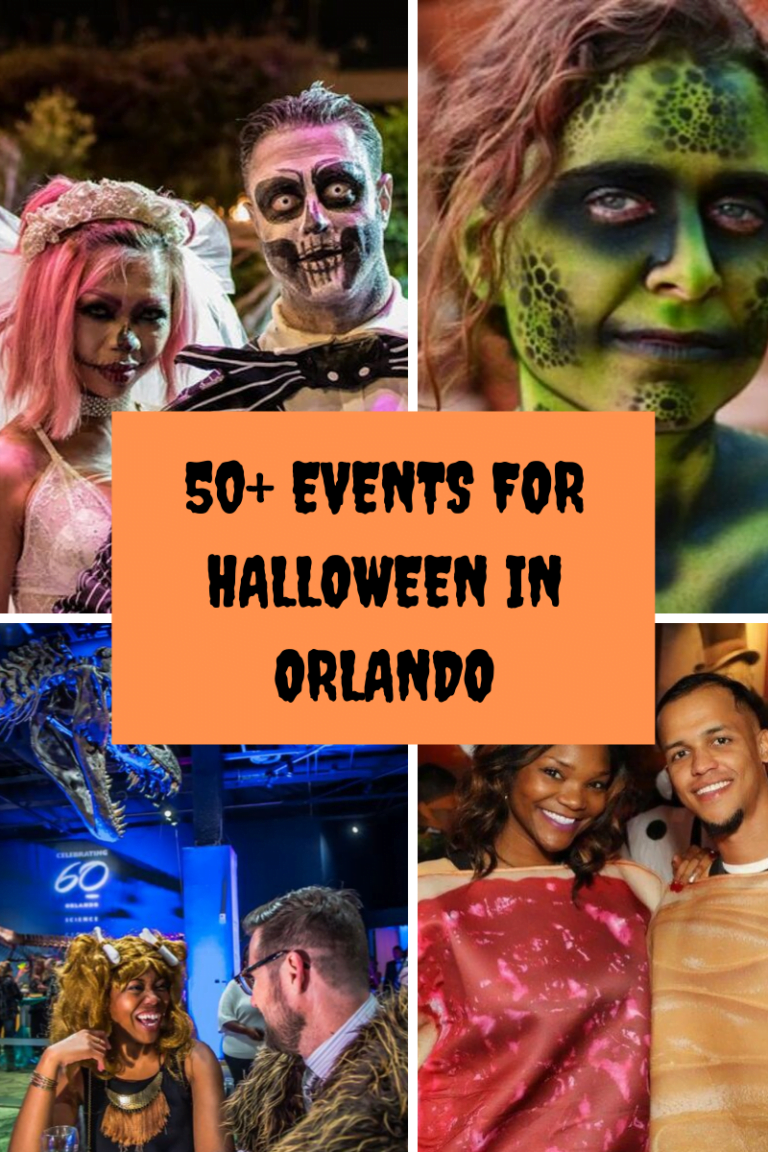 Did we miss any? Be sure to submit your event here: orlandodatenightguide.com/submit-an-event.