MADISON, Wis.— When Lexie Plath was cast in her high school's production of "Cats" she could only dream of performing that same role again one day.
If she had it her way, maybe she'd even make it to Broadway.
(Lexie Plath via Overture Center)
Plath auditioned for Arrowhead High School's competitive theater program, Broadway Company, where she landed the role of Bombalurina in "Cats." The production was named USA Today's Best High School Musical in 2008.
Years later, she reprised that very role on the national tour.
"Which was kind of just a crazy coincidence," she said. "It was like, 'Oh, I am on the right path.'"
And that path is bringing Plath right back to Wisconsin. She's the dance captain and swing for national tour of "The Prom," playing at Overture Center for the Arts through March 27.
"Selfishly, I'm really excited for my family to see the show; they have yet to see it, which is weird for me. Normally, they, you know, fly out everywhere. But because I'm a swing, I'm not guaranteed to be on and so they haven't really had the chance to experience the show I've been working on for six months," she said. "So I'm really excited that I will be on all week and that my family and loved ones will actually get to experience the show."
As a swing, Plath has to be ready for anything. She covers 11 roles in "The Prom" including 8 ensemble roles and 3 principals. She never knows what role she'll be stepping into each night, if at all, not to mention what she's wearing. Plath has upward of 250 costume pieces, the most of any cast member in the production.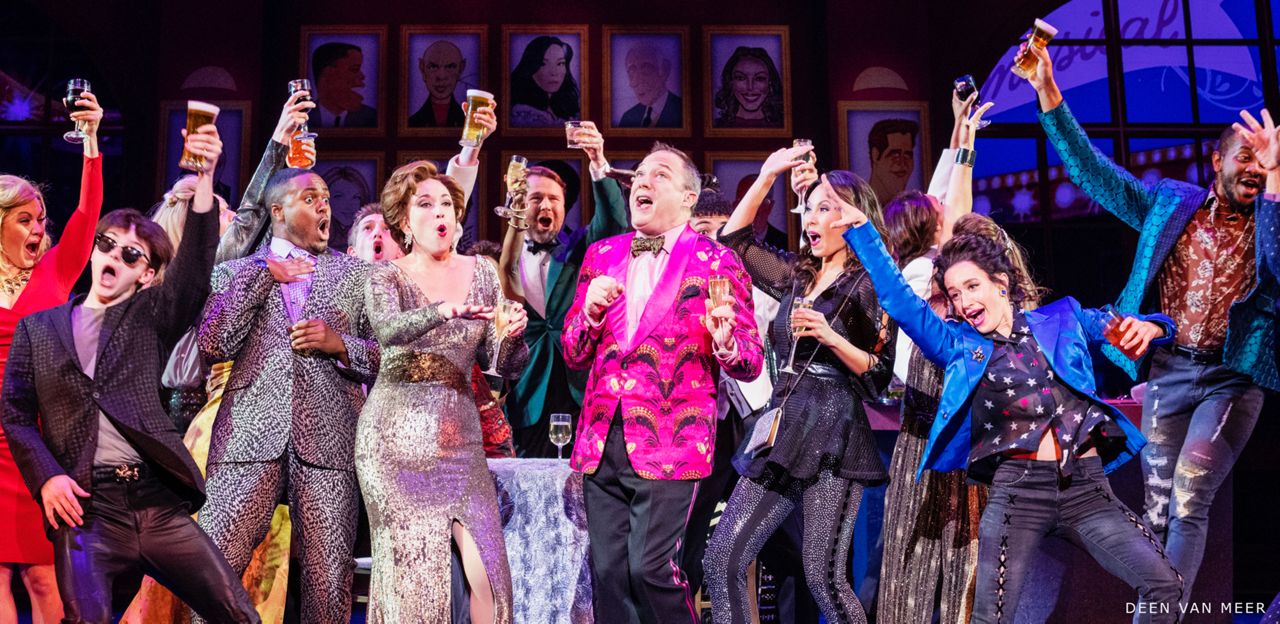 The National Touring Company of THE PROM. Photo by Deen van Meer
"So the learning curve was kind of crazy… You're used to learning one part of the show, one person's lines, one person's movements, whatever. And I was learning 11 at the same time," she said. "So it was very overwhelming at first, but now I actually really enjoy it. It keeps it fresh, doing a different show every time I'm on stage versus settling into one particular track. Yeah, it's crazy, but I really am enjoying it."
While the show runs in Madison, Wisconsin, though, Plath knows she'll get the chance to step into the spotlight. With one cast member out, she's guaranteed to be on stage. While she's pretty sure she'll be taking on an ensemble role every night, she said it's all subject to change.
Should she end up in that dance-heavy role, she has a unique opportunity to dance for one of her first dance instructors this week: Her mom.
Plath attended her grandmother's dance studio, Accent on Dance, growing up. Her mom eventually took over the Waukesha family business.
Plath even said when she would cry as a baby, her mom would bring her to tap class and she'd immediately calm down.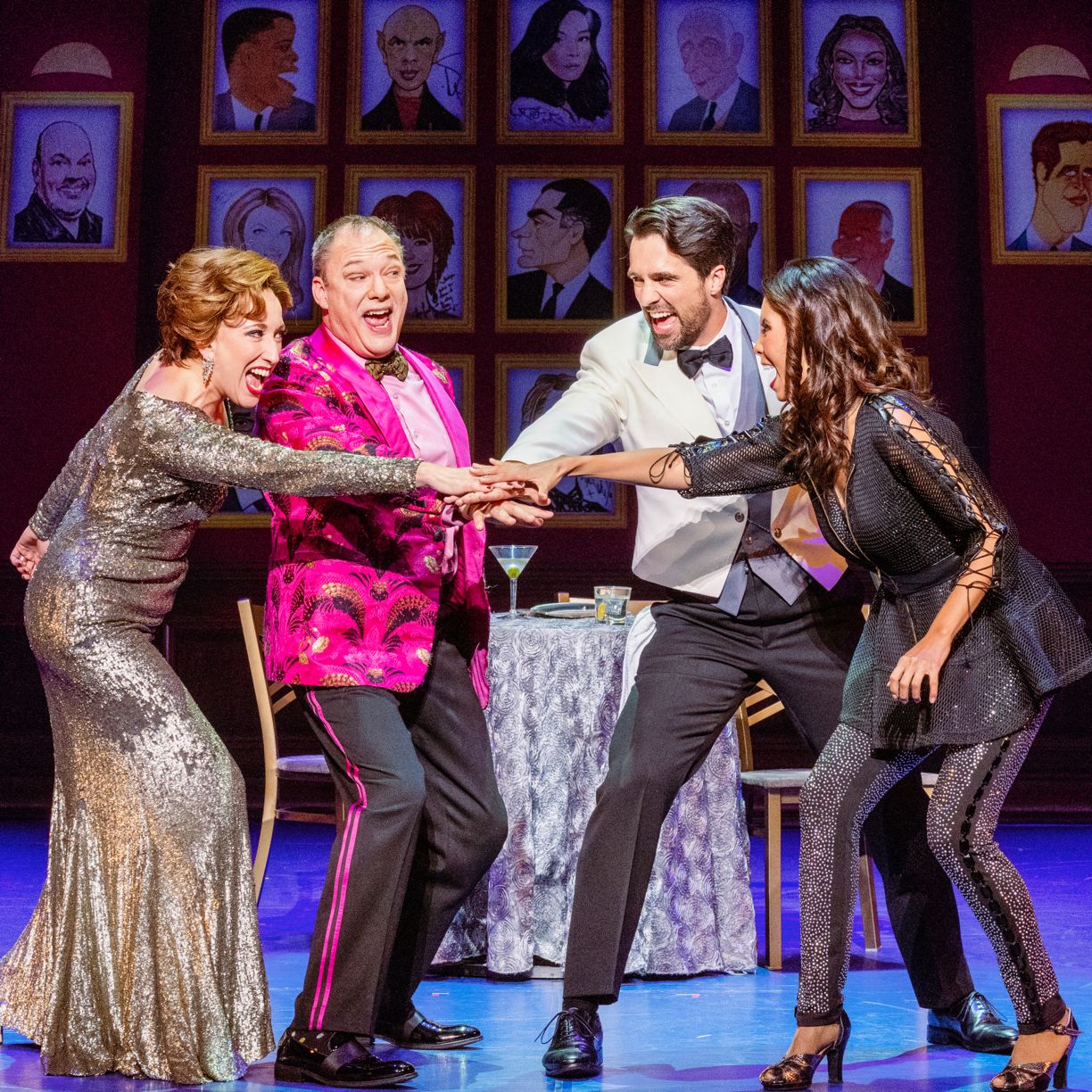 Courtney Balan, Patrick Wetzel, Bud Weber and Emily Borromeo in The National Tour of THE PROM. Photo by Deen van Meer
It's easy to see, performing has always been a part of Plath's life, and bringing the show's message to life is important to Plath. Sure, "The Prom" was turned into a movie, but Plath has a taste for live theater.
"I think that the show has a lot more humor in it," she said. "I think the live energy really heightens the humor, and the relatability of the characters. You know, you're with them on their journey live. So everything feels more vital and bright and exciting."
And the journey the characters undergo is exciting, indeed.
In the musical, four Broadway veterans take off to Indiana when they hear about a high school girl who wants to take her girlfriend to prom. Parents are strongly opposed, but when the press catches wind of the conflict, the actors see their chance to make a change.
The inspiration for the musical is based, loosely, on a true story of a Texas student who wanted to bring their same-sex partner to a high school dance, Joel Herbst, the company manager, said.
It's an issue that is all too-relevant today in light of Florida's Parental Rights in Education bill.
"Well, first of all, I think it's an important message right now. And I think it makes a situation that could be uncomfortable to people, more accessible and relatable. I think it highlights things that maybe people don't think of when they're, you know, thinking about this type of situation," Plath said. "Seeing that humanity brought to life will really shed light for many people who are confused about it or [it] does make them uncomfortable. So I think right now is an important time for this show to be on the road and traveling the country and spreading this message of universal love everywhere and just really highlighting humanity."
Herbst echoed that sentiment.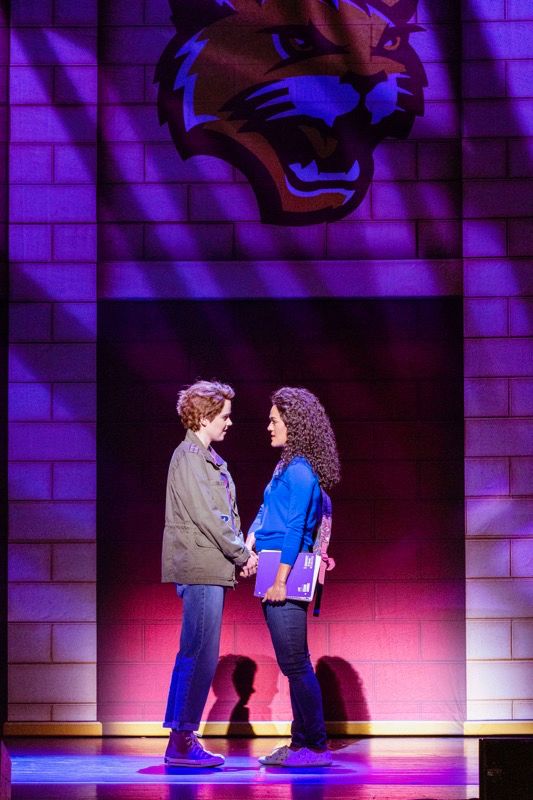 Kaden Kearney (they-them) and Kalyn West in The National Tour of THE PROM. Photo by Deen van Meer
"I hope, first of all, [audiences] just come with an open mind and have fun. Just realize that we are trying to give a message about inclusion and hope. But we're doing it in a way that's accessible and hopefully not preachy," Herbst explained.
He said when they bring the show to cities that lean left, the show can feel like a "period piece," but in more conservative areas it can feel "scandalous."
Yet, Herbst noted that even though the subject can seem heavy, the show itself is "a good time."
"It's a really fun show, you know, good music, fantastic dancing, wonderful actors. It's just, it's just silly. And I don't think there's enough of that right now in the world," he said. "You just need like two and a half hours where you can kind of turn your brain off and just laugh. And that's exactly what our show does."
Herbst, who is also from Wisconsin, is ready to show his home state some Broadway magic.
"Madison has a very special place in my heart," he said. "I didn't even know [bringing Broadway shows to my home state] was ever really an option. I mean, you know, as a kid from Watertown, Wisconsin."
"The Prom" runs at Overture through March 27. For more information on "The Prom," click here.