Movies make for some of the best date nights, wouldn't you agree? And the most spectacular event for movie lovers is back, right here in Orlando. The Florida Film Festival lasts 10 days all centered around unforgettable films, shorts, scrumptious food and drink, and fabulous parties.
And you're invited to all of it! It can be overwhelming to figure out what to do at the Florida Film Festival and decide which events are best to attend. This couple's guide to the Florida Film Festival includes our picks for the must-see movies that are best for couples as well as our picks for the best festival events and parties.
Updated by Dani Meyering in March 2022
What is the Florida Film Festival?
The Oscars come to Orlando? Well not exactly, but the Florida Film Festival boasts 180 films from 35 countries and is an Oscar®-qualifying festival. Couples can experience multiple movies throughout the festival or just see one single movie.
There are multiple ways to experience the festival. Ticket options range from admission to one single movie to all-access passes to the entire festival. Single movie screenings are $13.00. Some ticket packages include Early Entry which means you will be allowed access to the theaters before single ticket holders. Single ticket holders will be given access starting 15 minutes prior to show time.
In addition to films that are shown across a ten-day schedule, there are special events and parties. More details on the events schedule can be found down below.
When is the Florida Film Festival?
From April 8 – 17, 2022 the Enzian will present a dynamic collection of 180 films as well as special events. There are film screenings every day of the festival with showings taking place as early as 10:00am and as late as 9:30pm, or later. The weekend and evening screenings will be the most popular. Read on for how the two of you can tackle this momentous annual affair together.
What do you do at the Florida Film Festival?
There are lots of ways to enjoy the Florida Film Festival. Of course, the main draw is to watch films! But there are also special events and parties. These events are one of the ways this festival is special and a must-do date idea. And 2022 is a special year as the festival is back in full swing, and some of the films shine a light on life with COVID-19. First, let's look at how to get tickets and review our picks for the best films for couples to see together.
Step one: select your ticket or packages
Check out the Festival's Films List and decide which films are on your must-see list. You can buy tickets to a single film for $13.00. There are also multi-movie packs, ranging from 5 movies for $60, 10 movies for $115, and 20 movies for $220. To view these options select "Packages" on the Florida Film Festival Tickets page. From there, there are more options under "Passes" with a variety of options.
Important tip – Screenings that take place on weekends and in the evening can sell out, and well in advance. So get those tickets early!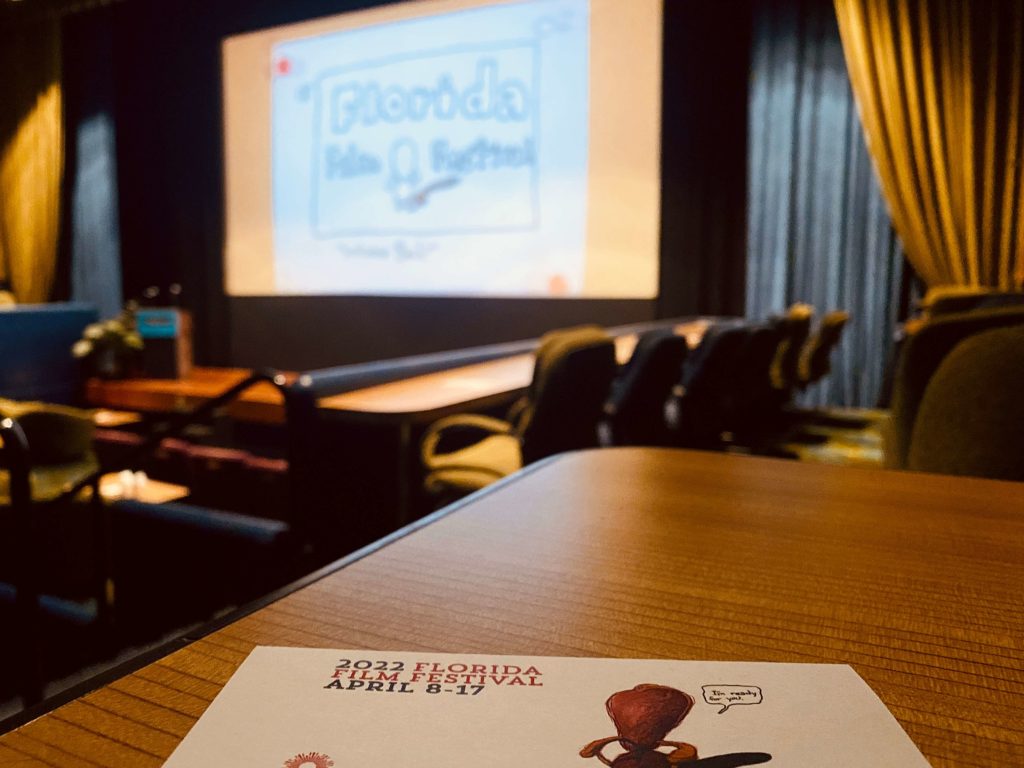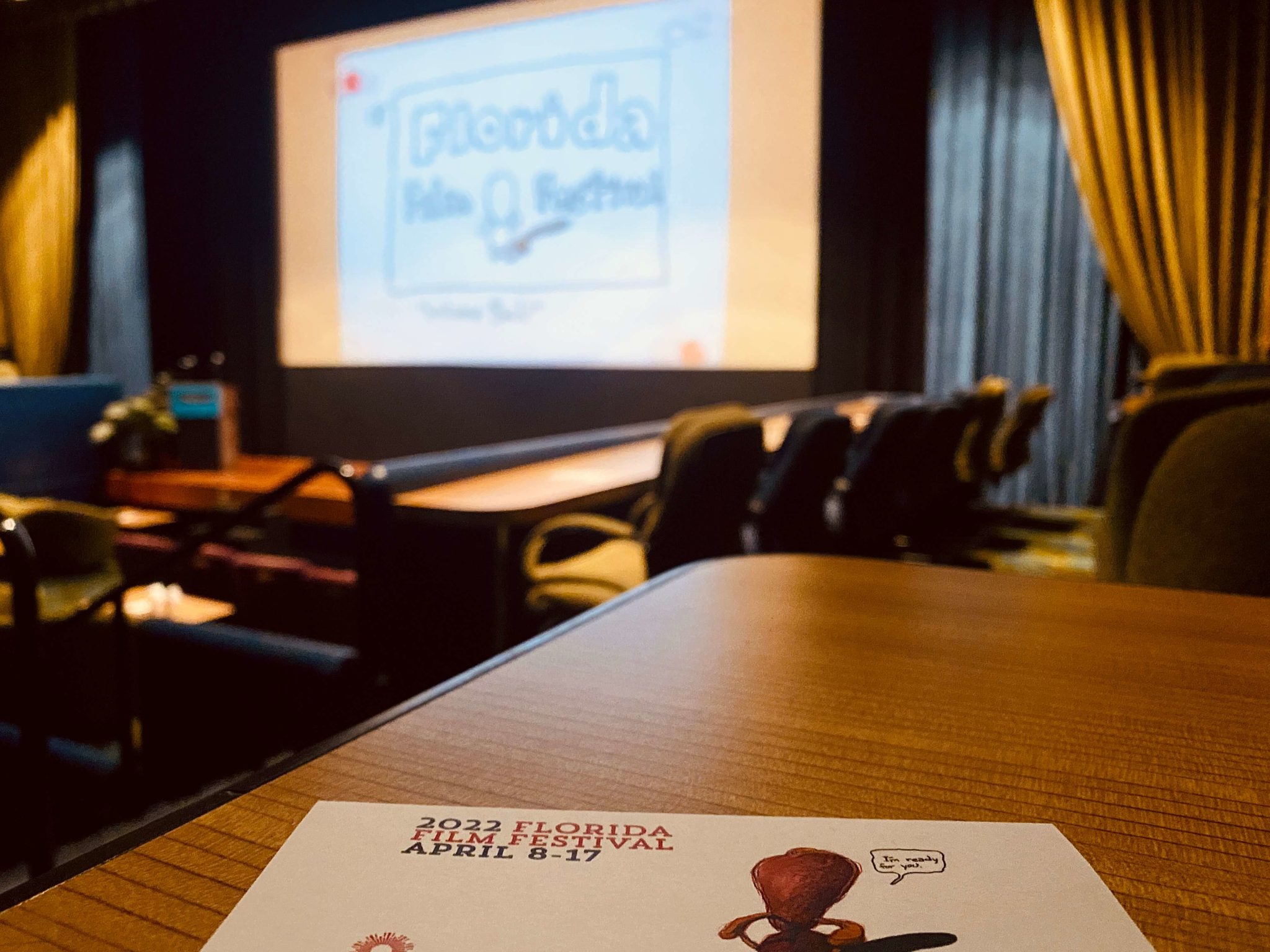 Florida Film Festival 2022 inside Enzian Theater in Orlando
Our Must-See Movies at the Florida Film Festival
We attended the Program Announcement Party and watched all the trailers for the films of the 2022 Florida Film Festival (you're welcome). Okay, well we stayed until the scary movies in the Midnight Movies and Shorts categories – eeeek.
Since there are 180 films during this ten-day festival, they are placed into categories. We've listed our picks for the movies that are best for couples below, with the appropriate category.
International Showcase
Hit The Road
From Iran, 2021, 93m – In Persian with English subtitles
Fri, 4-15, 7:00 pm
Sun, 4-17, 3:45 pm
Where are we going and why? Unknown. The trailer for this movie captured our attention immediately, and that of everyone else in the theater. It is full of rich relationships and terrific acting, and follows an entertaining family traveling on the road, and we aren't sure where they are going.
Wild Men
Denmark, 2021, 104m – In Danish with English subtitles
Sat, 4-16, 9:30 pm
Sun, 4-17, 6:00 pm
We highly recommend this one for married couples or partners that have been together for quite some time. You'll laugh out loud at this skewed buddy-comedy, Danish style. Forty-something everyman Martin (played by Rasmus Bjerg) has gone off the grid and is living like a Viking in a Norwegian forest—cell phone and trips to the convenience store aside.
Music Films
Fanny: The Right to Rock
Directed by: Bobbi Jo Hart, Canada, 2021, 96 minutes
Sometime in the 1960s, in sunny Sacramento, two Filipina-American sisters got together to play music. Little did they know their garage band would evolve into the legendary Fanny—the first all-women (and partially queer) band to release an LP with a major record label (Warner/Reprise, 1970). Despite releasing five critically acclaimed albums, touring with some of the greats, and amassing a dedicated fan base of music legends including David Bowie, Fanny's groundbreaking impact in music was written out of music history.
Sirens
This movie is in the Competition Documentary Feature category
USA/Lebanon, 2022, 78m – In English and Arabic with English subtitles
Sat, 4-9, 9:30 pm
Wed, 4-13, 9:30 pm
While this film is not in the "Music Films" category, we think music lovers will enjoy it. Based in Beirut, Lebanon, the Middle East's first all-female thrash metal band must deal with civil unrest, a failing electrical grid, economic instability, and—the most dangerous menace of all—the crumbling relationship between their guitarists, Lilas and Shery.
Poser
This movie is in the Competition Narrative Feature
Directed by: Noah Dixon and Ori Segev, USA, 2021, 87 minutes
Mon, 4-11, 6:45 pm
Thu, 4-14, 9:15 pm
While this film is not in the "Music Films" category, it is directed by two well-known music video directors and features a beloved band. Lennon (Sylvie Mix) is a disconnected loner who starts a podcast to interview musicians and narrate the story of her local music and performance art scene. Set in the real-life underground music scene of Columbus, Ohio, and featuring the actual musicians, Poser provides an authentic chronicle of a burgeoning arts scene while transforming it into the setting for a Single White Female-style suspense thriller.
Spotlight Films
Path of the Panther
Directed by: Eric Bendick, 90 minutes, World Premiere
Sat, 4-9, 6:45 pm
Sat, 4-16, 5:15 pm
This trailer brought us to tears. This captivating film endeavors to keep the Florida Panther from becoming just that: a ghost. As the last big cat surviving in the eastern United States and the state animal of Florida, the panther is an icon of Florida's ever-diminishing wild places, as revealed in the film's sumptuous images.
Calendar Girls
Directed by: Maria Loohufvud and Love Martinsen from Sweden, 84 minutes
Sat, 4-16, 10:30 am
Sun, 4-17, 1:30 pm
Based in Florida, this documentary showcases one of the many things we love about this quirky state – energetic retirees. The entire theater roared with laughter during the premiere of this trailer. They perform at animal-rescue benefits, church fundraisers, or a shrimp parade. They are the Calendar Girls, Florida's most dedicated dance team for women over 60, and they have plenty to give.
Florida Films
Surviving Pulse: Life After a Mass Shooting
Directed by: Alexa Sheehan, USA, 2022, 73 minutes – World Premiere
Mon, 4-11, 6:15 pm
Sat, 4-16, 1:15 pm
What has happened since that night to the survivors—the ones who lost friends and lovers, who are bonded together by an unthinkable act of violence? This powerful and amazingly hopeful testament gathers together many of the people who hunkered down in bathroom stalls and behind the bar (many of whom have never spoken before) and allows them a space to share the details of that night and the ongoing effects of living through a "national tragedy" from an incredibly intimate perspective.
Sunshine and Swampland: New Florida Shorts
A collection of short films made in Florida or by Florida filmmakers
Sat, 4-16, 12:30 pm
Anyone who loves Florida is going to enjoy this collection of 11 short films. The stories range from humorous to slightly horrifying.
Other must-see movies
Generation Wrecks
Directed by: Kevin T. Morales, USA, 2021, 112 minutes
Sat, 4-9, 4:45 pm
Tue, 4-12, 9:15 pm
Anyone who grew up in the '90s or has a love for '90s nostalgia will enjoy this film. Based on the trailer it is akin to The Breakfast Club and similar movies. Set in 1994, Generation Wrecks follows 11th graders Stacy and Liz, who were best friends until the seventh grade when a mysterious event drove them apart. After years of antagonizing each other, Stacy is moved to repair the friendship when Liz experiences a family trauma.
Shorts: Keep on Moving
A collection of short films about persistence, including one that focuses on life during quarantine and others that deal with relationships and family.
Sat, 4-9, 1:30 pm
Tue, 4-12, 6:30 pm
Phantom of the Open
Directed by: Craig Roberts, UK, 2021, 102 minutes
Sat, 4-16, 6:45 pm
Maurice Flitcroft is not a familiar name, even for those devoted to the PGA tour. Golf in Florida is a way of life, but while the endlessly fine days of the Sunshine State might make it a mecca for golf lovers, the sport was born in the UK. Maurice Flitcroft, who 45 years ago, was named the "world's worst golfer" after he managed to obtain a place in the 1976 British Open, where he scored a 121 for 18 holes.
Important tip – Make note of the location of the film's showing. The Florida Film Festival is so large that it takes place in multiple venues. Most of the films are shown at The Enzian Theater, but the Winter Park Library, as well as Regal Cinemas at Winter Park Village, are also utilized.
Step two: Pick a special event
There are so many fun events planned for this year's Florida Film Festival. Here are our picks for couples:
Opening Night Party on Friday, April 8, 8:30PM – Online ticket sales are no longer available at this time. Please contact (407)-629-1088 ext. 230 for more information
Opening Night Film "Pre-Fab!" on Friday, April 8, two showtimes – John, Paul, George…and Colin? Based on the book of the same name by musician Colin Hanton with Colin Hall—custodian for John Lennon's childhood home—Pre Fab! is the story of one man, his drums, and the teenage John Lennon, Paul McCartney, and George Harrison.
An Evening With William Shatner, Featuring Star Trek Iv: The Voyage Home on Friday, April 15, 7:30 pm – This will sell out! Following the film screening, Mr. Shatner will be present for a Q&A with the audience. ($150)
Awards Bash on Saturday, April 16, 8pm – You'll be among the first to find out if they have won prestigious Jury and Audience Awards. Following the ceremony, mingle with the winners and raise a glass. ($25 Advance/$30 Day-of)
Step three: Stop by The Eden Bar
One of the best features of the Enzian Theater is The Eden Bar. Locals love this open-air bar whether they are heading to see a film at The Enzian, or not. The lush landscaping that surrounds the bar and patio is entrancing, and the colorful mural behind the bar evokes the fun spirit of Florida.
During the Florida Film Festival there is live music at The Eden Bar every night from 6pm – 9pm. Enjoy the live music, sip on cocktails or mocktails, and dine on delicious fare.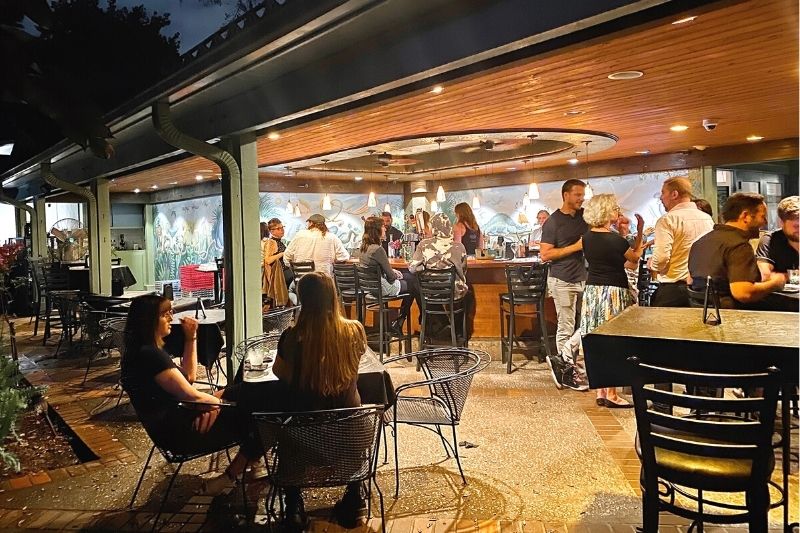 Stop by The Eden Bar at The Enzian Theater during the 2022 Florida Film Festival
Step four: Attend a free event
Besides ticketed events, which are still pretty darn reasonable, the Florida Film Festival features a few events that are free, wonderfully free! Here are a few you might want to check out:
Festival Block Party
Saturday, April 9, 3:00PM–5:00PM
Winter Park Village
Free for all Festival ticket and pass holders
Popcorn Flick in the Park – Black Panther
Thursday, April 7, 8pm
Central Park, Winter Park
Grab your chairs and blankets and head to Central Park for a special movie screening sponsored by Full Sail University. This year-round outdoor series is an initiative of the City of Winter Park and Enzian Theater. These films are presented with open captions. April is Chadwick Boseman Tribute: Black Panther
The Florida Film Festival has a reputation for being one of the warmest and most welcoming film festivals in the world. In its 31 year history, it is the event for film creators and buffs to casually gather and celebrate great cinematic art. Grab your sweetie and join in the festivities; you might just reignite more than a love of film.