Our picks for the best restaurants for brunch in Orlando!
Brunch is unquestionably one of the best meals of all time. When else can you feast on savory dishes alongside some being dangerously close to dessert, while you indulge shamelessly in bottomless adult beverages? Throughout our ongoing brunch research efforts, we've tried everything from fondue to brunch burgers and chilaquiles to homemade pop tarts all in an attempt to unearth the best brunch in Orlando. It's a tough job, but somebody has to do it! From bottomless mimosas to sinful seafood, here are a few of our favorites restaurants for brunch in Orlando.
PS: Check back often as we visit more spots and continuously update this page with new finds. We also recommend verifying availability with each restaurant ahead of time, as things are subject to change!
Most recent update by Dani Meyering, March 2022
Easter Brunch in Orlando
Before you dive into our picks for the best brunch in Orlando, let's hop over to check out some of the places offering Easter Brunch in Orlando. Easter is Sunday, April 17, 2022 this year, and although plenty of places have yet to announce their Easter Brunch offerings, it's a good idea to plan ahead.
After reviewing some of the Easter Brunch options below, keep reading for the best brunch in Orlando — many of which would make a great choice for Easter, or anytime.
Here are a few Orlando restaurants that normally offer Easter Brunch but have not announced anything official for 2022, as of our latest update.
Best Restaurants for Brunch in Orlando
Soak up the coastal vibes while sipping on a frosé bellini at this brand new addition to Pointe Orlando on I-Drive. This stylish eatery marks the beginning of a total transformation of Pointe Orlando, complete with comfy patio furniture, neon signs, photo ops galore and a spectacular menu to match. Brunch is perfect for a girls' day outing or casual date. Did we mention there's live music? The menu features exclusive brunch dishes, cocktails AND mocktails alongside some favorites from the regular dinner menu (pictured above in feature image).
Brunch hours: Saturdays and Sundays from 10am-3pm
Bottomless deals: Try the mimosa kit, which comes with 1 bottle of bubbles plus your choice of 3 juices
Must-try dish: Wild Berry French Toast, Sunrise Beach Bowl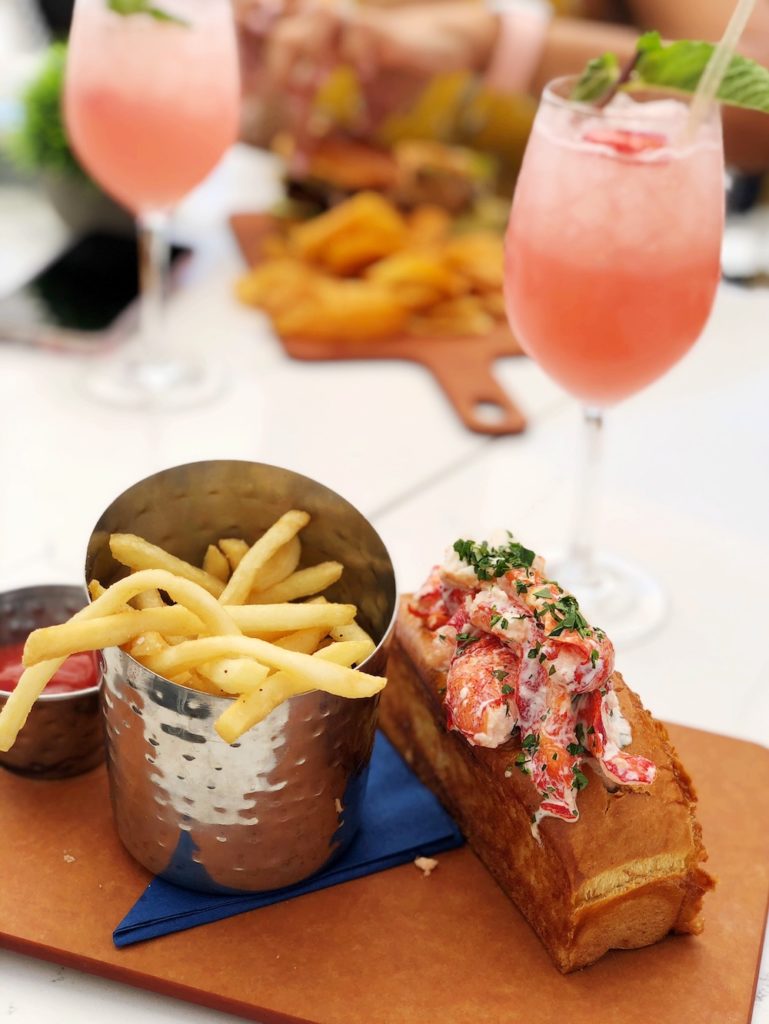 The first time I dined at Bulla, with a steady stream of tapas arriving at the table to be shared amongst new friends, I was hooked. It's since become one of my go-to destinations for everything from weeknight book club meetings to hours-long girls' brunches. There's no wrong time to visit, but brunch hours come with definite perks. Served Saturdays and Sundays from 11am-4pm, brunch includes bottomless mimosas and sangria ($19) plus an extensive $29 three-course prix fixe menu option.
Brunch hours: Saturdays and Sundays from 11am-4pm
Bottomless deals: $19 bottomless mimosas and sangria
Must-try dish: Braised pork hash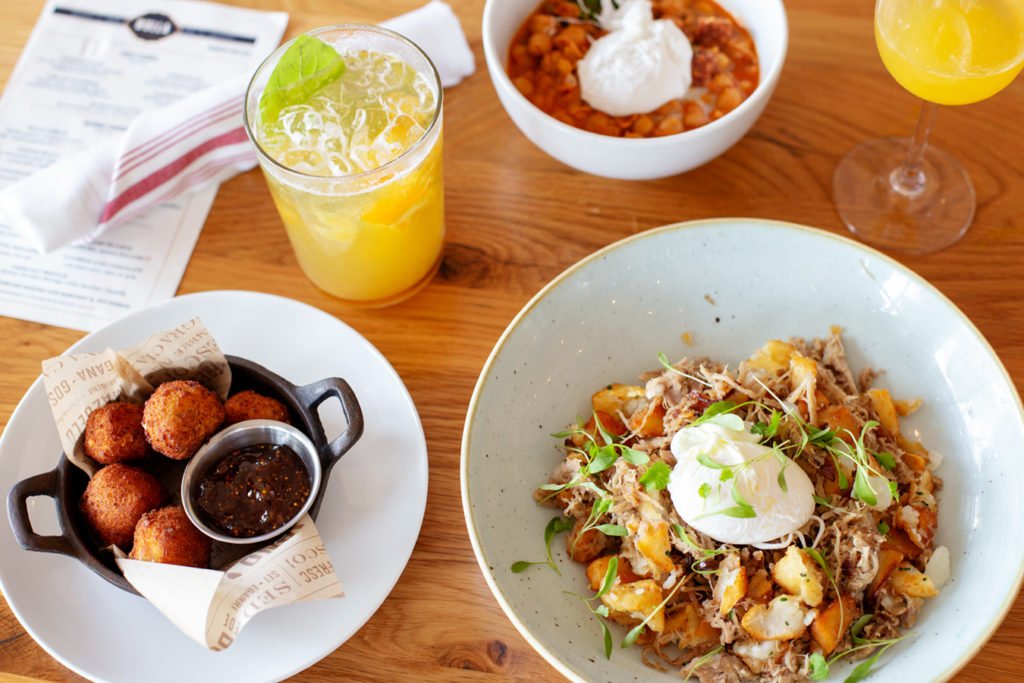 A local favorite hiding in plain sight in a residential neighborhood surrounded by the Thornton Park District, Colonialtown and The Milk District, Maxine's on Shine is no secret among Orlandoans. Especially those who love to brunch. Yet its popularity doesn't take away from the eatery's signature charm, including the funky vibe, fantastic menu and retro details. The weekend Rejuicination Brunch offers a welcome reprieve from the stresses of the workweek, with live music, tons of outdoor dining space, an assortment of hearty dishes, and all of your favorite brunch libations including sangria, mimosas, and the biggest Bloody Marys in town.
Brunch hours: Fridays, Saturdays and Sundays from 10am-3pm
Bottomless deals: Nope, but mimosas come in an assortment of flavors alongside sangria and Bloody Marys
Must-try dish: Chicken and Waffles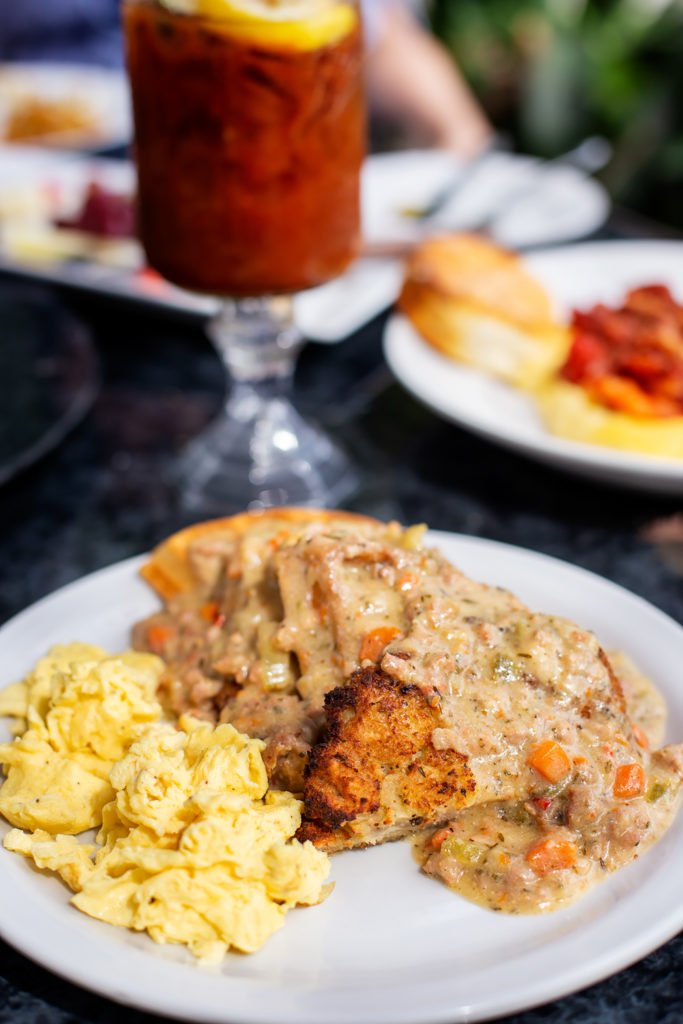 Avid brunch-goers are no strangers to Park Avenue in Winter Park; it's one of Orlando's go-to spots for brunch or a Sunday funday. An abundance of brunch choices also makes it all too easy to miss hidden gems like The Parkview. This cozy, inviting wine bar and restaurant is literally full of rows of floor-to-ceiling wine bottles. Served every Saturday and Sunday from noon-4pm, brunch offers something out of the norm with photo-worthy mimosa flights and creative chef specials.
Brunch hours: Saturdays and Sundays, starting at noon
Bottomless deals: No, but they do have mimosa flights, or get a whole bottle of champagne with your choice of two juices
Must-try dish: The menu changes frequently based on what is fresh and in season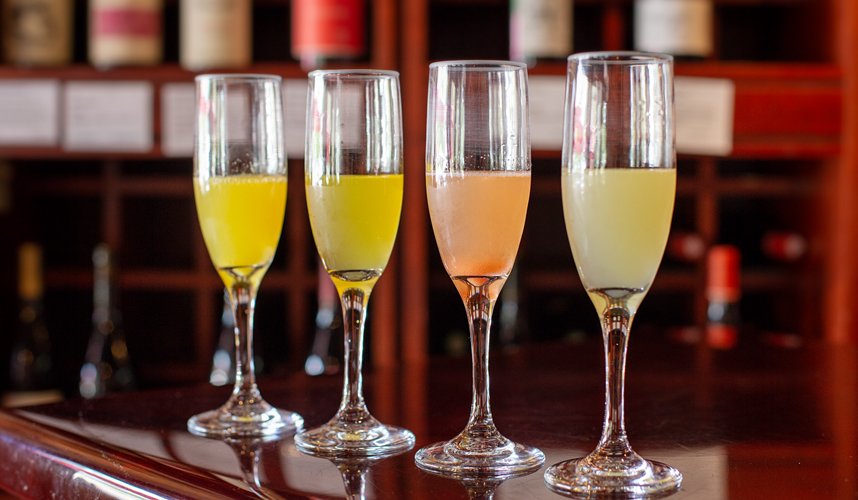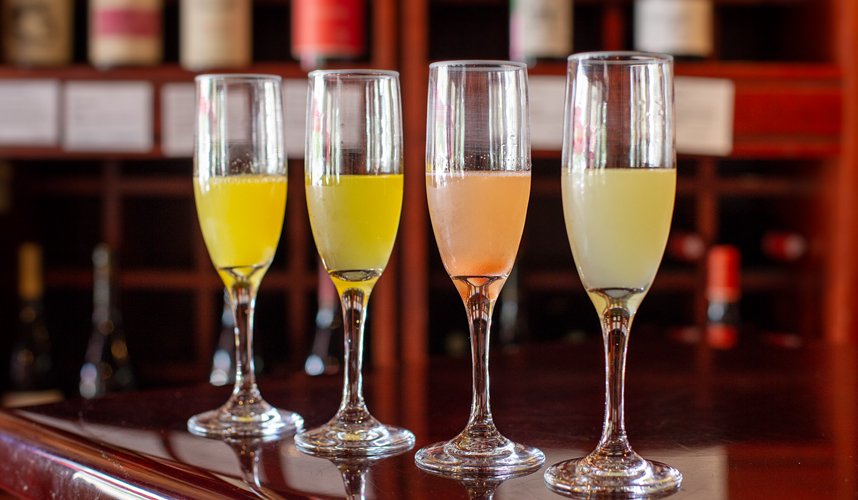 Brunch along Park Avenue in Winter Park is an Orlando rite of passage. We love Boca for its marvelous corner location and the way it perfectly blends an approachable and sophisticated atmosphere. The Boca Cubano sandwich is a unique twist of this Florida favorite and the Brie and Apple Flatbread is flavorful and sweet. But if you really want the ultimate date with brunch in Orlando, then go for the "Staff Meal" which is based on whatever is the freshest locally available ingredients on the day of your visit.
Brunch hours: Sundays starting at 9:30am
Bottomless deals: Ask your server about bottomless mimosas or bottomless Bloody Mary's
Must-try dish: OMG Burger
The new brunch at Reel Fish Coastal Kitchen is making a splash! Reel Fish captures the spirit and authenticity of fish camps around Florida to deliver fresh, seasonal fish, with an emphasis on sustainably sourced varieties from the Southern waters of the Atlantic Ocean and Gulf of Mexico. If you want to feel like you're in Florida and savor a sumptuous seafood brunch, there is no better choice. And, if you or your partner is not that into seafood, the Fried Chicken & Waffles will surely satisfy.
Brunch hours: Saturdays and Sundays from 11am-3pm
Bottomless deals: BOGO drinks! Buy one, get one free on Bloody Mary's, Mimosas, Sangria, and Tequila Sunrises
Must-try dish: Florida Shrimp & Grits
What to do when you're craving an Italian holiday but can't spring for a pricey plane ticket? Orlando isn't Italy, but it does have a few notable places where you can play pretend for the day. A new addition to International Drive and sister restaurant to Café Tu Tu Tango, Mia's Italian Kitchen celebrates Italian fare with some awesome dining deals to boot. We're partial to the weekend bottomless brunch where you can order as many Italian bites as you desire for just $26/person. Add on the bottomless mimosa bar and you've got a filling, affordable brunch that will temporarily transport you to Italy.
Brunch hours: Saturdays and Sundays from 11am-3pm
Bottomless deals: Bottomless mimosas
Must-try dish: Brunch pizza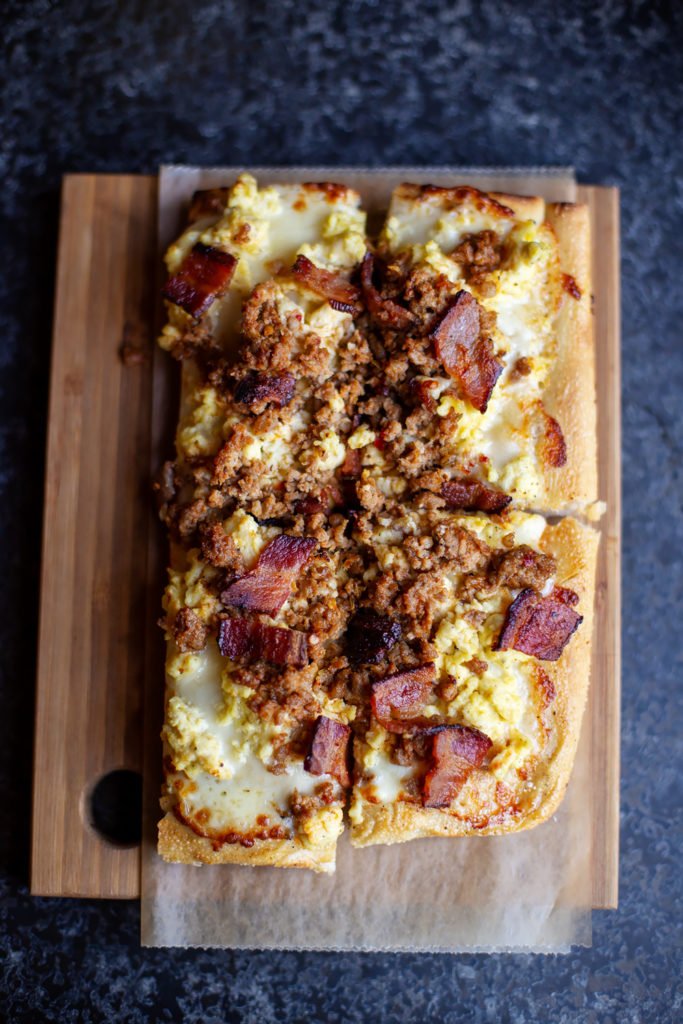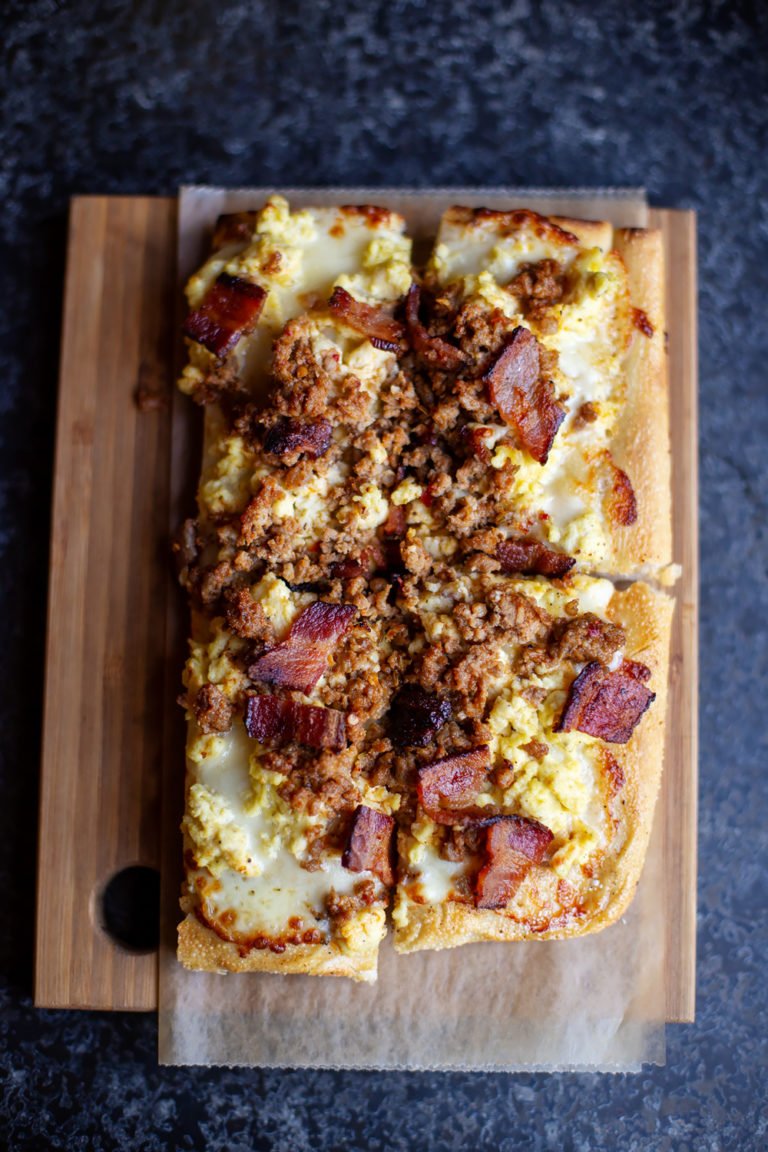 Step into Wine Bar George and you'll totally forget you're at Disney Springs. This stylish wine bar and eatery, owned and operated by Master Sommelier George Miliotes, serves up a delectable menu to pair with selections from the top-notch wine list any day of the week. But visit on the weekend to indulge in the Wine Country Brunch. While I'd normally advise ordering a glass of wine, nothing pairs better with brunch than the wine bar's lineup of signature frozen concoctions. From frosé and the pineapple Dole Whip Frozcato Mimosa to the newer Friezling made with Riesling, vodka and Dole Whip Lime, you can't go wrong.
Brunch hours: Saturdays and Sundays from 10:30am – 2pm
Bottomless deals: Nope, but you don't want to miss the Frozcato Mimosa!
Must-try dish: Burrata, French Toast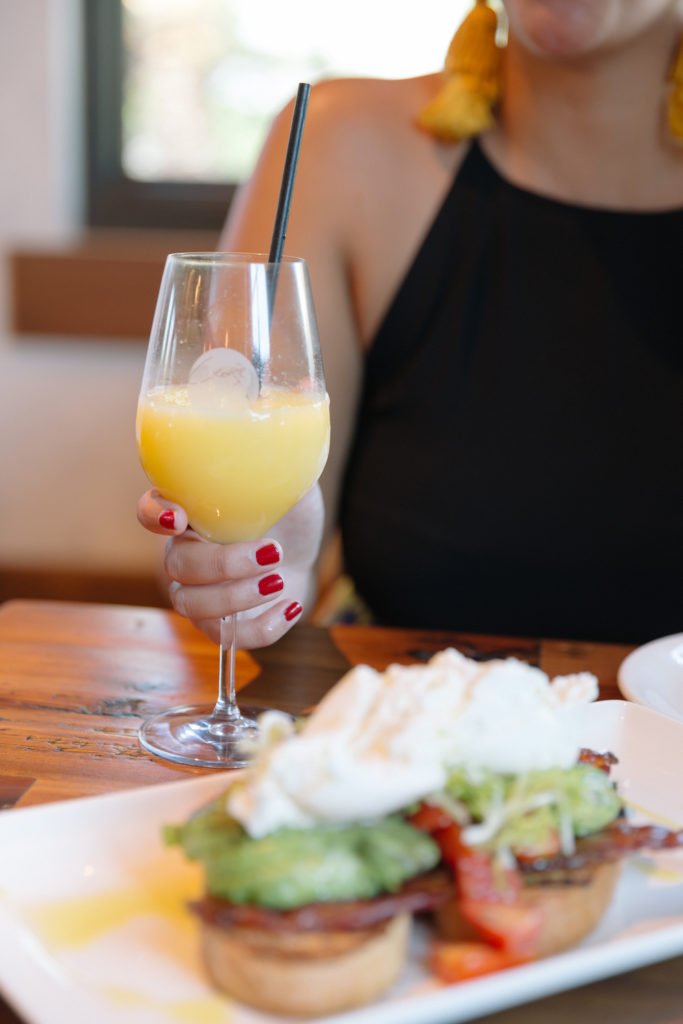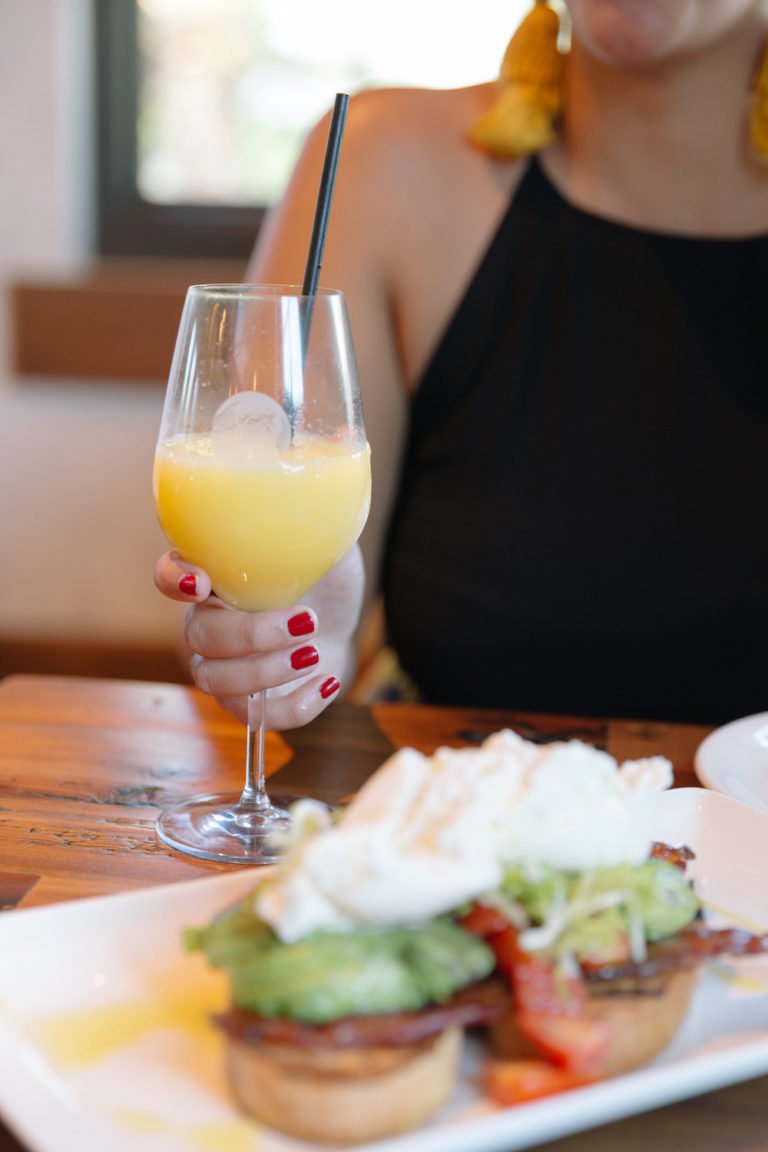 There are plenty of places for brunch at Disney Springs. What we love about Terralina Crafted Italian is that it is a hidden gem. It is tucked along the water as you head from The Landing section of Disney Springs to The Marketplace. Quite honestly, it is easy to overlook. But, you'd be remiss to skip out on this one. With modern Italian charm and a romantic atmosphere, there's lots to love at Terralina Crafted Italian. Offerings on the brunch menu include a Breakfast Pizza complete with sausage, peppers, mozzarella and scrambled eggs and an Omelet filled with asparagus, sun-dried tomato, fresh mozzarella, and prosciutto accompanied with fresh fruit. The Bloody Mary with spiced mozzarella, pepperoni, pickled green tomato, olives is unique and delicious. And the exotic Mimosa Flight featuring cranberry, orange, strawberry hibiscus and grapefruit rosemary is Instagram-worthy.
Brunch hours: Sundays 12pm – 3pm
Bottomless deals: No, but the Mimosa Flight is a must!
Must-try dish: Bread Pudding French Toast
Looking for more spots to brunch at Disney Springs? Follow our itinerary for a Disney Springs brunch crawl (definitely wear your stretchy pants), or check out other places for brunch at Disney (no theme park ticket required).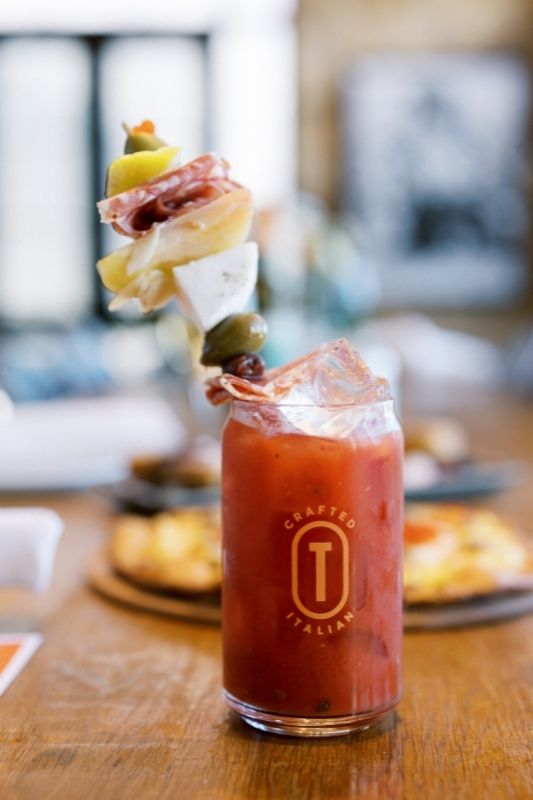 Terralina Crafted Italian Brunch- Bloody Mary from Casie Marie Photography
When it comes to convincing you to get to Domu for weekend brunch ASAP, I've got one word for you: boba-mosa. And if that hasn't quite piqued your interest, consider visiting for the top-notch ramen (the hype is deserved), the amazingly friendly and helpful service, the cocktail and "liquid brunch" lineup, special brunch offerings, and the fun playlist, which unite to craft the hip and upbeat atmosphere. Brunch at Domu is your chance to indulge in the dinner menu without the crazy wait typical of the evening hours.
Brunch hours: Saturday-Sunday from 11am-2:30pm
Bottomless deals: No, but you've got to try a boba-mosa
Must-try dish: Benedict Bao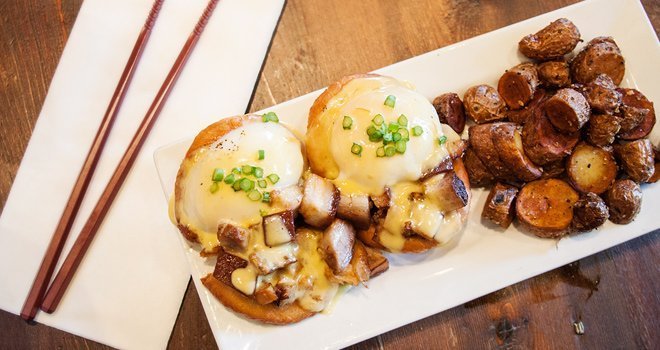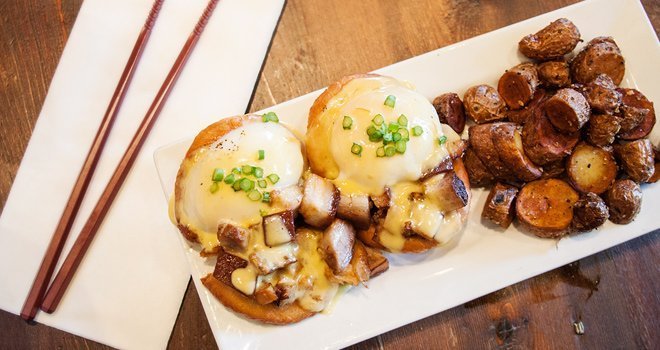 Tempting photos of decadent cakes and handcrafted doughnuts may lure you through The Glass Knife's doors, but the restaurant's more savory side is equally delicious, especially during brunch. Served on Saturdays and Sundays from 8am-4pm, brunch proves that the restaurant packs more than just a sugar-filled punch. I wouldn't frown upon visiting for a meal comprised entirely of indulgent cakes, small-batch buttermilk brioche doughnuts, pastries and other assorted baked goods. But do so and you'll sorely miss out on the non-dessert creations, like an indulgent avocado toast with a touch of lemon, and Belgian waffles topped with vanilla whip and fresh strawberries.
Brunch hours: Saturdays and Sundays from 8am-4pm
Bottomless deals: No, but mimosas come in five flavors
Must-try dish: Cheddar Biscuit Sandwich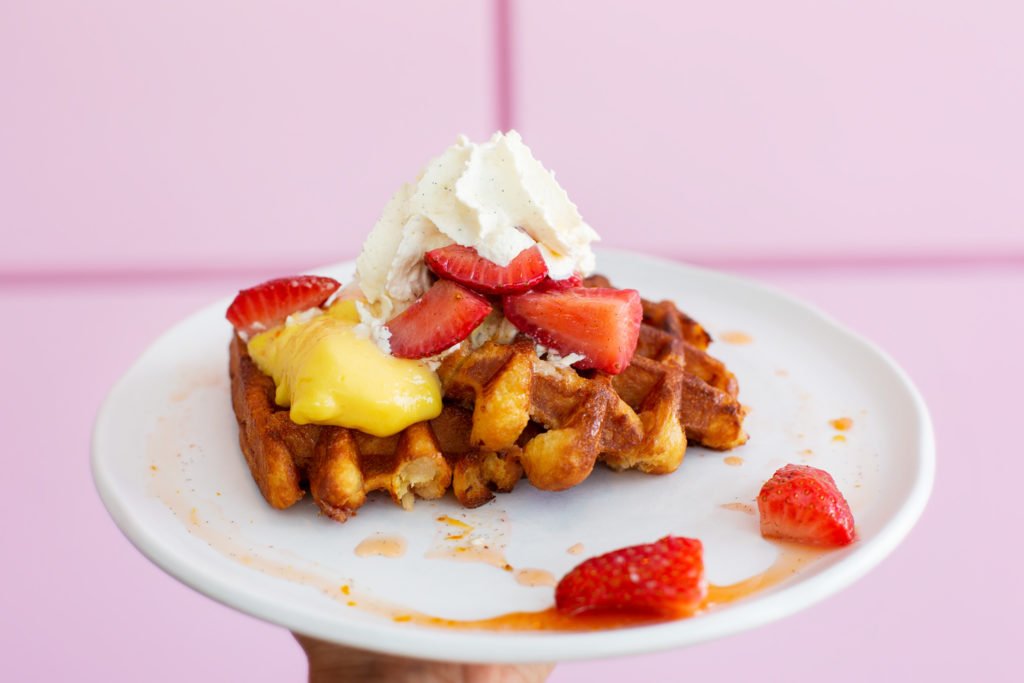 It's been more than a decade since James and Julie Petrakis arrived in Winter Park's food scene with The Ravenous Pig, one of the area's first gastropubs. And while it's one of our favorite spots for date night (and we're seriously obsessed with the new beer garden) the weekend brunch is quite something. Served from 11am to 3pm, the spread includes classics like French Toast and Chicken and Waffles with seasonal revisions that make each visit a fresh experience. In fact, the menu changes frequently, with only a few staples (like Chicken & Waffles) reappearing.
Brunch hours: Saturdays and Sundays from 11am-3pm
Bottomless deals: No, but try specialty brunch cocktails or the brunch punch
Must-try dish: Chicken & Waffles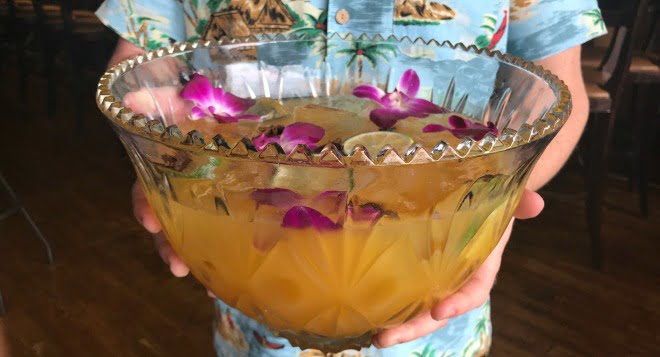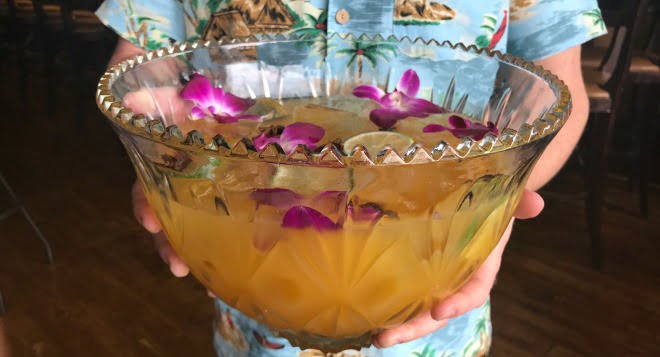 Make the 30-minute drive to Lake Nona from Orlando and you'll land at Canvas Restaurant & Market, a bustling New American restaurant well-poised to become a brunch favorite. The peaceful waterfront setting, outdoor herb garden, and indoor market draw you in while the globally-inspired menu and creative cocktails invite you to stay. The brunch menu is comprised of savory, sweet and spicy, and balanced dishes brought to life by Executive Chef Bryan Thoman. It's well worth leaving the Orlando bubble to taste the expert dishes for yourself.
Brunch hours: Saturday-Sunday from 10am-3pm
Bottomless deals: $12 bottomless mimosas (but you definitely need to try one of the brunch cocktails)
Must-try dish: Canvas Benedict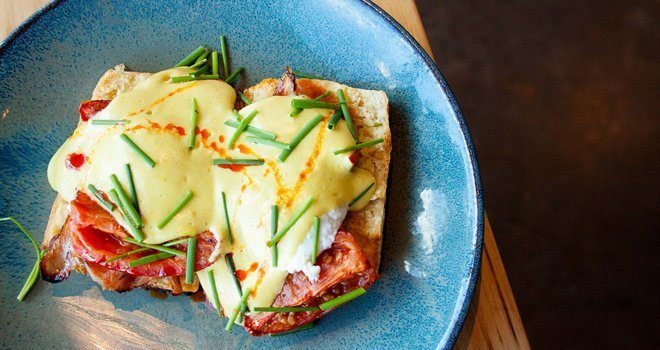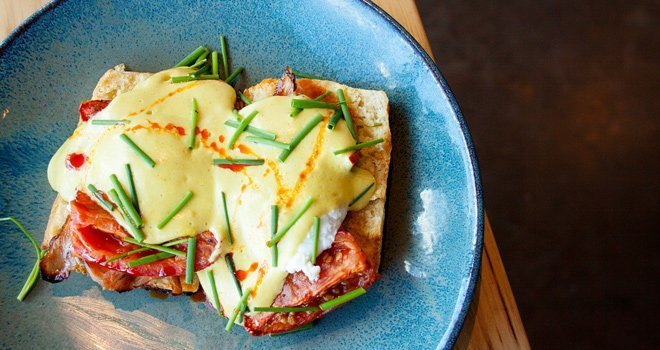 Disney Springs might not be the first place that comes to mind when you start thinking about places to enjoy brunch in Orlando. While Downtown Orlando and all of our blossoming Main Street districts offer scores of fabulous eateries for a late morning feast, you might not want to overlook Disney's dining and entertainment hub, in particular, Raglan Road. Featuring a Full Irish Breakfast, as well as dozens of other brunch specialties made with an Irish twist, this brunch is a stellar way to explore hearty Irish cuisine in a setting that's not nearly as kitschy as you might imagine. The Rollicking Raglan Brunch fun really takes off at 11am, when the pub's talented Irish dancers and live musicians take the stage.
Brunch hours: Saturdays from 11am-3pm and Sundays from 10am-3pm
Bottomless deals: No, but definitely order a Strawberry Fields Mimosa!
Must-try dish: Full Irish Breakfast or the Pork Hash Tagged (with a Baileys shake to drink!)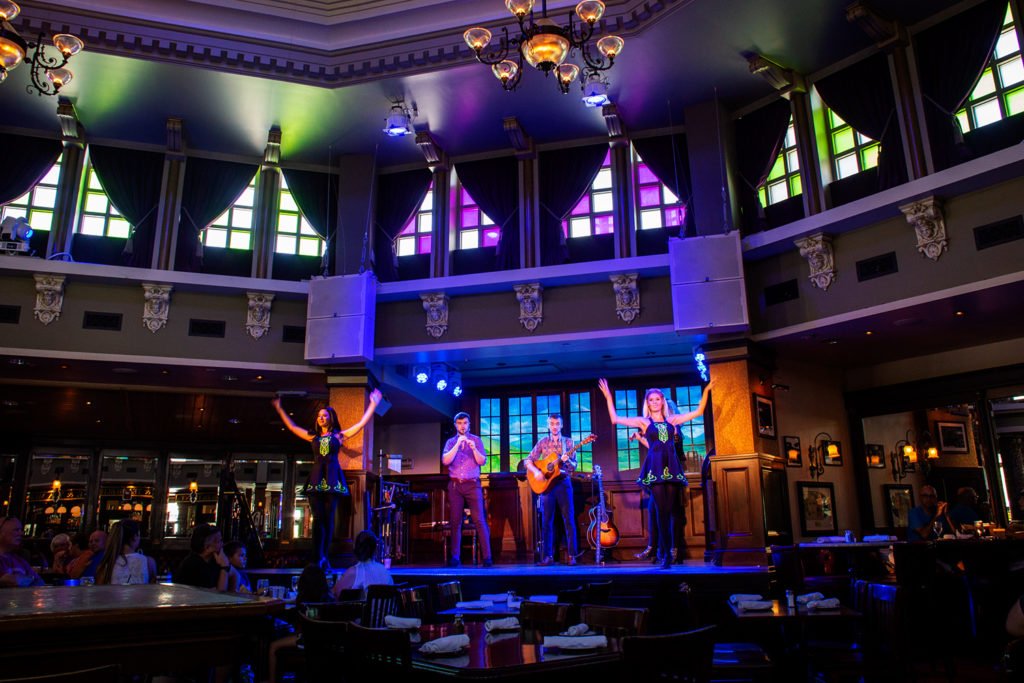 Known for its elevated southern fare and perfect downtown locale, Soco Thornton Park had us jumping for joy when it first extended its very popular Sunday brunch to Saturday. Guests can enjoy everything from homemade pop tarts and Southern style eggs Benedict to Southern fried chicken and French toast. Additionally, you can add bottomless mimosas for only $15 (with the purchase of an entree).
Brunch hours: Saturday-Sunday from 10:30am-3pm
Bottomless deals: $15 bottomless mimosas
Must-try dish: Chicken-N-French Toast
I was a fan before I even sat down and picked up the menu at The Alfond Inn's Hamilton's Kitchen. Brunch here is everything any brunch fan could hope for and more. I'm talking chicken and waffles, French toast, savory salads, and sandwiches plus loads of crafty egg concoctions. Pull up a seat on the outdoor terrace and enjoy the peace and quiet at this must-visit brunch just off Park Ave in Winter Park.
Brunch hours: Saturdays from 8am-2pm and Sundays from 8am-3pm
Bottomless deals: There's usually a Bloody Mary bar, but it is currently on pause until further notice
Must-try dish: Eggs Benedict Brunch Burger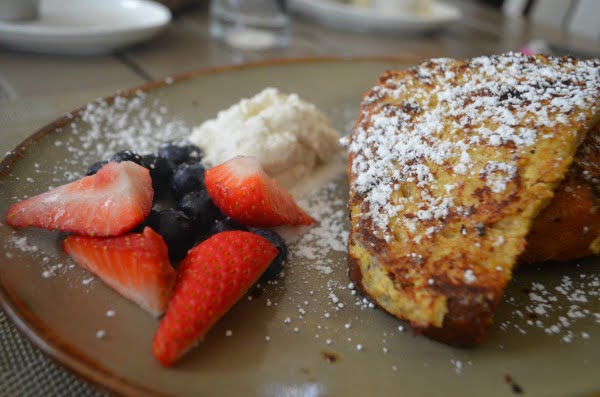 If I had to sum up the brunch experience at DoveCote in one sentence, it'd be "brunch for people who are somewhat tired of brunch". As much as I love chicken & waffles and decadent pancakes that are borderline desserts, sooner or later I begin craving something out of the norm. And on that note, DoveCote's brunch definitely delivers. Brunch here is exactly as it should be: a savory, indulgent meal to linger over accompanied by cocktails just classy enough to enjoy before lunch.
Brunch hours:  Saturdays and Sundays from 10:30am-2:30pm
Bottomless deals: No, but there are plenty of specialty cocktails to sip
Must-try dish: Fine Herb Omelet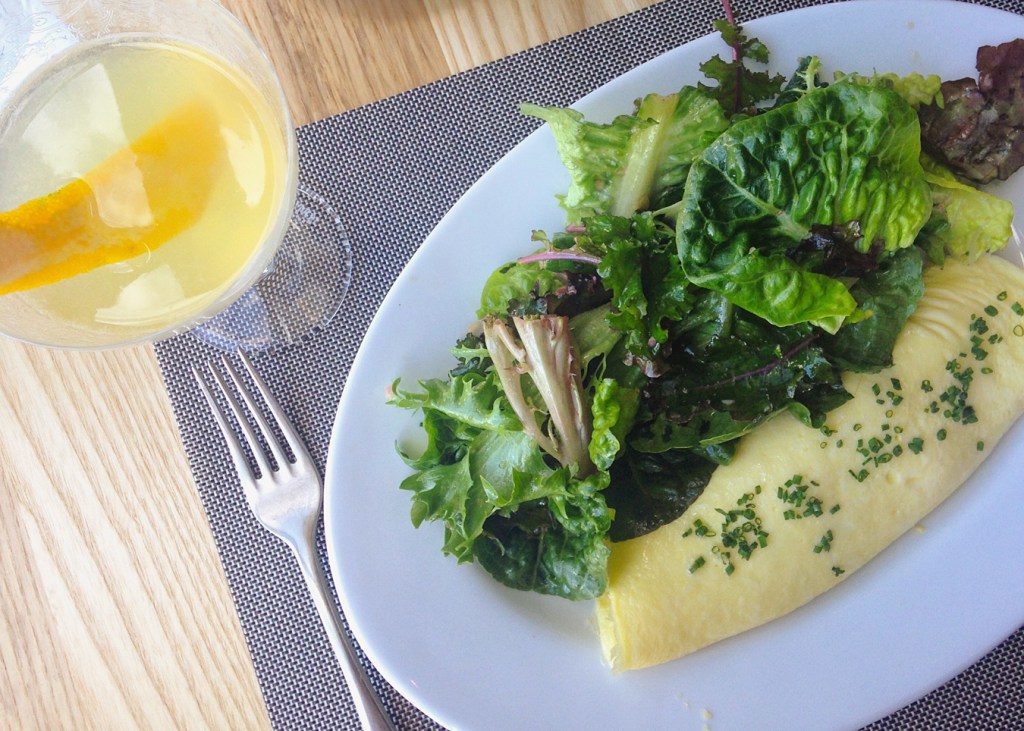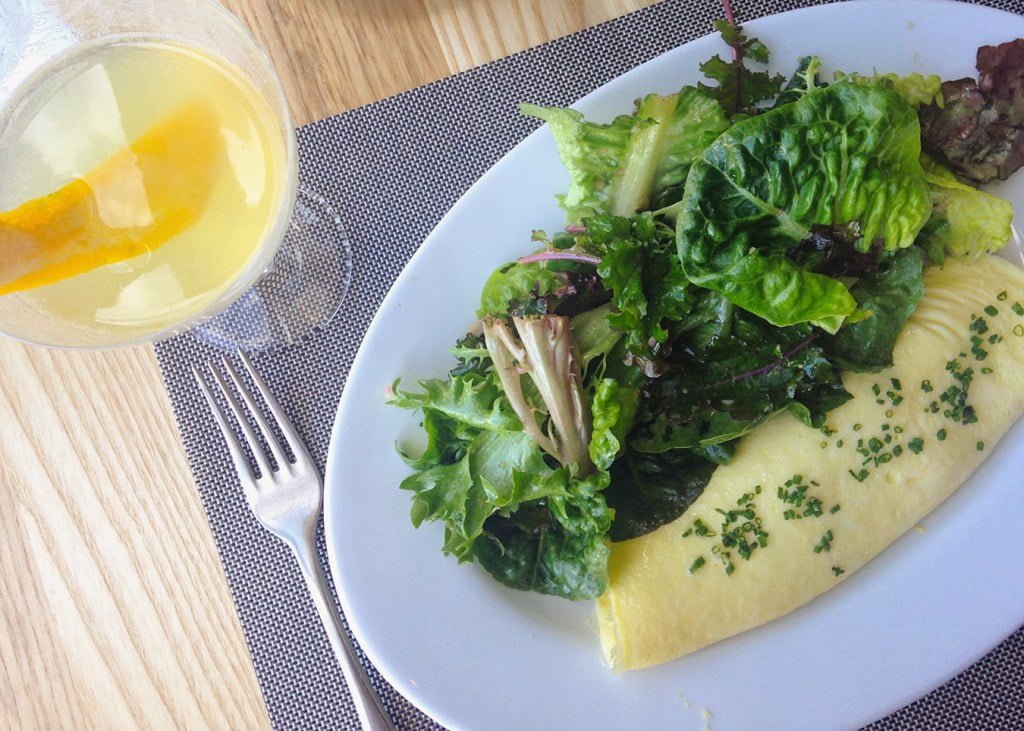 Since opening in 2015, SLATE has made an impact on Orlando's dining scene, especially when it comes to brunch. The modern American restaurant in the Dr. Phillips area is a farm-to-table venture with a menu that changes with the seasons. Brunch is served every Saturday and Sunday. While reservations aren't required, they're highly recommended for brunch.
Brunch hours: Saturdays and Sundays from 9:30am-3pm
Bottomless deals: $20 bottomless mimosas and $25 bottomless sangria, plus plenty of brunch libations
Must-try dish: Smoked Brisket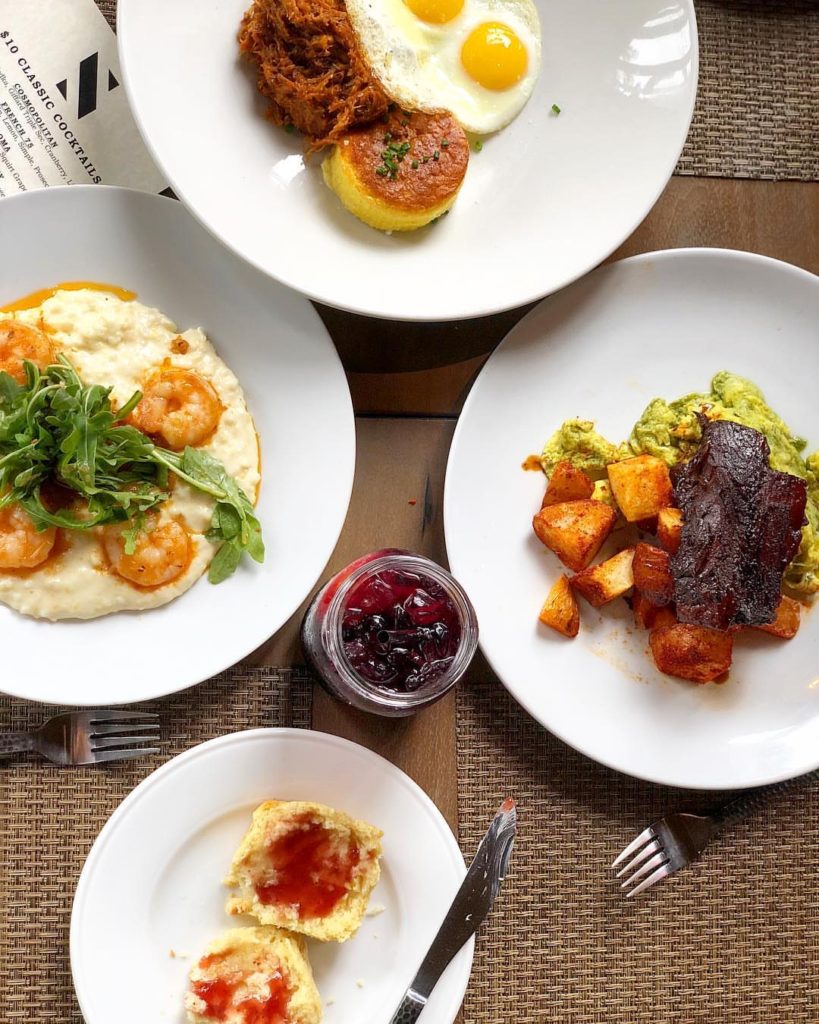 More unique spots for brunch in Orlando
More brunch ideas