EDITOR'S NOTE: Multimedia journalist Nikki Kay spoke to Rams fans who attended the victory parade at Disneyland. Click the arrow above to watch the video.
In the foreground of the Sleeping Beauty Castle is an arched etching with the saying, "When you wish upon a star."
It seemed fitting that in front of the castle, Los Angeles Rams star players Cooper Kupp, Matthew Stafford and Aaron Donald stood on top of this phrase after winning Super Bowl LVI at SoFi Stadium in Inglewood.
What You Need To Know
Disneyland celebrated Rams stars Cooper Kupp, Aaron Donald and Matthew Stafford with a parade on Monday
Thousands of visitors lined up along a parade route from Town Square to it's a small world
Some fans played hookie and either took the day off work or were working remotely from Disneyland
The Disneyland parade kicks off a week of celebrations for the Rams
As what has become a tradition for the star players of the Super Bowl-winning team, Kupp, Stafford and Donald shot the "I'm going to Disneyland" Disney commercial and celebrated their big win with a trip and victory parade at "The Happiest Place on Earth."
"It's surreal," said Donald in front of a media scrum Monday in front of Sleeping Beauty Castle, which coincidentally was dressed in blue and yellow banners. "It's opportunities like this where we can live out our dreams."
"I'm pinching myself and loving every minute of it," Stafford said.
On Monday, the Disneyland parade kicks off a week of celebrations for the Los Angeles Rams after the team defeated the Bengals 23-20 on Sunday.
The Rams will hold a Super Bowl parade and fan rally Wednesday starting at the Shrine Auditorium to the Los Angeles Coliseum.
At Disneyland, Kupp, Donald and Stafford joined Mickey Mouse on top of a slow-moving cavalcade starting at it's a small world, before ending at Main Street, U.S.A., and Town Square. 
As the cavalcade came through Main Street, blue and yellow confetti shot out from the top of the buildings and fluttered down on the players and screaming fans below.
Many fans dressed for the occasion, wearing Rams blue and yellow jerseys, hats and paraphernalia. 
Many screamed, "Who's house?" Before others responded, "Ram's house!" Others would say "Coooooop" or chant "MVP" for Cooper.
Disney chose the three players for their performance in Sunday's game.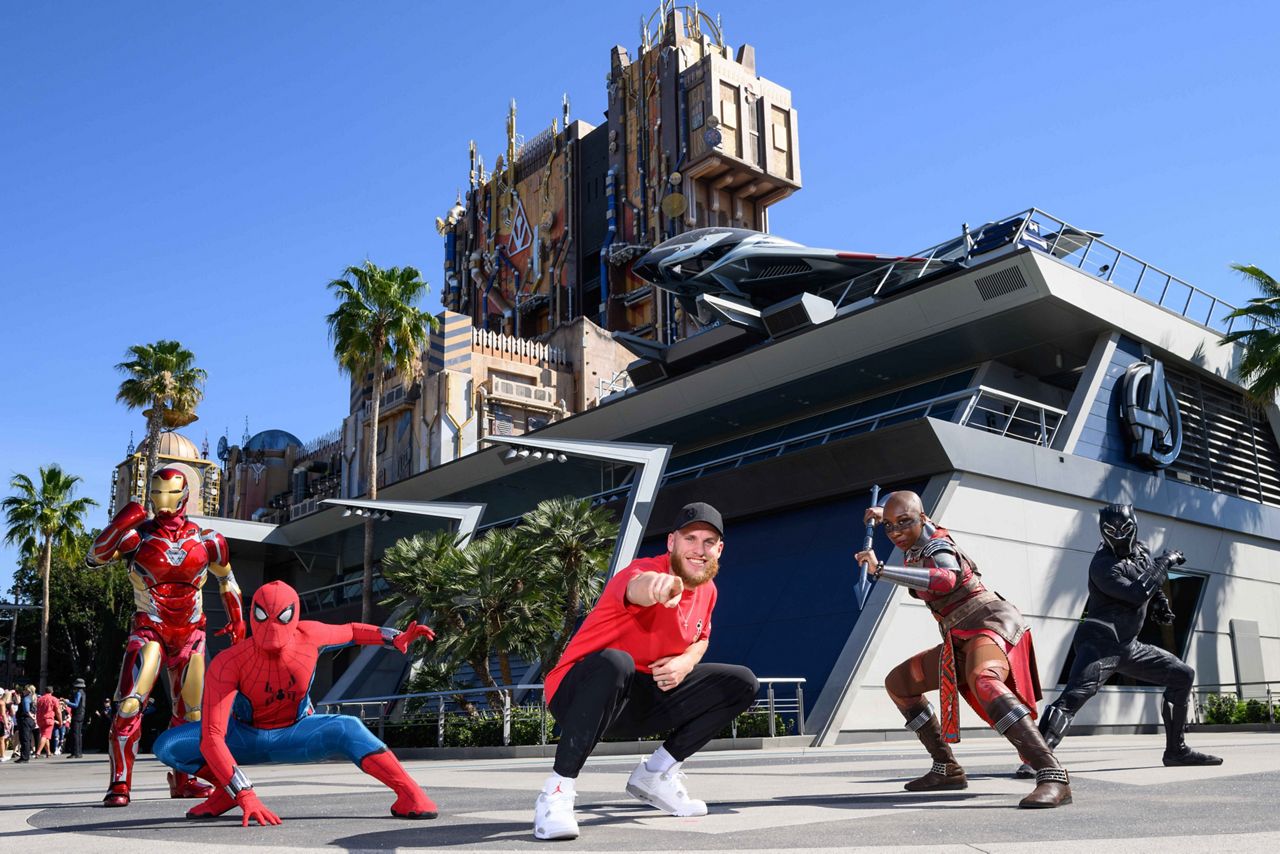 Disney officials did not disclose if or how much the players were paid to participate in the commercial. Nor did Disney officials say how many people were in attendance. 
Many of the areas were crowded, shoulder to shoulder. 
Some fans said visiting Disneyland and watching the players was a more affordable alternative than the Super Bowl
Wearing a blue Rams shirt, Chloe Gould, 25, from Cypress, watched the parade with her mother, Georgie, 62.
Georgie Gould lived next door to former mid-1960s Rams quarterback Jack Snow in Seal Beach. Georgie said she used to babysit Jack's kids. One of them was JT Snow, the former Anaheim Angels first baseman.
"I've been a Rams fan ever since," Georgie said. 
"We had to be here," Chloe added. "We couldn't afford to go to the Super Bowl, so this is a lot cheaper."
A few Disneyland visitors lucked into it. Disney did not publicize the event and only announced it shortly after the game. 
David Harris, 34, of Los Angeles, said he came to Disneyland to bring his foreign exchange student to experience Disneyland's Star Wars land: Galaxy's Edge.
"We're getting the best of both worlds," Harris said. "We get to experience Star Wars and get to see Cooper Kupp, Matthew Stafford and Aaron Donald." 
Other fans skipped work or were working "remotely" from Disneyland to catch a glimpse of the action.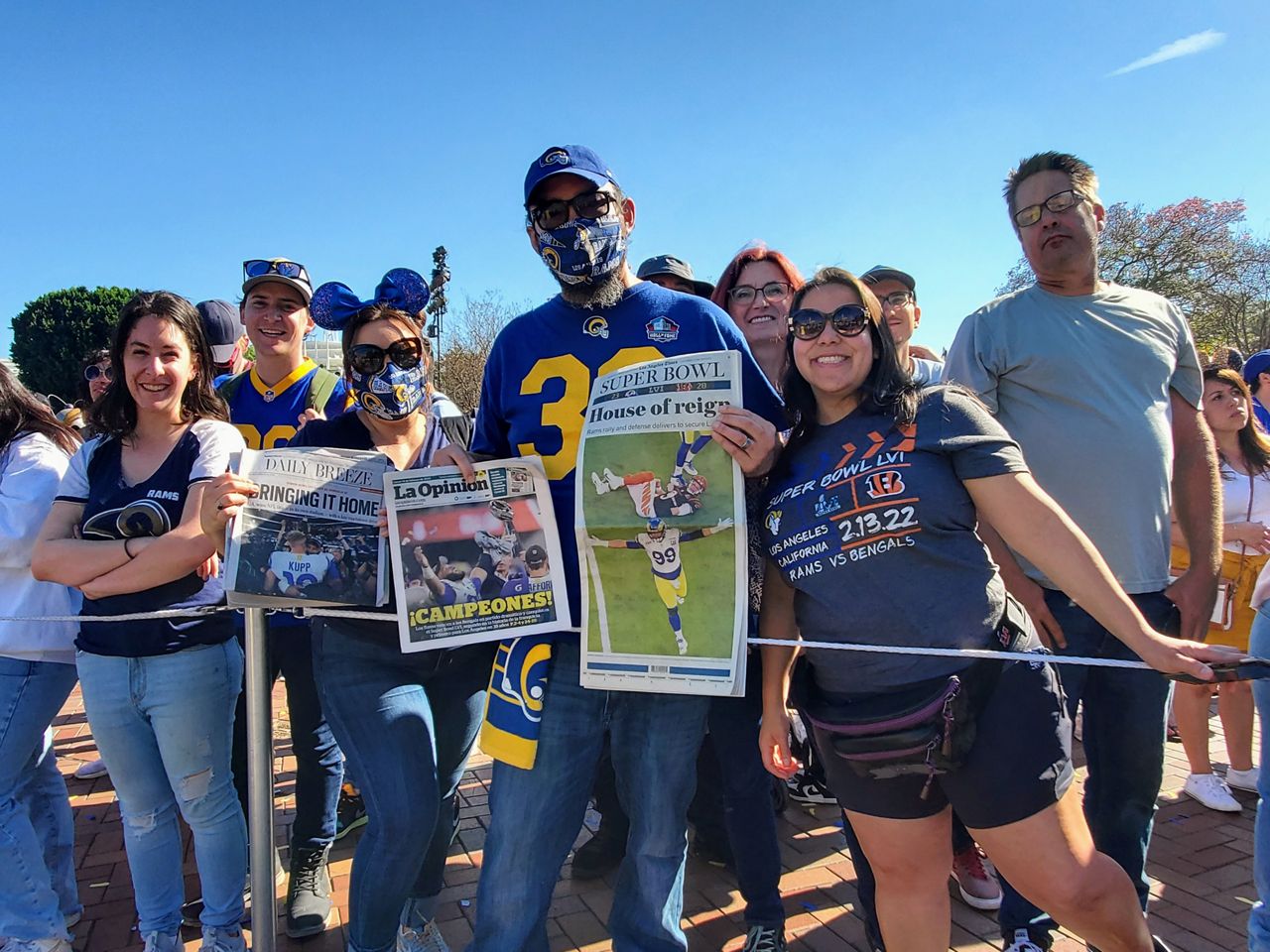 Carlos Gomez, 44, of Los Angeles, carried the front page of a newspaper celebrating the Rams' win. Gomez, with his wife Osmery, said he took a half-day to watch the parade. 
"I worked in the morning and came out here," said Gomez, an auditor. 
Gomez said he's been a lifelong Rams fan from the days when "Jim Everett was the quarterback, and then they moved to St. Louis and became the greatest show on turf."
Gomez was sad when the Rams left town, but he's glad they are back. 
"This Super Bowl means everything, and the fact that they are in LA makes it that much more special," he said.