On Monday morning, the nominations for the 75th Annual Tony Awards will be announced. And like years past, NY1 will be your one-stop shop for all things leading up to Broadway's biggest night. "On Stage" host Frank DiLella will be joining "Mornings On 1" anchor Pat Kiernan for full coverage of the nominations on Monday, starting at around 8:50 a.m.
Here's a list of what you can expect to see for the Tony class of 2022.
In the Best Musical category…
"A Strange Loop" – the musical favorite of the season. "A Strange Loop," written by Broadway newcomer Michael R. Jackson, shines a spotlight on the Black queer experience in New York City. The show was a smash hit when it played off-Broadway at Playwrights Horizons in 2019, and in 2020 Jackson's musical won The Pulitzer Prize for Drama. Expect to see a lot of love for "A Strange Loop," including the show's star – another newcomer – Jacquel Spivey.
The cast of "Six" appear at the opening night curtain call at the Brooks Atkinson Theatre on Sunday, Oct. 3, 2021, in New York. (Photo by Charles Sykes/Invision/AP)
Other Best Musical contenders
"Six" – the West End hit turned Broadway sensation. Set against the backdrop of an "American Idol"-like competition, "Six" centers around the six wives of King Henry VIII. The show was a critical favorite and is doing big business at the box office. We'll definitely see "Six" grab a nomination for Best Musical, but will any of the queens make the cut for the performance category of actress in a leading role in a musical?
"Girl From the North Country" – another musical that makes its way to New York by way of London. "Girl From the North Country" features the music of Bob Dylan and tells the story of a community in Duluth, Minnesota around the time of the Great Depression. The musical opened in early 2020 but was not eligible for the Tony Awards ceremony that was held in September 2021 because not enough nominators had seen the show before it had to temporarily shut down due to the COVID-19 pandemic. Expect "Girl…" to nab one of the Best Musical nomination slots.
In the Best Play category…
"The Lehman Trilogy" – a three-hander chronicling the rise and fall of the financial firm Lehman Brothers. This show is a lock for a Tony nomination for Best Play, and you can expect to see at least one of the three performers – Simon Russell Beale, Adam Godley or Adrian Lester – be singled out for their performance.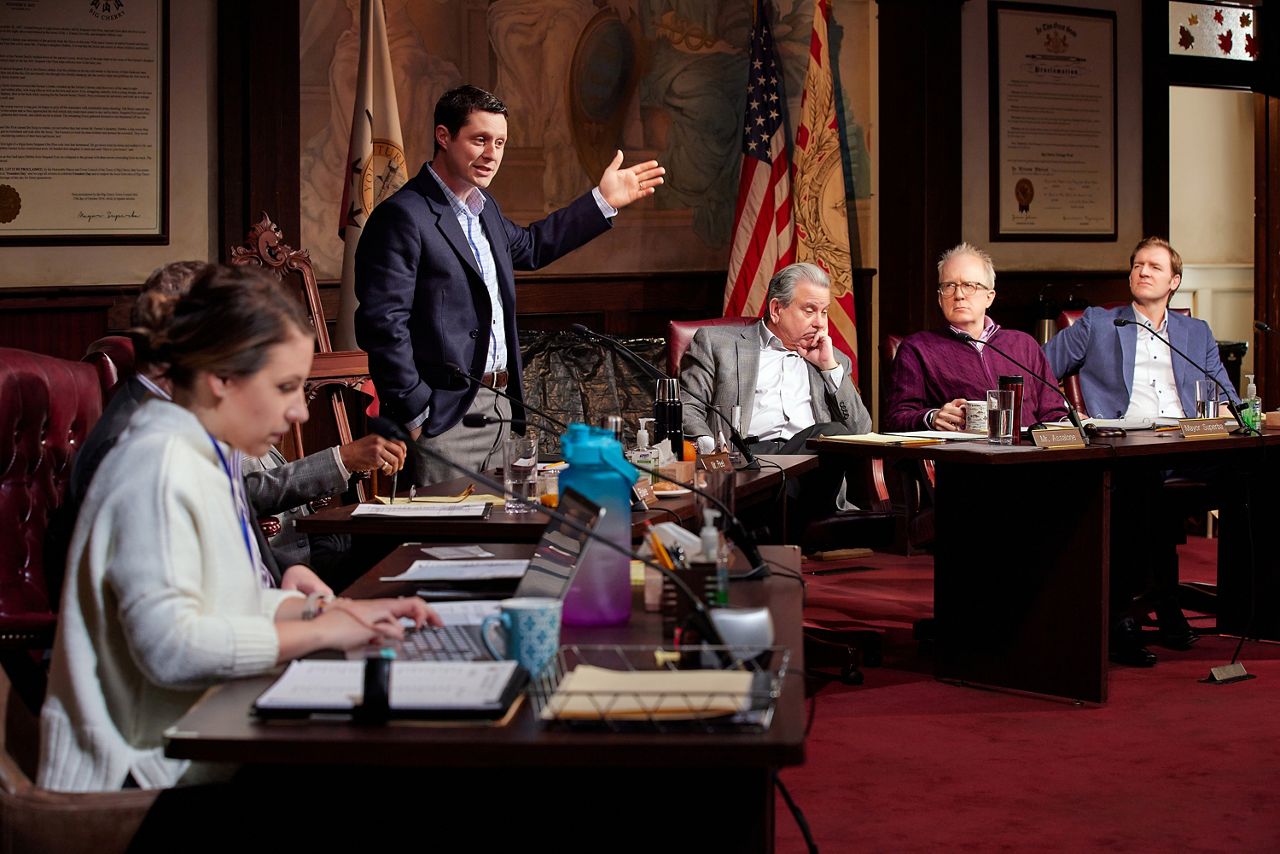 Tony-winning playwright and actor Tracy Letts returns to the stage with a new contender for best play at the Tony Awards. (Photo courtesy of "The Minutes")
Other best play contenders
"The Minutes" – Tony-winning playwright and actor Tracy Letts returns to the stage with his timely new play. The show takes place during a city council meeting in the small town of Big Cherry.
"Hangmen" – Oscar winner Martin McDonagh's thriller-meets-drama-meets-comedy will most likely nab a Best Play nomination. "Hangmen" is set around the time when hangings were abolished in the UK. The show was a critical and sold-out hit off-Broadway at The Atlantic Theater Company in 2018
Revival categories
For musicals, expect to see love for two shows that made their way to New York via London: the Stephen Sondheim gender-bending revival of "Company," starring Katrina Lenk and Patti LuPone, and the new production of "Caroline, or Change," starring Sharon D. Clarke. For "Company," Lenk, LuPone and musical veteran Matt Doyle will all receive Tony noms. And Clarke is a lock for a nomination for leading actress in a musical for her Broadway debut.
As for play revivals, Paula Vogel's Pulitzer Prize-winning "How I Learned to Drive" finally made it to Broadway 25 years after its premiere at the Vineyard Theatre downtown. The show stars members from the original company, including Mary-Louise Parker and David Morse. Parker and Morse will be nominated in lead acting/play categories for their encore performances.
And Richard Greenberg's 2003 Tony-winning, baseball-themed work "Take Me Out" will receive a 2022 nomination alongside its supporting star, theater and TV veteran Jesse Tyler Ferguson, who will receive his first Tony nom – a moment that's been a long time coming.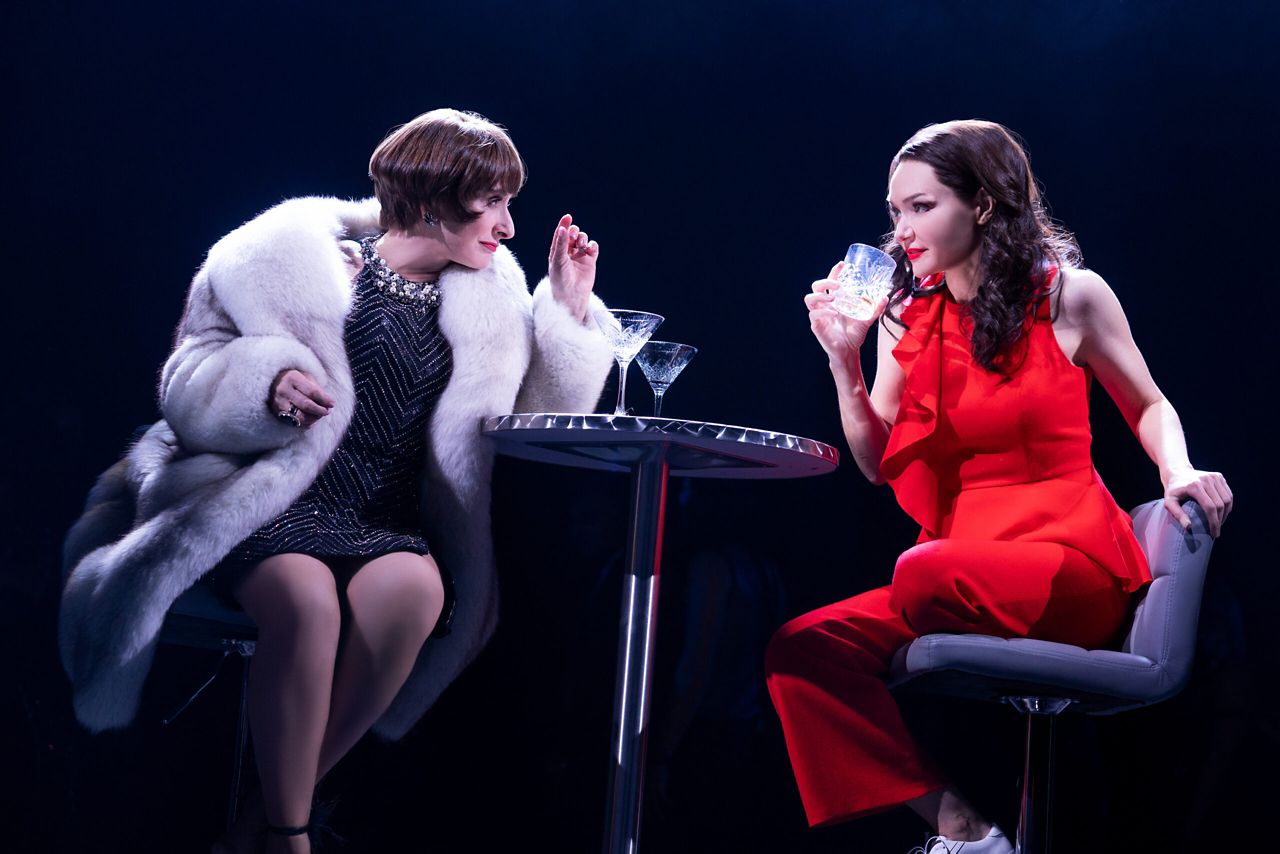 Patti LuPone returns to Broadway in a revival of "Company" (Photo courtesy of "Company")