EDITOR'S NOTE: Multimedia journalist Taylor Torregano spoke with a dancer and choreographer about "Lizzo's Watch Out for the Big Grrrls." Click the arrow above to watch the video.
LOS ANGELES — They might tip the scales at 200+ pounds apiece, but the thick-bodied women who stomp, slide, strut and flip across the stage in body-revealing Spandex on the new reality series "Lizzo's Watch Out for the Big Grrrls" definitely know how to dance.
Whether it's freestyling to Cardi B or performing a choreographed routine to Megan Thee Stallion, they're equally adept at dancing as they are defying stereotypes.
What You Need To Know
"Lizzo's Watch Out for the Big Grrrls" is a new reality series on Prime Video
The show stars the Gramy-winning singer Lizzo and ten big-bodied backup dancers as they prepare to go on tour
Lizzo was inspired to create the show because she couldn't find dancers that looked like her
The eight-episode "Lizzo's Watch Out for the Big Grrrls" premieres March 25
"A lot of people think that because we're thicker we aren't capable of the ability that we have," said Kiara Mooring, one of ten dancers featured in the new Amazon Prime Video reality series created by, and starring, the Grammy-winning rap artist Lizzo. "If I had a quarter for every time somebody said, 'I didn't think she could do that,' I'd be rich."
Lizzo, of course, is rich precisely because she has so boldly countered expectations for what a big woman of color can do. Larger than life in every sense of the word, she has become a body icon for thick women in particular and for the marginalized thanks to catchy raps that double as anthems for self love.
From cheekily boasting about her conquests on songs like "Boys" to reclaiming her self-esteem on the mega hit "Good as Hell," Lizzo's message of body love and positivity has been resonating since her debut 2019 hit "Truth Hurts" became the longest-running number one by a solo female rap artist in history. And with her new show on Amazon Prime Video, debuting Friday, it seems she's just getting started in showing the world what other big-bodied girls of color have to offer.
"I've had open casting calls for dancers that look like me, and it's been very difficult," Lizzo said earlier this month during a keynote speech at South by Southwest in Austin, Texas. "I don't see me reflected. And then one day, I say, 'You know what? I gotta get a TV show to bring some awareness to this.'"
So she has. "Watch Out for the Big Grrrls" is a reality show, but it isn't a competition show. Other than the first episode, during which she lets two dancers go, the show focuses on getting the women trained to accompany her on tour for the Bonnaroo Music Festival, not only learning choreography but how to perform for 90 minutes straight.
"If I sent everyone home, I wouldn't have dancers. I needed dancers, man," she said at South By Southwest. "And it was also important that I changed the narrative of what a reality television show looks like. We don't always have to be cruel. It's hard enough in the dance world already for girls who look like me. So why would I create that environment in my space?"
The eight-episode season doesn't just focus on dance moves. It's also about teaching women to undo the negative self talk that too often stops them from pursuing their dreams.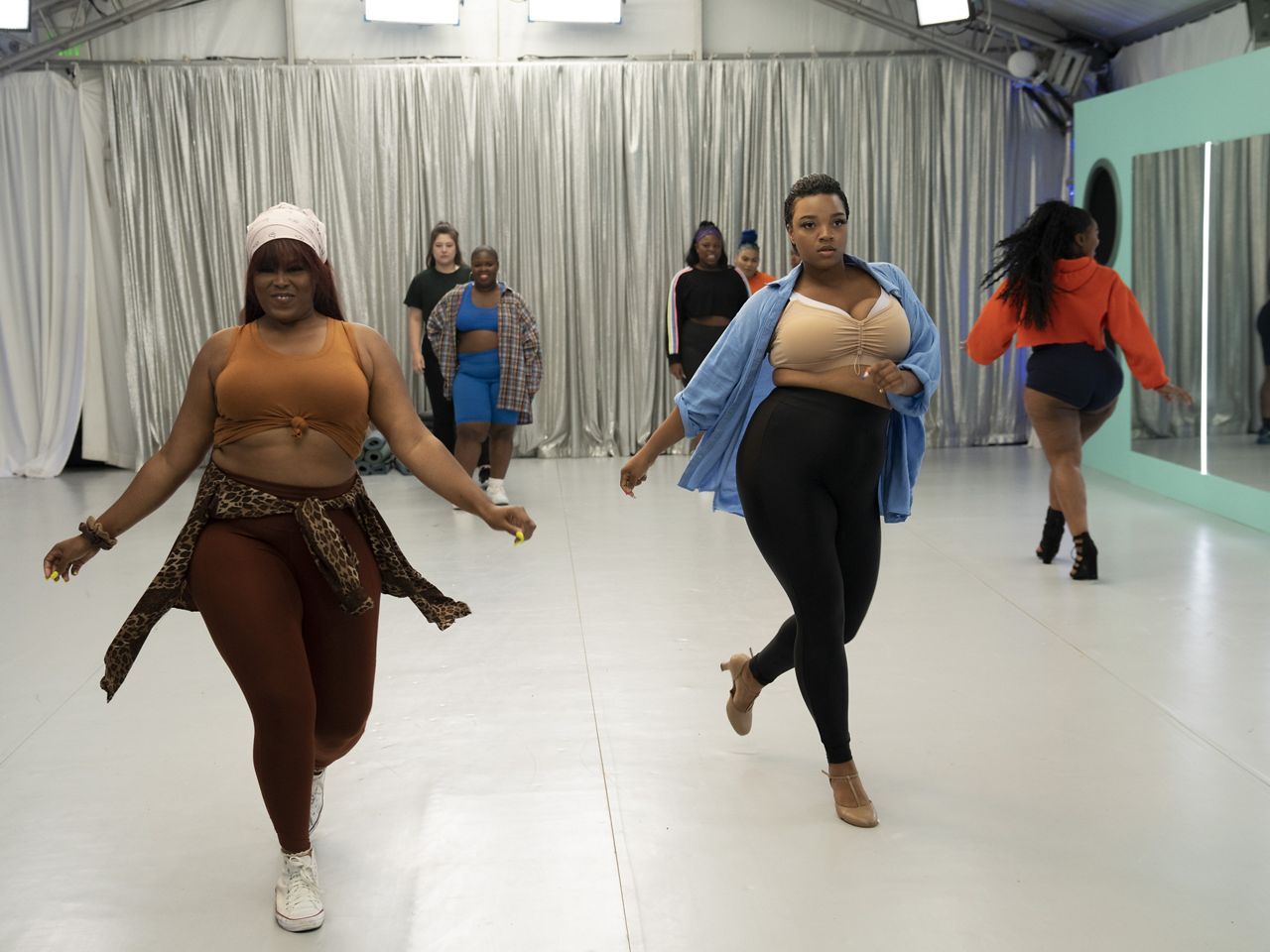 "I wasn't even going to apply for this because self doubt kind of got in," dancer Jayla Sullivan told Spectrum News. But after seeing casting calls for the show on social media and being urged by friends and family, "I just kind of put a little bit of faith in myself and submitted and, you know, I'm here. Being somebody that's transgender, doors close before they've even thought about being open."
The "big grrrls" are a diverse group. Black, Asian, Latino, trans — they hail from cities across the country. Sullivan is from Portland, Ore. Isabel Jones is a K-pop dancer in the Bay Area. Arianna Davis studied ballet and tap in Indianapolis. Moesha Perez is a costume designer from the Bronx.
Regardless of background, one common denominator unites them. Countless strangers doubted their skills amid a culture that frequently discounts people of color, especially if their bodies don't conform to a societal ideal of thinness. "Lizzo's Watch Out for the Big Grrrls" is likely to turn the tables, putting the dancers on a pedestal that hadn't existed prior to Lizzo shoving open the door and inviting them to walk through.
"The hardest part of the show for me and maybe some other girls was learning to genuinely love yourself," Davis told Spectrum News. "It's been a long journey for all of us because we've had so much pushback and so much hate over the years."
So has Lizzo, who, during one of the show's episodes, cries on camera as she responds to online criticism. For all of her bravado in songs like "Rumors," there was heartache to process before transforming those emotions into the anthemic, feel-good singalongs that rocketed up the charts.
"It's OK to be sad. It's OK to cry. "It's OK to have emotions. It's OK to be angry about something, and it's also OK to be radically positive and practice radical self-care," Lizzo said during her South by Southwest keynote. "I'm doing this for the generation after me to have something to look at and be like, 'Hey, that's me. I see myself in that person."
As the saying goes, you can't be it if you don't see it. And Lizzo demands nothing less than being seen.
"She's made the hugest impact on culture," said Mooring, who trained in hip hop and affrobeat dancing before landing a spot on "Lizzo's Watch Out for the Big Grrrls." "People have so much negativity in this world. You don't look in the mirror and say that you're beautiful. You always have to see problems with yourself. One of the biggest issues people struggle with is finding their individuality and accepting that and learning that it's OK to just be yourself. Lizzo is promoting something that has been needed for so long."
"Watch Out for the Big Grrrls" is "just the beginning," Lizzo said in Austin. "I want [the big grrrls] to shake up the industry, come in and shift the paradigm and be in demand and change the rules. I think they're doing that already just by existing. I'm so glad I found them and they found me."
CORRECTION: An earlier version of this article incorrectly stated the name of the streaming platform. The error has been corrected. (March 28, 2022)