It's extremely challenging to enjoy a date night dinner when venturing out with the kids in tow! Am I right??? The kids are sure to bounce off the walls, crawl under the table, and offer up sourpuss faces more tart than mom or dad's well-deserved sour beer. BUT, there's hope yet! We've compiled a playful list of kid-friendly Orlando restaurants that perfectly pair pleasing plates with playgrounds and/or play spaces.
So when you forget to book the babysitter, or plans change, just take the kids with you on date night to these places!
Updated by Dani Meyering, March 2023
Plates with a Side of Playground
Landry's Seafood House
8800 Vineland Ave, Orlando | (407) 827-6466
No one will be crabby at this seafood establishment thanks to an awesome onsite playground featuring swirly slides, tunnels, and climbing platforms. The fenced-in area is massive so the kids can burn off some steam while adults enjoy a plethora of happy hour offerings (Monday through Friday, 3:30-6:30 pm) on both bites and drinks.
Tap into Landry's roots with the New Orleans Crawfish Bread topped with crawfish tails, mozzarella, Louisiana spices, tomatoes, and garlic, while sipping Landry's Famous Mai Tai. The regular menu prices can creep up for a typical family outing, but the added value of a nice playground makes it worthwhile.
Grill's Lakeside Seafood Deck & Tiki Bar
4301 N. Orange Blossom Trail, Orlando | (407) 291-8881
There is just something special about dining on the water's edge, you know? This huge lakeside restaurant is sure to satisfy with stunning views of Lake Fairview and, most importantly, a great playground just off the tiki-style deck (pictured above). The playground is fully enclosed with fencing and has a canopy cover for shade.
You'll find plenty of deliciousness on the main menu, like Tahitian Tuna Poke, Bahamian Fish Chowder and a Shrimp Cuban. Grills doubles as one of our favorite places for seafood and as one of the best kid-friendly Orlando restaurants.
But as the kids brave the monkey bars, prepare to brave the Lionfish Menu featuring the invasive species with venomous spines. Grill's safely serves up lionfish using its "Froiled" preparation, by pan frying a whole lionfish, glazing it with a sweet and savory sauce, and finishing it off with a broil.
Breakfast is served daily 7am – 11am, if you'd like to beat the lunch and dinner rush.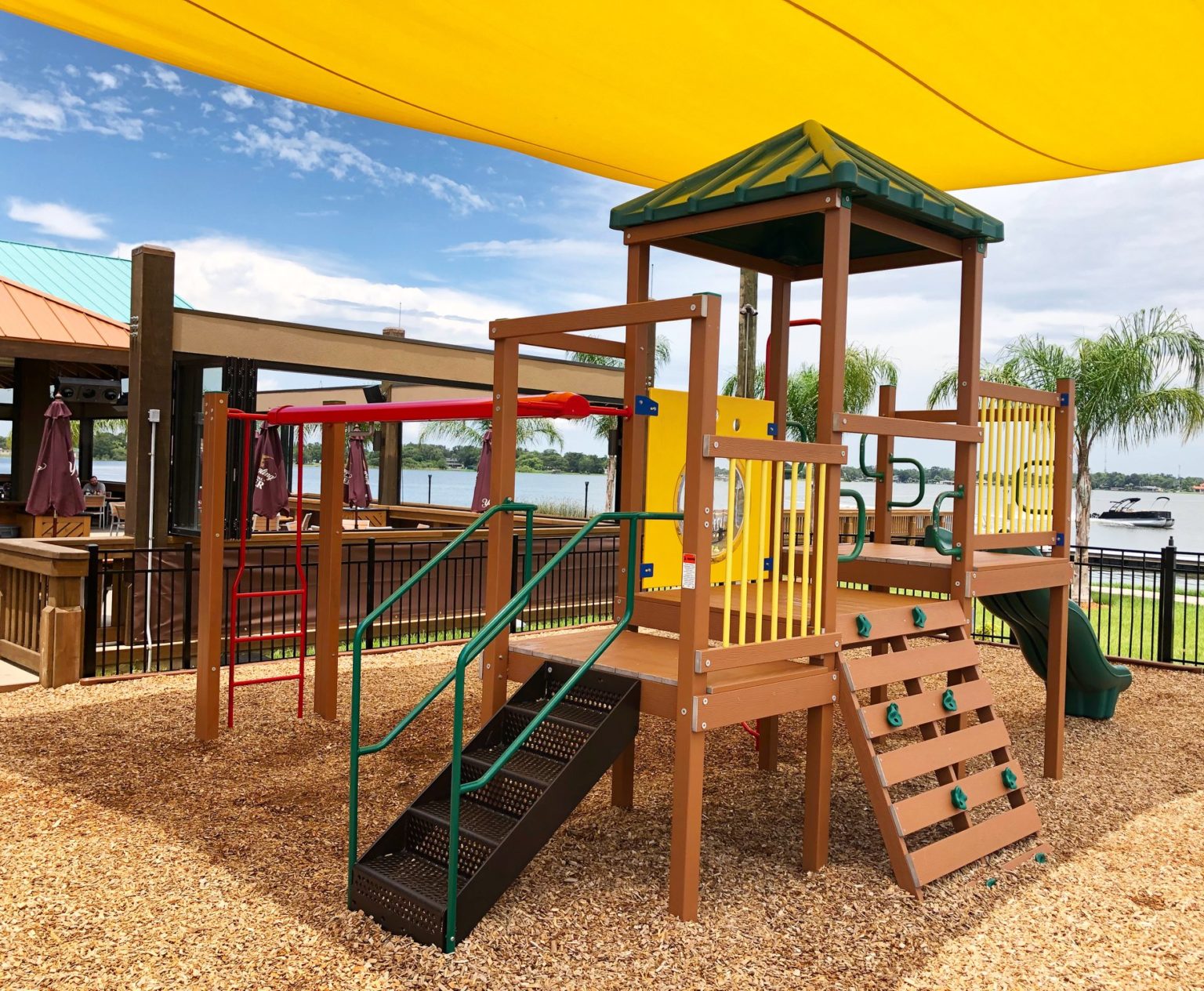 Image credit: Grills Lakeside Seafood Deck & Tiki Bar
Joe's Crab Shack
8400 International Dr., Orlando | (407) 352-2928
Thanks to Joe's pirate-themed playground, parents can savor a peaceful meal while also taking in great views of The Wheel at ICON Park nearby. Extending just beyond the comfortable patio seating, the swashbuckler wonderland will make everyone feel as happy as a clam, and also inspire the kiddos to walk the plank as parents consider salmon on a plank.
Crab is, not surprisingly, Joe's most treasured ingredient, as featured in the Crab Stuffed Mushrooms, Crab Cake Sandwich, and various Crab Platters (i.e. King, Queen, Snow). Bonus: Joe's Crab Shack has a gluten-sensitive menu and, yes, a kids menu.
Boxi Park
6877 Tavistock Lakes Blvd, Orlando | (407) 536-9666
If you're looking to get together with friends, Boxi Park is a phenomenal choice. Stroll around and grab eats from a variety of casual walk-up eateries, kind of like food trucks, but in former shipping containers.
All seating is outdoors, there's a bar, and often live music. Best of all there is a full playground suitable for most ages, at the back of Boxi Park.
Related: A Culinary Map of Lake Nona
The Waterfront
4201 S Orange Ave, Orlando | (407) 866-0468
While there is not a full playground here, The Waterfront Orlando is very much a kid-friendly restaurant during the day because it has a swing set and a few outdoor activities, and a casual atmosphere.
You'll feel like you've escaped to the beach as you dine on some of the freshest seafood in Orlando. Beach-style music wafts over the air as you look out over a sparkling lake. Some words of caution, make sure your little ones are safely away from the water's edge at all times.
Lunch is kid-friendly, but as evening approaches it is usually an adult crowd.
The Yardery
415 E. 4th St. Sanford | (407) 878-2179
One of the most kid friendly restaurants in Orlando, well "North Orlando", is The Yardery. This place is so much fun, for everyone. There are outdoor yard games everywhere, and it is completely fenced in. It is open for breakfast, lunch, and dinner, so you can enjoy a fun outing together any time of day.
Naturally, the most kid-friendly times are in the morning and afternoon. After about 5pm it becomes more adult-focused. The food is casual, yet delicious – the Loaded Fries are sinfully good and worth the indulgence.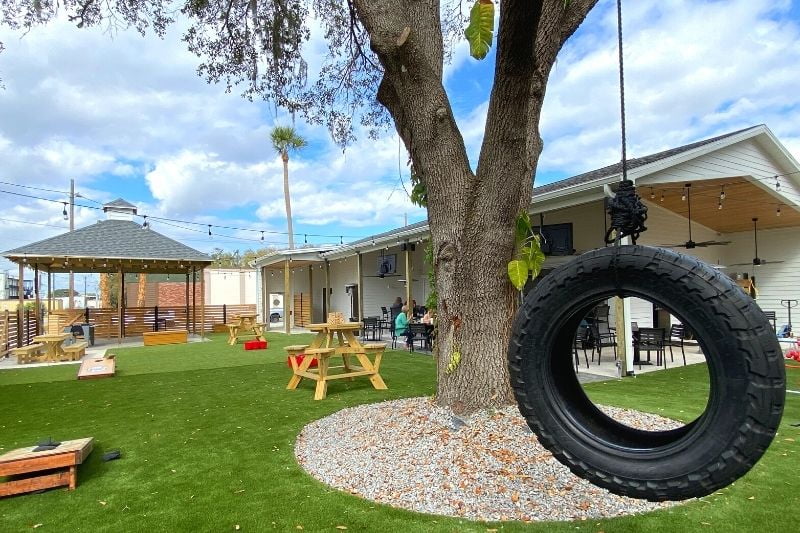 The Yardery in Sanford is kid-friendly and fun
Day trip idea – Head towards the coast to Port Orange for a Florida classic. Aunt Catfish's on the River is a casual seafood spot that's been open for decades. It has nice outdoor seating and a small playground.
Permission to Play with Your Food
Main Event
9101 International Dr., Suite 1032, Orlando | (407) 352-3300
Prepare to make play the main course of this family dinner date. We're all craving an extra helping of fun following this past year, and Main Event is like a buffet of amusement. We're talking arcade games, a ropes course, bowling, and more; plus, a restaurant to top it all off with hearty burgers and wraps.
The kids' menu is pretty standard, but sweetening the deal is Main Event's Shirleys, festive non-alcoholic beverages. You can also please everyone with their Family Feast options.
Andretti Indoor Karting & Games
9299 Universal Blvd., Orlando | (407) 610-5020
Andretti is also a one-stop-shop bursting with food and fun for all ages. Fuel up on hearty American fare, such as patty melts and Philly cheesesteaks, before stomping the pedal of a speedy go-kart. Fresh greens, gluten-free and vegan alternatives, are also available.
Once your tanks are full, hop into the racing simulators to train like pros, or take tech to the next level with Hologate, a 4-player virtual reality attraction (you see, it's a good thing you brought the whole family after all). Laser tag and bowling add to the fun.
Related: Indoor Date Ideas for a Rainy Day in Orlando
Topgolf
9295 Universal Blvd, Orlando | (407) 218-7714 & 1010 Greenwood Blvd, Lake Mary | (407) 543-9138
For an on-par date night, get in the swing of a little family-friendly competition. Each reserved golf bay accommodates up to six people, with plenty of room to hit the ball and lounge on the plush seating. My son is mildly obsessed with 'Angry Birds' so our family loves Topgolf's game theme: Angry Birds. The feathered characters (golf balls) smash down structures, defeat pigs, and help players earn points.
Graze on Cheesy Macaroni Bites, a BBQ Brisket Flatbread, and Signature Nachos.
Tip: To really make your Topgolf meal trophy-worthy, order the Injectable Donut Holes. Yup, that's right… golf phrases "nice shot" and "get in the hole" take on new meanings with cinnamon-sugar dusted donut holes that you inject with chocolate sauce, raspberry jelly, or Bavarian cream.
Read more: Date Night at Topgolf
Drive Shack
7285 Corner Dr., Orlando | (407) 553-8820
Similarly, on the other side of town in Lake Nona, you can treat your one-and-only – um, plus the kiddos – to a hole-in-one themed date night at Drive Shack. Reserve a bay and master the small ball game (without the hassle of dragging your clubs on a hot course). Players can mix things up with nontraditional themes, like monsters, darts, and playing cards, all within the golf setting. Oh, don't forget to test your arcade skills by playing basketball, foosball, shuffleboard, and old-school Pac-Man.
With great brunch options, Drive Shack can certainly be a Sunday Funday locale for the whole fam, or any meal of the day. And mothers-to-be can enjoy tasty mocktails too, such as the Lavender Lemonade.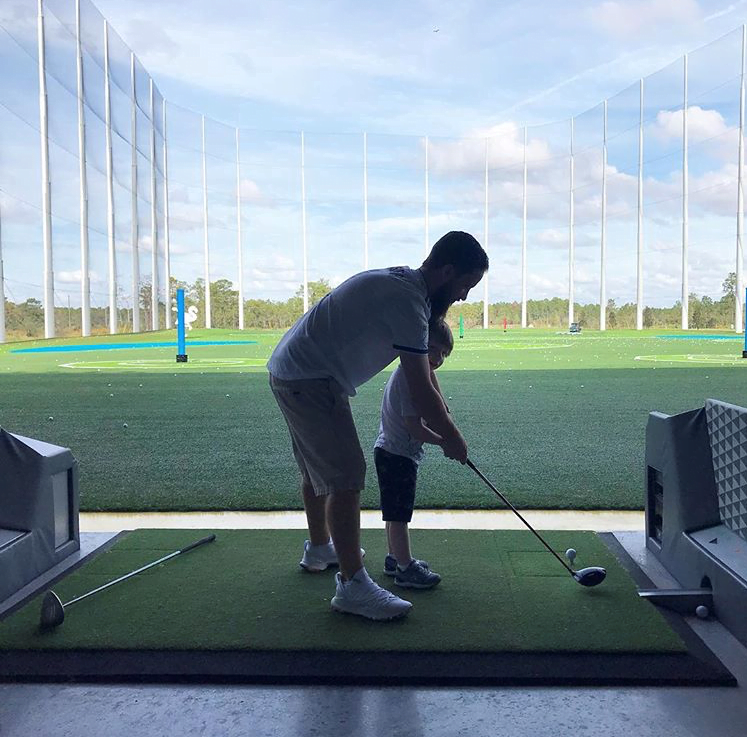 Image credit: Drive Shack Orlando
Fun Date Idea: Popstroke Waterford Lakes Orlando
District Eat & Play
1395 Oviedo Mall Blvd., Oviedo | (407) 542-3536
Orlando has plenty of escape room experiences but District Eat & Play takes it up a notch by offering four different escape room challenges (under 18 requires parental signature; under 16 requires an accompanying adult); plus pinball, bowling, and, for kids 12+, axe throwing.
Check out the free Pinball Tournament on Fridays or BOGO pricing on bowling, escape rooms, and axe throwing on select days. Some of the kid-friendly, parent-approved fare includes Chicken Bacon Mac n' Cheese and Spicy Hawaiian Pizza. For an adult beverage, please your youthful taste buds with a Cotton Candy Martini.
Dave & Buster's
8986 International Dr., Orlando | (407) 541-3300
There's no need to act your age when this arcade wonderland awaits. Seriously, this place is guaranteed fun with video games, billiards, bowling, big-screen TVs for sports viewing, and virtual reality, including the new Terminator Dark Fate, based on the franchise's latest action-packed film. If you can manage a night out mid-week, take advantage of half-price gaming on Wednesdays. The menu has a plethora of handhelds, wings, and other bar-style food.
Kid-Friendly Orlando Restaurants with Fun Settings
Big River Grille & Brewing Works
2101 Epcot Resorts Blvd, Orlando | (407) 939-5277
At Disney's BoardWalk, you can reserve an outside table at Big River to drink up the exclusive brews, vibrant scenery, and boardwalk games and performers. This spot is a hidden gem (shhh… keep it on the down-low). You can watch the little ones win carnival stuffed animals as you stuff your face with dill fried pickles. Amazing!
The kid's menu is typical, as is most of the regular menu; but with pops of surprises, as with the 2:00 A.M. Burger, topped with crispy hash browns, American cheese, bacon, and a fried egg. The beer at this microbrewery holds its own with fun seasonals and staples, like the Iron Horse Stout.
Afterward, stroll the boardwalk by foot or via a 4-person Surrey bike or climb aboard a boat.
Related: Where to Watch Disney Fireworks Outside of the Parks
T-Rex Café
1676 East Buena Vista Dr., Lake Buena Vista | (407) 939-3463
Days of date nights when it was just the two of you may seem more ancient than dinosaurs. But, following a great day exploring Disney Springs, you absolutely can make date night history by letting the kids dig in the fossil pit at T-Rex Café. This sensory exploration will keep them happily occupied while you wait for a table (even if you made a reservation).
And once they've found enough bones and are ready to test their herbivore and carnivore skills, know that the dining room décor will stimulate the senses before you even order a meal. The kids' menu allows you to piece together what you think (and hope) your child may actually eat by choosing one entrée, one side, and a drink (dessert is an add-on).
Wekiva Island – Without a Paddle Café
1014 Miami Springs Dr., Longwood | (407) 951-8145
Family time seems to fly by when on island time, right? So why not spend some time this summer at Central Florida's favorite sandy shore: Wekiva Island. This place isn't just a recreation paradise for kayakers and hikers… foodies are welcome too.
The onsite restaurant, Without a Paddle, may just float your boat. Let the little ones go pig wild over the Sloppy Hot Dog, followed by sandcastle building and splashy fun. If you want to commit to a full day of it, rent a cabana and opt for the easy and tasty Cabana Picnic Package, which contains enough yumminess for eight to ten people.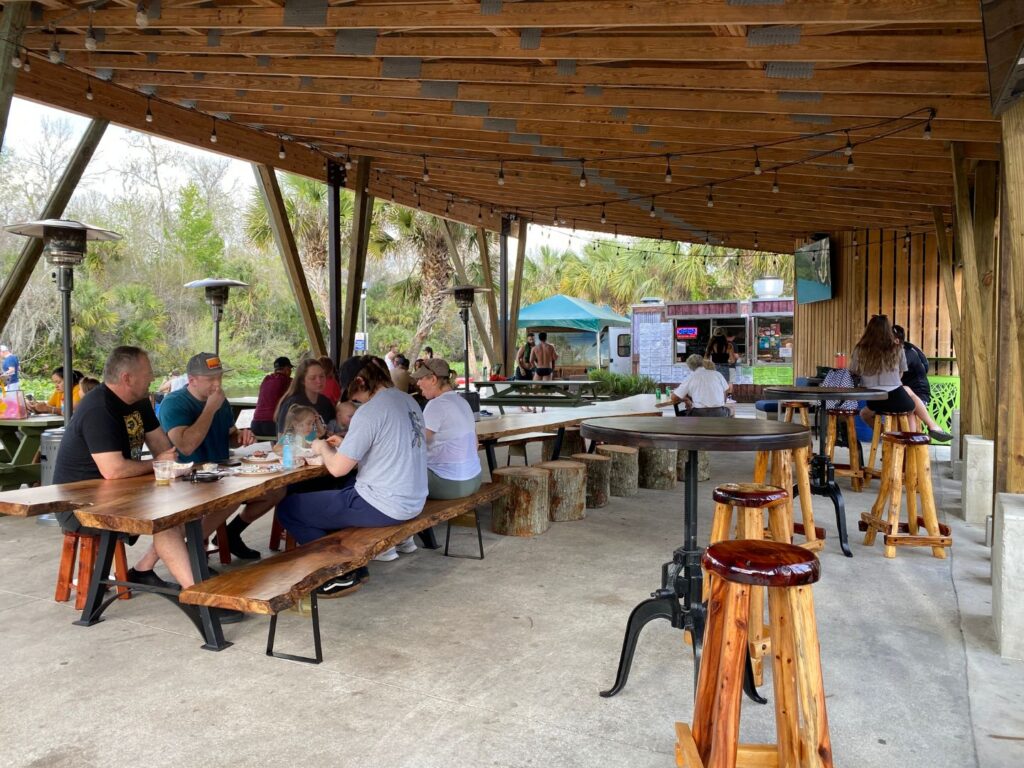 Wekiva Island Without a Paddle Food Truck and Pavilion – Dani Meyering
Plant Street Market
426 W. Plant St., Winter Garden | (786) 671-0175
Just down the road from the Winter Garden Farmers Market, the two spacious grassy areas that flank the outdoor beer garden of Crooked Can Brewing have morphed into open play spaces. Whether you came for some grub or a beer flight, impromptu fun tends to come about.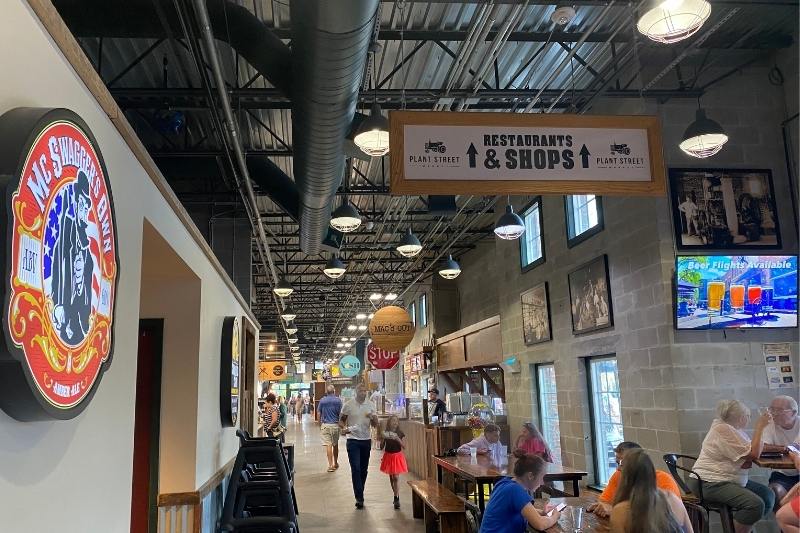 Plant Street Market next to Crooked Can Brewery – Dani Meyering
Of course, a plethora of non-alcoholic refreshments can be found within Plant Street Market, such as at AntiquiTEAs or Axum Coffee. And since there are many food vendors as well, you don't need everyone in the family to agree on dinner (and that's a win!). Favorites include MAC'd Out and Michael Ali's Coal Fire Pizza, among others.
Related: Ten Kid-Friendly Breweries in Orlando
Yellow Dog Eats
1296 Hempel Ave., Windermere | (407) 296-0609
If you haven't tried this homey sandwich place yet, you're simply missing out. Chef Fish Morgan smokes bacon, pork, and other proteins right on-premise, which pair deliciously with fresh, local greens and goods. The vibe is eclectic and the food is extraordinary. OK, OK… I admit there's not a typical play space here; in fact, the restaurant is somewhat cozy. However, I can attest that the retro van permanently parked on the back patio will have your children cruising along just fine so you can enjoy this meal out. My sons loved exploring within the vehicle and pretend driving the iconic ride.
Orlando Farmers' Markets
Right in the heart of the City Beautiful sits the lovely Lake Eola Park, which includes a great playground. For a laid-back picnic date, grab some bites from vendors at the Orlando Farmers Market. And then let the kiddos run wild within the fenced-in playground.
Likewise, the Winter Garden Farmers Market has really revved up its cuisine offerings with an array of scrumptious food truck fare. Parents can snack and rehydrate as the kiddos soak up tons of fun in the sun at the on-site splash pad.
More kid-friendly Orlando restaurants to try:
Kings Dining & Entertainment: Family game night and date night unite at Kings on I-Drive. The HUGE Jenga-style blocks will make for sky-high fun for all.
Splitsville: Typically you don't want to strike out on date night, but that's the exact plan when it comes to magical bowling at Splitsville at Disney Springs.
Kitty Beautiful Café: Treat your cat's meow and your litter to a purrrfect family lunch date in Downtown Orlando.
If you enjoyed these kid-friendly ideas get ready for OrlandoParenting.com – launching soon!
Orlando Date Night Guide is a free guide to the best of Orlando! We're supported by our advertisers when they buy digital ads, listings, content, and through affiliate links, so some things you read might be paid for or if you buy something thru a link on our site we might get a commission.