He's fought crime syndicates, international killers and a fair share of crafty criminals. And now, private eye Thomas Magnum has overcome the death knell of network cancellation.
On Sunday, "Magnum P.I.," which is set and shot in Hawaii, returns for a fifth season with back-to-back episodes, nine months after it was abruptly canceled by CBS.
What You Need To Know
"Magnum P.I." was canceled by CBS in May 2022 after four seasons, but an enormous fan support prompted NBC to step in and resurrect the series
NBC has ordered 20 new episodes of the crime drama, which is a reboot of the 1980s series that starred Tom Selleck
Season 5 premieres Sunday night on NBC with two episodes
Each episode will be available to stream the next day on Peacock
The crime drama stars Jay Hernandez in a reboot of the role made famous by Tom Selleck in the 1980s. It performed well in the ratings on Friday nights, but CBS pulled the plug in May after it failed to agree on licensing fees with the studio.
"We were all shocked, but we've been in this business," said actress Amy Hill, who plays Kumu, a Hawaiian cultural expert, in an interview with Spectrum News. The series also stars Zachary Knighton (Rick), Stephen Hill (T.C.), and Tim Kang (Det. Katsumoto).
Amy Hill co-stars as Kumu on "Magnum P.I." (Photo courtesy of Zack Dougan/NBC)
Now, the procedural has a new home at NBC – and a new lease on life.
NBC announced last summer it had picked up the series for 20 episodes ­– and possibly more if it performs well in the ratings. The show moves to Sunday nights on NBC, with new episodes available on the Peacock streaming service the next day.
"Magnum P.I. comes to us with a passionate fanbase already in place that we intend to nourish," Susan Rovner, chairman of entertainment content at NBCUniversal, said in a press release.
NBC has put a lot of muscle behind marketing the show with ads, social media takeovers and cast interviews. The show's principal characters, Magnum and Juliet Higgins (portrayed by British actress Perdita Weeks), are gracing the cover of the current issue of TV Guide Magazine.
"It's a rebirth, but at the same token, there were a lot of people, I think, who didn't even really know it existed," Hill said.
"Because when we came on in the beginning, we were like the stepsister of 'Hawaii Five-0,' and all the energy was put on  'Hawaii Five-0.' Then that got canceled, and they put a little bit more energy into us. But then 'NCIS: Hawai'i' came on board, and it was like, oh, never mind, and they put all their eggs in that," Hill added.
Fan outcry
The surprise renewal came in large part after a massive fan outcry over the cancellation. In a show of support, viewers around the world pitched in to pay for a billboard in New York's Times Square to try to save the series.
"They just really went to bat for us," Hill said. "And I've never experienced anything like that. It was really heartwarming to say that people really cared about this show."
Producers have teased some changes are in store for Magnum and Higgins this season. The two characters have battled sexual tension since the beginning of the series, and at the end of last season, they finally gave in to their feelings with a passionate kiss. Promos for the new series promise a much steamier, "sexier" relationship.
"We've lived in these characters for so long that we feel like we know them intimately—and we do—and sometimes we get stuff, scenes or moments where it's like, 'Huh, I didn't think it was going to be like that, but alright, let's do it! Let's go in this direction!'" Hernandez told TV Guide.
Hawaiian setting
Beyond the character dynamics, one aspect that resonates with fans is its escapism, transporting viewers each week to Hawaii's lush, tropical island paradise. The Hawaiian locale is also important to the cast and crew.
Hill moved to Hawaii full-time during the third season, and many of the cast members maintain homes and cars on Oahu. 
"I believe that all of us find that living here has brought us closer to our own spiritual selves," she said.   
The show is a boon to the local economy, employing more than 180 local island residents in the crews, including makeup artists, costume designers, stuntpersons and extras.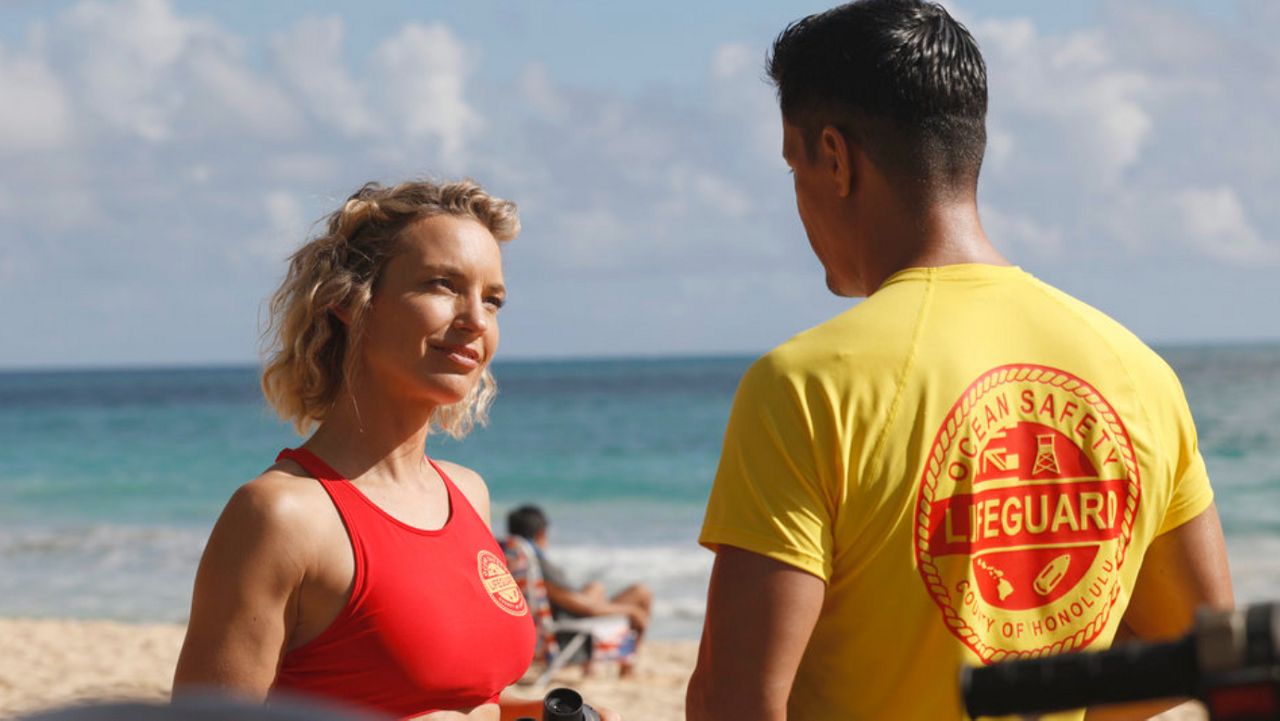 (Photo courtesy of Zack Dougan/NBC)
Ultimately, Hill hopes that viewers follow "Magnum" to its new home, so the show can continue for many years to come.
"There's so many stories to tell and so many things to explore on this island and in relationships, and we do enjoy each other's company," she said.