CINCINNATI — For the first time since 2019, Cincinnati is preparing to welcome back one of the biggest and weirdest performing arts festivals in Ohio, including dozens of live, in-person and indoor shows throughout Over-the-Rhine.
The Cincinnati Fringe Festival returns Friday, June 3, hoping to welcome thousands of theater-goers back to the city and reignite local passion for independent art.
What You Need To Know
The festival runs from June 3-18
It's the first time back to indoor, in-person performances since 2019
Fringe features independent artists, mostly from the Cincinnati area
he Know Theatre produces the festival and typically sells a few thousands tickets
Hartman organizes the setup of a pop-up theater.
Its host for more than 15 years, the Know Theatre produces Cincy Fringe to mark the end of its production season and offer opportunities for local, national and international artists to showcase their work on pop-up stages throughout Over-the-Rhine.
The Cincinnati Art Academy provided five of its rooms as potential venues, and Katie Hartman, this year's Fringe producer spent Memorial Day weekend ensuring those theaters came together to offer everything their productions needed.
"They're going to blackout all these gorgeous windows so that we can achieve a blackout in this space," she said showing off an art studio in the process of transforming into a theater.
The Main Stage will be at the Know Theatre itself and one of the parking lots between the buildings will host the outdoor "Looking Good Stage," named for the mural sharing that message on the side of the theatre building.
Between the 28 performances over the next two weeks, art exhibitions and outdoor concerts, Hartman hopes it feels like a return to normal for fans of the festival.
"In a pre-quarantine year, we sold upwards of 9,000 tickets," she said.
Over the past two years though, Tamara Winters, the Artistic Director at the Know Theatre, said it's been challenging to provide the same kind of theater experience most of those patrons expect from Fringe or the Know.
"I didn't realize how much I had missed this community, until it was so clear to me what I had been missing from my life when I got it back," she said.
During their 2020 season, Winters said they got little warning before the theater had to close its doors.
"We had a show on stage, right here it was a show called Alabaster by Audrey Cephaly, really beautiful show," she said. "It was only two weeks into its run, and it was about to get shut down completely."
Winters said they were able to shift gears and distribute the show to their ticket-holders through video-on-demand. While video offered one way to keep performances going through 2021 and Fringe 2021 was able to run a hybrid outdoor and streaming festival, Winters said it was a relief to get a few 2022 projects back on stage.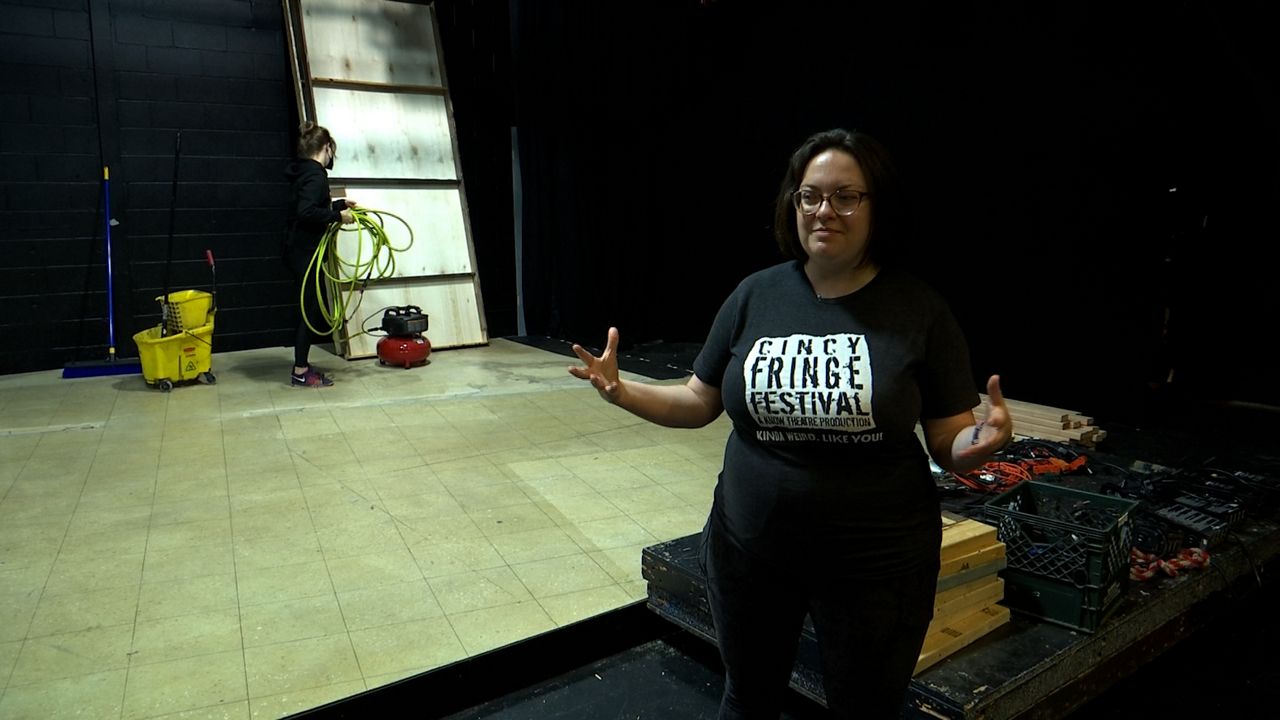 Winters at the Know Theatre stage.
"That feeling when you're surrounded by a group of people all experiencing the same story at the same time through whatever lens you bring to it and just feeling that charge of energy when it's time to clap," she said.
With the Fringe Festival returning to its normal format, Winters and Hartman both hope it signals a return to theater-going as they know it.
"It becomes just a fantastic bustling area that is very alive," Hartman said.
The festival runs from June 3 to June 18. Tickets and passes are available on the Fringe Festival website.
Due to the close quarters in each of the pop-up theaters, the Fringe Festival requests all visitors wear masks at their indoor venues.