Located about an hour and a half north of Denver, Fort Collins is a charming Colorado city with a small town feel. During the summer, Fort Collins offers a variety of outdoor activities from hiking to whitewater rafting. During the colder months, you can dive into different winter adventures like skiing, snowshoeing and ice-skating. Although no matter what time of year you visit, you're guaranteed to enjoy some incredible food in Fort Collins.
During our visit, we were on a mission to explore some of the very best dining experiences and eateries throughout Fort Collins. Here is our Foodie's Guide to Fort Collins, Colorado: Winter 2022 Itinerary.
Day 1:
Check in to the Armstrong Hotel
Our first stop in Fort Collins, Colorado is the Armstrong Hotel, a lovely boutique hotel located right in the heart of Old Town Fort Collins. This hotel was originally built in the 1923, and the influence of the 1920's can be found throughout the hotel from the symmetrical architecture to the design style.
The Armstrong Hotel offers a variety of rooms and suites, with some impressive amenities from onsite dining to a massage and wellness center. The Armstrong Hotel is also only steps away from most of Old Town's best restaurants a local shopping spots.
We stayed in a Corner Suite, which featured a spacious living room space, a sofa, an eating space and a large king bed. The suite was comfortable and the decorations added a modern flare to the 1920's style theming.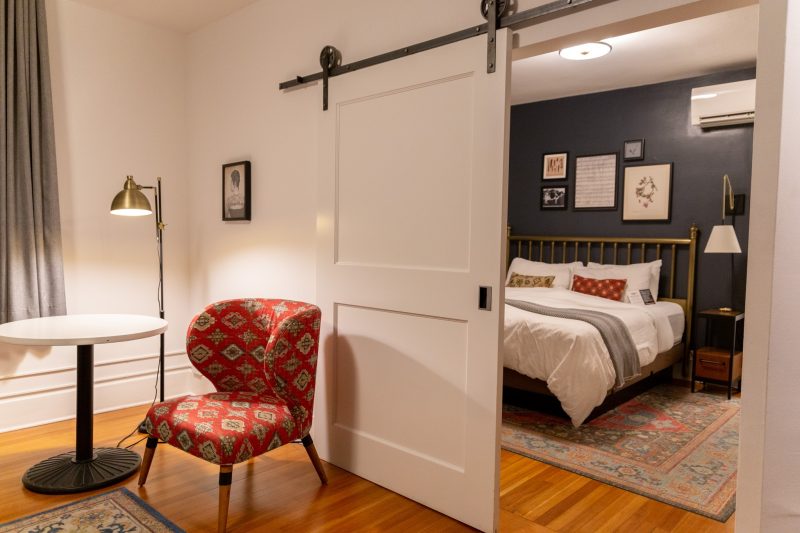 Dinner at RARE Italian
For our first meal, we walked down the street to RARE Italian for some authentic Italian cuisine. RARE offers a carefully curated menu with direct influences from Italy and American Italian immigrants. The atmosphere is elevated and welcoming at RARE, and most importantly, the food is excellent.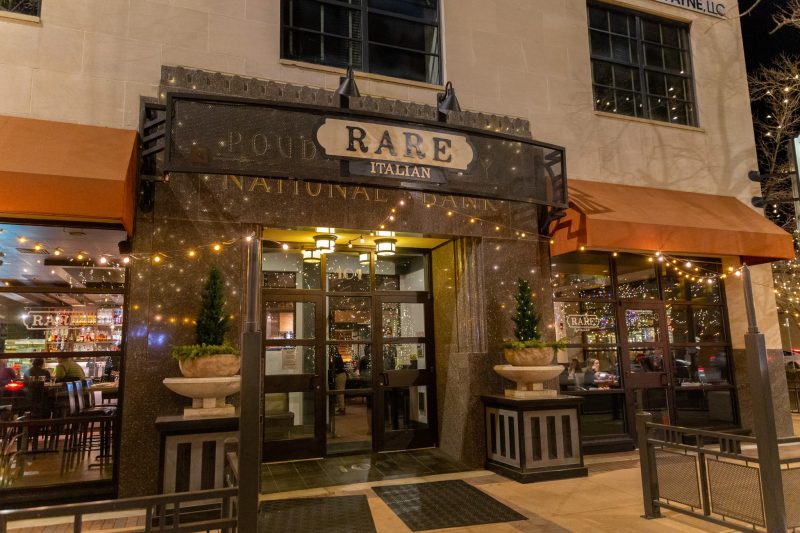 We began our dinner with some wine. We went with the De Stefani Redentore Sauvignon Blanc (left) and the Vino dei Fratelli American Super Tuscan Cabernet/Sangiovese (right). Both were excellent.
For our starters, we enjoyed an Italian Cheese Board and the Peach Bruchetta. RARE offers a customizable cheese board option, where guests are welcome to select which cheeses, meats and sides they'd like to try. We selected the Burrata, Teleggio and Piave Vecchio cheeses with Prosciutto di Parma, and it was the perfect dish to pair with the wine.
The Peach Bruschetta is a seasonal appetizer that is exceptionally tasty. If it's on the menu when you visit RARE Italian, it's simply a must.
For our entrees, we ordered the Linguini Carbonara and the Dry-Aged New York Strip. For pasta lovers, the Linguini Carbonara is a wonderful choice. This dish combines Rustichella di Abruzzo Linguini, Guanciale and Parmigiano-Reggiano, creating a flavor palette that is both delicious and elevated.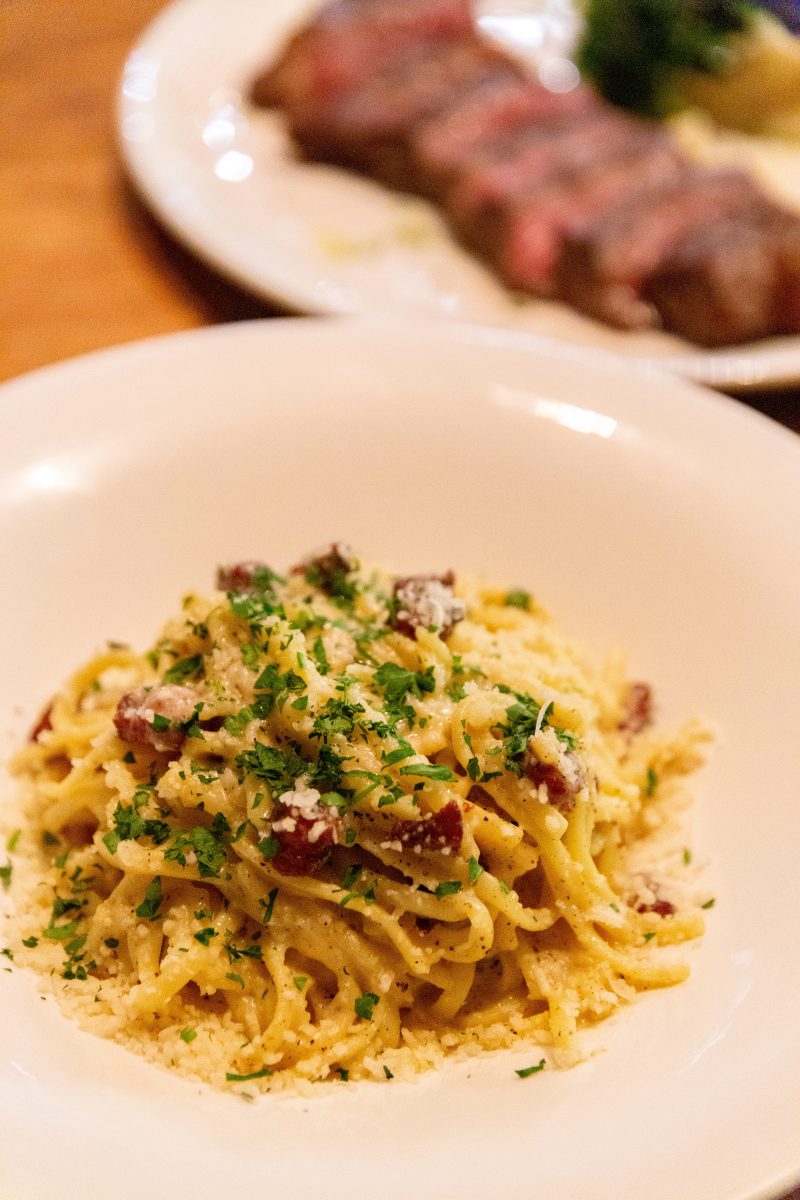 RARE Italian is famous for its variety of steaks, all of which are dry-aged in-house at the restaurant. We ordered the Dry-Aged New York Strip, which was seasoned to perfection and absolutely worth the hype.
A trip to RARE Italian in Fort Collins isn't complete without trying one of their decadent desserts. We ordered the Sage Crème Brûlée, and it did not disappoint. This dish features unique sage flavors and is topped with hazelnut brittle and candied berries. We've never tried anything quite like it before, and we mean that in the best way.
Day 2:
Breakfast at Ginger and Baker
Ginger and Baker is a lovely restaurant located within the historic Northern Colorado Feeders Supply building. Inside, you'll find charming eating spaces as well as a bakery, rooftop, a gift shop and more. We made our way to this Fort Collins staple for breakfast.
We highly recommend trying the Graham Cracker Latte if you're able to make it to breakfast at Ginger and Baker. This delightful morning drink features tasty flavors and even a homemade marshmallow. This latte is a must.
We also couldn't say no to one of Ginger and Baker's fresh cinnamon rolls. It was just as delicious as you'd imagine.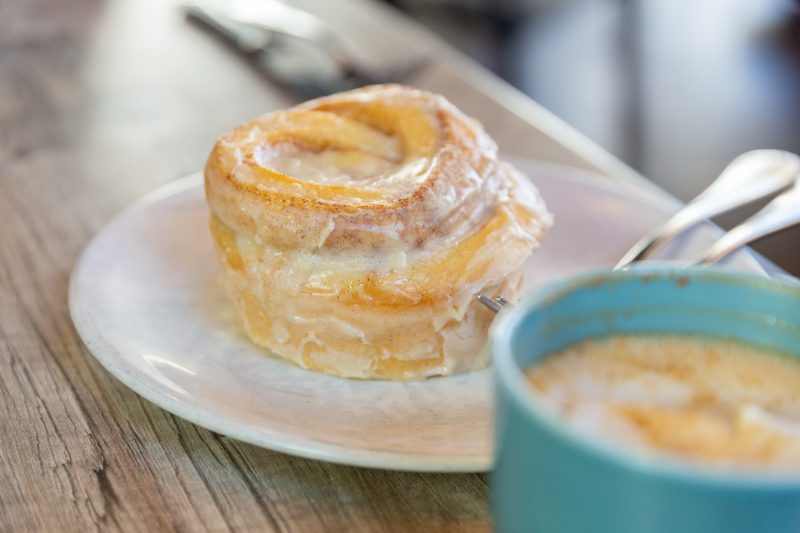 For our breakfast entrees, we started strong with the Garden Skillet. This dish is made with two over-medium eggs, Hazel Dell mushrooms, butternut squash, spinach, onions, peppers, potatoes, cheddar, pico de gallo and your choice of toast. The flavors meshed perfectly to create a savory and filling breakfast entree to remember.
We also ordered the Egg Breakfast. You really can't go wrong with this classic entree, made with two eggs, bacon, sausage or country ham, breakfast potatoes and your choice of toast.
Overall, our breakfast at Ginger and Baker was both delicious and memorable.
Lunch at Dae Gee Korean BBQ
Later in the day, we walked to Dae Gee Korean BBQ, which is conveniently located right next door to he Armstrong Hotel. Dae Gee offers an impressive unlimited bbq menu, and we were lucky enough to sample their Unlimited Dinner BBQ, featuring Sogogi Bulgogi (Rib-Eye Beef), Sam Gyeob Sal (Pork Belly), Dae Gee Bulgogi (Pork), Dak Bulgogi (Chicken), Chadol (Brisket), Galbee (Short Ribs) and Chicken Dumplings.
You can enjoy the Unlimited Dinner BBQ for $38 per person. The Unlimited Lunch BBQ is also available for $30 per person, the only difference being it doesn't include the Short Ribs.
Although the barbecued meats are typically the star of the show, we must point out the array of delicious side dishes that come with a Korean BBQ meal at Dae Gee. The sides include Napa Cabbage Kimchee, Kimchee Jun (Kimchee Pancake), Cucumber Kimchee, Pickled Yellow Korean Radish, Potato Salad, Fish Cakes with Vegetables, Fermented Onion & Jalapeños, Jangjorim and Sticky Rice. All were delicious, but my personal favorite was the Cucumber Kimchee.
The Chicken Dumplings were outstanding. The outer layer was nice and crispy, while the chicken filling was cooked to perfection.
For anybody who isn't familiar with Korean BBQ, it's a barbecue style in which the customers are invited to grill their own meat using grills built into the dining tables. The meat comes pre-seasoned, and all you have to do is grill it to your own preference.
The Dae Gee Bulgogi (Pork), Dak Bulgogi (Chicken) and Chicken Dumplings were the favorites at our table.
Dae Gee Korean BBQ has a few locations across the state of Colorado, including in Denver, Westminster and Aurora.
Dinner at The Armstrong Hotel
After a day of exploring Fort Collins at your leisure, we recommend heading back to the Armstrong Hotel for a private dinner. You can head downstairs to Ace Gillett's Lounge & Supper Club for a romantic underground dinner. Or, you can opt for a quiet and peaceful dinner in your room like we did.
For dinner, we enjoyed a delicious cheese tray, crackers and drinks from the comfort of our hotel suite.
The cheese platter featured a variety of cheeses, strawberry slices, blueberries, chocolates and honey.
We sipped on some delightful champagne as well as the Ruby Soho for Two, a specialty cocktail made with Noco Gin, Aperol, Grapefruit and Elderflower. Both the presentation and flavors of this drink will instantly transport you to a whimsical mad tea party.
This dinner was a lovely reminder that a dinner doesn't have to be extravagant to be amazing.
Day 3:
Breakfast at Mugs Coffee Lounge
For our third and final day in Fort Collins, we started off with a light breakfast at Mugs Coffee Lounge. Located directly next to the Armstrong Hotel, Mugs Coffee Lounge is the ideal spot for a quick breakfast bite whether you're on the go or you wish to sit down and get some work done.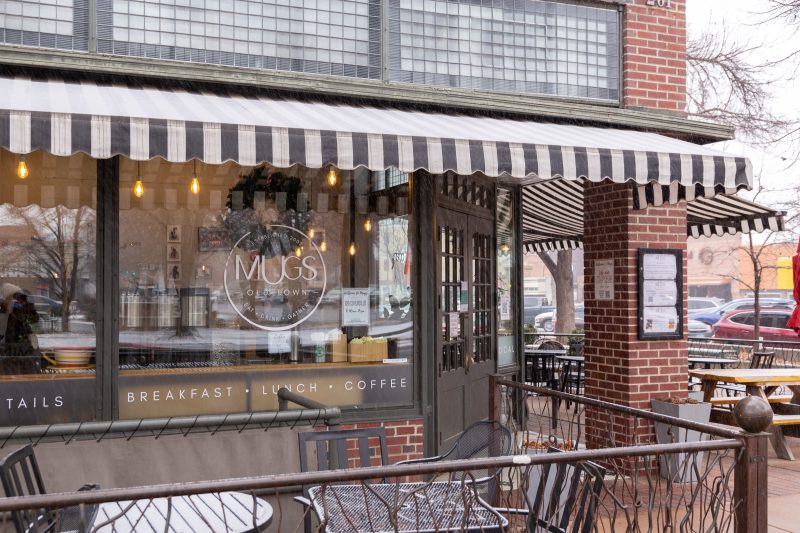 To begin our day, we ordered a Snickerdoodle Oat Milk Latte, a regular Black Coffee and a Veggie Breakfast Burrito. Both coffees were great, and the breakfast burrito was extremely flavorful.
Lunch at Vatos Tacos + Tequila
A little later, we ventured through the snow for some Mexican bites at Vatos Tacos + Tequila for lunch. Vatos Tacos is an awesome taco shop located in The Exchange at Fort Collins, an exciting outdoor food hall that's open all year round.
The Street Tacos at Vatos Tacos + Tequila are a must. For lunch, we ordered the Chicken, Pork Belly, Mango Fish, Fried Avocado and Beef Barbacoa Street Tacos, all of which were phenomenal.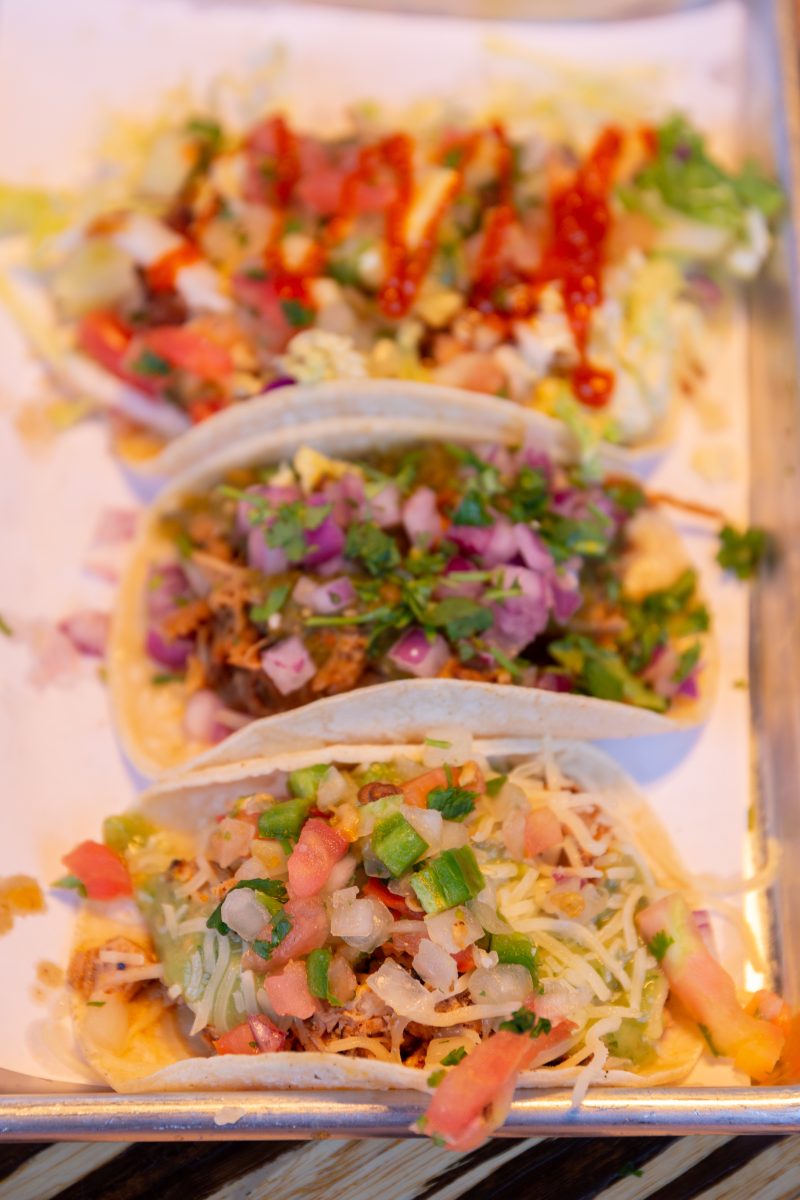 We also ordered the Chicken Nachos, which are served with beans, chicken, cheese, jalapeños, pico de gallo and guacamole. These nachos were wonderful, and we highly recommend ordering them along with some street tacos during your next visit to Vatos Tacos.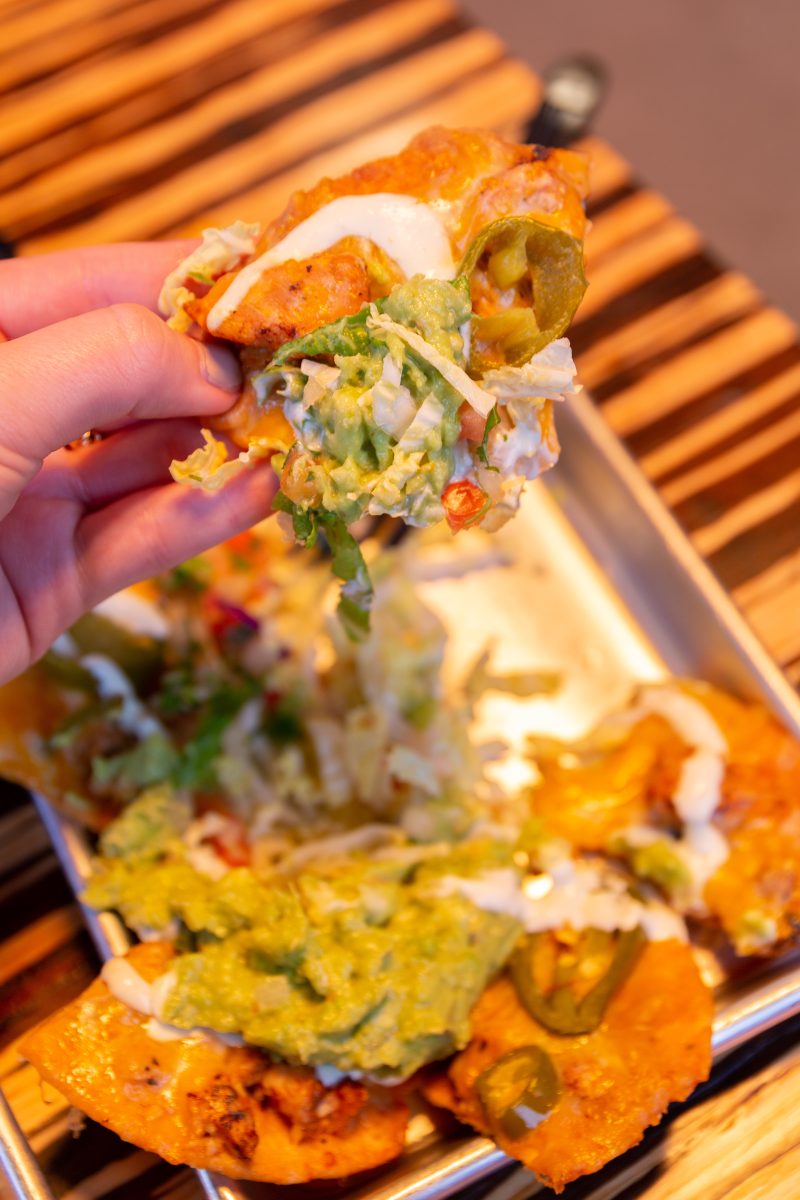 Vatos Tacos currently has two locations in Colorado, one in Fort Collins and one in Loveland. They plan to open a new location this year in Denver near the Sloan's Lake neighborhood.
Ice Cream at Old Town Churn
It wouldn't be a successful trip to Fort Collins without stopping by Old Town Churn Ice Cream. This unique ice cream shop is also located at The Exchange, making it the perfect stop for dessert after enjoying lunch or dinner at one of the surrounding restaurants.
If you've ever been to Little Man Ice Cream Company in Denver, you may recognize some of your favorite ice cream flavors at Old Town Churn.
Old Town Churn is worth toughing out a snow storm for — it's really that good.
We ordered the seasonal Peppermint Mocha as well as the classic Space Junkie flavors. The Peppermint Mocha was the perfect combination of rich chocolate and refreshing peppermint. The Space Junkie is incredibly unique, combining the flavors of raspberry with tasty marshmallow and brownie bites. It's hard to explain, but the Space Junkie is a fan favorite for good reason.
One of the perks of enjoying ice cream in the Colorado winter is being able to take your time eating it, because it definitely won't be melting in this weather!
For more information about Fort Collins, Colorado and its many unique dining experiences and attractions, go to VisitFtCollins.com.