LOS ANGELES — Ever since he was 6 years old, Morgan Hampton has dreamed of seeing his name in the pages of a comic book. He admits he wasn't much of a reader back then, but comics proved to be his passport into a whole new world.
"Comics kind of got me into reading in general," he explained, "which broadened just my whole scope of wanting to like get into storytelling and stuff. But everything started with comics for me." 
What You Need To Know
DC POWER: A Celebration is an anthology created for Black History Month
The issues feature Black superheroes like Kid Flash, Aquaman and Cyborg
Writers Morgan Hampton and Dorado Quick make their debuts in the anthology
They were part of the Milestone Initiative, a partnership between DC Comics and Milestone Media to train and mentor new and diverse talent
The medium plays a similar role in the origin story of Dorado Quick.
"I'm a young man from Inglewood, California, back when Inglewood was always up to no good," Quick said, "so comics were always an escape for me."
The two went from losing themselves in the colorful paneled pages of comics to now having their own names appear in those same pages on stories they wrote. They also recently had their first signing at Golden Apple Comics where their names were advertised on the door.
"Surreal!" Hampton said, pointing at the sign. "It doesn't feel real. Pinch me. I'm dreaming."
More like experiencing a dream come true. The writers are part of the first class of the Milestone Initiative, a partnership between DC Comics and Milestone Media — a company founded by Black comic book professionals in the 1990s. Twelve artists and 12 writers were trained and mentored through the program and now Hampton and Quick are being published for the first time in DC's Black History Month anthology called "DC POWER: A Celebration."
"First thing I like to do when I pick up a comic is smell it," Quick said before the two held the newly published pages up to their faces and breathed it all in.  
(Spectrum News/Tara Lynn Wagner)
"That smells great," Hampton laughed.
"Premium, A-1 grade paper, right there," Quick added.
Growing up, he said, he rarely had a chance to see himself reflected in the comics he read, but that didn't stop his imagination.
"That's part of being Black," he explained. "You got to kind of imagine yourself in other roles, other characters that don't look like you."
Hampton said even when there were Black characters, they didn't feel organic since they often weren't being penned by Black creators.
"You can definitely feel it on the page where like, the dialogue just doesn't feel like this is a Black character speaking," he pointed out. "Illustrators as well. Getting hair texture right, all that type of stuff."
"The curls and the kinks and the braids and the boxes," Quick agreed.
Which is why the Milestone Initiative was created, to diversify not only what's on the page but the team of people bringing those pages to life. Readers have taken note of the change, celebrating the anthology and praising the authenticity of their voices.
One panel from Quick's story even went viral on Twitter. It features Kid Flash and Aquaman discussing hair.
"Some people said they felt seen, they had never seen dialogue like that before, written so well," Quick told Hampton. "It's hitting people. It's touching people."
The writer, whose previous work was in scripting commercials and branded content, calls himself a man of faith and feels it's no coincidence that his first published comic would feature Kid Flash, who Quick describes as one of the fastest people alive.
"I think that's just serendipitous, and I'm grateful," he said. He even titled the piece "Own Your Name."
It seems written in the stars that his first signing would be at Golden Apple, which he calls his go-to shop. He has a pull list here and comes in every Wednesday to pick up his selections.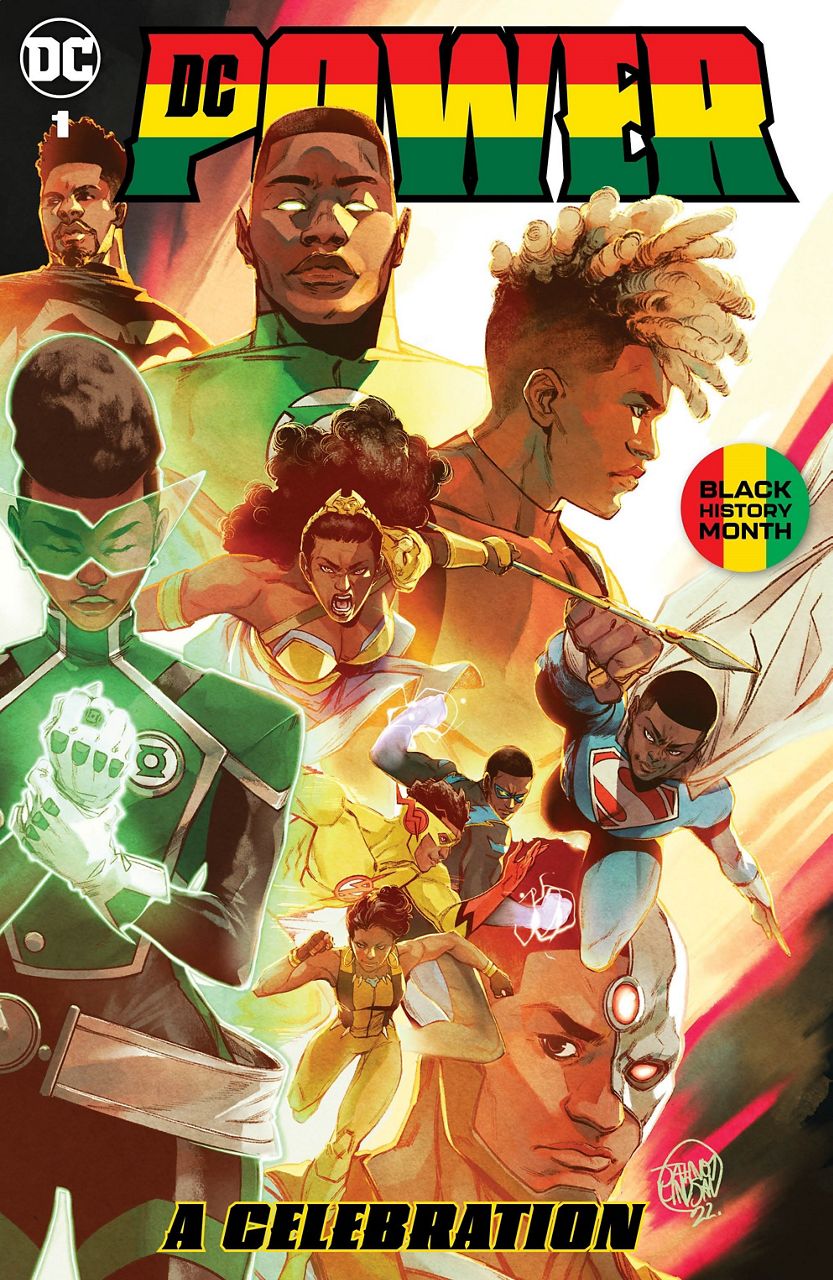 (DC/Warner Bros Discovery)
"I feel like 'Cheers' when I walk in here," Quick laughed, "like everybody knows my name."
"We call him 'Rado," Golden Apple owner Ryan Liebowitz admitted. "I mean, I only learned his name was Dorado when I read it on the cover of the DC Power book."
Liebowitz, whose father opened the store decades ago, said it's important that the books on his shelves represent the diversity of the city and of his customers. When his windows were smashed during the Black Lives Matter protests in 2020, he reached out to local artists to paint the wooden boards installed during repairs. Those boards now line the walls with the likeness of characters like Black Panther and Storm.
"Two different versions of Samuel L. Jackson. Then, of course, Miles Morales who's, you know, just the new face of diversity in Marvel comics. All the prolific Black superheroes in the in the comic book world," Liebowitz pointed out as he moved along the aisle. "It's part of our culture. So we kept it. We want people to understand what happened here."
He's hosted a lot of readings but said it's especially thrilling to witness the success of a regular like 'Rado.
"These people come in here starting as fans first and then kind of rising to the occasion," Liebowitz said. "And now they're amongst their peers.
The anthology is just the beginning. The book features an announcement that Hampton will be authoring a new Cyborg series. Having grown up with a bleeding disorder, he said he always felt a strong bond with Cyborg and his physical disabilities. He looks forward to exploring the superhero's nuances.
"I think there's a lot to say about like a, like a Black man in this society, who for all intents and purposes had his body taken from him and what that feels like, up here and in here," he said, pointing to his head and his heart, respectively. "And hopefully with my series, I can kind of speak to what that perspective feels like when you live in a world where your choices are taken from you and how you navigate that." 
Both men see being featured in the anthology as both a badge of honor and a responsibility and they hope their contributions to the DC universe will inspire something in readers in this universe.
"To have a little bit of Black joy kind of start the year off with, I think is needed," Quick said. "And I think it's kind of giving people another narrative to kind of have some fun and enjoy being Black, enjoying good stories in the midst of what's going on in the world."