LOS ANGELES — You may see a plate, but chef Curtis Stone sees something else.
"It's just this perfect blank canvas," Stone said, an empty white disc in front of him, ready to be covered in rich, vibrant colors.
He begins with a careful smear of broccoli puree, dragged across the plate just so.
"It's really green," he said, putting down a small bowl of the bright, almost neon silky-smooth green puree. "It doesn't matter how big you are in Hollywood, everyone's going to be scraping that smear off their plate because it tastes absolutely delicious."
He's referring to the crowd of notables that will gather this Sunday at The Barker Hangar in Santa Monica. The Michelin-starred chef is preparing the menu for the 28th annual Screen Actors Guild Awards. He's used to catering to the palates of stars at his restaurants, Gwen and Maude, but this is his first time catering the SAG Awards.
"You know, I mean, you're cooking for the biggest stars in Hollywood all in the one room," Stone said. "It's a real honor."
Not to mention a big job. Each plate comprises several components, including what Stone calls "chewy carrots," boiled in orange juice and then partially dehydrated.
"Look how bendy they are," he showed. Other items include turmeric roasted cauliflower and sweet potato with curry, coconut, cilantro and cucumber.
His goal, he said, is to deliver flavorful fine dining that is easy to understand. His wife is actress Lindsay Price, and he knows a lot is going on at award shows. The food should play a supporting role without stealing the show.
"We didn't want it to be overly complex," Stone explained. "We didn't want them to sit there thinking, 'Oh goodness, what am I eating?'"
Not that it's simple. Far from it. Cooking is a science. Cooking for a crowd of this size involves math. Take the quenelle of salmon rillettes – the one pescatarian item on the menu.
"Quenelle is a shape," Stone said. "It has three sides. It should be pretty even."
Each one has to be shaped by hand, using two large spoons working in tandem to achieve the desired look. The menu calls for two quenelles of salmon rillettes per plate.
"If it takes somebody 30 seconds to make one quenelle, then 2,400 times 30 seconds equals 1,200 minutes of doing quenelles," Stone said. "So we then have to figure out how many chefs we need standing there quenelling at the same time, and it's got to be an absolute science. You can't miss anything."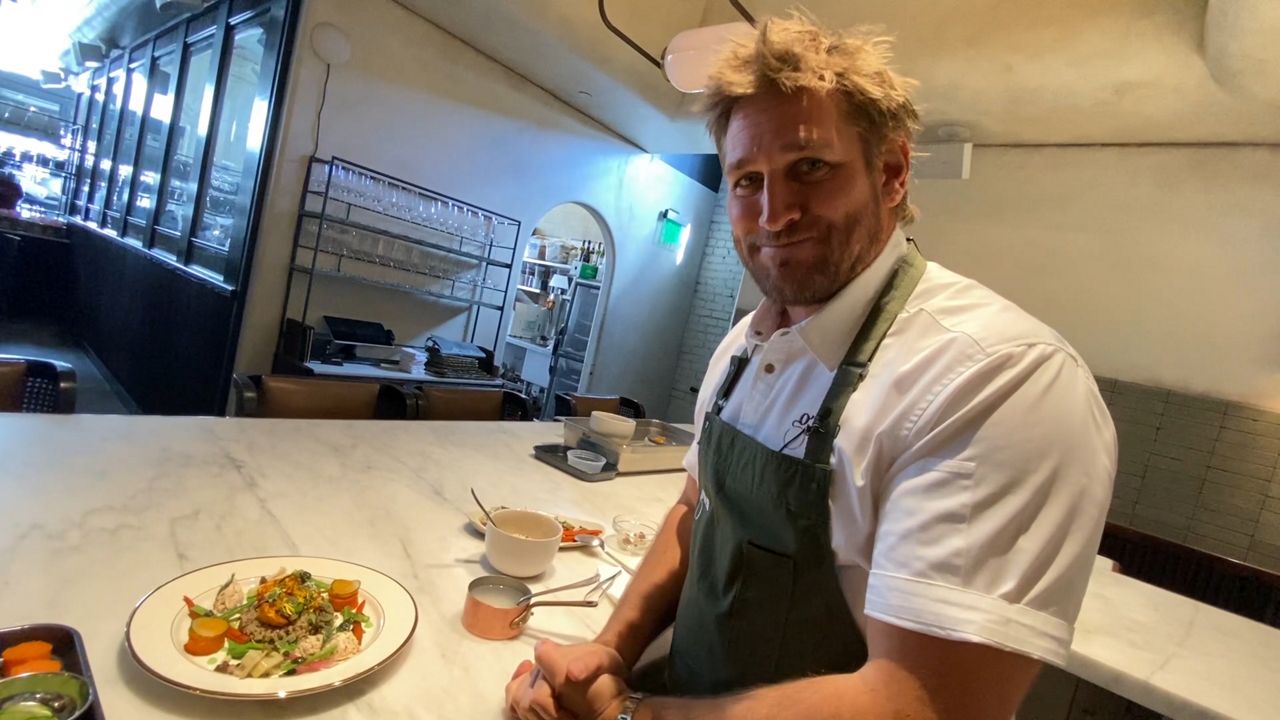 This award dinner comes at the perfect time. Stone said that restaurants have been hard hit the past two years, and his restaurants were no exception.
"We've had forced closures. We've had to flip our restaurants into take out joints. It's hard to find staff," Stone listed, "but you know what? I'm not here to complain. At the end of the day, challenges keep coming and we have to keep answering them."
That meant pivoting to offer take-out. His intimate fine dining establishment Maude, which reopened on Valentine's Day, was turned into a temporary pie shop. At Gwen, picnic lunches were available to go.
And now here he is, making preparations to feed a gathering of hundreds of people in one large space.
"It's just wonderful to be back in business," he beamed.
Not to give away any spoilers, but the finished dish is a bona fide work of art—a constellation of carefully sourced and organic ingredients.
"Everything that you see comes from a local farm and that's something that we're really passionate about," Stone explained. "I think it's a real bounty of Southern California on a plate."