MILWAUKEE— I am a regular music-theater goer, with a dance background who grew up watching both film renditions of "Charlie and the Chocolate Factory."
I really wanted to enjoy this musical.
But there's no sugarcoating it: "Charlie and the Chocolate Factory" fell flat Tuesday night at the Marcus Performing Arts Center.
The musical tells a timeless tale: Willy Wonka (Cody Garcia) lets a handful of kids, and their parents, into his whimsical chocolate factory. All they have to do is find a golden ticket in a candy bar. And one of those children is Charlie Bucket (Coleman Simmons), whose life could certainly use some sweetness.
Charlie is the only kid played by an actual kid. I have to wonder what the show would have looked like if it had the added layer of authentic innocence and pure imagination that only a child can bring to the stage.
Charlie was a gold spot in this production, offering a breath of life and pure joy in every scene. His sweetness and wonderment made for a perfect aspiring chocolatier— exactly what I would hope from a Charlie. His first number, "Willy Wonka! Willy Wonka!" showed off his voice, and he'd later upstage every adult on stage with his dancing.
Coleman Simmons as Charlie Bucket. Roald Dahl's CHARLIE AND THE CHOCOLATE FACTORY. Photo by Jeremy Daniel
The dancing and choreography (Alison Solomon) left much to be desired. Albeit, Veruca Salt (Angela Palladini) was an intentionally sloppy dancer, which added to her character and physical comedy. However, the ensemble lacked basic technical skills such as pointed feet, turn out, flexibility, rhythm and musicality. Even to the untrained eye, it's hard to miss the sloppy legs and out of sync movements.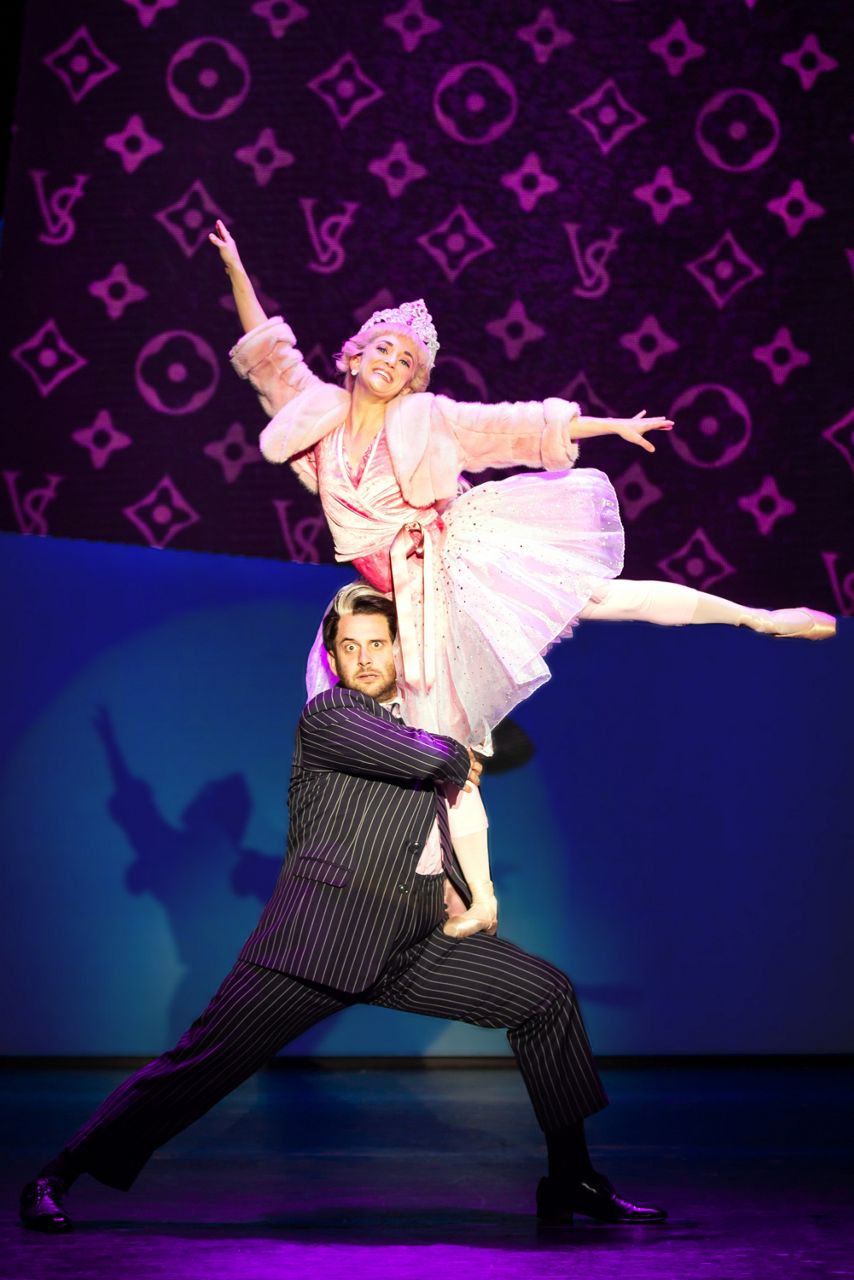 Angela Palladini as Veruca Salt and Scott Ryan Fuss as Mr. Salt. Roald Dahl's CHARLIE AND THE CHOCOLATE FACTORY. Photo by Jeremy Daniel.
The star dancer of the night had to be Lauren Soto, who took the stage as Violet Beauregarde. The understudy was a strong stage presence, had fabulous rhythm and great comedic timing. Her voice, and energy, radiated through Uihlein Hall, just like her sparkly jumpsuit. Branden Mangan foiled well as Violet's father, bringing a complementary comedic presence.
Unfortunately, Violet is dismissed from the tour of the chocolate factory early on, and much of my amusement went with her. The Oompa Loompas were cringey, as were the dancing squirrels.
Most of the jokes were tacky and corny, seemingly trying for forced laughter. The writing (David Greig) led to a choppy sequence of events. Many of the secondary characters— the entourage of bratty kids and their problematic parents— were just OK.
Read our "Charlie and the Chocolate Factory" preview
Garcia's performance as Wonka was uneven at best. They did not start off strong in "The Candy Man." Their performance went from sour to sweet by the end of the show, but it was a long boat ride down that dark, candy river to get there.
"Charlie and the Chocolate Factory" stays true to the core of the original, but ended up being more sour than sweet. The show runs through June 5. For more information, click here.