LOS ANGELES — Here's the story… of a "groovy" new podcast.
Two original cast members of "The Brady Bunch," Barry Williams ("Greg Brady") and Christopher Knight ("Peter Brady"), have teamed up for "The Real Brady Bros," a new audio show that will dissect each episode of the iconic 1969-1974 series.
What You Need To Know
Actors Barry Williams and Christopher Knight are teaming up for a new podcast recapping each episode of "The Brady Bunch"
The original series aired for five seasons on ABC and featured 117 episodes
The show has spawned a cartoon, variety series, stage play, made-for-TV movies and feature films
In 2019, the TV siblings appeared on "A Very Brady Renovation" on HGTV and remodeled the actual house that was used to film exteriors for the series
Knight, who lives near Los Angeles, was approached two years ago about doing a new audio project around the show that aired for 117 episodes.
"I thought if I'm going to do a Brady podcast, I can't do that alone. I need another Brady to kick that around with," he said. "So, if we're going to do a podcast, and it's going to be about Brady, then I think it would be best served by having Barry with me on it, actually leading, because he's more of a Brady expert than I am."
"I wrote the book!" Williams interjected, referring to his 1992 memoir, "Growing Up Brady."
"Since the show first came on, viewers and fans of the show have been interested in details down to minutiae, and the podcast is a perfect medium for exploring all of the intimacy, the details, what was going on during the episodes and to be able to share it," added Williams, who lives in Missouri. "Chris and I, we've discovered similar situations, similar environment and very different recollections."
Artwork for "The Real Brady Bros," a new podcast featuring Barry Williams and Christopher Knight.
Ever since the show ended, "The Brady Bunch" has aired continuously in syndication and now is available to a new generation on streaming services, Paramount+ and Hulu. Over the years, a cartoon, variety series, traveling stage play, made-for-TV movies and feature films have made the Bradys almost timeless.
"It's never been off the air," Williams said. "It's on somewhere every day, multiple times a day. Each episode itself has run hundreds of thousands of times, hundreds and hundreds of thousands — each episode times 117. That is a kind of saturation that is almost inescapable."
In 2019, Bradymania took a new turn when all six TV siblings reunited for "A Very Brady Renovation" on HGTV. After the network bought the house in Studio City that was used in exterior shots for the series, the actors joined HGTV personalities to transform its actual interior into the dwelling viewers had seen on a Paramount soundstage. The special series earned the network an Emmy nomination.
"I think the interest has always been there, but they hit upon a particular magic," Williams said of the HGTV series. "It expanded our audience, if you will, because they have literally their own energy and audience for the whole renovation world. And this particular renovation for those people was unique and interesting for our fans."
The duo plans to recap a different episode each week in no particular order. That means some fan favorites, including the three-episode trip to Hawaii and the shows filmed at the Grand Canyon, could be reviewed early in the podcast's run.
Williams teased that the Cincinnati Bengals' appearance in the Super Bowl this year provides a timely opportunity to focus on an episode from 1973, "The Cincinnati Kids," in which the family traveled to the Kings Island amusement park in Ohio.
"I had the foresight, I guess, or luck to recommend that (episode), and that is the most recent one, which we just recorded," Williams said.
While only two of the "Brady bros" are involved in this podcast, future episodes may include special appearances by other actors involved in the series and some of the famous guest stars. NFL legend Joe Namath, who appeared in one episode, could be asked to share his recollections, they said.
"I believe that the best guests would be those who know us best to make it easier before inviting in somebody like a Joe Namath," Knight said. "And so I would anticipate having little resistance from Michael (Lookinland) and Eve (Plumb) and Susan (Olsen), and I look forward to that."
The podcast will include the actors' memories of working with TV parents Robert Reed and Florence Henderson, the show's beloved housekeeper, Alice, played by Ann B. Davis, and many of the notable guest stars such as singer Davy Jones and comedic actress Imogene Coca. They will also discuss the moral message of each episode.
"We talk about the writing or how it might be written differently," Williams said. "We talk about mistakes and what we think was goofy, or what we thought was fun."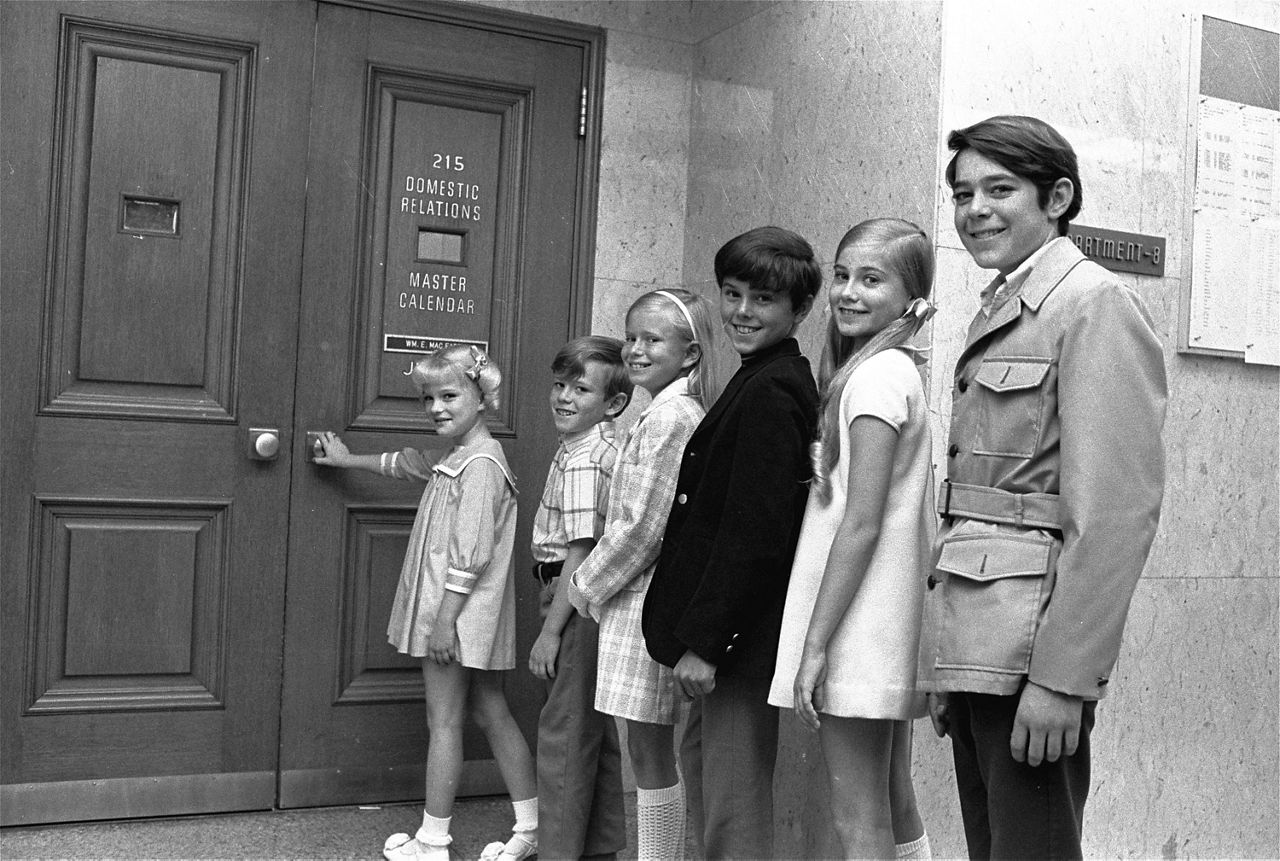 "The Brady Bunch" cast photographed in 1969. (AP Photo)
"We get to share with them the creation, bringing them up to speed with what we were going through at the same time watching an episode for the first time sometimes in 50 years," Knight added.
The pair has released one episode of the podcast so far — a recap of "Peter and the Wolf" from the fifth season — in which Peter wore a fake mustache on a date to pretend to be an older guy.
New episodes will drop every Tuesday.
"It's the greatest personal benefit that both Chris and I have learned a lot about each other that we didn't know because we experienced it differently," Williams said. "That's really cool. We get to review our childhood from an adult perspective."
"The Real Brady Bros" can be downloaded on major podcast platforms, including Apple and Spotify.