OUR MONTHLY GUIDE TO THE BEST THINGS TO DO IN ORLANDO FOR DATE NIGHT
There are so many fun events happening in the City Beautiful. Enjoy the cooler weather at a market, try an art class or explore the foodie scene. 
There's a lot on our curated guide of things to do in Orlando, so keep scrolling! It starts with event highlights for things to do this week, followed by our top picks for things to do in Orlando for the rest of the month. You'll also find an ongoing events section for even more ideas.
Check back often as we add more Orlando events to this listing throughout the month.
For even more things to do in Orlando, check out these trending stories:
–> PS: Want to see your Orlando events listed here? Submit your event to us here.
This guide is updated throughout the month. 
Scroll down for a look ahead to the big events of 2023
Sign up to get weekly date night ideas in your email each Thursday 
Road Trip: Events in Tampa Bay this month
Planning to head to Tampa this month? Here's a guide to the best Tampa Bay events this month from Tampa Bay Date Night Guide. If you're planning to bring the kids, check out this guide to family-friendly events and activities in Tampa Bay from our sister publication Tampa Bay Parenting Magazine.
Featured Events 
Music & Mimosas at The Space Bar
Every Saturday from Noon to 4pm
A midday party that soars! Live music is a pretty good time just about anywhere. And when live music is taking place on the roof at The Space Bar overlooking Kennedy Space Center, the excitement is ratcheted up a few parsecs.
Be there for all the fun on Saturday afternoons, from 1-4pm. While you're taking in the tunes, you can kick back with $5 Mimosas and Bloody Mary's from 12-2pm.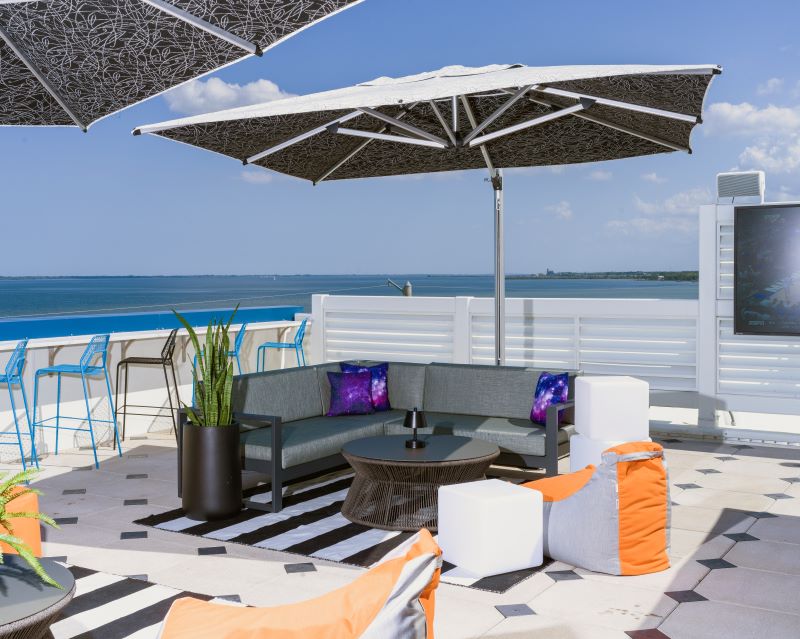 Vintage Garden and Plant Show
March 3-4, 9 a.m. to 3 p.m.
Join the Old Red Barn of Geneva for their first Garden and Plant Show featuring vintage garden items and tons of gorgeous plants and flowers.
Broadway on The Rocks welcomes Megan Reinking
Saturday, March 4, 7:30-8:30 p.m.
Rocks Lobby Bar at Hyatt Regency Orlando 9801 International Drive Orlando, FL 32819
Enjoy an intimate performance from Broadway and TV star Megan Reinking (HAIR, Lestat, HBO's Boardwalk Empire). Ms. Reinking will share songs and stories, accompanied by pianist John R. Mason.
Before the show, enjoy a welcome drink and signature light bites from Hyatt Regency Orlando's renowned culinary team.
Performance begins at 7:30pm in Rocks Lounge.
Doors open at 6:30pm.
All ticket prices include guaranteed seating, set menu of light bites, welcome drink, one-hour performance and gratuity.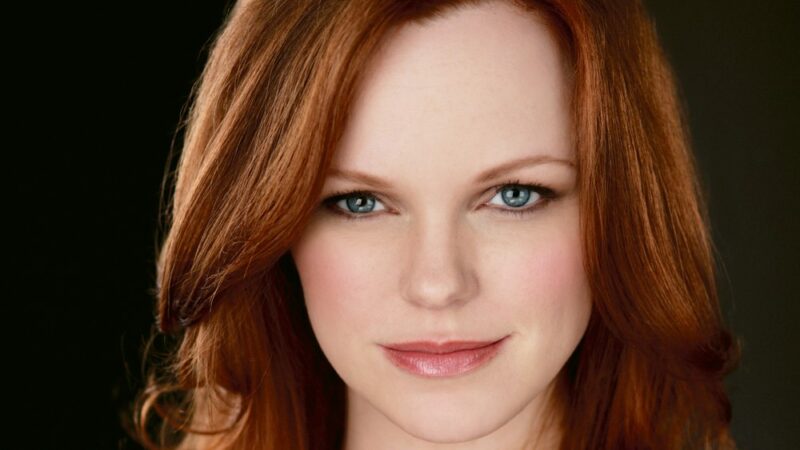 Hemisphere Restaurant: A Tour of Italy
March 10, Reception at 6:30 p.m., Dinner at 7 p.m.
Did you know that Hemisphere Restaurant located on the 9th floor of Hyatt Regency Orlando Airport has special events such as an Easter Buffet, Mother's Day Buffet, and a quarterly wine dinner?
The next quarterly wine dinner includes a Four Course Tour of Italy paired with wines from the regions of Lombardia and Piemonte.
$165.00 per adult (tax & gratuity not included) | Complimentary Valet Parking.

Monthly Farmer's Market at The Old Red Barn of Geneva
March 18, 9 a.m. to 2 p.m.
Come on out for their monthly farmer's market and get some great, locally grown produce, eggs, and plants. They also have several other outside vendors as well!
I DOs and BREWS Orlando
Thursday, March 23, 6-9 p.m.
Margaritaville Resort Orlando
A wedding planning date night created for today's engaged couples. This 21+ event includes complimentary samples of beer/wine/ciders along with face to face interaction with top wedding pros, live entertainment, multiple DJs, photo ops for your TikTok and IG, free food and dessert samples, prize giveaways and so much more.
Get tickets for you, your fiancé, family and friends. Then come plan your wedding together at this one-of-a-kind wedding planning event.
Tickets: $8 General Admission, $5 Designated Driver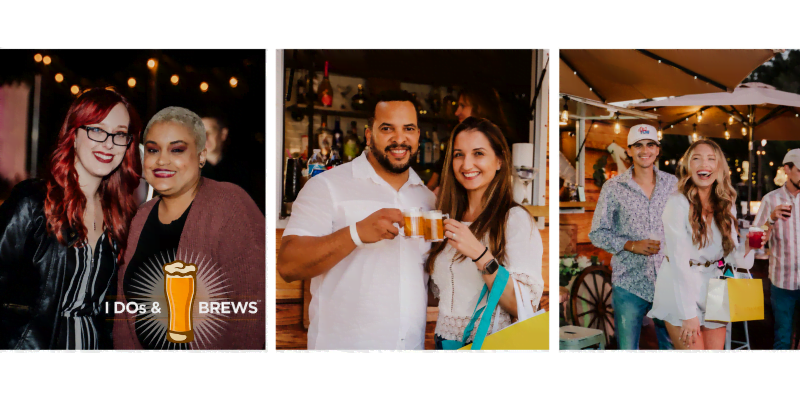 Bella Notte at Bella Collina
Friday, March 31 at 7:30 p.m.
Audiences will enjoy a real taste of Italy right here in Central Florida as the Opera takes over the Tuscan-inspired Bella Collina. A unique pairing of two comedic one-acts will be presented with food and drinks served before, after, and in between acts. It will be a perfect date night at one of the area's most frequented wedding venues featuring stunning views matched only by the thrilling music of two of opera's most famous composers: Rossini and Puccini.
Led by music director and pianist Kyle Naig, and stage director Grant Preisser, this combined double-feature about love and marriage is sure to have the audience in stitches and with the site-specific, immersive approach to this production they may even be part of the action.
Both operas will be presented in English, with food, drinks, and on-site parking included in the ticket price. Bus transportation from the Opera offices in downtown Orlando to Bella Collina may be purchased for an additional fee.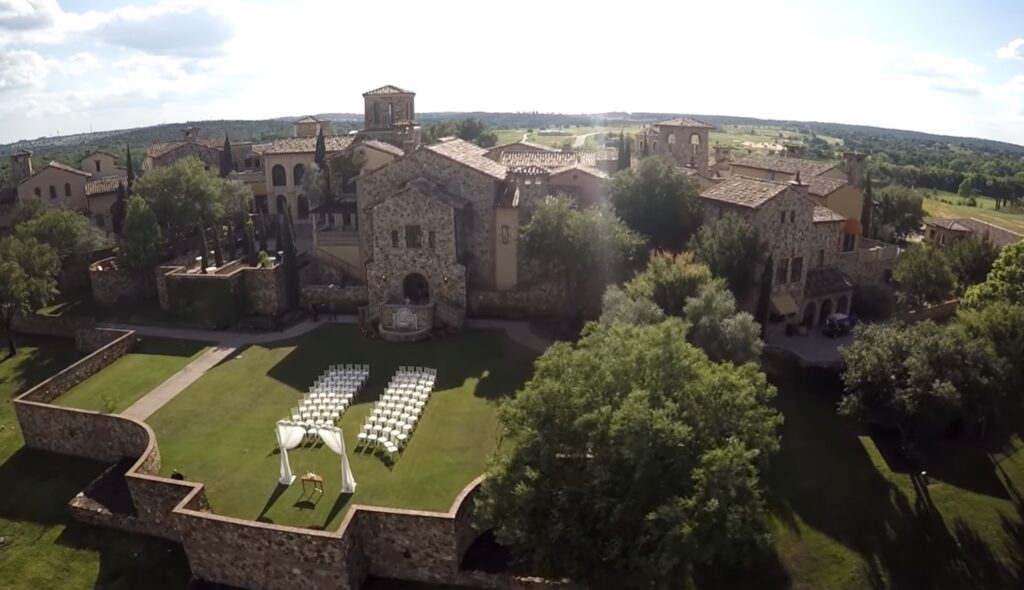 Things to Do This Week in Orlando March 1-5, 2023
Universal Orlando Mardi Gras
February 4 – April 16, 2023
Universal Orlando
Mardi Gras and Carnaval-style fun with a parade, concerts, and more. And every day and night you can enjoy lip-smacking foods from New Orleans as well as mouth-watering dishes inspired by tastes from around the world.
Included with theme park admission; food and beverage extra
RELATED: How to Have an Epic Date at Universal Orlando Mardi Gras 2023
Wekiva Paint Out
February 27th – March 4th, 2023
Wekiva Island
Dozens of artists paint for a week in "plein air"- out in the open. Their inspiration? Beautiful Wekiva Island, the Wekiva River and the Wekiwa Springs State Parkof course. All proceeds benefit the Wekiva Wilderness Trust and Keep Seminole Beautiful.
Check schedule for events happening all week
Pretty Woman: The Musical
February 28th – March 5th (8 Showtimes)
Walt Disney Theater at Dr. Phillips Center for the Performing Arts, 445 S. Magnolia Ave
Based on one of Hollywood's most beloved romantic stories of all time, Pretty Woman: The Musical springs to life with a powerhouse creative team led by two-time Tony Award®-winning director and choreographer Jerry Mitchell (Hairspray, Kinky Boots, Legally Blonde), and featuring an original score by Grammy® winner Bryan Adams and Jim Vallance ("Summer of '69," "Heaven"). 
Tickets from $45.
Looking ahead… St. Patrick's Day in Orlando: Events and Irish Pubs
HORIZON WEST FEST 2023
Saturday, March 4, 11am – 5pm
Horizon West Town Center
Music, Stage Performances, Local Fare, Kids Games & Activities, a Scavenger Hunt and Loads of microlocal Vendors.
FREE
Blake Shelton with Carly Pearce and Jackson Dean
Saturday, March 4, 7pm
Tickets from $55
The Important Problem: A Social Justice Opera
Friday and Saturday, March 3 and 4, 7pm
Timucua Arts Foundation
The Important Problem is a Social Justice Opera funded by the State of Florida Arts and Culture department through their grant rewards. The opera is set in a subway with 4 victims who represent political/social issues and 2 main characters who represent two different interpretations of the law.
9th Annual It's Just Yoga Health & Fitness Festival
Sunday, March 5, 10am
Lake Eola Park
A day of yoga classes benefiting New Hope for Kids. The festival features donation-based classes, taught by Central Florida instructors in a variety of yoga disciplines.
Donation based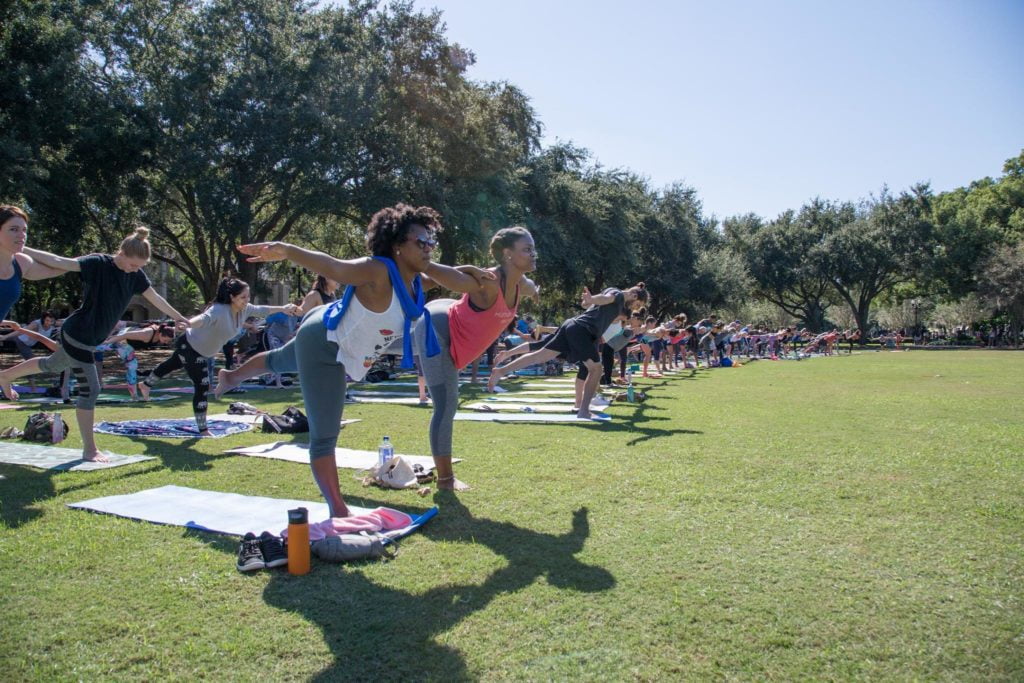 Image credit: Yoga in Lake Eola Park
Bourbon and Bluegrass
Sunday, March 5, 3pm – 6pm
Lake Nona Wave Hotel – Sculpture Garden
Upscale afternoon featuring craft bourbon cocktails, Chef prepared light fare and the soothing sounds of a live bluegrass band
Each ticket includes: 2 Craft Bourbon Cocktails, Chef Prepared Fare, Lawn Games, Swag Bag
$70
Game Day at Central 28 Beer Co. (feat. Maya Rosa Latin BBQ)
Sunday, March 5, 2:15pm – 5pm
Central 28 Beer Co.
Four tapas from Maya Rosa Latin BBQ, paired specifically with each beer
Four rounds of one-on-one games hosted by Closer Together
$90 per couple
Things to Do in Orlando March 6-12, 2023
Orlando Gay Chorus Concert
Saturday, March 11, 2023, at 8:00 p.m.
First Unitarian Church of Orlando's Milk District Salon
The Orlando Gay Chorus (OGC) is one of the largest mixed LGBTQ+ choruses in the country.
Early bird tickets are $20 if purchased before March 5, and $27 after that.
She Village
Sunday, March 12, 12pm – 4pm
Lake Nona Town Center
Make a tie-dye shirt or even get matching metallic tattoos with your gal pals.
The fun doesn't have to stop there – shop local female-owned pop-up booths and sip on our signature cocktail, She's All Sugar & Spice MargHERita
Sunday, March 12, 2pm
Ivanhoe Park Brewing Company
Enjoy an afternoon of creating succulent arrangements & sippin' on cold brews. This open-air venue has a casual, comfortable vibe that'll make you feel right at home. Whether you're a novice or an experienced gardener, Bomb Blooms events create an unparalleled experience you can enjoy with your family, friends & co-workers, or even come solo!
$55
Things to Do in Orlando March 13-19, 2023
Shen Yun 2023
March 16–19, 2023, 2pm and 7:30pm
Walt Disney Theater, Dr. Phillips
Revisit a time when scholars and artists sought harmony with the Tao, or the "Way" of the universe, and when divine beings walked upon the earth to inspire humanity.
Tickets from $80
All attendees must be over the age of 4
8th Annual Orlando Whiskey Festival
Friday, March 17, 7:30pm – 10:30pm
Orlando Science Center
This year's event will feature: fine single malt, blended scotch, and American whiskeys including bourbon and rye, flavored whiskeys, beer and wine. The Grand Tasting allows guests to sample close to 100 whiskey brands and interact with industry professionals. Delicious food selections will be available as well as entertainment and cigars.
$55-155
An Evening with They Might Be Giants
Friday, March 17, 6pm
The Beacham
$30-40
Winter Park Sidewalk Art Festival
March 17 – 19
Downtown Winter Park
The Winter Park Sidewalk Art Festival is one of the nation's oldest, largest and most prestigious outdoor art festivals. The festival debuted in March 1960 as a community project to bring local artists and art lovers together. It's produced by an all-volunteer board and draws up to 300,000 visitors each year. Close to 900 artists from around the world applied for this year's event.
FREE
Things to Do in Orlando March 20-26, 2023
Game Night at Little Wekiva Brewery (feat. Maya Rosa Latin BBQ)
Wednesday, March 22, 6:15pm – 9pm
Little Wekiva Brewery
Four tapas from Maya Rosa Latin BBQ, paired specifically with each beer
Four rounds of one-on-one games hosted by Closer Together
$90 per couple
Winter Park "Wine & Dine"
Wednesday, March 22, 6:30 – 9:30pm
Winter Park Farmers Market
Enjoy "Unlimited Tastings" from over 50+ vendors, craft beers, 20+ wine purveyors, specialty cocktails, soda/water, plus live music both inside and outside.
$75-150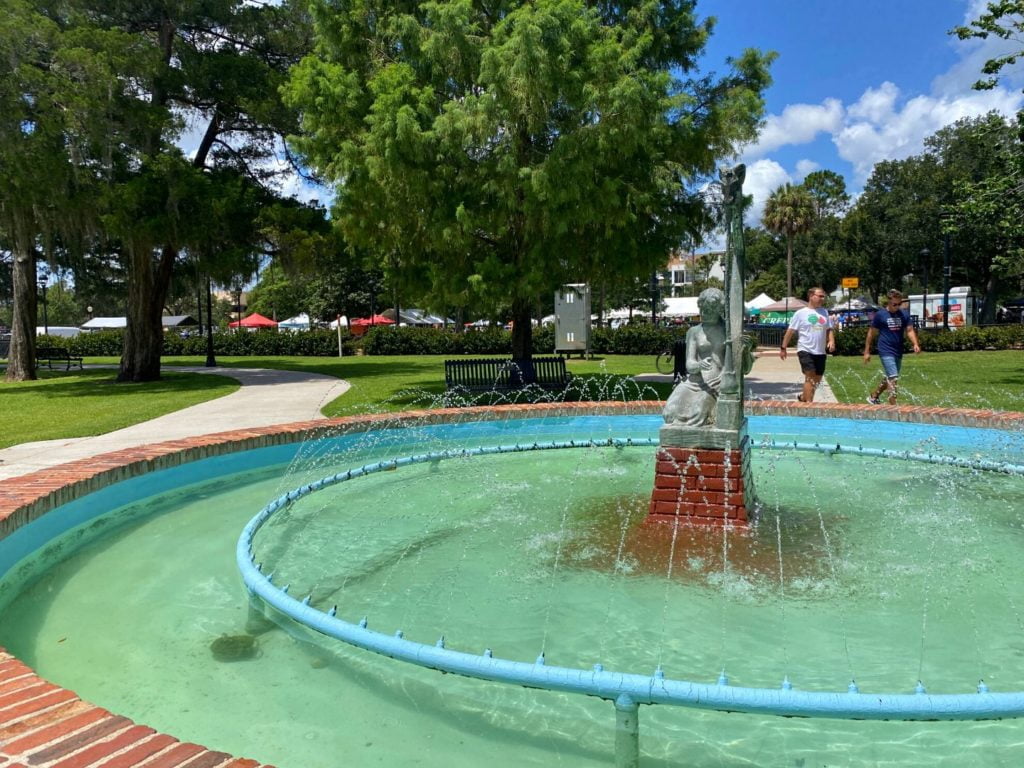 Fountain overlooking Winter Park Farmers' Market at Central Park West – Dani Meyering
Orlando Museum of Arts
Guests of the 40th annual Art in Bloom are invited to hop on a bus from the Orlando Museum of Arts to an undisclosed mystery home for a once-in-a-lifetime chance to hear about beautiful antiques and special features of the awe-inspiring home. Four tours of a local tastemaker's home will be offered between 11 a.m. to 3 p.m. with very limited availability.
$50
11th Annual Pints n' Paws Craft Beer Festival
Saturday, March 25, 2 – 8pm
Historic Downtown Sanford
Pints n' Paws Craft Beer Fest is a craft beer festival that you bring your dog to. Sample craft beer from over 100 breweries, interact with other dog lovers, enjoy food trucks, music, and most importantly help raise funds for local pet rescue charities!
$50 – 65
29th Annual Taste of Oviedo
Saturday, March 25, 10am – 6pm
Oviedo Mall
9th Annual Taste of Oviedo presented by Oviedo Medical Center will feature food and beverages from local eateries, stage performances, Oviedo Roots Farmer's Market, STEM area, and other performances and activities. This year, Taste of Oviedo will offer selections from local restaurants and they will be featuring a dish with a fun new theme: Sweet & Savory!
FREE
Things to Do in Orlando March 27-April 2, 2023
Velvet Sessions featuring Everclear
Thursday, March 30, 6:30pm
Hard Rock Hotel at Universal Orlando
$60-95
Megacon Orlando
March 30 – April 2, 2023
Orange County Convention Center
4 Days of events celebrating TV, film, comic books and more
Single day and multiday passes available: $28 – $169
Maitland Jazz & Blues Festival
March 31 – April 1
Independence Square, Maitland, FL
Veteran rocker Pat Travers will bring his non-stop, guitar-grinding music party to headline the 2023 Maitland Jazz and Blues Festival. The two-day event will feature 13 bands on two stages, representing some of the best jazz and blues artists around. Complement all that with great food and drinks, crafts, and vendors.
FREE
The Fundamentals of Coffee Brewing
Sunday, April 2, 9am – 3pm
Lineage Roastery
The Fundamentals of Coffee Brewing is the ideal introductory course for anyone new to the coffee industry or for anyone wishing to hone their coffee-making skills at home. This class will equip you with the fundamental skills to help you think critically about how you can tweak your recipes or techniques for the next brewing attempt.
$60
More Ideas: Ongoing Orlando Events
Farmer's Harvest Dinner Series
February 24, March 24, April 28 – 6pm to 9pm
Southern Hill Farms
Adult-exclusive, memorable night on the farm with live music and a curated dinner and dessert menu made with fresh, locally-grown ingredients prepared by chefs Sharon Brenner from the Rosalind Club and Bill Baxter from Sugar Grove Catering.
$150 per person
Food for Thought Tours
Select Wednesdays – March 1st at 11:30am, March 15th at 6:00pm,  April 5th at 11:30am, April 19th at 6:00pm
Second Harvest Food Bank
This tour goes inside an active warehouse and distribution facility with a focus on elevated hunger relief efforts in Central Florida.
FREE – snack included
Thornton 2nd Thursday Wine & Art Walk
Every second Thursday of the month (January 12, February 9, March 9, etc)
Veranda Thornton Park
For only $10 (Pre-sale) you get a wristband, map and a glass with more than 20 places to stop for a drink
$10  / $15 at door
Orlando Local Makers Pop Up Markets
Most Fridays and Saturdays
20+ local makers in the delightful backyard of The House on Lang in the Mills 50 neighborhood
Bazaar Botanica Markets
Third Sunday of each month, 1pm – 6pm
Ivanhoe Park Brewing
30+ Artisan Vendors ; And hundreds of products to shop. Plants, Vintage, art, handmade, oddities, and more.
Live and Local performers & entertainment
FREE Admission
Movie Mondays
A La Cart Orlando
Monday nights, 7pm or sunset (whichever comes first)
Enjoy a FREE outdoor movie every Monday evening while enjoying food for purchase from the resident food trucks. Sign up for A La Cart's email list to find out which movies are playing each week.
FREE Admission
Tasty Takeover in The Milk District
Tuesdays from 6:30-10pm
The Milk District – E. Robinson St
THE food truck block party in Orlando! Find it in The Milk District every Tuesday night behind the bars and shops of E. Robinson St.
FREE Admission
RELATED: How to Have an Orlando Food Truck Date
Sanford Art & Jazz Night | 3rd Thursdays
Thursday March 16, April 20, May 18, June 15, July 20, 6pm – 9pm
A special evening celebrating the arts, music & spirits at multiple venues! 
FREE
Piano Bar Show at Jewel
Thursday, Friday and Saturday Nights
Jewel Orlando
Dueling Piano players take the stage for a fun night of song requests and sing-alongs! Call (321) 444-5306 after 5pm to get your password for speakeasy entry.
FREE admission with password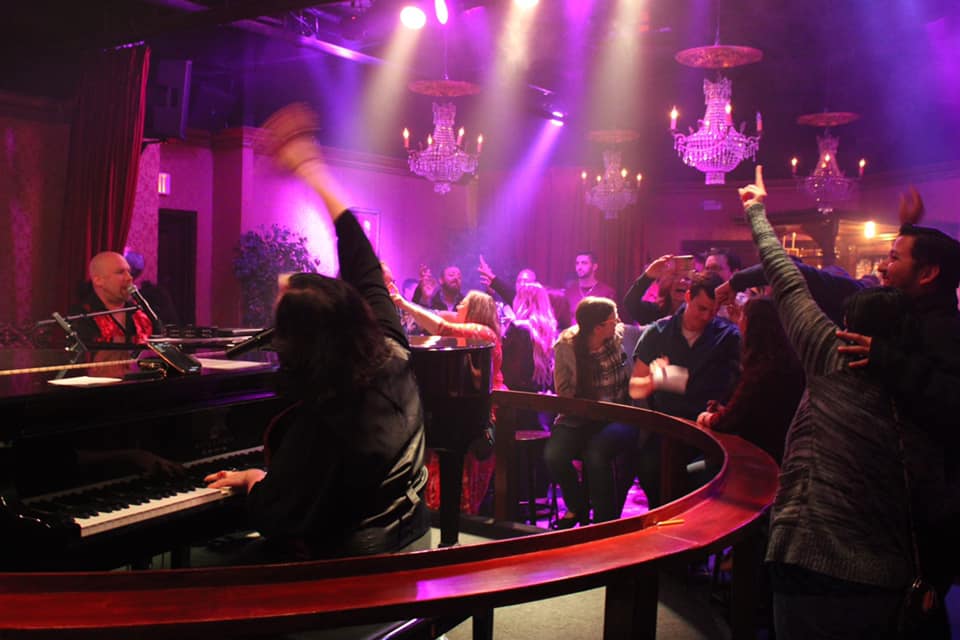 Image credit: Jewel Orlando
Weekends at the Winery
Saturdays and Sundays, 11am – 5pm
Lakeridge Winery
Head to this Central Florida winery's expansive vineyard green each weekend for delicious food, live entertainment, complimentary wine tastings/tours, and Lakeridge wines by the glass at the outdoor bar.
FREE admission
Check out multiple Farmers' Markets around Orlando every weekend.
Saturday Exhibition Highlights Docent-Led Tour
Every Saturday, 1pm – 2pm
Rollins Museum of Art
Docent-led tours of highlighted works from the season's exhibitions at the Rollins Museum of Art.
FREE
Painting With Primates
Chase Sanctuary and Wildlife Conservatory (Webster, FL)
Most Sundays, 10am
A memorable morning surrounded by some incredible endangered species. Lemurs and a local artist will help you paint a chosen picture on a canvass while sitting amongst the grandfather oaks that reside in a 5 acre open habitat. All materials will be included. This consists of paint, the canvass, easel, and brushes. Each participant will leave with their own work of art.
All participants must be 13 and over when painting with adult only.
Class lasts 2-3 hours in total
$75
Beauty And The Beast Cocktail Experience
December 14 – March 19, 2023
The Oliv Bar
Across 90 minutes you will create two bespoke themed cocktails, solve riddles and challenges to lift the curse, and much, much more! Tickets include entry, theatrics, 2x bespoke cocktails, and a sweet treat.
$47
2023 Highlights
Get those date ideas rolling with these great events in Orlando in 2023.
Take your pick of the endless options: a stellar concert lineup, Broadway shows, festivals to delight foodies, theme park happenings, sporting events, and so much more. 
RELATED: Best New Restaurants and Experiences for Couples in 2023
Brews Around the Zoo
Saturday, April 8, 5pm (VIP access 4pm)
Central Florida Zoo
This adults-only open air event, benefiting the Zoo, will feature 15 beer stations with over 30 different craft beers, including seltzer, wine tastings and live music.
Food will be available for purchase.
Regular admission $50, VIP early access $70
Something Rotten!
April 21 – May 21, 2023
Garden Theatre – Winter Garden
Brothers Nick and Nigel Bottom are writing their way through the Renaissance, but are stuck in the shadow of famed playwright William Shakespeare. Sick and tired of failure, Nick visits a less-than-reputable soothsayer, who predicts that musicals will be the next big thing in theatre.
Only Season Ticket Packages are currently available
St. Johns River Festival of the Arts
April 29th and 30th, 10am – 6pm and 10am – 5pm
Downtown Sanford
See Art-in-Action from live artist demonstrations and create your own piece of artwork at workshops scheduled during the weekend. Enjoy gourmet tastes at the 'Culinary Arts Court' while you listen to the sounds of acoustic performers.
Stevie Nicks
Thursday, May 25
Amway Center
Dreamgirls
July 7 – August 6, 2023
Garden Theatre – Winter Garden
Meet the Dreams: Effie, Lorrell, and Deena, three young and talented African-American singers in the revolutionary 1960s. Dreamgirls will take you on a journey as the three friends embark on a musical roller coaster through the ruthless world of show business.
Only Season Ticket Packages are currently available
P!NK – The TRUSTFALL Tour with GROUPLOVE and KidCutUp
November 18
Amway Center
Want your Orlando events listed here?
Learn more about advertising with us and submit your Orlando events to us.
Disclosure: Some, but not all, of the Orlando events featured in this post are hosted by our valued advertising partners.
Orlando Date Night Guide is a free guide to the best of Orlando! We're supported by our advertisers when they buy digital ads, listings, content, and through affiliate links, so some things you read might be paid for or if you buy something thru a link on our site we might get a commission.