The past couple of years have disrupted Orlando's tourism and hospitality landscape in a big way, forcing us to change the way we experience the world with our loved ones. While 2020 and 2021 were hard on everyone, they also ushered in a kind of cultural renaissance here in Orlando, and the industry is rebounding big-time in 2022. Several new creative date night concepts opened toward the end of the year, and there are even more exciting new things in store for 2022. From new Orlando restaurants to the exciting debut of new attractions, experiences and hotels, here are a few new Orlando date night ideas in to look forward to in 2022 and beyond.
New Orlando Restaurants and Dining Experiences
Orlando restaurateurs got even more creative over the past year. Food halls, breweries, pop up dining, and unique fusion concepts continue to dominate the foodie scene into 2022, so grab your sweetheart and enjoy a date night filled with culinary exploration.
New Food Halls & Markets
Two long-awaited food halls opened their doors in late 2021. Located in Ivanhoe Village, The Hall on the Yard offers nine diverse culinary offerings and three premium cocktail bars. Grab a cocktail and curated eats from Humbl, The Chef and I, Wabi Sabi, and more. This sophisticated space is perfect for date night. 
Nearby in the Milk District, the aptly-named Milkhouse features several brands beloved by Central Floridians. Foxtail Coffee, Bagel Bruno, Kelly's Homemade Ice Cream, The Ravenous Pig Brewing, and Ciccheti are all part of the lineup. Plus, enjoy exclusive collaborations like The Ravenous Pig's Coffee Blonde Ale topped with a scoop of Bruno's Cannoli ice cream from Kelly's!
Finally, work continues on the upcoming Bumby Arcade on Church Street. No opening date has been announced, but plans for the food hall include 18 vendor spaces. Sneak a peek at the progress over on Instagram!
The Neighbors recently opened on the second floor of East End Market, and it's already a hit! The eclectic creative space features an experimental kitchen, a cocktail lounge, live music, shopping, events and more. The space offers a launching point for local artisans, restaurateurs, and other small businesses to engage and grow with the community. Its first pop-up series, the French-Vietnamese Camille, has just two seatings per night at its intimate 8-seat Chef's table.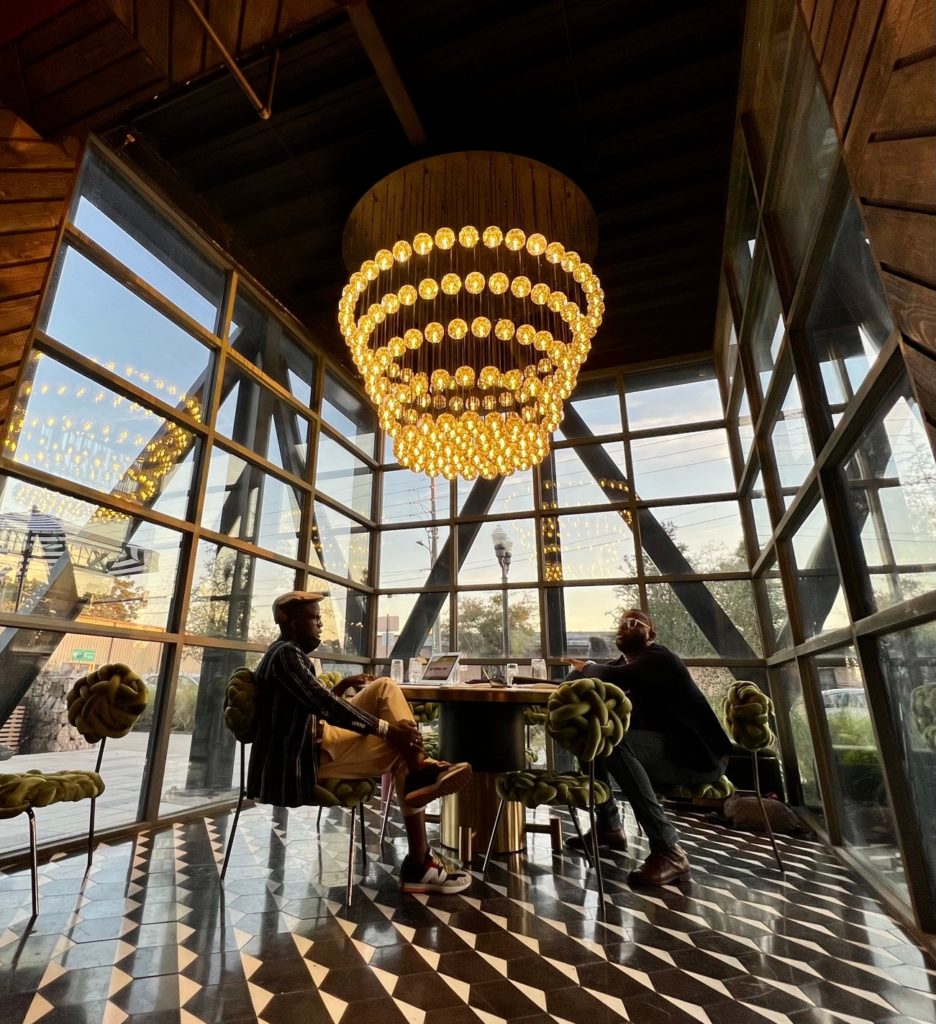 Image credit: The Hall on The Yard
The Michelin Guide is Coming to Florida
The Michelin Guide will expand into Florida for the first time ever in 2022 with the arrival of the inaugural Michelin Guide Miami, Orlando and Tampa. We can't wait to see which Orlando restaurants the Michelin inspectors choose for inclusion in the guide this year. Florida will be the guide's fifth destination in the US.
A New Take on Local Favorites
Throughout Orlando, beloved food concepts and restaurants continue to evolve in interesting ways. Popular food truck Smoke & Donuts will open its first brick and mortar location in the Milk District later this year. In the meantime, you can enjoy their hot donuts, smoked meats, and vanilla-glazed donut sliders just around the corner at À La Cart. Quesa Loco, known for its birria-style ramen, flautas, and more, will open a new brick-and-mortar location on Fairbanks later this month.
A much-anticipated collaboration between Pig Floyd's Thomas Ward and Al Palo of Stasio's Italian Deli is set to open in the Mills 50 district this fall. Pigzza will feature Italian staples like pizza and lasagna, all crafted with Ward's signature smoked meats.
Tin and Taco founder Rob Bair is launching a new pizza concept called So Dough. It will share a dining space with Tin and Taco in SoDo, and feature Detroit and Chicago-style pizzas. So Dough is expected to open in late February.
EDOBOY, Orlando's first standing sushi bar, is expected to open later this year as an extension of Tori Tori on Mills. Patrons order directly from the chef and enjoy their meal standing at the intimate 8-person bar, making EDOBOY a great stop on a progressive dining date. Founded by Domu and Tori Tori proprietor Sean "Sonny" Nguyen, the menu will include nigiri and hand rolls, and feature both locally-sourced fish and fish flown in weekly from Japan.
Chef John Tesar, the award-winning chef behind The Ritz-Carlton Orlando, Grande Lakes' Knife & Spoon restaurant, is opening a Knife Burger next door at the JW Marriott Orlando, Grande Lakes. Knife Burgers are formed using the best-sourced meats from Texan ranchers and farmers, with simple, no-frills toppings like cheese, lettuce, onion, and tomato. The Orlando location will also offer an expanded menu to include seafood burgers and more.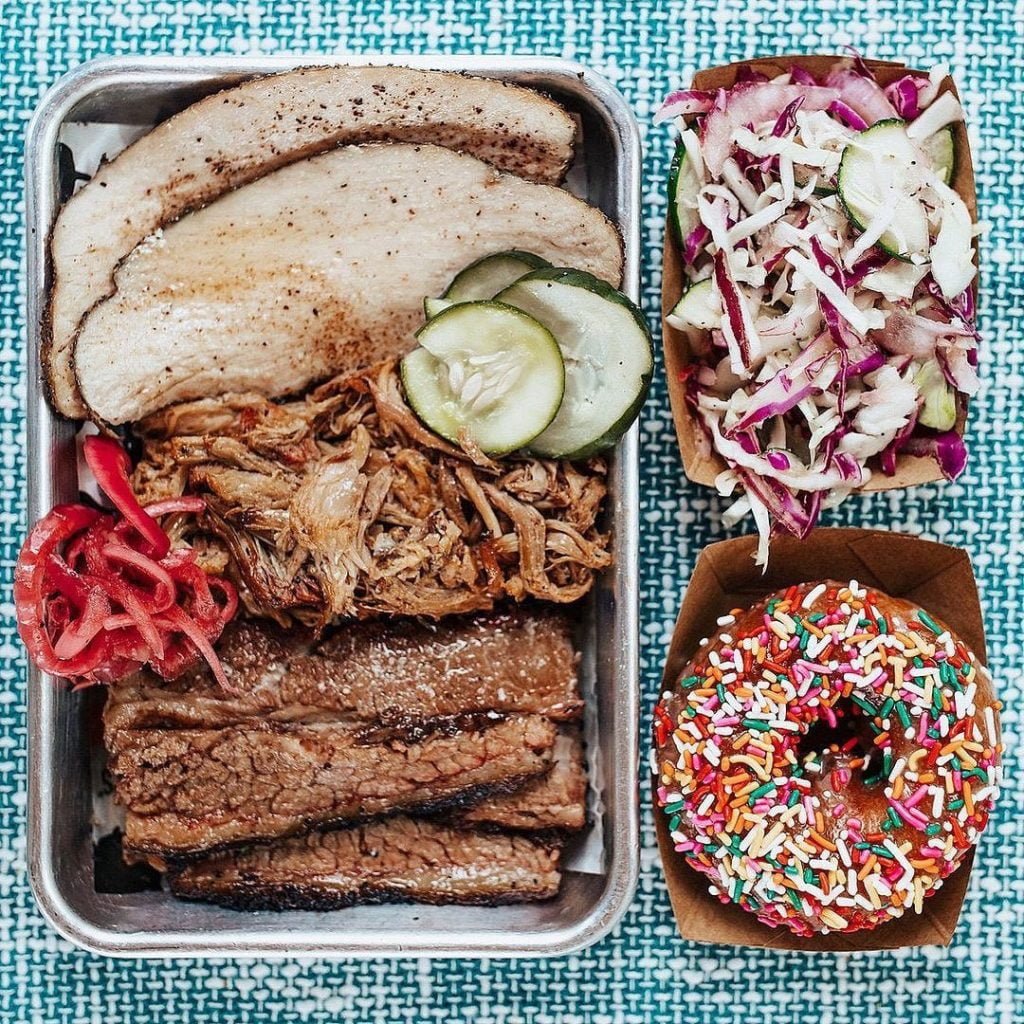 Smoke & Donuts | Image credit: À La Cart Orlando
Fine Dining & Sweet Treats
For a whimsical taste of home, head over to Four Flamingos: A Richard Blais Florida Kitchen, now open at the Hyatt Regency Grand Cypress. The restaurant, which replaces Hemingway's, features an open kitchen, raw bar, and live lobster tank, all with a fun vintage Florida feel. The menu highlights the tropical flavors of Florida, with an emphasis on citrus, surf and turf, and fresh, seasonal ingredients.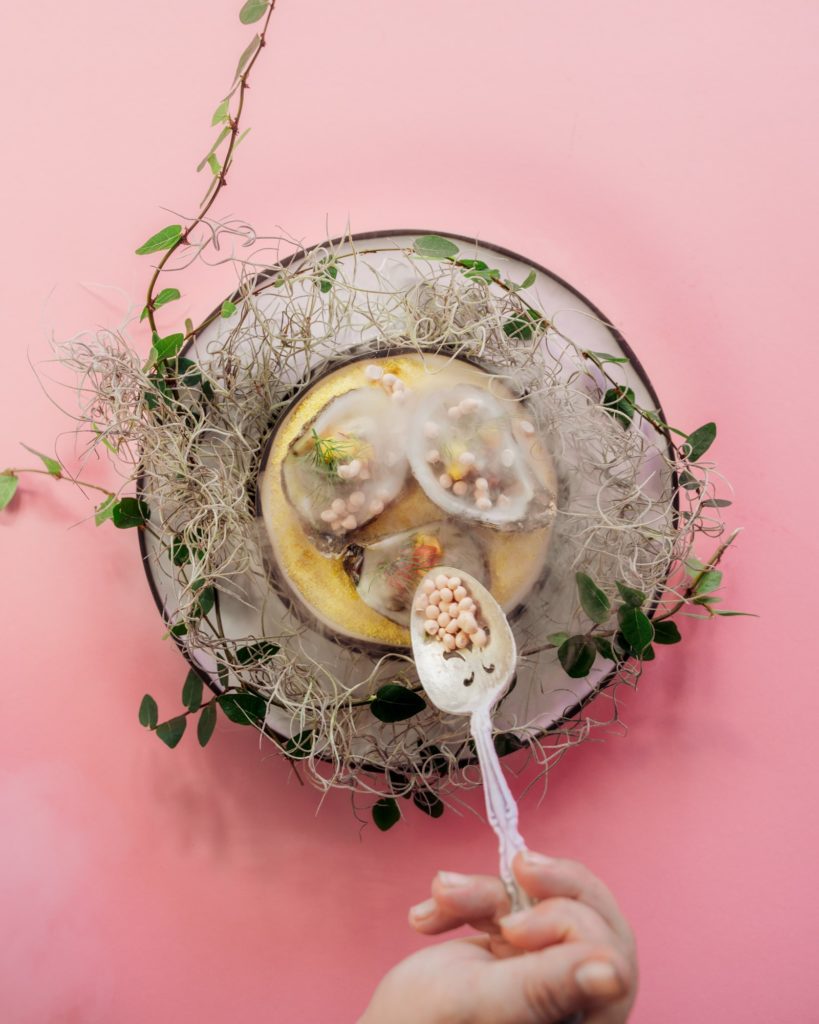 Ice Cold Oysters & Pearls with Hibiscus Hot Sauce | Image credit: Four Flamingos
Another newly-opened hotel restaurant, head over to the new Walt Disney World Swan Reserve's signature restaurant, Amare, for casual upscale Mediterranean fare with a view. The menu is inspired by the flavors of the Mediterranean, and the lush, stylish dining room is the perfect backdrop for a romantic date night. End the evening with a trip to The Vue lounge on the top floor for lovely fireworks views of Epcot's new Harmonious nighttime spectacular.
In the Thornton Park District, DOLCE is a newly-opened roaring 20's themed restaurant offering a selection of casual paninis, salads and more, alongside specialty crepes, coffee, and desserts. 
Ava MediterrAegean, a sister concept to Mila MediterrAsian in Miami Beach, will join Winter Park's culinary scene in January 2022. Ava celebrates the fresh, aromatic flavors of the Mediterranean and the Cycladic Islands and beckons patrons to indulge in a little escapism. There are formal and informal dining areas, plus two bars, all designed in the minimalistic but texturally rich Cycladic style. Just down the street, Café-Boutique PIANO is set to open in Hannibal Square later this year. The family-run restaurant will feature nightly piano shows and European cuisine served in an intimate boutique environment. 
Two new restaurants are coming to Pointe Orlando in 2022. Kavas Tacos + Tequila is expected to open in spring 2022 as a third offering from the founders of Taverna Opa and Tapa Toro. The menu will feature savory comfort food, fresh tableside experiences, and hand-crafted recipes that pay tribute to Mexico's rich culinary history. JoJo's Shake Bar, a modern Chicago-based shake shack and diner, will open in fall/winter 2022. Their elaborate, Insta-worthy shakes, topped and rimmed with giant cookies, marshmallows, fruit, and more, are sure to take Orlando by storm.
Bacán, the signature restaurant at the brand-new Lake Nona Wave Hotel, recently opened for date night. Enjoy vibrant dishes influenced by the flavors of the Americas in this upscale dining concept, complete with an "open theater" kitchen.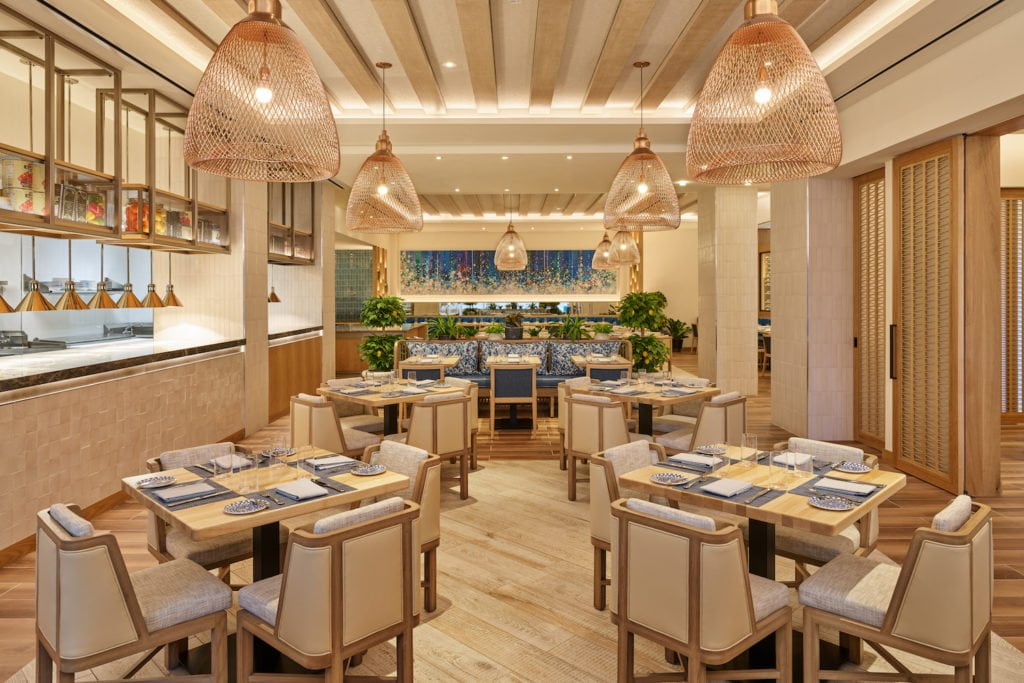 Amare | Image credit: Walt Disney World Swan and Dolphin
Orlando Restaurants Opening Additional Locations
Several beloved local restaurants will open additional locations in 2022. Here's a quick peek at some of the goodies in store.
Susuru Juju will open a second location this year near the Fashion Square Mall, in a former Pizza Hut
Pig Floyd's Urban Barbakoa will open a second location this year in Winter Park, in the old Bubbalou's space
Thai Farm Kitchen will open a third location in College Park in the former RusTeak space
Black Rooster Taqueria recently opened a second location in Curry Ford
F&D Cantina recently opened a second location in Thornton Park 
What's New at Orlando's Theme Parks
2022 is shaping up to be a fantastic year for our local Orlando theme parks and attractions! Several new rides opened in the past year, including the thrilling Velocicoaster at Universal's Islands of Adventure and the charming Remy's Ratatouille Adventure at Walt Disney World's Epcot.
New Experiences at Walt Disney World
Walt Disney World is currently celebrating its 50th anniversary with eighteen months worth of new attractions, treats, and experiences. Take a peek at some of the new restaurants that opened in 2021 here, and get a closer look at the many fun ways to celebrate the 50th anniversary here. The four main park icons have been transformed into sparkling "Beacons of Magic," which are a real treat to see in person, and there's even more fun in store for 2022.
Two all-new nighttime shows debuted at Magic Kingdom (Disney Enchantment) and Epcot (Harmonious) in October, and Disney recently announced that the Festival of Fantasy parade and Fantasmic! will both return later this year. Beginning February 6, 2022, a handful of fan-favorite behind-the-scenes tours will once again be available for booking. If you ever wanted to go backstage at Magic Kingdom or go on a thrilling three-hour safari adventure at Animal Kingdom, now is your chance!
Guardians of the Galaxy: Cosmic Rewind is set to open this summer at Epcot as one of the longest enclosed coasters in the world. Work continues on TRON Lightcycle Run at Magic Kingdom, as well as Moana: Journey of Water at Epcot, both of which were originally scheduled to open in late 2021.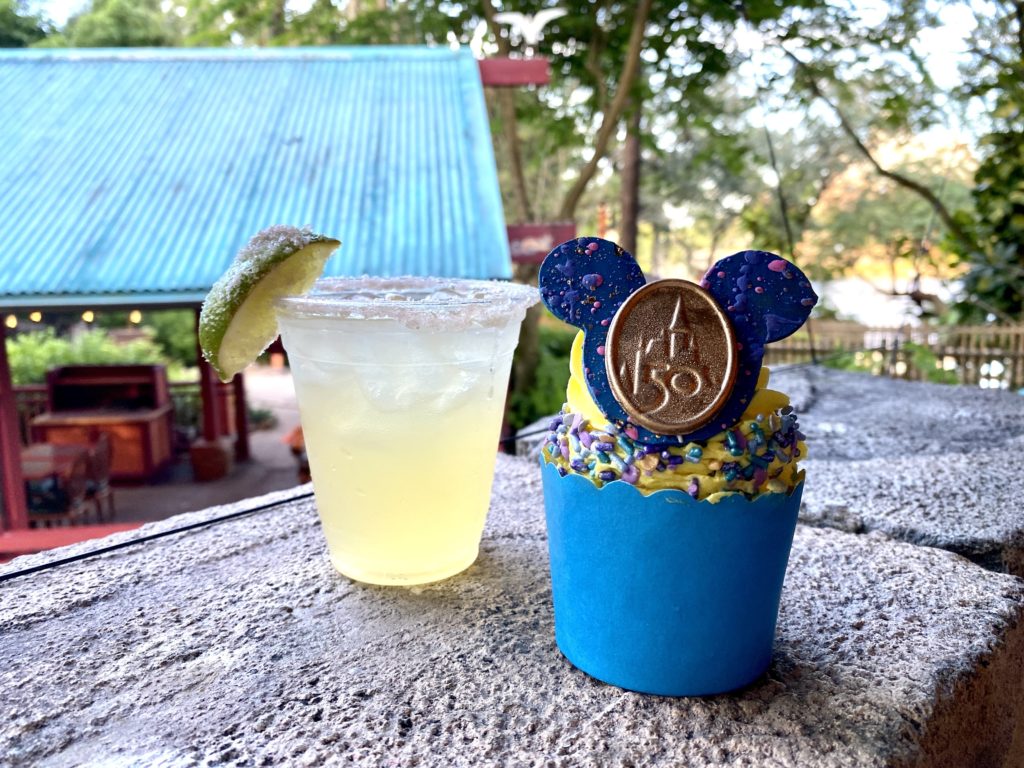 50th Anniversary Lemon Cupcake and Golden Margarita at Disney's Animal Kingdom
What's New at Universal Orlando
At Universal's Mardi Gras celebration, which begins on February 5, 2022, parades and Music Plaza concerts are back after a two year hiatus. Harbor Nights at the Loews Portofino Bay Hotel returned in the fall, and we are hopeful that fan-favorite events like Hard Rock's Velvet Sessions and Jake's Beer Dinner at the Royal Pacific will be close behind. Stay tuned for a full concert lineup and details on this year's event. Work continues on the resort's upcoming Epic Universe park, which is planned to open by 2025.
New Coaster Coming Soon to SeaWorld Orlando
SeaWorld Orlando's brand-new Ice Breaker coaster will debut on February 18, 2022. The ride features multiple forward and backward launches, a 100 degree "beyond vertical" drop from a 93 foot spike, and a top speed of 52 MPH.
Best New Orlando Attractions and Experiences
A new "German theme park" is opening right here in Kissimmee this spring, in the former Jungleland Zoo Space. Krush Brau Park will feature an outdoor tented "Festplatz" for celebrating Oktoberfest and other German festivals, an authentic Biergarten restaurant, and even a Bavarian-styled zoo featuring animatronic animals from all over the world. Thirteen shipping container venues are scheduled to open with the park's first phase this year, which owner Waylon Krush describes as a meld of Boxi Park Lake Nona and Epcot's World Showcase. Prost!
Thrillseekers will love the latest additions to Orlando's ICON Park. The Orlando Slingshot and Orlando Free Fall opened this month, joining the Orlando StarFlyer as the world's tallest attractions of their kind. The Orlando Slingshot launches two riders up to the maximum height of 300 feet, reaching speeds up to 100 MPH. On the dizzying 430-foot tall Orlando Free Fall, marvel at stunning views of Orlando as you and your date ascend nearly 400 feet, then hold tight. Your seats will tilt forward 30 degrees to face the ground for a moment before you free fall at speeds over 75 MPH.
Enjoy an intimate night under the stars at the Orlando Science Center's new Private Observatory and Planetarium Experience. This one-of-a-kind date night includes guided viewing of planets and other celestial objects via a high-powered telescope. Private experiences are available on Fridays and Saturdays through March 5, 2022. 
At Kennedy Space Center, Gateway: The Deep Space Launch Complex is scheduled for launch in March. The 50,000 square foot multi-level complex is dedicated to present and future space exploration. See actual spacecraft and look to the future of human exploration in space before personally setting off on one of four spectacular deep space journeys.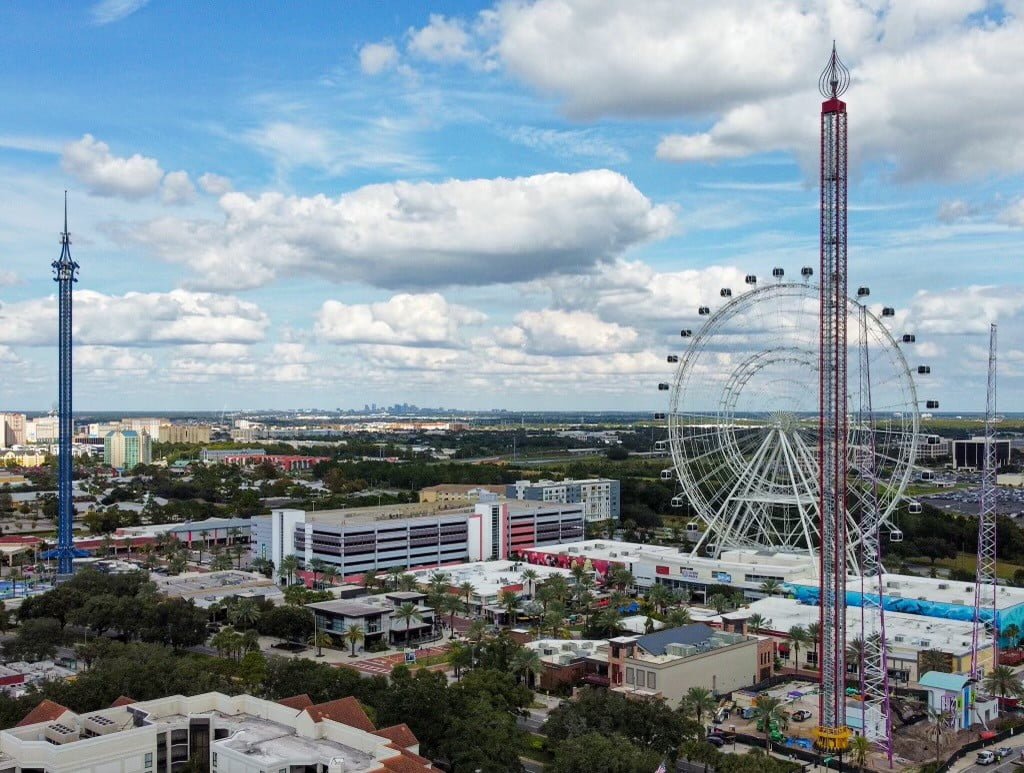 The "Land of the Giants" at ICON Park | Image credit: ICON Park
New Breweries in Orlando + Orlando's First Non-Alcoholic Bar
There's a growing buzz surrounding Orlando's craft beer scene. Two new breweries and one taphouse opened their doors in the last few months of 2021, setting the stage for a rocking 2022.
Gatlin Hall Brewing, a combination brewery and food hall in Edgewood, opened in late August 2021 with a diverse local beer catalog and plenty of tasty eats. The pet-friendly brewery features a 4,000-square-foot outdoor beer garden, a rotating beer selection, and live music. In Parramore, Deadwords Brewing opened in December with a menu designed for beer aficionados and novices alike, plus elevated pub fare like pork belly poutine, wood-fired Bavarian pretzels, and pizza. You'll find traditional IPAs, lagers, and pilsners along with trending fruit beers and brut IPAs, and that's not all. What really sets Deadwords apart from other local breweries is their "Resurrection" series, ancient recipes which are often fermented in a clay amphora, and the playfully named "Abomination" series: experimental beers "brewed in total violation of Reinheitsgebot."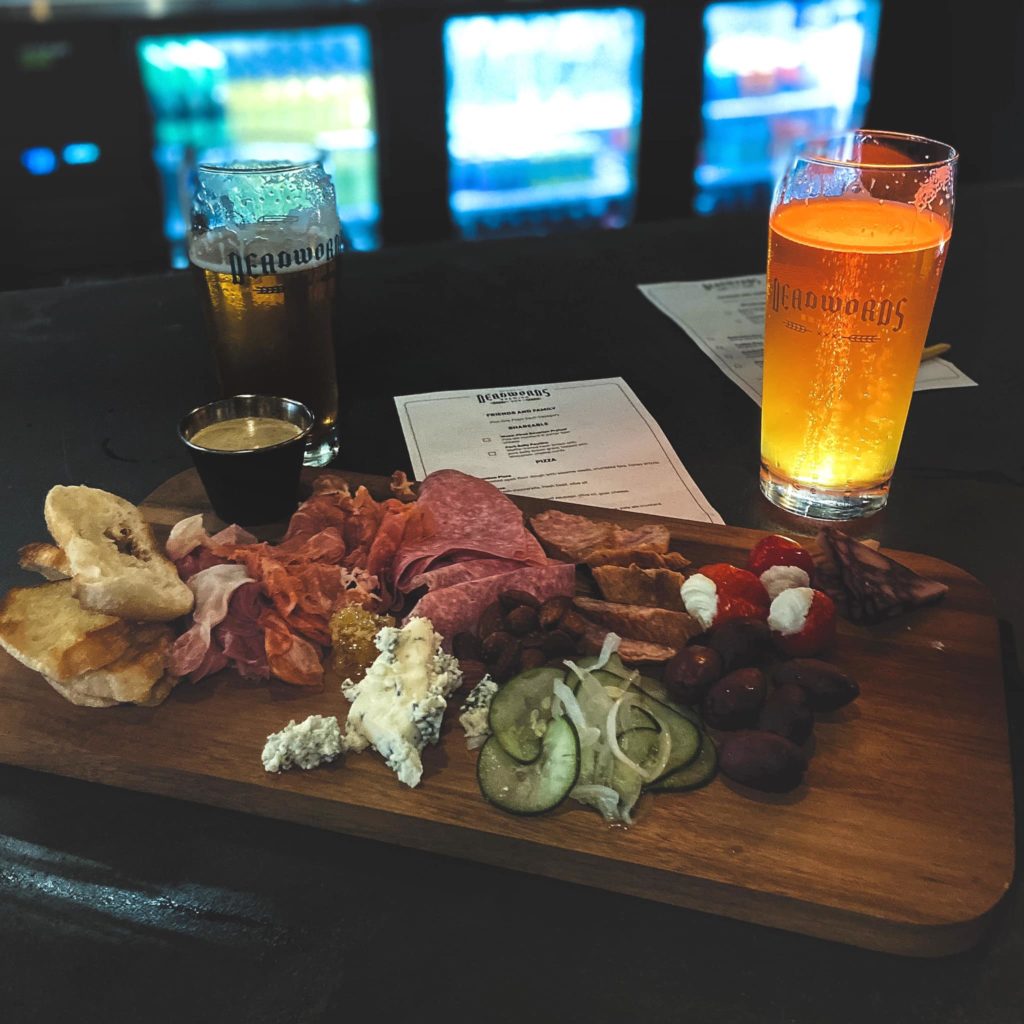 Image credit: Deadwords Brewing
On Mills, Pour Choice Taphouse opened in November with a rotating selection of 50 self-serve drafts. An RFID-enabled bracelet grants access to domestic, imported, and local craft beer, along with wine, hard seltzer, kombucha, and even sake.
Persimmon Hollow Brewing will soon open a third location at Flamingo Crossings Town Center. The new location just outside Walt Disney World will include a brewery, taproom, and craft kitchen. No opening date has been announced, but  Flamingo Crossings has an estimated completion date in 2023, and the first phase opened for business in late 2021. 
Little Wekiva Brewery, a brand new brewery in Springs Plaza, could open in 2022. The intimate brewery and taproom is the dream of father and son duo Richard and Chris Connor. Some of the sample brews listed on their website include a winter lager, a milk stout, and an imaginative jalapeño cream ale. Keep an eye on the Little Wekiva Brewery Instagram page for construction updates!
If traditional breweries aren't your thing, there are also several fun themed venues coming to Orlando in 2022. New York Beer Project, designed to resemble a 1900's indoor beer garden in New York's Lower East Side, will open in Horizon West in March. The 24,000 square foot space will feature a gastropub, indoor beer garden, tap room, brewery, sidewalk bistro, and three New York City themed event spaces.
The BANDBOX – Orlando will also open this spring in Ivanhoe Village. It will be the city's first spirit-free speakeasy, with non-alcoholic craft cocktails, aperitifs, shrubs, CBD sodas, and more, all served in a chic cocktail lounge. Reservations are required for the tasting lounge, but walk-ins are welcome to tour the space and browse the onsite vintage shop. In the meantime, check out Gatsby on Church, a fun prohibition-era jazz lounge that opened downtown in late July.
Related: Forget Dinner + Drinks, Try These Alcohol-Free Date Ideas Instead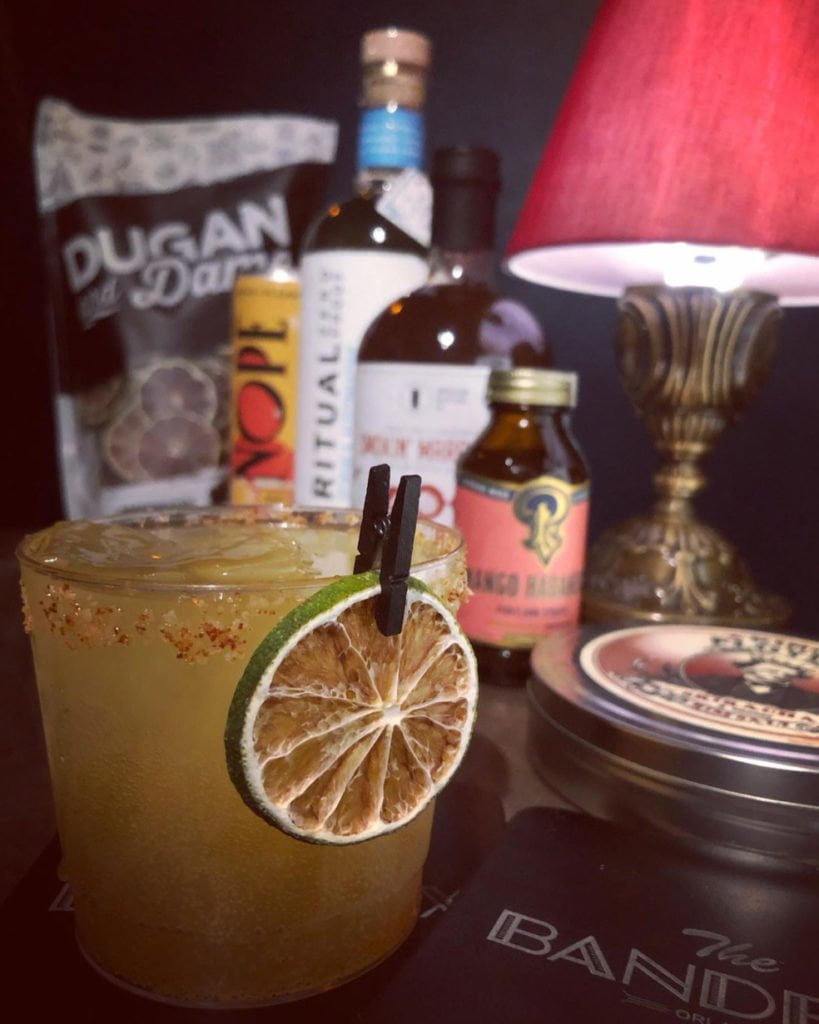 Image credit: The BANDBOX
Arts & Culture Experiences Debuting in 2022
Two new venues are opening this year at Dr. Phillips Center for the Performing Arts. Steinmetz Hall, "one of the world's most acoustically perfect spaces," in the world, kicked off its grand opening celebration on January 14, 2022. Explore the full grand opening lineup, which includes a 10-day residency from the London Royal Philharmonic Orchestra. Steinmetz Hall is designed to reach the lowest levels at which humans can detect sound, and it's a multi-form venue, meaning it can transform in shape, seating, and sound to adapt to a wide variety of events. Judson's, an intimate cabaret-style space, is scheduled to open this summer. With cozy seating, tables and a capacity of 125 to 175 people, this "music room" is perfect for savoring an intimate musical performance with your sweetheart.
Cirque du Soleil – Drawn to Life premiered at Disney Springs in November 2021, replacing La Nouba. This imaginative new adventure transforms the stage into a giant animation table where the art is literally brought to life via dazzling choreography, daring feats, and a timeless soundtrack worthy of the Disney name. The show's unique combination of storytelling, Disney animation, acrobatic acts and other inspiring performances have drawn rave reviews from day one.
Art² (Art Squared), a new interactive art park, is slated to open this spring in downtown Orlando (E Robinson St. & N. Orange Ave.). Plans for the urban park include a two-story shipping container structure, food trucks, picnic tables and hammocks, a stage, an art gallery, a café and a 19×10 foot LED video wall used for art, events, streaming festivals, and movies. The installation will host both free and ticketed events throughout the year and welcome everyone to share in Orlando's community vibe.
Steinmetz Hall | Image credit: Dr. Phillips Center for the Performing Arts
New Orlando Hotels and Staycations
Star Wars: Galactic Starcruiser will welcome its first paying guests in March 2022. The hyped-up Walt Disney World hotel is branded as an experience rather than an everyday hotel stay, and the all-inclusive "voyage" starts from the moment you arrive and board a launch pod to your new digs. It's designed to be the most immersive Star Wars experience ever created, with a choose-your-own-adventure aspect that lets you chart your own course in the Star Wars universe. We can't wait to see how it all plays out!
Also at Walt Disney World, the Walt Disney World Swan Reserve, the swanky new extension of the classic Walt Disney World Swan and Dolphin Hotels is now open. It's the ideal Disney getaway, with a prime central location between Disney's four theme parks, two water parks, and of course, Disney Springs. Enjoy an tranquil tropical hideaway complete with a Balinese spa, fine signature dining, and nightlife at the Boardwalk hotel next door. 
Orlando World Center Marriott is wrapping up a multi-million dollar renovation of their award-winning hotel. The impressive list of enhancements include transformed guest rooms, a fully-redesigned golf course, a reimagined Mikado Japanese Steakhouse, and more. Most notably, the Falls Pool, previously voted one of the "World's Coolest Hotel Pools" by Forbes, has undergone a massive transformation and come back better than ever. The new pool features private cabanas and daybeds, expanded food & beverage service, fun poolside activities, and the all-new River Falls water park. Slated to open in spring 2022, the water park will include a 50 foot slide tower with three thrilling slides, all of which will deliver riders into a plunge pool before joining a 575-foot-long lazy river.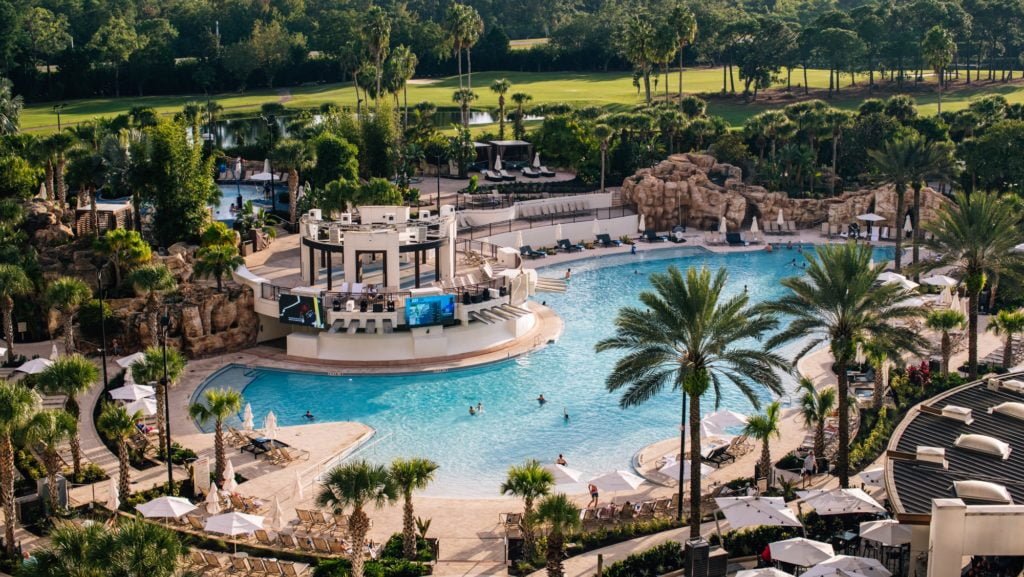 The renovated Falls Pool at Orlando World Center Marriott
A brand-new, Tuscan-inspired hotel is opening this spring just outside Walt Disney World's Animal Kingdom. Enjoy a lush and tranquil oasis at ette hotel Orlando, where you can unwind and leave the stresses of everyday life at the door—perfect for rejuvenating getaway with your favorite person! This alcohol-free "wellness-focused lifestyle hotel" offers multiple dining options backed by Michelin Star Chef Akira Back, a luxurious full-service spa, and thoughtful touches like Le Labo toiletries presented in a sleek lacquered box. Onsite dining includes Mediterrasian restaurant Salt & The Cellar, rooftop restaurant LIPA, where you can catch panoramic theme park views and nightly fireworks shows, and handcrafted mixology drinks. Call 407-288-1900 or book online starting in May 2022.
The newly-opened Lake Nona Wave Hotel also focuses on holistic wellbeing and luxurious, tech-forward amenities. The vibrant, stylish hotel has two destination restaurants, two mixology-driven bars, a colorful pool deck with stylish cabanas, a technogym-powered fitness studio, and access to the Lake Nona Performance Club, an advanced fitness and wellness center. As part of Lake Nona Town Center, it's also in easy walking distance of Boxi Park Lake Nona, Lake Nona Sculpture Garden, and other wonderful date options in Lake Nona.
Feature image credit: The Hall on The Yard