So many marvelous additions have come to Orlando in 2022. Several new creative date night concepts opened already, and there are even more exciting new things in store for the rest of 2022. From new Orlando restaurants to the exciting debut of new attractions, experiences and hotels, here are a few new Orlando date night ideas that are now open, and many still coming soon.
Updated October 2022 by Dani Meyering
New Orlando Restaurants and Dining Experiences
Orlando restaurateurs got even more creative over the past year. Food halls, breweries, pop up dining, and unique fusion concepts continue to dominate the foodie scene into 2022, so grab your sweetheart and enjoy a date night filled with culinary exploration.
New Food Halls & Markets
Three new seafood concepts are coming to Plant Street Market. Bruno's Oysters, a new concept from Bruno Fonseca, now serves raw, broiled, and roasted oysters, as well as smoked and preserved seafood items. Bruno's Oysters opened earlier this month. Oysters and Crooked Can beer? We're in.
Jacksonville's Norikase, a Japanese restaurant known for its 17 course omakase tasting menu, will open a casual eight-seat concept called Norikase Hand Rolls. The menu will be developed by Chef David Tsan of Soupakase, Morimoto Asia, and Kabooki Sushi fame.
Finally, Bento Sushi + Poke has opened a stall in Plant Street Market, with sushi rolls and poke bowls.
The Neighbors is just barely a year old and is a hit! The eclectic creative space features an experimental kitchen, a cocktail lounge, live music, shopping, events and more. The space offers a launching point for local artisans, restaurateurs, and other small businesses to engage and grow with the community.
Its first pop-up series, the French-Vietnamese Camille, is already a massive success, with just two seatings per night at its intimate 8-seat Chef's table. The Vietnamese tasting concept will open a brick and mortar location in Baldwin Park by the end of 2022.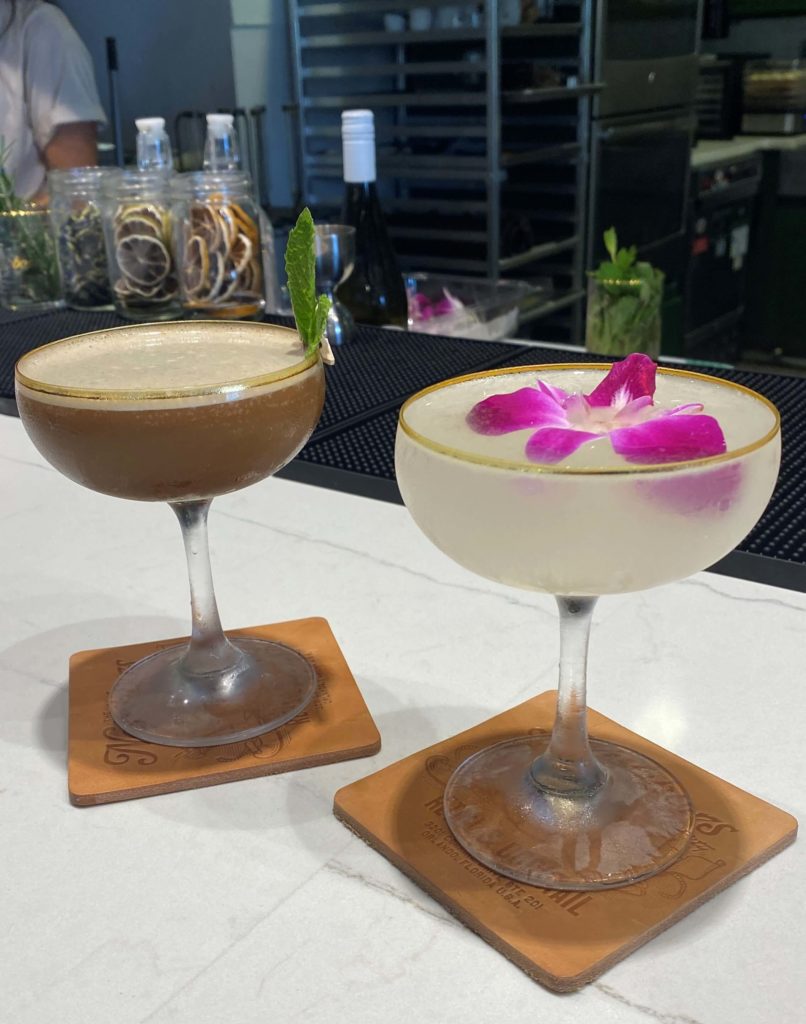 Cocktails at The Neighbors at East End Market | Dani Meyering
Brew Theory recently announced plans for Brew Theory Marketplace, a 12,000 square foot food hall coming to Apopka City Center. Opening summer 2023, the food hall will feature food, retail, and beer and bar offerings, all hosted in a beautiful space that invites couples and friends to stay a while and enjoy the best Central Florida has to offer.
Related: A Beer Lover's Guide to Breweries in Orlando
A New Take on Local Favorites
Throughout Orlando, beloved food concepts and restaurants continue to evolve in interesting ways. Popular food truck Smoke & Donuts will open its first brick and mortar location in the Milk District later this year. Quesa Loco, known for its birria-style ramen, flautas, and more, opened a new brick-and-mortar location on Fairbanks this summer. And their food truck is now located in Apopka.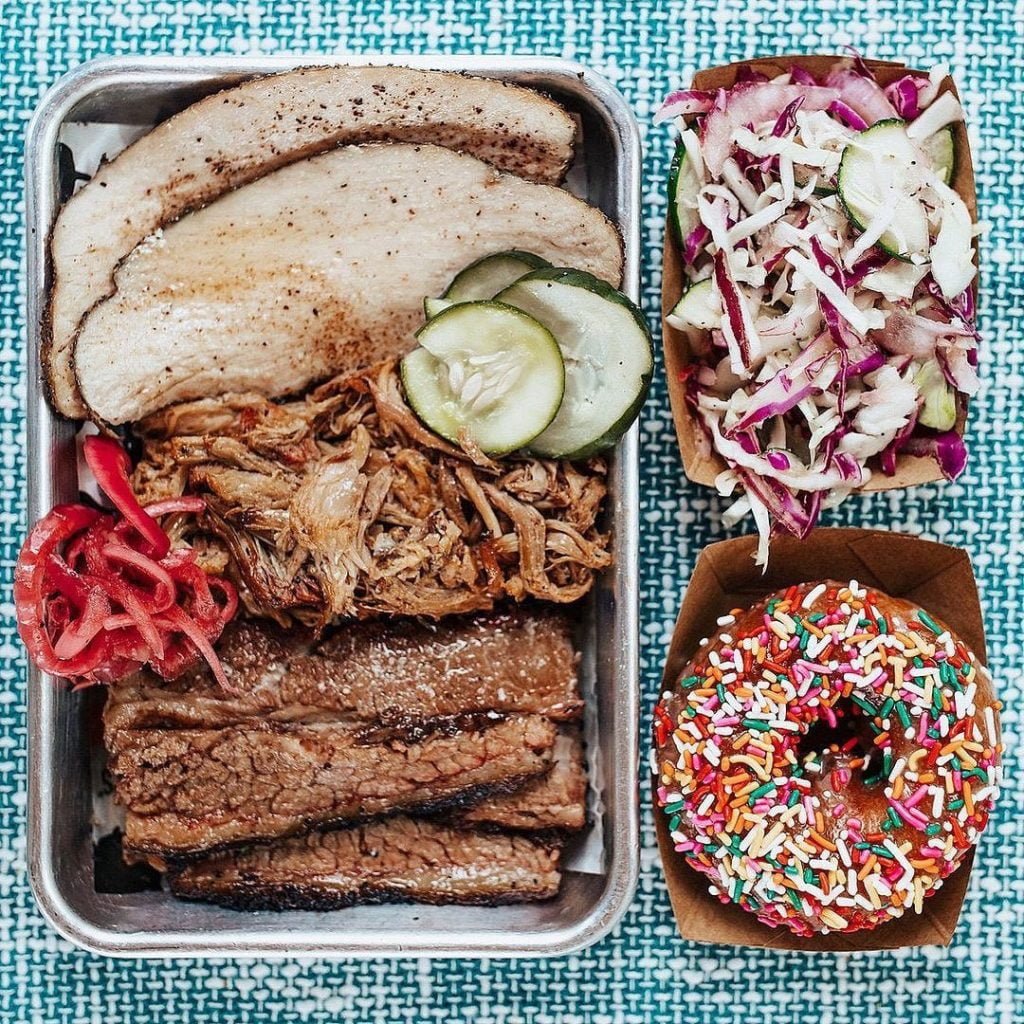 Smoke & Donuts | Image credit: À La Cart Orlando
A much-anticipated collaboration between Pig Floyd's Thomas Ward and Al Palo of Stasio's Italian Deli is set to open in the Mills 50 district this fall. Pigzza will feature Italian staples like pizza and lasagna, all crafted with Ward's signature smoked meats.
Tin and Taco founder Rob Bair recently launched a new pizza concept called So Dough Square. Their flavor-packed Detroit-style pizza is already drawing crowds in Orlando.
Yugiri Ramen Project is setting up shop and will be opening in Henry's Depot in early November!
EDOBOY, Orlando's first standing sushi bar, opened officially on September 8, 2022. Many consider it an extension of Tori Tori on Mills. Patrons order directly from the chef and enjoy their meal standing at the intimate 8-person bar, making EDOBOY a great stop on a progressive dining date. Founded by Domu and Tori Tori proprietor Sean "Sonny" Nguyen, the menu will include nigiri and hand rolls, and feature both locally-sourced fish and fish flown in weekly from Japan.
We attended a special preview, check out what you need to know in our review of EDOBOY.
Knife Burger is now open at the JW Marriott Orlando, headed by Chef John Tesar, the four-times James Beard Award semifinalist behind The Ritz-Carlton Orlando, Grande Lakes' Knife & Spoon restaurant. Knife Burgers are formed using the best-sourced meats from Texan ranchers and farmers, with simple, no-frills toppings like cheese, lettuce, onion, and tomato.
Fine Dining
Ruth's Chris is reopening in a beautiful new space in Winter Park Village. The Village itself is undergoing a massive renovation.
This summer, the team behind smash hit Doshibox Korean Kitchen opened Doshi a modern Korean restaurant in Winter Park. Savor a progressive take on traditional Korean fare, paired with soju, sake, beer, and wine, in this open-kitchen dining space. The first phase of the restaurant's opening will feature a six-seat chef's table, where diners can delight in a 12-course tasting experience.
Ava MediterrAegean, a sister concept to Mila MediterrAsian in Miami Beach, splashed onto Winter Park's restaurant scene in January 2022. Ava celebrates the fresh, aromatic flavors of the Mediterranean and the Cycladic Islands and beckons patrons to indulge in a little escapism. There are formal and informal dining areas, plus two bars, all designed in the minimalistic but texturally rich Cycladic style.
Just down the street, Café-Boutique PIANO opened in Hannibal Square earlier this year. The family-run restaurant features nightly piano shows and European cuisine served in an intimate boutique environment.
New Additions to Hotels and Attractions
Bacán, the signature restaurant at the brand-new Lake Nona Wave Hotel, recently opened for date night. Enjoy vibrant dishes influenced by the flavors of the Americas in this upscale dining concept, complete with an "open theater" kitchen. The menu is recently refreshed and a new chef's table concept is debuting.
Kavas Tacos + Tequila is expected to open this year at Pointe Orlando as a third offering from the founders of Taverna Opa and Tapa Toro. The menu will feature savory comfort food, fresh tableside experiences, and hand-crafted recipes that pay tribute to Mexico's rich culinary history.
Rosa Mexicano is known for elevated Mexican cuisine. With multiple locations in the northeast, this popular date night restaurant will be opening its first Orlando-area location at the Walt Disney World Swan and Dolphin in early 2023!
Sloppy Joe's, originally from Key West, opened earlier this year in ICON Park. And Brother Jimmy's with its famous BBQ joins the ICON Park line up too.
Cocktails + Sweet Treats
In the Thornton Park District, DOLCE is a newly-opened roaring 20's themed restaurant offering a selection of casual paninis, salads and more, alongside specialty crepes, coffee, and desserts.
You can easily indulge your sweet tooth at White Rabbit Dessert Experience now open in the Waterford Lakes area. The decor and theming are so fun!
Otto's High Dive, a new elevated cocktail bar with the coziness of your favorite local dive, is set to open in the Milk District. Former Ravenous Pig mixologist Justin Levaughn is behind the Old Florida style bar menu, with fun signature drinks like a guava pastelito-inspired cocktail. Expect modern takes on classic drinks, plus local craft beer and scratch-made Cuban-inspired small plates.
A stunning new bar called The Bellhop is now open downtown, on the bottom floor of the historic Angebilt Hotel. The bar is designed by former Walt Disney World Imagineers and has a glamorous vintage hotel lobby feel, with a gleaming wood bar, glass and feathered chandeliers, leather chairs and plush lounge seating, a display of brass hotel keys, and more. The space functions as a moody coffee bar by day, and an elevated cocktail lounge by night.
Local favorite, The Courtesy is now reopened in its beautiful new location in Winter Park. Enjoy craft cocktails and an exclusive new menu from Swine and Sons, called Swine Bar.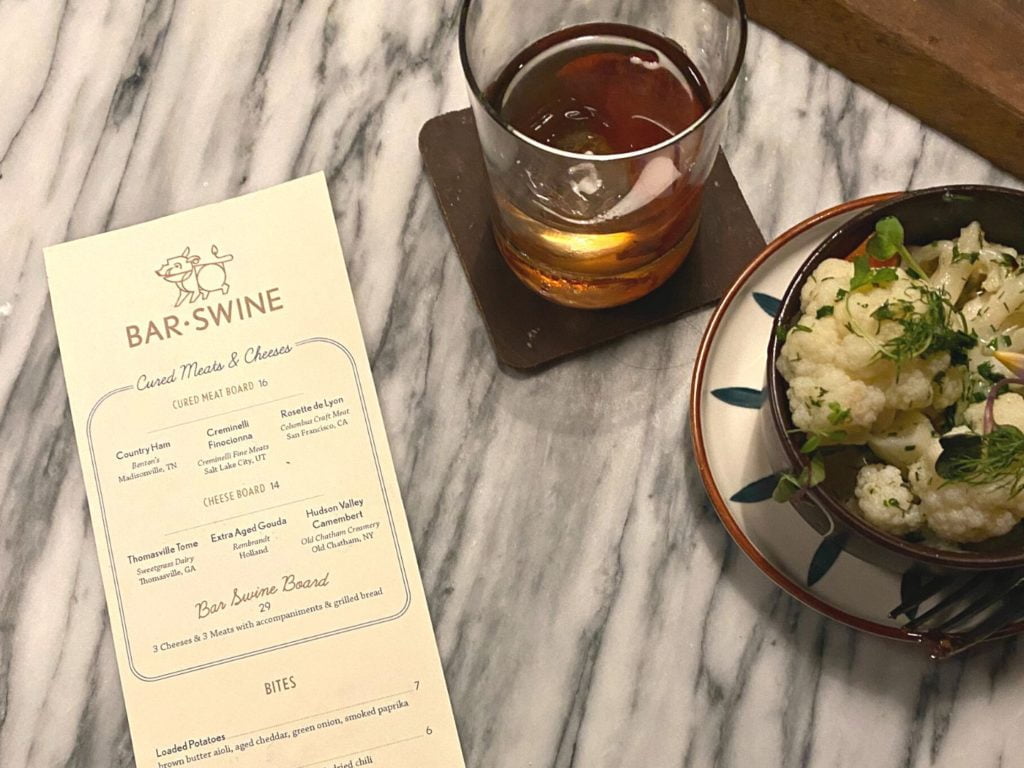 Bar Swine Menu at The Courtesy Winter Park – Dani Meyering
READ MORE: 18 Unique Bars in Orlando
Coming in hot, just in time for sweet sweet summer, High Tide is now open on Church Street! This new, completely remodeled (formerly Latitudes) rooftop bar on the third floor of the historic Nicholson-Colyer building (33 W. Church Street).
Also in downtown Orlando, a new Mexicano restaurant, Taco Kat has opened. However, more is to come with a speakeasy opening within it later this year.
The founders of Joysticks arcade bar are launching six new highly-themed bar concepts this summer in downtown Orlando. If that wasn't exciting enough, all six spaces will be designed by Bar None Creations, the company behind Halloween-themed bar Cocktails & Screams.
1-Up Orlando, a retro lounge and arcade opened in September 2022. The remaining four bars will follow later this summer.
Outer Rim Tiki Cabaret is a space-themed tiki bar with plenty of Star Wars goodies.
Gogo's Disco is a groovy 70's-themed cocktail-lounge, complete with duckpin bowling.
The Society has an exclusive secret society feel, and their website indicates that this may indeed be a members-only establishment.
Red Door Mezcaleria conspicuously does not have a social media presence, so time will tell what secrets await behind this door.
Orlando Restaurants Opening Additional Locations
Several beloved local restaurants will open additional locations in 2022. Here's a quick peek at some of the goodies in store.
Juju by Susuru is opening on National Cat Day, October 29 near the Fashion Square Mall, in a former Pizza Hut
Pig Floyd's Urban Barbakoa will open a second location this year in Winter Park, in the old Bubbalou's space
Black Rooster Taqueria recently opened a second location in Curry Ford
Farm & Haus will open a second location in August, in the old Cafe de France space in Winter Park
Sushi Sake hails from the Miami area and will open on Orlando Ave in Winter Park very soon
Sixty Vines will open a second location in Plaza Venezia in Dr. Phillips, in the former Roy's Restaurant space, in 2023
Portillo's will open a second location on 192, across from Margaritaville Resort, date TBD
Colonial Lanes will be reborn as Primrose Lanes Restaurant and Bowling Club. Drink, dine and bowl with 8 lanes of fun, plus a dining space helmed by some familiar names from Orlando's culinary scene. Chef Nick Grecco (Cask & Larder, Black Bean Deli) will develop the menu, and you can get your cocktail fix from the Robinson Room, who will operate a second location onsite. Consider us bowled over.
What's New at Orlando's Theme Parks
2022 is a fantastic year for our local Orlando theme parks and attractions! Several new rides opened in the past year, including the thrilling Velocicoaster at Universal's Islands of Adventure and the charming Remy's Ratatouille Adventure at Walt Disney World's Epcot.
New Experiences at Walt Disney World
Walt Disney World is currently celebrating its 50th anniversary with eighteen months worth of new attractions, treats, and experiences. Take a peek at some of the new restaurants at Disney, and get a closer look at the many fun ways to celebrate the 50th anniversary here. The four main park icons have been transformed into sparkling "Beacons of Magic," which are a real treat to see in person, and there's even more fun in store for the rest of 2022.
Entertainment came back in a big way this year, bringing with it the true heart of a Walt Disney World vacation. Two all-new nighttime fireworks shows debuted in October 2021, so you can once again feel your heart soar at the end of a long day in the parks. Two all-new nighttime shows debuted at Magic Kingdom (Disney Enchantment) and Epcot (Harmonious).
Disney recently announced that Fantasmic! will open November 3, 2022 with all-new sequences. Hoop-Dee-Doo Musical Revue, a popular two-hour interactive dinner show, returns to Disney's Fort Wilderness. Mickey's Not So Scary Halloween Party as well as Mickey's Very Merry Christmas Party return in all their glory.
Guardians of the Galaxy: Cosmic Rewind is now open at EPCOT as one of the longest-enclosed coasters in the world. Work continues on TRON Lightcycle Run at Magic Kingdom, as well as Moana: Journey of Water at Epcot, both of which were originally scheduled to open in late 2021.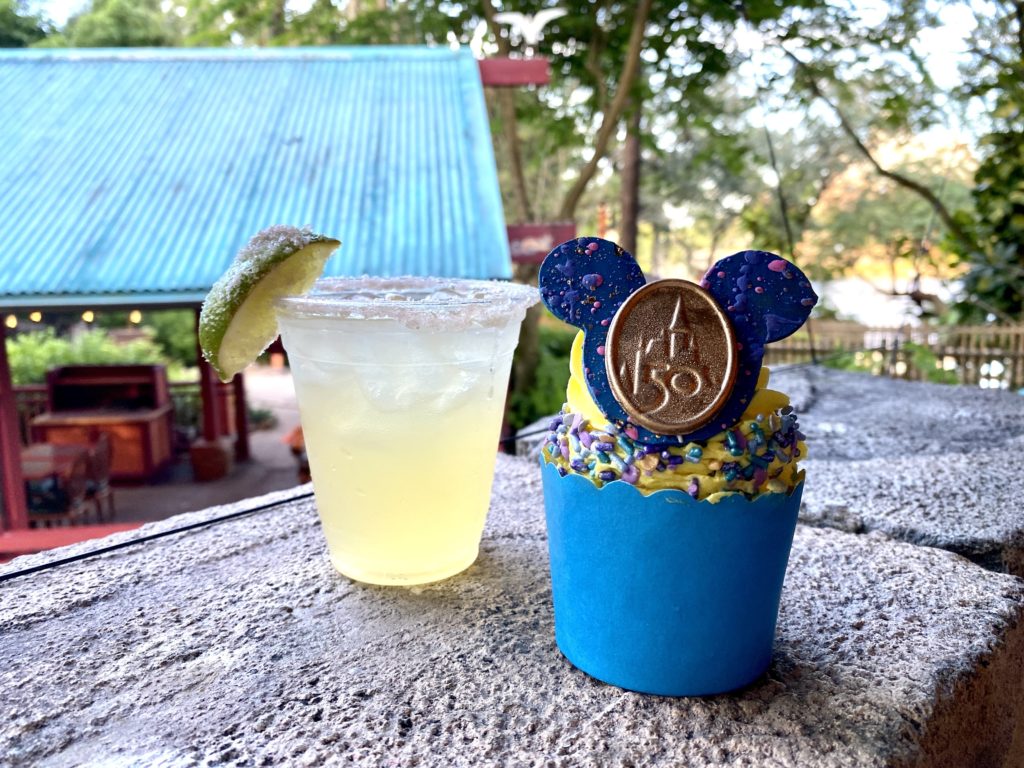 50th Anniversary Lemon Cupcake and Golden Margarita at Disney's Animal Kingdom
One of our sibling sites, Tampa Bay Parenting has a full rundown of all the New Rides and Shows Coming to Walt Disney World.
What's New at Universal Orlando
This year's Universal's Mardi Gras marked the return of Mardi Gras parades and Music Plaza concerts after a two-year hiatus. The Holidays at Universal Orlando are back in full force next month. Harbor Nights at the Loews Portofino Bay Hotel returned in the fall. And fan-favorite event Hard Rock's Velvet Sessions is back too. Work continues on the resort's upcoming Epic Universe park, which is planned to open by 2025.
New Coaster(s) at SeaWorld Orlando
SeaWorld Orlando's brand-new Ice Breaker coaster debuted on February 18, 2022. The ride features multiple forward and backward launches, a 100 degree "beyond vertical" drop from a 93 foot spike, and a top speed of 52 MPH. And SeaWorld already has another big project in the works. The World's First "Surf Coaster" called Pipeline will debut in 2023.
New Breweries in Orlando + Orlando's First Non-Alcoholic Bar
There's a growing buzz surrounding Orlando's craft beer scene. Two new breweries and one taphouse opened their doors recently.
In Parramore, Deadwords Brewing opened in December with a menu designed for beer aficionados and novices alike, plus elevated pub fare like pork belly poutine, wood-fired Bavarian pretzels, and pizza. You'll find traditional IPAs, lagers, and pilsners along with trending fruit beers and brut IPAs, and that's not all.
What really sets Deadwords apart from other local breweries is their "Resurrection" series, ancient recipes which are often fermented in a clay amphora, and the playfully named "Abomination" series: experimental beers "brewed in total violation of Reinheitsgebot."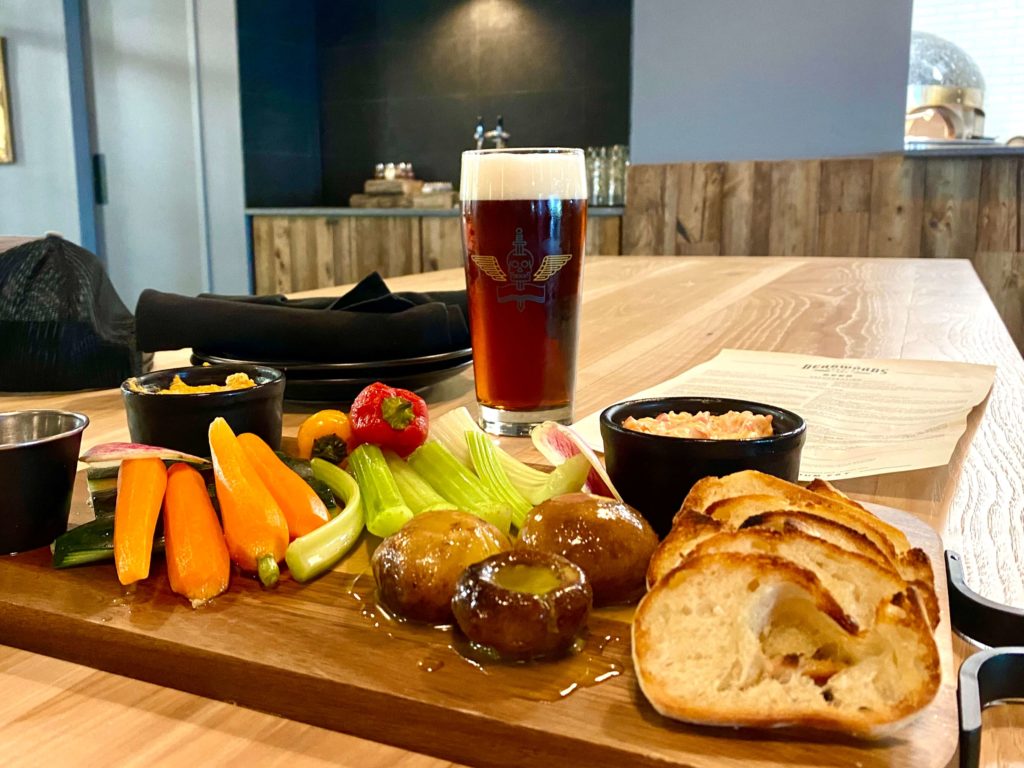 Deadwords Brewing near downtown Orlando | Dani Meyering
Persimmon Hollow Brewing opened a third location at Flamingo Crossings Town Center. The new location just outside Walt Disney World features include a brewery, taproom, and craft kitchen.
Little Wekiva Brewery, a brand new brewery in Springs Plaza, could open in 2022. The intimate brewery and taproom is the dream of father and son duo Richard and Chris Connor. Some of the sample brews listed on their website include a winter lager, a milk stout, and an imaginative jalapeño cream ale. Keep an eye on the Little Wekiva Brewery Instagram page for construction updates! Not too far down the road in Seminole County is new Alestone Brewing in Longwood – with delicious artisan pizza and sandwiches.
Zymarium Meadery, Orlando's first meadery, will open later this year in the old Orange Studio Space on Mills. The 6,000 foot space will feature a large taproom, special event spaces, and an onsite production area, and host multi-sensory experiences and community events throughout the year. Zymarium makes several types of mead, including some that highlight the flavor of local Florida honey.
If traditional breweries aren't your thing, there are also several fun themed venues coming to Orlando in 2022. New York Beer Project, designed to resemble a 1900's indoor beer garden in New York's Lower East Side, will open in Horizon West sometime this year. The 24,000 square foot space will feature a gastropub, indoor beer garden, tap room, brewery, sidewalk bistro, and three New York City themed event spaces.
The BANDBOX – Orlando is now open in Ivanhoe Village. It is the city's first spirit-free speakeasy, with non-alcoholic craft cocktails, aperitifs, shrubs, CBD sodas, and more, all served in a chic cocktail lounge. Reservations are required for the tasting lounge, but walk-ins are welcome to tour the space and browse the onsite vintage shop.
Related: Forget Dinner + Drinks, Try These Alcohol-Free Date Ideas Instead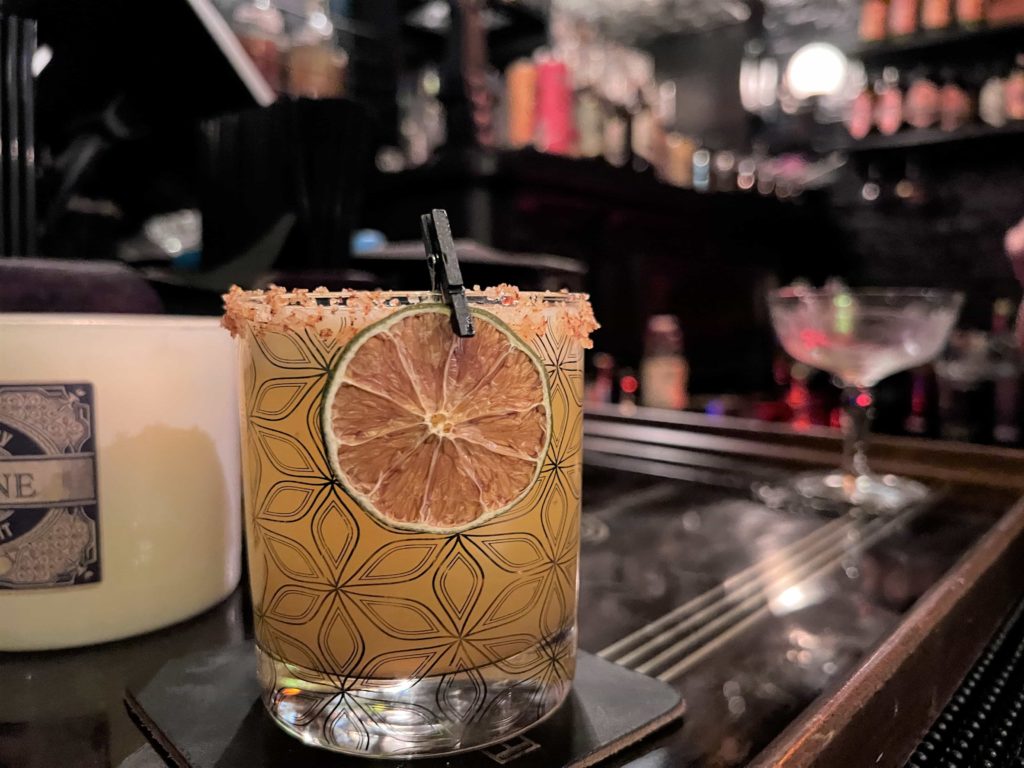 Alcohol free spicy margarita at The Bandbox Orlando – Alayna Curry
New Arts & Culture Experiences
Two new venues are opening this year at Dr. Phillips Center for the Performing Arts. Steinmetz Hall, "one of the world's most acoustically perfect spaces," in the world, kicked off its grand opening celebration on January 14, 2022. Explore the full grand opening lineup. Steinmetz Hall is designed to reach the lowest levels at which humans can detect sound, and it's a multi-form venue, meaning it can transform in shape, seating, and sound to adapt to a wide variety of events. Judson's, an intimate cabaret-style space, is expected to open soon. With cozy seating, tables and a capacity of 125 to 175 people, this "music room" is perfect for savoring an intimate musical performance with your sweetheart.
Related: Tips for a Broadway in Orlando Date Night
Cirque du Soleil – Drawn to Life premiered at Disney Springs in November 2021, replacing La Nouba. This imaginative new adventure transforms the stage into a giant animation table where the art is literally brought to life via dazzling choreography, daring feats, and a timeless soundtrack worthy of the Disney name. The show's unique combination of storytelling, Disney animation, acrobatic acts and other inspiring performances have drawn rave reviews from day one.
Art² (Art Squared), a new interactive art park, is slated to open in downtown Orlando (E Robinson St. & N. Orange Ave.). Plans for the urban park include a two-story shipping container structure, food trucks, picnic tables and hammocks, a stage, an art gallery, a café and a 19×10 foot LED video wall used for art, events, streaming festivals, and movies. The installation will host both free and ticketed events throughout the year and welcome everyone to share in Orlando's community vibe.
Steinmetz Hall | Image credit: Dr. Phillips Center for the Performing Arts
AREA15, a "Wanderland of Art, Music & Entertainment" based out of Las Vegas, is projected to open an Orlando location in 2024. This multifaceted, immersive art venue is intended to house a variety of creative experiences that are both hands-on and approachable for visitors from all backgrounds. Consider it a playground for all ages. The Vegas location even includes a Liftoff Lounge and an open-air balloon ride! Stay tuned for more details on what we can expect from the Orlando location.
New Orlando Hotels and Staycations
Star Wars: Galactic Starcruiser welcomed its first paying guests in March 2022. The hyped-up Walt Disney World hotel is branded as an experience rather than an everyday hotel stay, and the all-inclusive "voyage" starts from the moment you arrive and board a launch pod to your new digs. It's designed to be the most immersive Star Wars experience ever created, with a choose-your-own-adventure aspect that lets you chart your own course in the Star Wars universe. We can't wait to see how it all plays out!
Also at Walt Disney World, the Walt Disney World Swan Reserve, the swanky new extension of the classic Walt Disney World Swan and Dolphin Hotels is now open. It's the ideal Disney getaway, with a prime central location between Disney's four theme parks, two water parks, and of course, Disney Springs. Enjoy an tranquil tropical hideaway complete with a Balinese spa, fine signature dining, and nightlife at the Boardwalk hotel next door.
Orlando World Center Marriott is wrapping up a multi-million dollar renovation of their award-winning hotel. The impressive list of enhancements include transformed guest rooms, a fully-redesigned golf course, a reimagined Mikado Japanese Steakhouse, and more. The all-new River Falls water park opened earlier this year. The water park includes a 50 foot slide tower with three thrilling slides, all of which deliver riders into a plunge pool before joining a 575-foot-long lazy river.
A brand-new, Tuscan-inspired hotel just opened a couple of miles from Walt Disney World's Animal Kingdom. Enjoy a lush and tranquil oasis at ette hotel Orlando, where you can unwind and leave the stresses of everyday life at the door—perfect for rejuvenating getaway with your favorite person! This alcohol-free "wellness-focused lifestyle hotel" offers multiple dining options backed by Michelin Star Chef Akira Back, a luxurious full-service spa, and thoughtful touches like Le Labo toiletries presented in a sleek lacquered box. Onsite dining includes Mediterrasian restaurant Salt & The Cellar, rooftop restaurant LIPA, where you can catch panoramic theme park views and nightly fireworks shows, and handcrafted mixology drinks.
The newly-opened Lake Nona Wave Hotel also focuses on holistic wellbeing and luxurious, tech-forward amenities. The vibrant, stylish hotel has two destination restaurants, two mixology-driven bars, a colorful pool deck with stylish cabanas, a technogym-powered fitness studio, and access to the Lake Nona Performance Club, an advanced fitness and wellness center. As part of Lake Nona Town Center, it's also in easy walking distance of Boxi Park Lake Nona, Lake Nona Sculpture Garden, and other wonderful date options in Lake Nona.
Feature image credit: Susuru Juju – image by Dani Meyering