If you're craving a romantic day of exploration with your love, consider a leisurely day trip up to De Leon Springs State Park. Located about an hour north of Orlando, De Leon Springs State Park has lush trails, refreshing natural springs, and a fascinating history that dates back 6,000 years. Snuggle up over endless DIY pancakes at the Old Sugar Mill, then spend the day swimming in the springs, learning about the area's incredible history, or exploring old Florida's waterways and trails.
Updated April 2022 by Beth Bell
The Evolution of De Leon Springs
There are so many beautiful springs near Orlando, and De Leon Springs is worth the drive.
De Leon Springs was not always a state park. Its fascinating history, which borders at times on mythology, makes Ponce de Leon Springs State Park a bucket list destination for more than just its game-changing pancakes.
The warm, clear springs have drawn people for over 6,000 years, as evidenced by a dated Native American dugout canoe discovered in the bottom of the springs. The canoe likely belonged to the Macaya Indians, who called the springs Acuera, or "Healing Waters." The Macaya still occupied the land in the 1500s when Spanish explorers began to arrive in Florida. It's possible that explorer Juan Ponce de León was here, based off a 1513 journal entry in which he and his crew "ascended a large river, passing through two small rivers and three lakes, whence we came to a great boiling spring which the Indians call 'Healing Waters.'"
Over 350 years later, the springs were named after Ponce de León, even though there is no concrete proof that he was ever here. Spanish settlements were developed close to the springs in the late 1500s, and the Macaya were later forced off the land.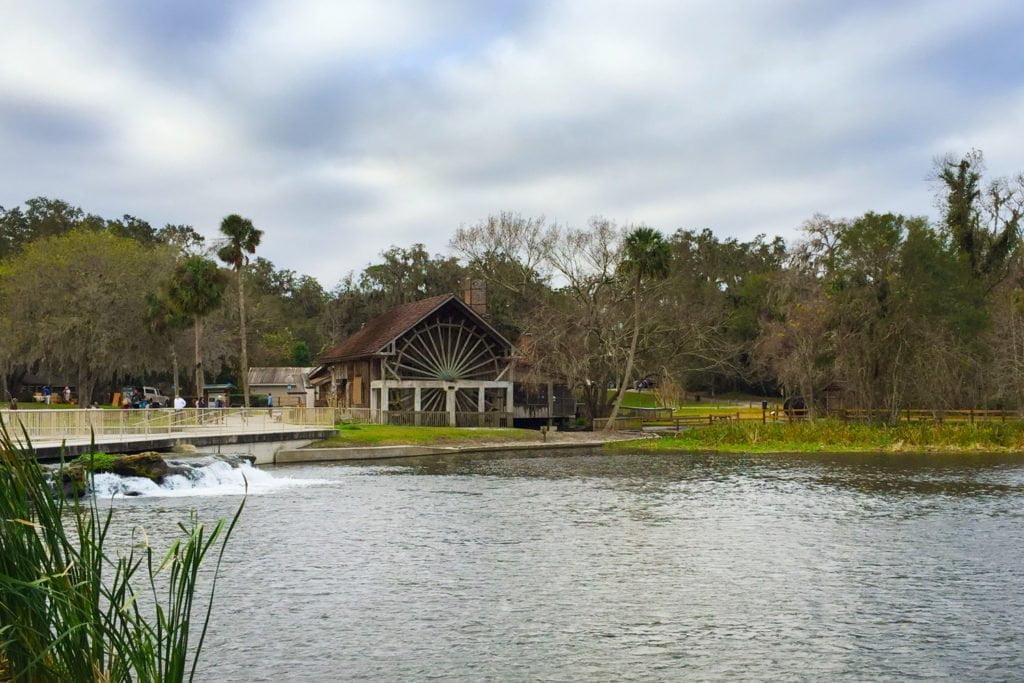 The exterior of the Old Sugar Mill at De Leon Springs
The land changed hands several times and the first water-powered sugar mill (the only one in Florida) was built on the property in the 1830s. Throughout the years, the mill was destroyed and rebuilt twice due to battles fought on the grounds. Today, you can see remnants of the original mill, including its wheel, located behind the Old Sugar Mill restaurant.
In the 1880s, the land was converted into a small resort renamed De Leon Springs. The Ponce De Leon Spring Inn and Casino were added in 1925, bringing in many tourists. In 1953 it became one of many old Florida roadside attractions, where people enjoyed the gardens, jungle cruise, and water circus, including an elephant on water skis–they have video proof at the Visitor's Center!
The state finally bought the 55-acre parcel in 1982 and transformed it into a state park. An additional 625 acres were added to protect the springs, which visitors can now enjoy 365 days a year. For a closer look at the park's evolution over the years, stop by the De Leon Springs State Park visitor center, and be sure to check out the historical artifacts and exhibits throughout the park.
Pancakes at the Old Spanish Sugar Mill
And now for the good stuff – it's pancake time!
One of De Leon Spring State Park's biggest draws is the Sugar Mill, a rustic restaurant and country store housed inside a 100-year-old mill. This sweet spot alone is worth the cost of admission to De Leon Springs State Park. In fact, it's so popular that you may find yourself waiting 2-3 hours for a table! Arrive early in the morning for lower wait times, or plan on exploring the park while you wait.
The Old Sugar Mill is best known for its fresh pancakes, which you cook yourself on a griddle built right into the tabletop. There are two dining areas inside the restaurant. The larger room has a barn-like feeling and showcases the machinery of the sugar mill. The second, smaller room is like an all-season porch. It has large windows, making the room very bright. Throughout the restaurant, you'll find tables of various sizes, each with one (sometimes two!) griddle in the center. For $6.50 you get all-you-can-eat pancakes, made by you!
The Old Sugar Mill is open from 9 AM to 2 PM on weekdays and 8 AM to 2 PM on weekends and holidays. It is closed on Thanksgiving Day and Christmas Day.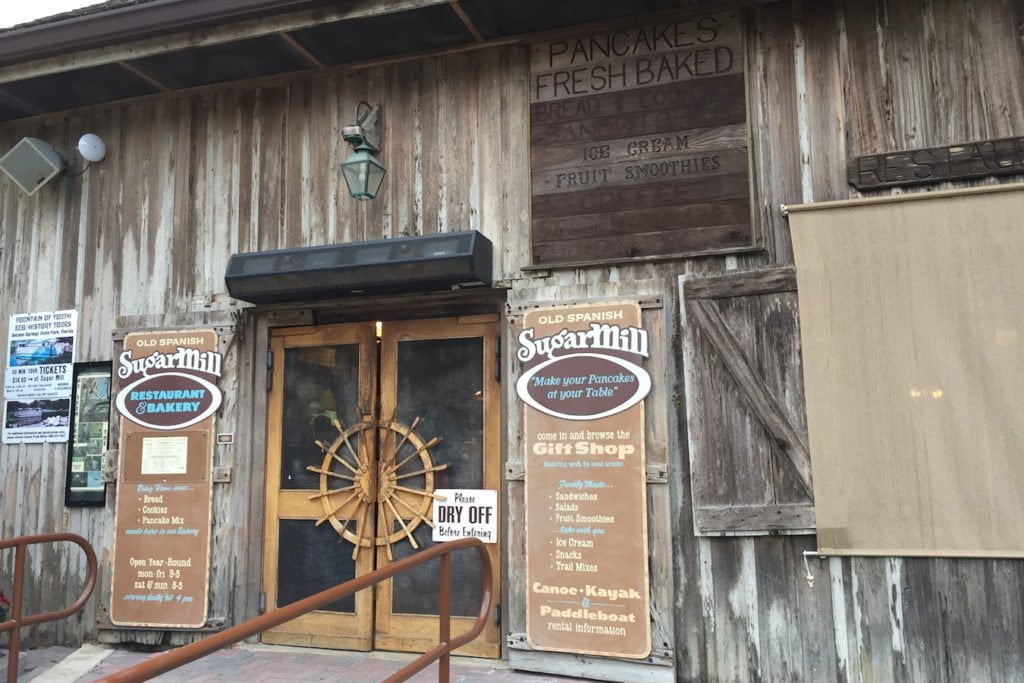 Sugar Mill Restaurant
Sugar Mill Menu Highlights and Ordering Process
Once seated, your server will greet you and explain the ordering process. Pancake orders are priced at $6.50 per person, and include everything needed for a steamy hands-on breakfast date. There's an electric griddle built right into each tabletop, and the restaurant supplies cooking spray, butter, and spatulas.
Pancake orders include two different homemade batters, along with raw honey, molasses, and syrup. One batter is made with unbleached white flour, and the other is made with the mill's signature five stone-ground flours with corn, wheat, rye, whole wheat, and buckwheat. Both produce the lightest, fluffiest, and tastiest pancakes!
Sweeten the deal with mix-ins like fresh blueberries, peanut butter, or banana slices ($1.95 each). Pancakes are endless, so if you finish your pitcher or simply prefer one batter over the other, feel free to ask for more! White or whole-grain French toast and gluten-free, vegan pancake batter are also available.
If you're craving something savory, you can also add sides of eggs, bacon, sausage, or ham to your breakfast order. The meat is cooked in the kitchen before it arrives at your table, but you cook the eggs on the griddle alongside the pancakes.
A selection of salads, sandwiches, and beverages are also available if pancakes just aren't your jam. These items are prepared in the kitchen and brought out to the table, so there is no cooking involved on your part.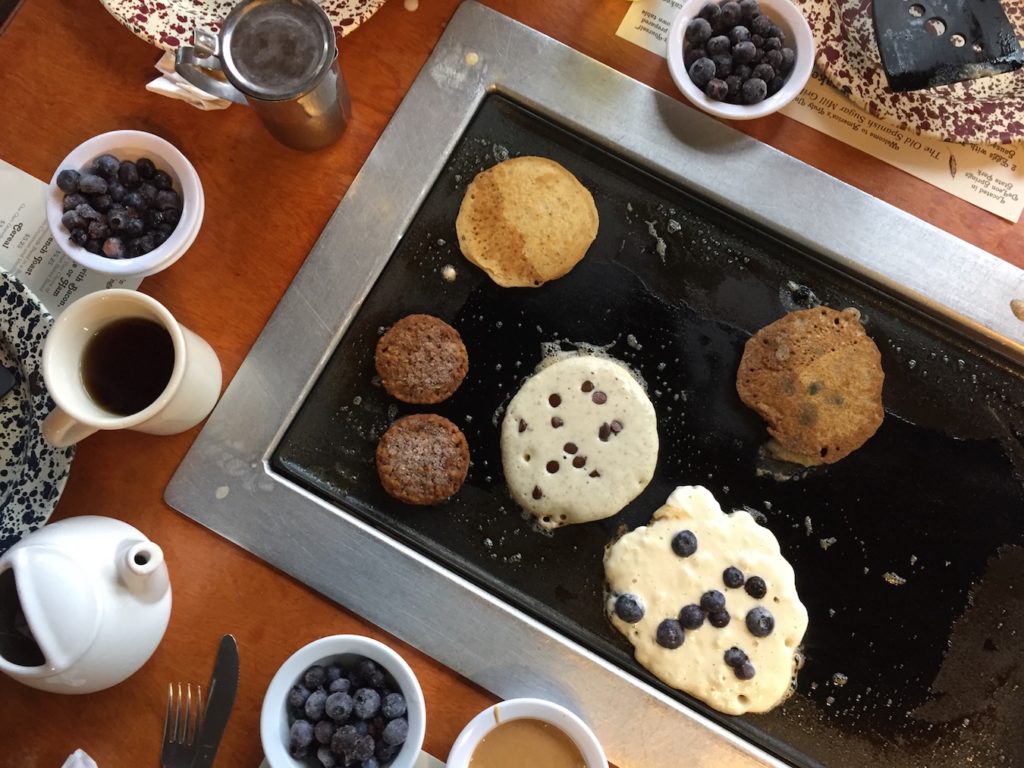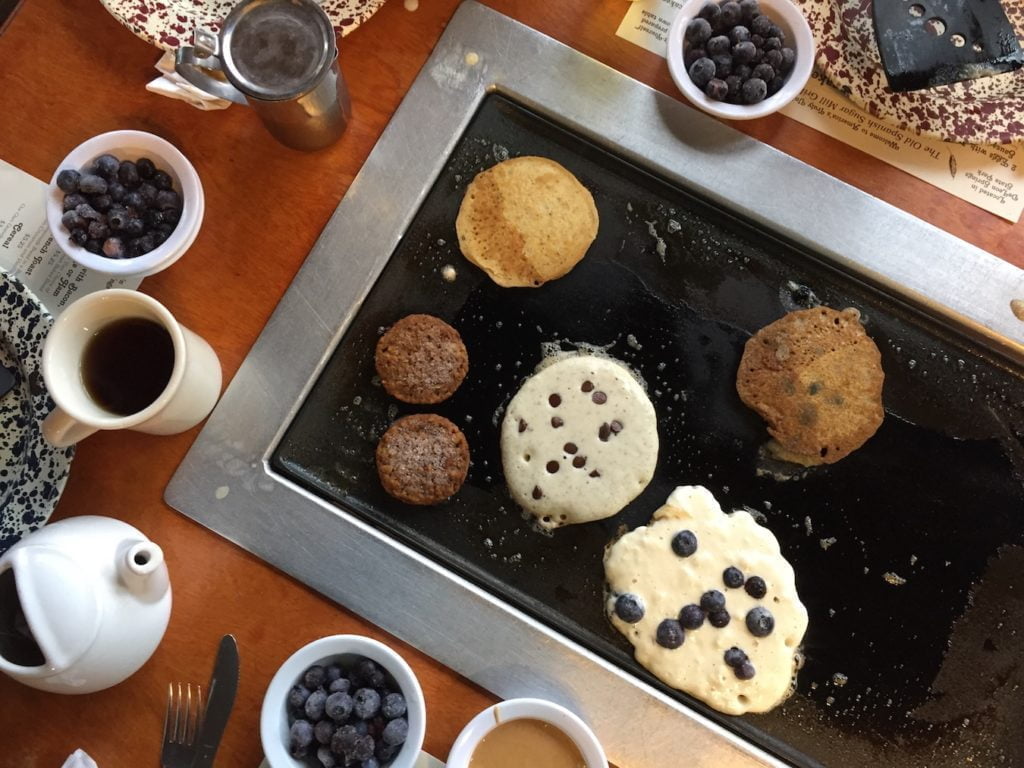 Add in your own toppings as you cook your own pancakes
Vegan and Vegetarian Options at Sugar Mill Restaurant
Gluten-free, vegan pancake batter is available for $6.95 per person. Vegetarian sausage and egg alternatives are also available, and blueberry, strawberry, and banana smoothies provide an extra-healthy start to the day.
You'll also find seasonal fruit bowls, tossed green salads, garden burgers, and several meatless sandwich alternatives, making the Old Sugar Mill a safe, delicious option for visitors with all kinds of dietary needs.
Pro-Tip: People have waited up to several hours for a table (it's quaint!), so get there right when the park opens for the shortest wait times. Also, going in the "off-season," aka the winter months, will also mean shorter wait times. Be prepared to wait regardless of what time you visit. See below for a list of things to do while you are waiting to be seated.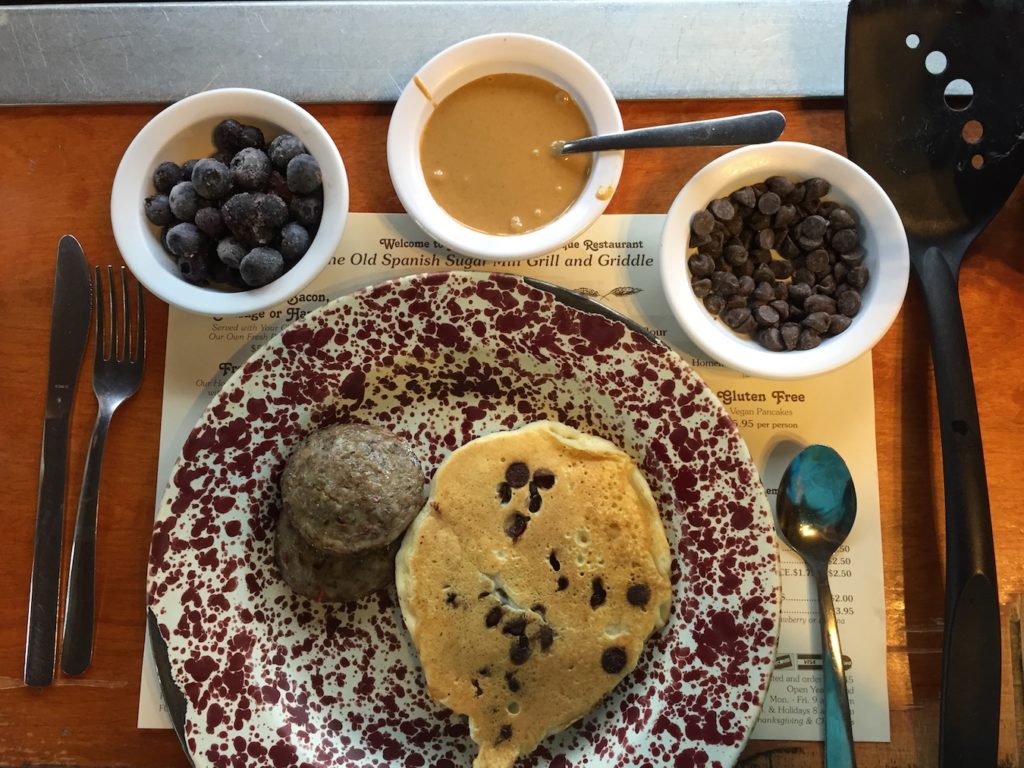 Pancakes at De Leon Springs State Park
Other Activities at De Leon Springs State Park
There are more things to do at De Leon Springs State Park than filling your belly with pancakes. Make the time to truly explore the entire park, springs, and river to make the most of your time together.
Related: 35 Outdoor Activities in Orlando to Enjoy Together
Fountain of Youth ECO/Heritage Boat Tour
If you find yourself having to wait an hour or two for your table, it is highly encouraged that you take a boat tour. The Sugar Mill will hold your place on the waiting list until you return. The 50-minute narrated boat tour will take you through Lake Woodruff National Wildlife Refuge while providing you with local history and wildlife facts. Visiting during the colder months provides the chance to spot manatees by the dock before you leave. Tours operate daily at 10am, 11am, 12pm, and 1pm.
Tickets are $14/per person and are sold at the concession stand right outside the mill entrance. An 8 person minimum is needed for the tour to operate.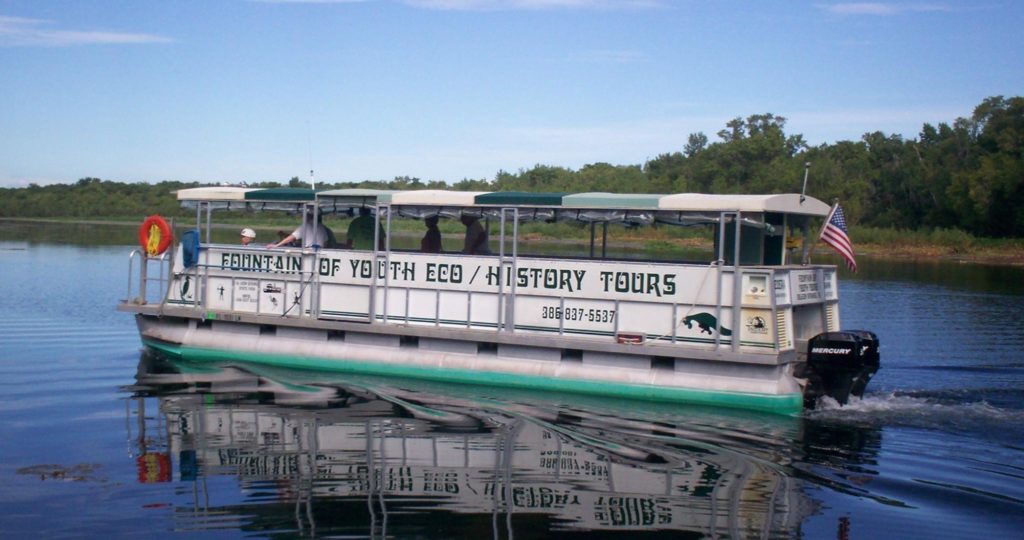 Image credit: Florida State Parks
Boat Rental at De Leon Springs
For an intimate, firsthand look at this stunning ecosystem, rent a kayak or canoe and spend the day on the water. Canoes, kayaks, and tandem kayaks are available on a first-come, first-served basis at the Old Sugar Mill concession stand. All rentals require a driver's license to rent. Hug the shore of Spring Garden Lake, or paddle four miles along Spring Garden Creek to explore Lake Woodruff National Wildlife Reserve.
Canoes – $18 first hour, $10 each additional hour
Single Kayak – $15 first hour, $7 each additional hour
Tandem Kayak – $18 first hour, $10 each additional hour
Swimming at De Leon Springs
The natural headsprings, from which De Leon Springs derived its name, have long been associated with healing properties. Once you dive in, it's easy to see why! The crystal clear springs remain a consistent 72 degrees year-round, making this a fabulous spot for a restorative soak even in the winter months. Resort developers in the late 1800s even referred to the springs as the "Fountain of Youth."
Today, visitors can swim, snorkel, and even scuba dive (with a licensed instructor) at De Leon Springs. Its deepest point is 30 feet from the surface, where the spring boil bubbles up from a network of underground caverns. The springs are open to swimmers every day from 8am until one-half hour before sunset.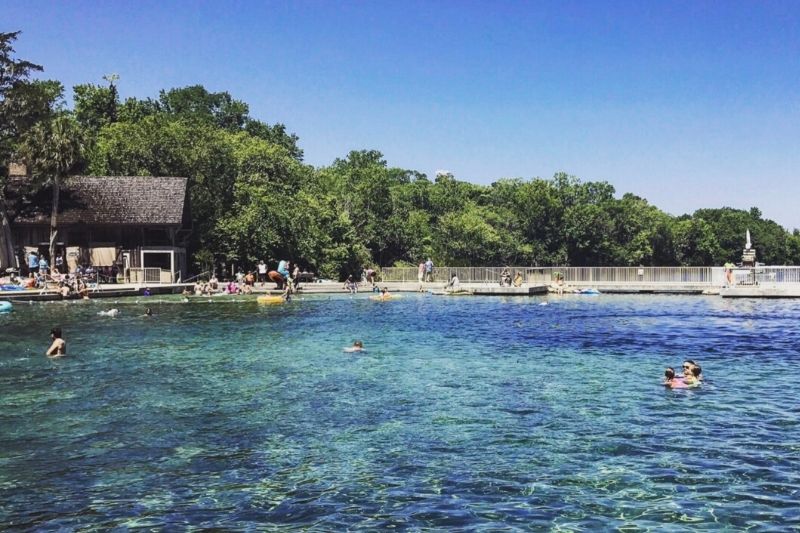 Swimming at De Leon Springs State Park | Image credit: Dani Meyering
De Leon Springs State Park Hiking Trails
Set your hearts racing with an adventurous stroll through the hydric hammock of De Leon Spring State Park. There are three main trails to explore, ranging from a half mile paved nature trail to a 4.2 mile loop through the spring-fed floodplain forest. The paved interpretive nature trail leads to three trailheads of increasing difficulty.
The first, a short boardwalk trail, leads to "Old Methuselah," a bald cypress tree that is over 600 years old. Next, take a short squishy trail to Monkey Island, which used to house wild monkeys back in the 1960s, when De Leon Springs operated as a kitschy roadside attraction. Finally, set out to explore Wild Persimmon Trail, where you might hear songbirds and see wild turkeys, deer, and even black bears. Be aware, this trail crosses creeks and can get pretty muddy, even on dry, sunny days. It also takes up to three hours to complete, so come early and wear shoes that won't mind a bit of mud.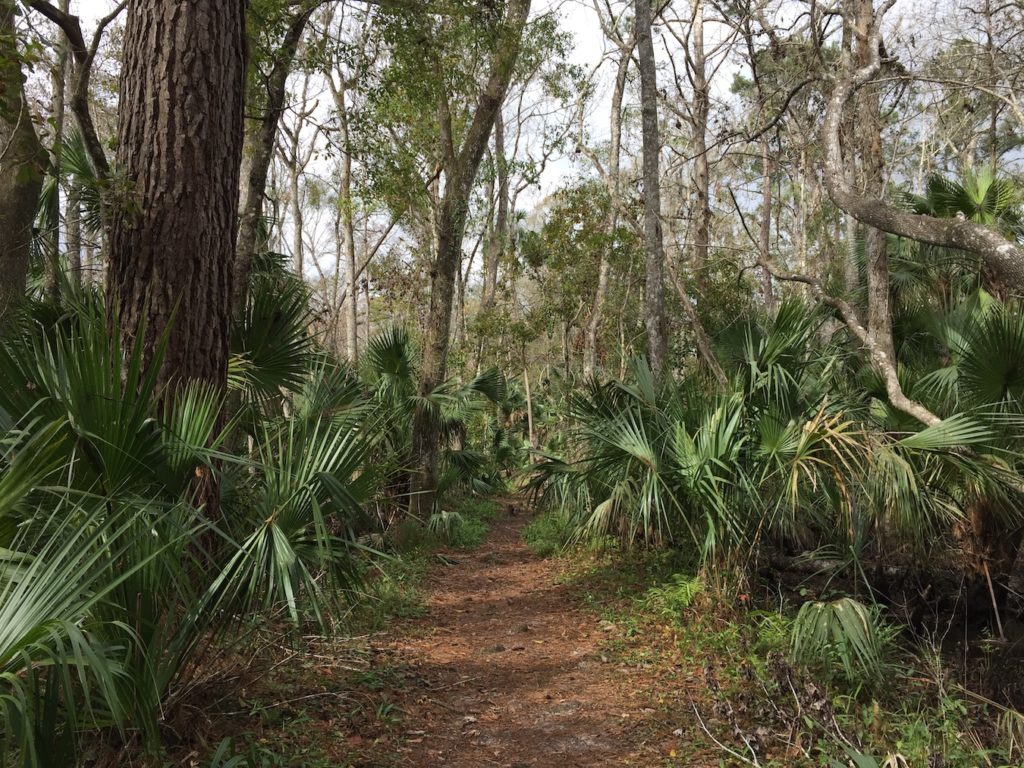 Hiking at De Leon Springs State Park
Know Before You Go
Location, Hours and Fees
De Leon Springs State Park
601 Ponce de Leon Blvd.
De Leon Springs, FL 32130
Hours: Daily 8am-sunset (Note: the Old Spanish Sugar Mill and Griddle House is closed on Christmas and Thanksgiving)
Fees:
$6 per vehicle: 2-8 people
$4.00 per vehicle: one person only
Extend Your Date: DeLand is a short 15-minute drive from the park, so stop there on your way back for dinner and drinks!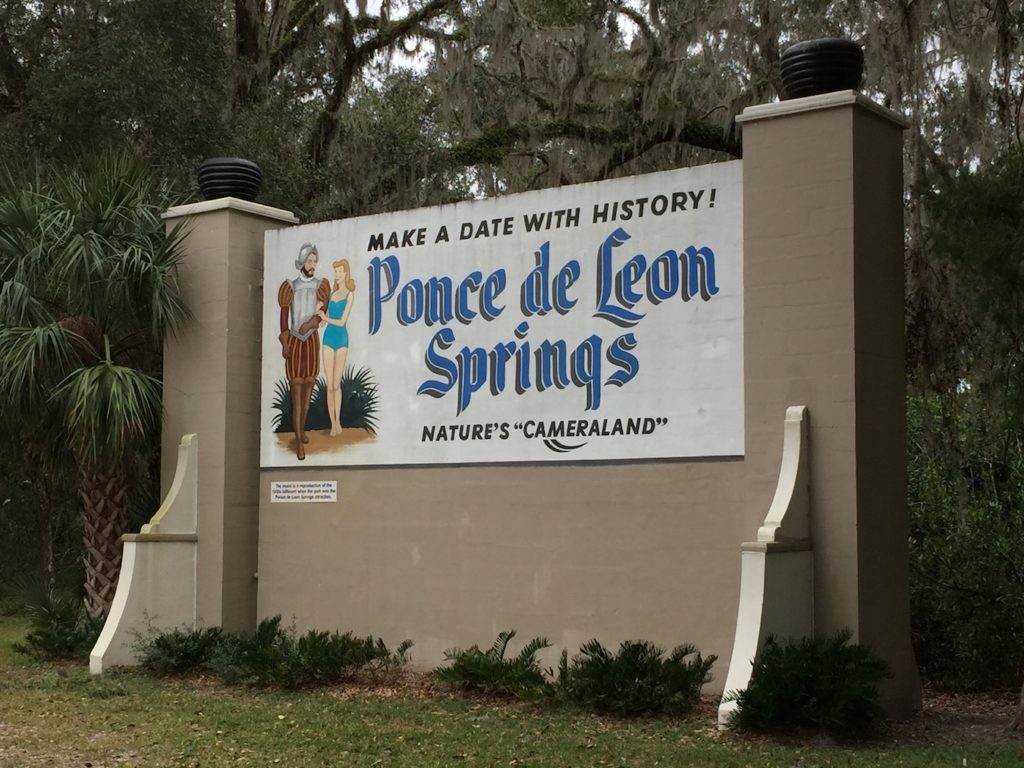 Welcome sign at De Leon Springs
When to Visit
De Leon Springs State Park is open 365 days a year. Early March is the best time to visit. The azaleas at the park entrance and throughout the park are typically in full bloom, and you may even spot a few migratory manatees in the river before they move on to the next place. December through March are ideal in terms of manatee spotting, lower crowds, and milder weather. And don't worry too much about cooler temperatures–the springs naturally remain a comfortable 72 degrees all year long!
Extend Your Date: Historic Downtown DeLand is a short 15-minute drive from the park, so stop there on your way back for dinner and drinks!
Related: A Visit to Hontoon Island State Park: Central Florida's Island Escape
All images by Hannah Green unless otherwise noted.
Feature image credit: Florida State Parks