With its stunning beaches, rich history, and exciting festivals and attractions, Florida's Space Coast is the perfect destination for a quick getaway.
Just a short drive from Orlando, Florida's Space Coast is home to Port Canaveral, Cocoa Beach, Melbourne, Titusville, Kennedy Space Center, the Indian River Lagoon, and more. It is an easy destination for Central Floridians to come over for a short getaway for dinner and stay overnight to see a rocket launch or watch the sun rise on the beach.
The region has five historic downtown districts with shopping, dining and entertainment, eight craft breweries, and food from fine dining to tiki shacks and everything in between.
In this article, we'll guide you through a 24-hour itinerary that showcases the best of what this amazing region has to offer.
Whether you're interested in exploring the Kennedy Space Center, popping over to go cruising out of Port Canaveral, taking in the natural beauty of the Indian River Lagoon, or simply relaxing on the beach, this itinerary has got you covered.
So pack your bags, grab your sunscreen, and let's hit the road to Space Coast!
A 24 Hours in Florida's Space Coast Itinerary
Breakfast Hidden Gem
BACKWATER
Founded by owners Elise McClure and Ryan Verzaal, Backwater Restaurant is a mom and pop restaurant known for their home-style and creative Southern take on breakfast and lunch. They have two locations – one in downtown Melbourne and another one on Wickham Road just north of Wickham Pack.
They are super popular so make sure to get there early to get a good seat.
For those with young ones or young at heart, there's griddle stations where guests can make their own pancakes tableside with other popular items including the pulled pork eggs benedict, Fried Gator and Waffles, and the Grilled Mac and Cheese Sandwich with Tomato Bisque Soup.
DIY PANCAKES
Owner Ryan Verzaal tells us they "wanted to make a place where people across all diets and walks of life could come together and eat southern food together with an interactive experience that is engaging."
A centerpiece at the new Wickham Road location is their "gator skull chandelier." Owner Ryan who is an avid fisherman and hunter tells us that their gator meat used for their dishes is processed in Cocoa by their friends at Central Florida Trophy Hunt. For some time, he has been able to gather gator skulls from them which eventually became the masterful "gator skull chandelier."
"During Covid, I had a lot of time on my hands so I started and raised a dermestid beetle colony to be able to clean gator heads down to the bone in larger quantities. What you see now is 80 alligator skulls all caught here in central Florida paired with some native flora."
Backwater is also proud to work closely and exclusively with three local non profit organizations near and dear to their hearts including To Write Love on Her Arms, based right down the street here in Melbourne, donating annually to the Marine Resources Council who work as stewards for the Indian River Lagoon, and on a local/national level contributing to wetland acquisition and preservation initiatives via Ducks Unlimited.
Favorite things to do in the Space Coast? Ryan: Hunting or Fishing in the Lagoon, Surfing in Satellite Beach, Sebastian Inlet, a burger from the Burger Inn, getting a beer at Longdoggers, Running in an airboat on the St. Johns River and ending at Normans for cookouts on Saturday afternoons in the summer.
Gator and Waffle
Candied citrus, fried chicken, fried gator. 1 orange zest waffle topped with candied oranges.
Fried Green Tomato & Spinach Eggs Benedict
Two poached eggs atop fried green tomatoes with kale and spinach on an English muffin with black cherry grits.
The Boss Hog
Provolone stuffed rope sausage atop balsamic onions, cheese grits loaded with bacon and green onions, served in a skillet and finished with 1 sunny side up egg.
C.H. Clark's Pulled Pork Eggs Benedict
Our grandfathers famous Eastern North carolina style pulled pork and 2 poached eggs over a homemade biscuit, topped with hollandaise sauce and served with home fries or grits.
Bayou Benny
Eastern North Carolina pulled pork covered with crawfish, bell peppers, piquant hollandaise sauce and topped with 2 poached eggs on a toasted English muffin served with a side of home fries.
Backwater The Original
1904 Municipal Lane
Historic Downtown Melbourne Florida 32901
8am – 2ish | 7 Days a week
321-837-3925
Backwater North
5555 N. Wickham Rd. @ Pineda
Melbourne Florida 32940
8am – 2ish | 7 Days a week
321-600-4335
**They do not take reservations or have call ahead seating**
backwaterflorida.com
Things to Do in Melbourne
Visit the Brevard Zoo: This beautiful zoo features over 500 animals from all over the world, including exotic species like giraffes, kangaroos, and zebras.
Tour the Valiant Air Command Warbird Museum: This museum showcases a collection of vintage military aircraft, including planes from World War II, the Korean War, and the Vietnam War.
Explore the Melbourne Beach Pier: This historic pier is a popular spot for fishing, as well as for taking in stunning views of the ocean and surrounding beaches.
Visit the Eau Gallie Arts District: This eclectic neighborhood is home to a variety of art galleries, boutiques, and restaurants, and is a great place to explore on foot.
Play a round of golf: Melbourne is home to several world-class golf courses, including the Duran Golf Club and the Baytree National Golf Links.
Visit the McLarty Treasure Museum: This museum showcases the history of the 1715 Spanish treasure fleet and offers visitors the opportunity to see a variety of artifacts from the sunken ships.
LUNCH – HIDDEN GEMS
Cedar's Café
For lunch, head over to Cedar's Café on Wickham Road. It may be an unassuming small mom and pop Lebanese café to the untrained eye – but this place is a hidden diamond in the rough and a must try for any foodie traveling to Melbourne. Led by Chef Toni Khoury and mom Marlene, the dishes here are made with freshly sourced, seasonal ingredients and draw from their northern Lebanese regional roots.
There's something unexpected and exciting in the dishes here at Cedar's. Don't come with preconceived notions of traditional Lebanese cuisine – it's much more that that.
Cedar's Cafe was originally started by Marlene "Momma" Elkhouri 19 years ago as a way to showcase fresh sourced Northern Lebanese food. About 4 years, daughter Toni M. Elkhouri joined and started to bring a more modern & sustainable approach while always paying homage to the history of the dishes.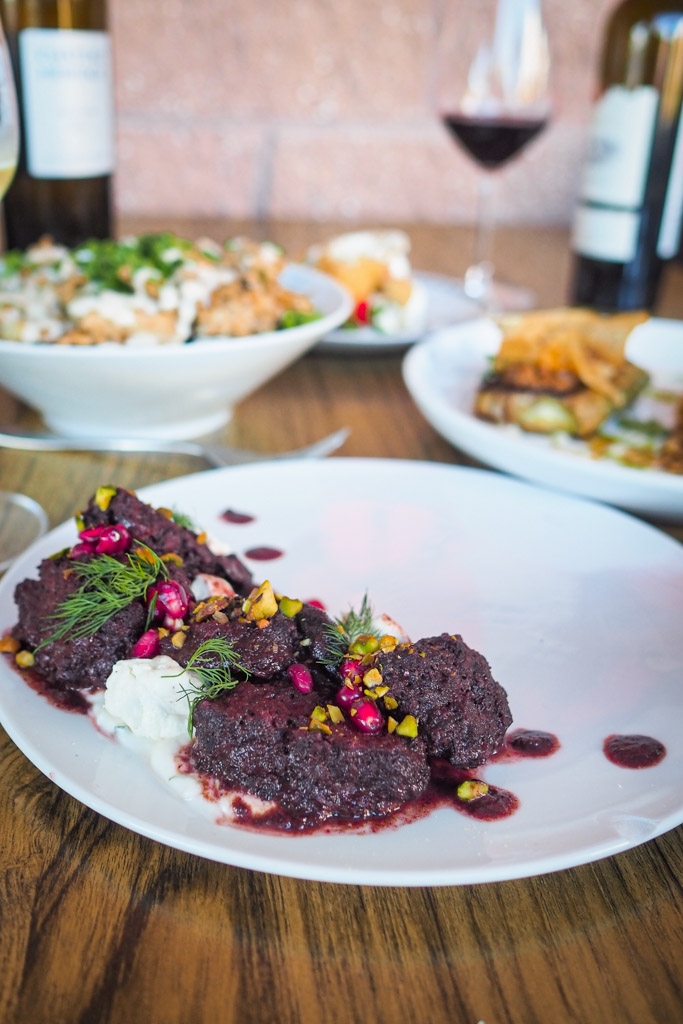 Here, vegans love the mushroom shawarma or the artichoke shawarma, while salad lovers love the Rita salad (fatoush with chicken), and traditionalists love the mixed grill. For the adventurous eaters – the seasonal specials is where it is at. Chef Toni tells us, "The joy of having a smaller menu is the fact we can curate for every diet & tastes."
Why is Space Coast and Brevard County special? Chef Toni says, "Brevard is like Cedars – it's the unexpected – just like how we like to showcase different areas of the Middle East and different flavor profiles, the same thing applies to Brevard county. You have the charm of Cocoa Village, you have the Kennedy Space Center in Titusville, and you have the beaches all around the coast of Satellite Beach in Indian Harbour. You have the hustle and bustle of Melbourne with old city history, and the emerging food culture, and you have brand new Viera with its new shops and things – so you get a little bit of anything you want you just have to look."
Here are some dishes to try at Cedar's Café:
Lamb meatballs, sour cherry sauce and labneh with Turkish pistachios and pomegranate
Cedar's take on Cheese Rolls – Cheese rolls are found in most Lebanese restaurants – usually with thin phyllo dough and cheese. Chef Toni wanted to use her roots as an inspiration being from Northern Lebanon garlic is a big thing so the incorporation of toum or garlic sauce and use of feta makes this version a story of our part of our travels.
Snapper with Spicy walnut sauce & burnt onion rice. A dish that you will find different versions of in the Middle East. Its actual origin comes from the northern province of Lebanon in Tripoli. This version incorporates a lot of the items from Northern Lebanon region & Tripoli itself.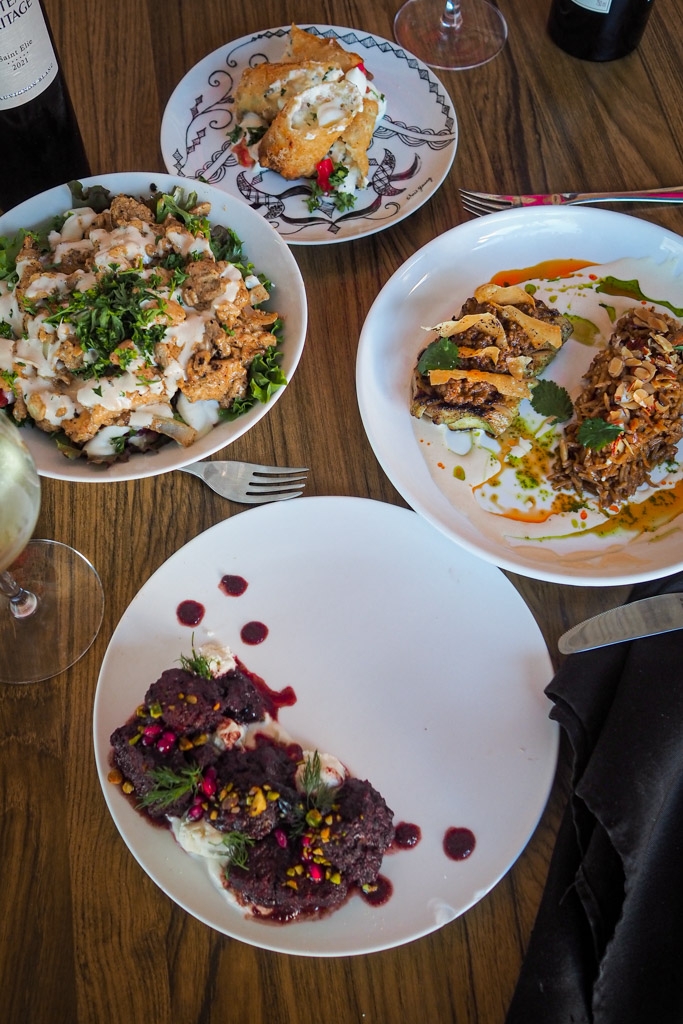 Mushroom Shawarma Salad – Chef Toni tells us, "Everyone knows my love of mushrooms. This Mushroom Shawarma Salad uses lovely Fungi Jon mushrooms with our special housemaid Shawarma spice on Springer Farms lettuce, and of course nothing is made at Cedars without our lovely garlic sauce and finished off with some tahini. This dish speaks to the fact that, just like our ancestors travelled = we do too, and we have to evolve our dishes. I'll paint homages to the originals."
Cedar's Café
4100 N Wickham Rd #137, Melbourne, FL 32935
Menu: cedarscafe.com
Phone: (321) 751-0000
Things to Do in Cocoa Beach
Visit the Kennedy Space Center: The Kennedy Space Center is a must-visit attraction for anyone interested in space exploration and the history of the American space program. Visitors can take a tour of the center, see real space vehicles and equipment, and even participate in interactive exhibits.
Explore the Thousand Islands: The Thousand Islands is a scenic area located in the Indian River Lagoon and is a popular spot for boating, fishing, and bird watching. Visitors can take a guided tour, rent a kayak or paddleboard, or simply relax and enjoy the views.
Enjoy the Beach: Cocoa Beach is famous for its wide, sandy beaches, and clear blue waters. Visitors can go sunbathing, swimming, or take part in various water sports such as surfing, paddleboarding, and kiteboarding.
Take a Fishing Trip: Cocoa Beach is known for its rich fishing grounds, and visitors can join a guided fishing trip to catch a variety of species such as red snapper, grouper, and kingfish.
Visit the Ron Jon Surf Shop: The Ron Jon Surf Shop is a must-visit destination for surfers and beachgoers alike. It is the largest surf shop in the world and offers a wide range of surf gear, clothing, and souvenirs.
These are just a few of the many things to see and do in Cocoa Beach, Florida. Whether you're looking for adventure, relaxation, or just a fun time, Cocoa Beach has something to offer everyone.
Dinner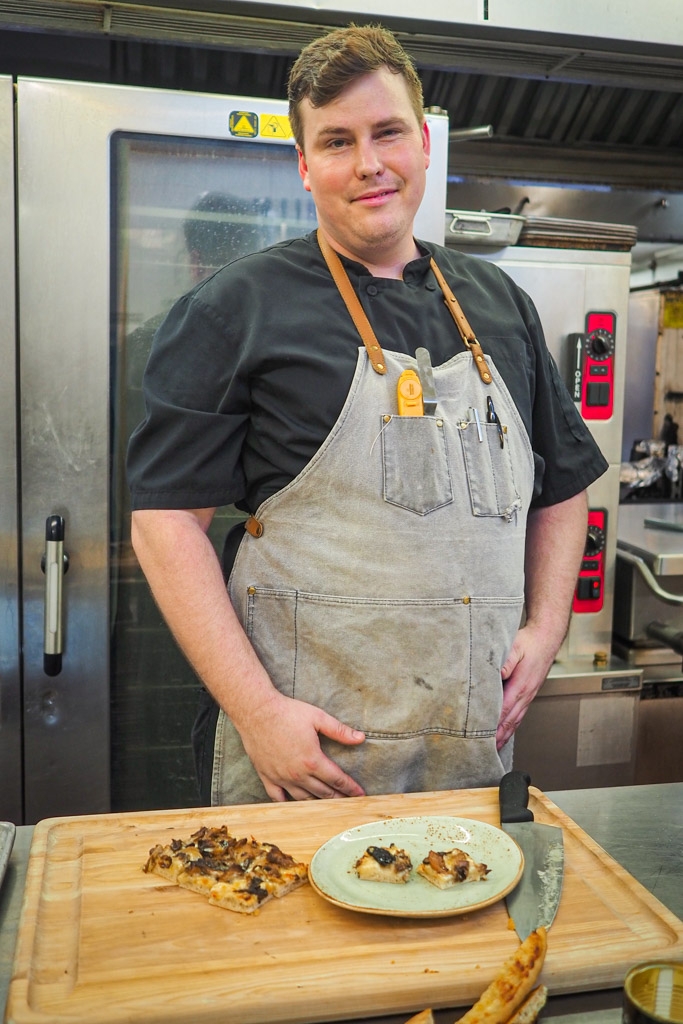 WAVES Craft Bar & Kitchen at Hilton Cocoa Beach Oceanfront
After lunch, head over for some fun in the sun by exploring the fantastic surf and sand in Cocoa Beach. See below for nearby activities. For dinner, check out the new WAVES Craft Bar & Kitchen at Hilton Cocoa Beach Oceanfront hotel.
The restaurant features a made-from-scratch chef-inspired menu with locally sourced seafood as well as local artisanal ingredients. Their steak offerings are responsibly sourced, with PRIME certified cuts offered, as well as glazed pork belly and seared scallops. The cocktail bar places just as much detail with some fantastic smoked whiskey options.
Menu Highlights include: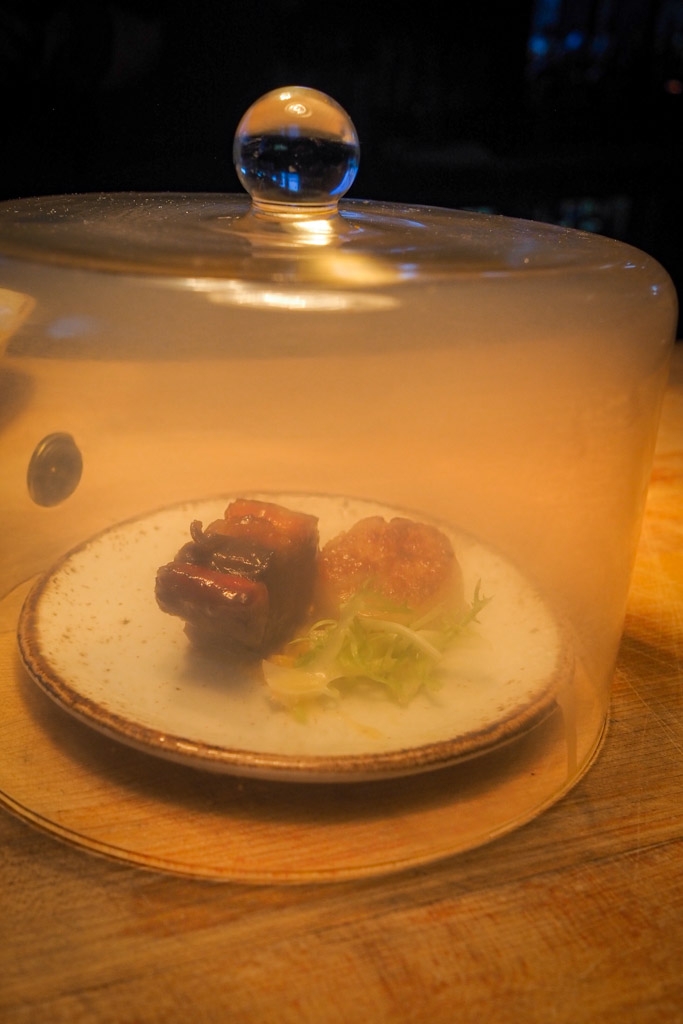 Glazed Pork Belly & Seared Scallops
Roasted Corn Puree, Granny Smith Apples, Frisee, Crispy Shallots
Tuna Tartar
Avocado, Sriracha, Soy Pearls, Shallots, Lemon, Wonton, Micro Shiso
Rock Shrimp Crostini
Cape Canaveral Rock Shrimp, Scampi Sauce, Aleppo, Micro Cilantro
Wild Mushrooms Flatbread
Grilled Flatbread, Fontina, Garlic, Seasonal Wild Mushrooms, Truffle Oil, Arugula
Florida Blue Crab Mac & Cheese
Jumbo Lump Crab, Fontina Mornay, Gremolata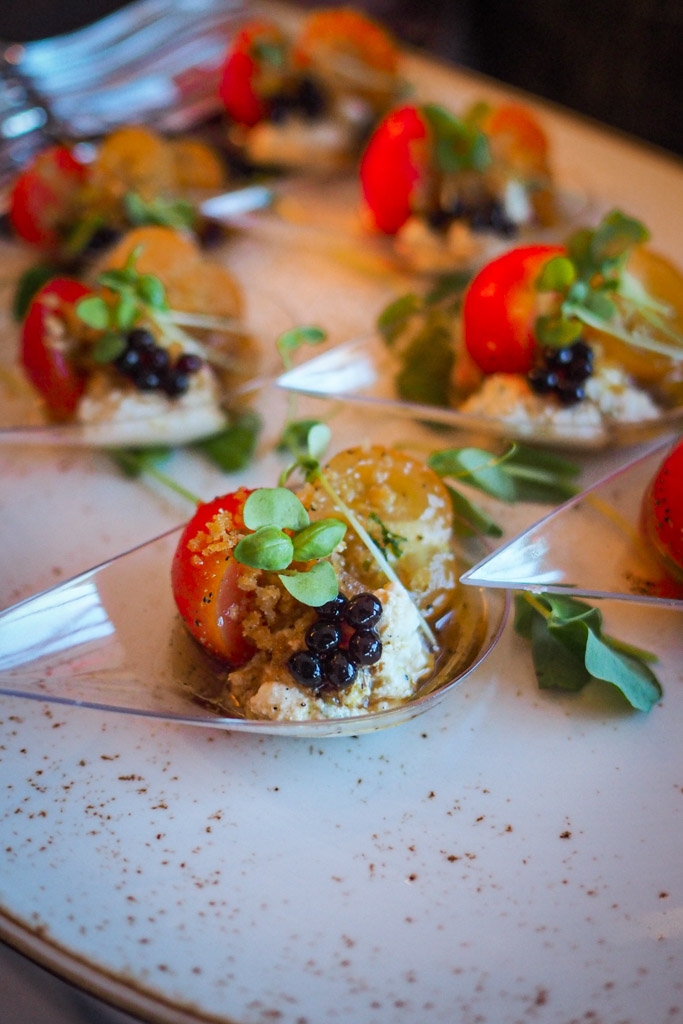 Heirloom Tomato & Burrata Salad
Aged Sherry Vinegar, EVOO, Balsamic Pearls, Brioche Toast, Micro Basil
WAVES Craft Bar & Kitchen
Hilton Cocoa Beach Oceanfront
1550 N Atlantic Ave, Cocoa Beach, FL 32931
Phone: (321) 799-0003
https://www.hilton.com/en/hotels/ccbchhf-hilton-cocoa-beach-oceanfront/dining/
Major Events
Cocoa Beach Air Show
April 15-16 / Time Start: 9 am
Lori Wilson Park | Cocoa Beach
You can't say spring on the Space Coast without an epic air show. This year the action takes place at Lori Wilson Park in beautiful Cocoa Beach. In 2023, the Air Force Thunderbirds, Douglas C-47 Tico Bell, and the aerial acrobatics of Mike Bell will have you on the edge of your beach chair!
Food and Beverage Festivals on the Space Coast
Grant Seafood Festival
March 4 – 5
Grant-Valkryia Fairgrounds | 4580 1st Street, Grant, FL 32949
Fresh seafood is what the Grant Seafood Festival is all about! Enjoy fresh seafood around every corner! Each food booth you'll belly up to is unique and steeped in tradition; many have several generations working side by side using time honored recipes. Free admission, free parking, over 125 crafters exhibiting, live continuous entertainment, along with a vast menu of delicious seafood makes this a weekend no one wants to miss!
Grant BBQ Festival
April 14 – 16
Grant-Valkryia Fairgrounds | 4580 1st Street, Grant, FL 32949
Experience the best Brevard's barbeque scene as backyard teams compete with top-rated pitmasters! Come for the Barbeque competition stay for the live entertainment, marketplace and classic car show!
• Live Entertainment — All 3 Days!
• Market Place with Arts. Crafts and Local Vendors
• People's Choice Contest
• Classic Car and Motorcycle Show
• Free Admission — Free Parking
Beach 'N Boards Fest
March 8 – 12
Alan Shepard Park | Cocoa Beach
Ron Jon Beach 'N Boards Fest is the nation's premiere active lifestyle Spring Break destination since 2013. With almost every type of boarding sport under the sun, Cocoa Beach and the Ron Jon Beach 'N Boards Fest will be the place to be March 8-12, 2023! Surfing, wakeboarding, skateboarding, paddle boarding, a Kayak and SUP fishing tournament, Foil racing, incredible music and vendors and OH so much more, this event is the ONLY way to start Spring Break on the Space Coast!
Arts and Cultural Events on the Space Coast
Black Box Blackout
February 1 – 26
Various Venues | Eau Gallie Arts District
Check this year's schedule of events for this year's lineup of concerts, comedy shows, live art, opera, film and so much more.
Black Box Blackout was born in 2022 to fulfill jazz singer Kristen Warren's vision to impact her community. Warren, a native of Melbourne, Florida, desired to put forth a production that sheds light on the dynamic contribution of black creatives while giving back to the most vulnerable in her community. This year, Black Box Blackout will serve an audience of 900+, feature 85 black creatives, and raise a minimum of $1000 for The Children's Hunger Project. At its inception, Black Box Blackout impacted over 300 visitors from within the Space Coast. It provided an opportunity to a total of 60 black artists to display their creative work. The events successfully increased diversity exposure in Melbourne, FL, while raising money to support Ways of Brevard.
St. Katherine + Greek Festival
February 24 – 26 Hours Vary
St Katherine Greek Orthodox Church | Melbourne
The GreekFEST grounds open at 4pm Friday and run with Food, Drink, Shopping and Entertainment until 5pm Sunday afternoon. Enjoy traditional food, dancing music and fun. Take the opportunity this year to enjoy the 51st year of devouring handmade greek pastries, finding premium olive oils and gifts, and knocking back a few shots of Ouzo with incredible company. OPA!
IndiaFest
March 11 -12 10:00 am – 6:00 pm
Wickham Park | Melbourne
IndiaFest is a celebration of the diversity of India's cultures through food, music, dance, and more. Join the fun at Wickham Park where you can learn about the different regions, customs and cuisines of the beautiful country of India, while listening to traditional music and watching traditional dances!
Melbourne Art Festival
April 22-23, 9:00am – 5:00pm
Wickham Park | Melbourne
Melbourne Art Festival offers FREE admission, FREE parking, FREE children's art projects and FREE live entertainment throughout the weekend. The 38th Annual Melbourne Art Festival will be held among the trees and lakes at beautiful Wickham Park in Melbourne, FL April 22 & 23, 2023. The annual festival, which draws tens of thousands of art and music lovers, is a vibrant family-friendly event that promotes and encourages artistic endeavors, education, and appreciation of the arts in Brevard County.
For more information, visit https://www.visitspacecoast.com/blog-post/space-coast-spring-event-preview

Staying Overnight in Florida's Space Coast
From large national hotel chains lining the beaches along Cocoa Beach down through Melbourne Beach to boutique motels and quaint bed and breakfast inns, Florida's Space Coast has accommodations to please all types of visitors.
For the leisure traveler, traditional lodging choices are available including campgrounds, condo and home rentals. Business travelers will have no problem seeking a property that makes life away from the office easier and more productive. Most lodging options on the Space Coast are conveniently located in proximity of local shopping, dining and attractions.
For more information on accomodations, visit https://www.visitspacecoast.com/accommodations
For more information and to plan your next visit, Visit Space Coast on social media and online at: