Local craft breweries in Orlando make for a great date night because of the approachable atmosphere and variety of options. Plus, many Orlando breweries have live entertainment and special events.
My husband and I went to a brewery for our first date, and went on to get married at a local brewery, too. And now that we have a son, breweries in Orlando continue to be a place we love to visit, as a family as well as on date nights.
This guide to Orlando breweries starts off with breweries located near downtown Orlando followed by breweries located elsewhere in Orange County. Then, I've listed practically every single brewery in the Central Florida area.
Updated January 2023
New Breweries in Orlando
If the kids need to come along, check out our list of Kid Friendly Breweries in Orlando.
Local Orlando Breweries
Persimmon Hollow Brewing Company – Four Locations
The original location of Persimmon Hollow is in beautiful, historic downtown DeLand. My husband and I have lots of fond memories of spending time in downtown DeLand together, and Persimmon Hollow is a big part of those memories. This craft brewery makes some quality brews, many inspired by the local area.
The Orlando location is a favorite gather spot at Lake Eola. And now there is a third location, near Walt Disney World, at Flamingo Crossings. And finally, a new location adds some great craft beer to Port Orange. All locations host fun events throughout the week.
227 N Eola Dr, Orlando, FL 32801
111 W Georgia Ave, DeLand, FL 32720
Bldg 3, Flamingo Crossings, 140 Sugar Belle Dr A, Winter Garden, FL 34787
4647 S Clyde Morris Blvd, Port Orange, FL 32129
persimmonhollowbrewing.com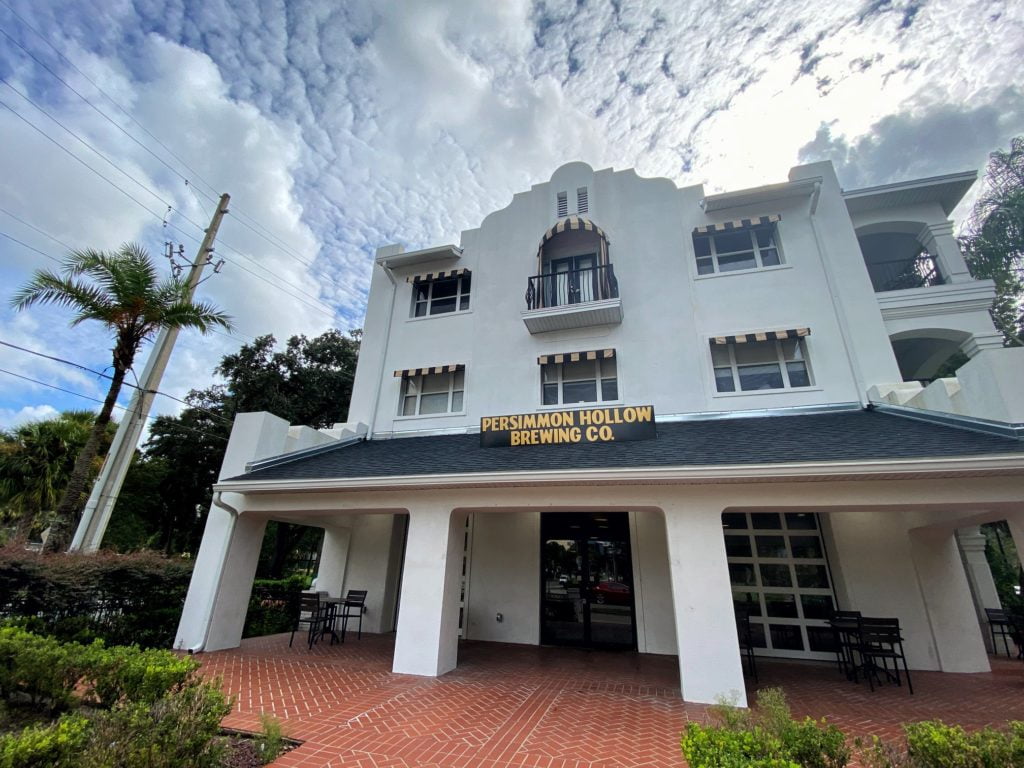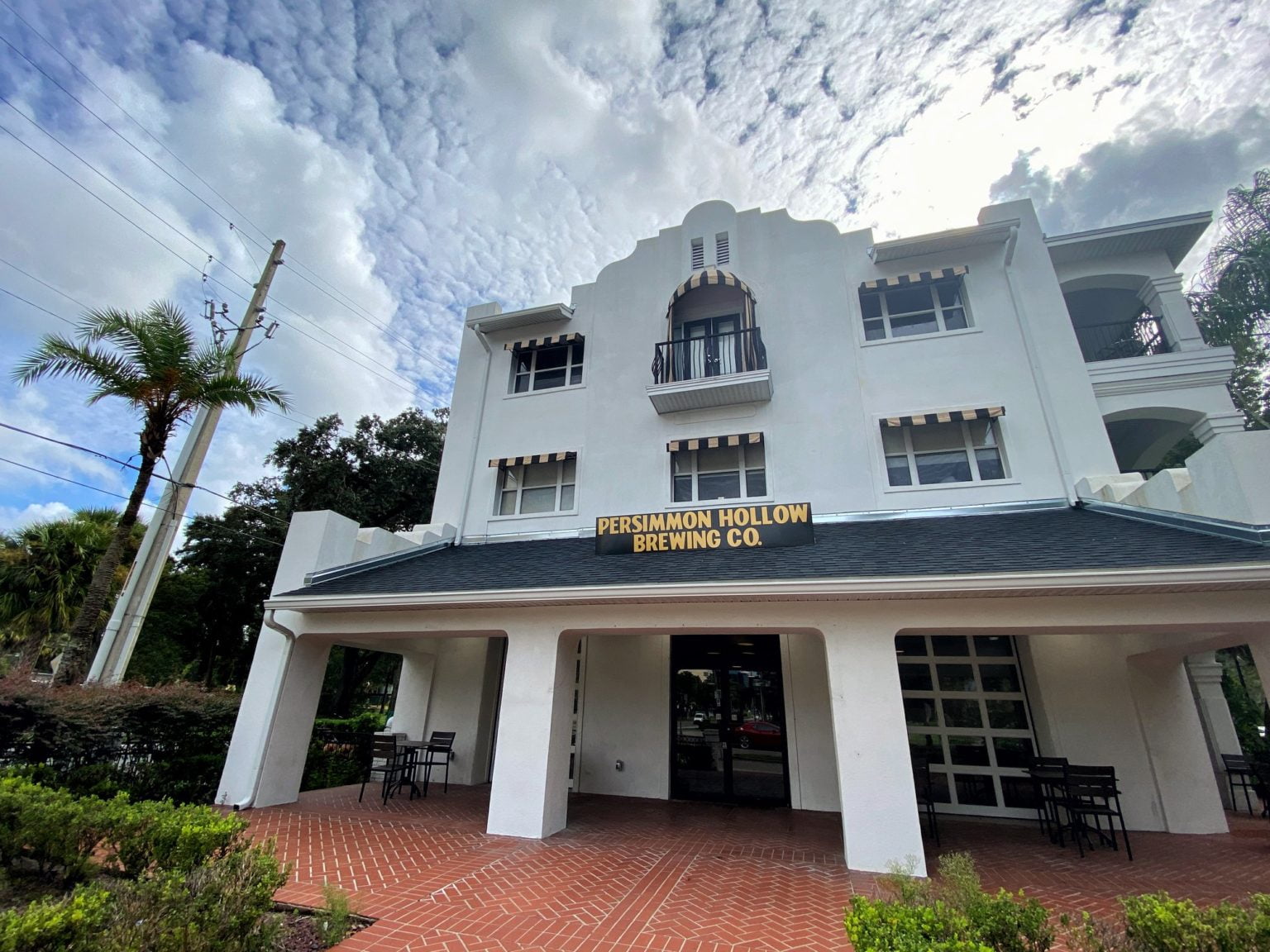 Image credit: Persimmon Hollow Brewing Company at Lake Eola
DOWNTOWN ORLANDO BREWERIES
Ivanhoe Park Brewing
Ivanhoe Park Brewing pays homage to Orlando, and specifically the Lake Ivanhoe area in which it is located.
Here you'll find plenty of beers inspired by the local area like Park Hopp'r, which may sound like a Disney theme park inspired beer, but actually pays tribute to all of the wonderful neighborhoods with the word park in them like Winter Park, College Park, and so on. This Orlando brewery is most well known for its tribute to Joyland, an amusement and recreational park that was located in this part of Orlando in the early 1900's.
There is a large indoor taproom and a lovely covered outdoor patio too, with a regular rotation of visiting food trucks. Check out fun events, like outdoor movies, artisan markets, and brewery yoga for more date night fun. You can also find Ivanhoe Park Brewing beers on tap at Orlando's new Beer Spa.
1300 Alden Road Orlando, FL 32803 | ivanhoeparkbrewing.com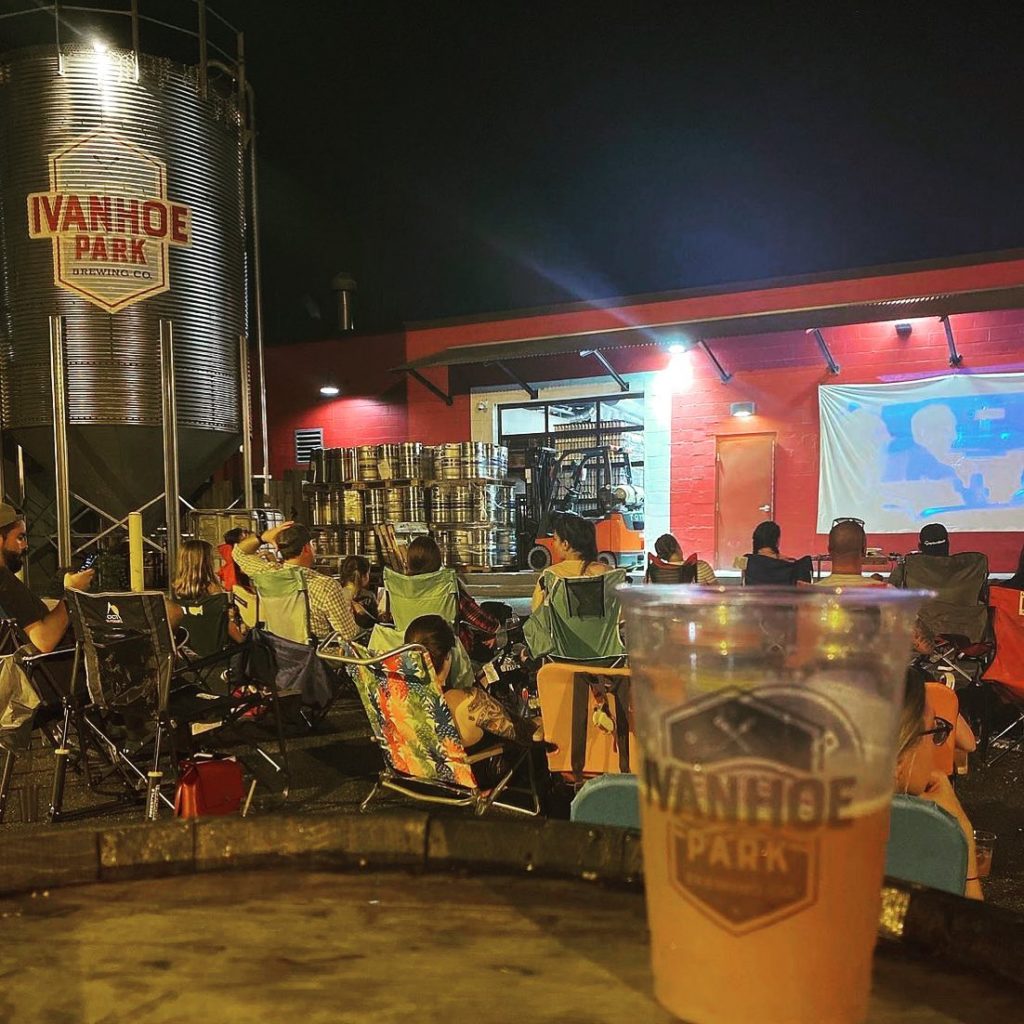 Catch free outdoor movies on Friday nights | Image credit: Ivanhoe Park Brewing Company
Ten 10 Brewing Company
Ten 10 Brewing Company's fun, approachable atmosphere is elevated by the presence of a vinyl record player and a never-ending supply of good tunes. Sometimes craft breweries can be intimidating. But the staff at Ten 10 approaches everyone with warmth and friendliness. I felt perfectly comfortable at Ten10 even though I am not a super-knowledgeable beer nerd.
There are events hosted each week (including a running club on Tuesdays), and an on-site kitchen so you can pair yummy food with your beer.
1010 Virginia Drive Orlando, FL 32803 | ten10brewingcompany.com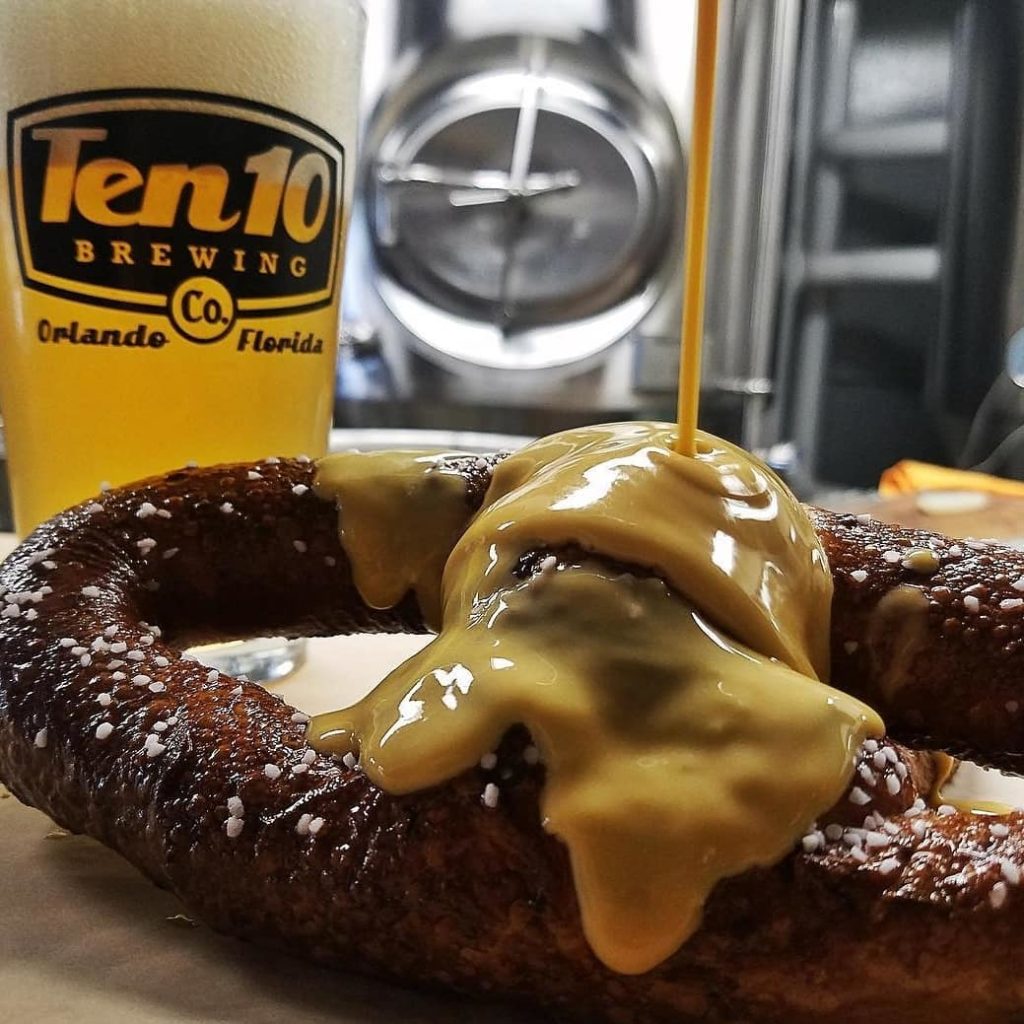 Image credit: Ten 10 Brewing Company
Brew Theory
Brew Theory is a large contract brewing facility located in a warehouse, which means beers from craft breweries around the country are actually brewed here. The taproom has a variety of fresh craft beer from multiple breweries that use Brew Theory's facilities alongside Brew Theory beers.
An outdoor porch overlooking the hustle and bustle of downtown Orlando is a great place to relax, and the indoor taproom is large and comfortable.
400 Pittman St, Orlando, FL 32801 | www.brew-theory.com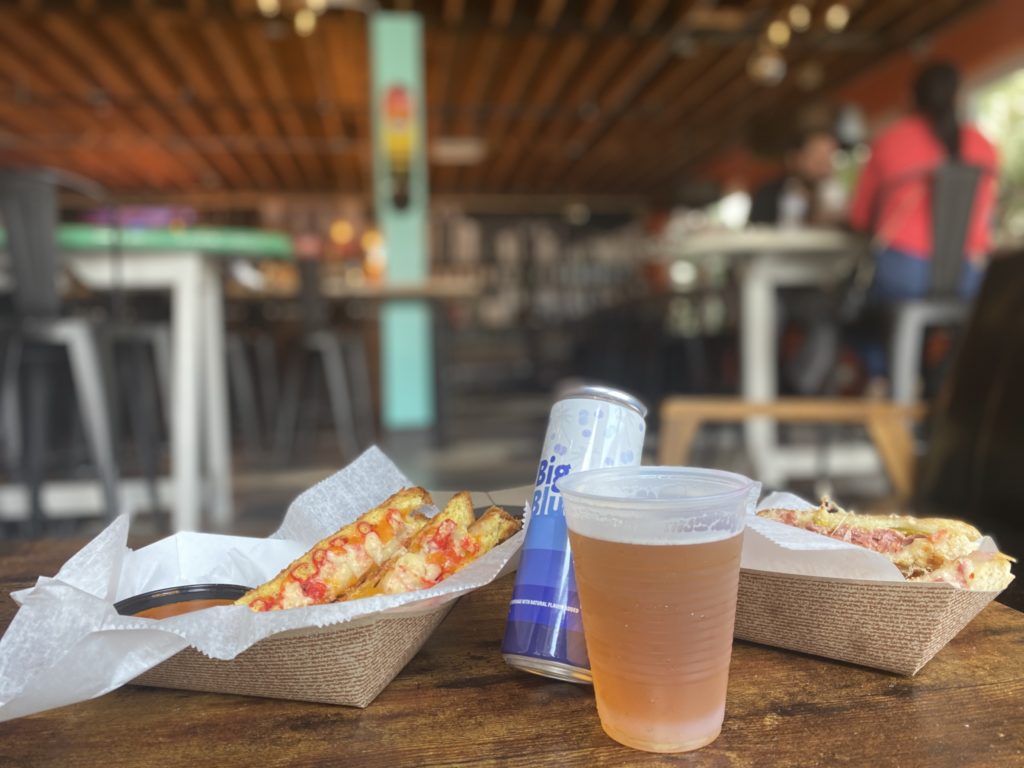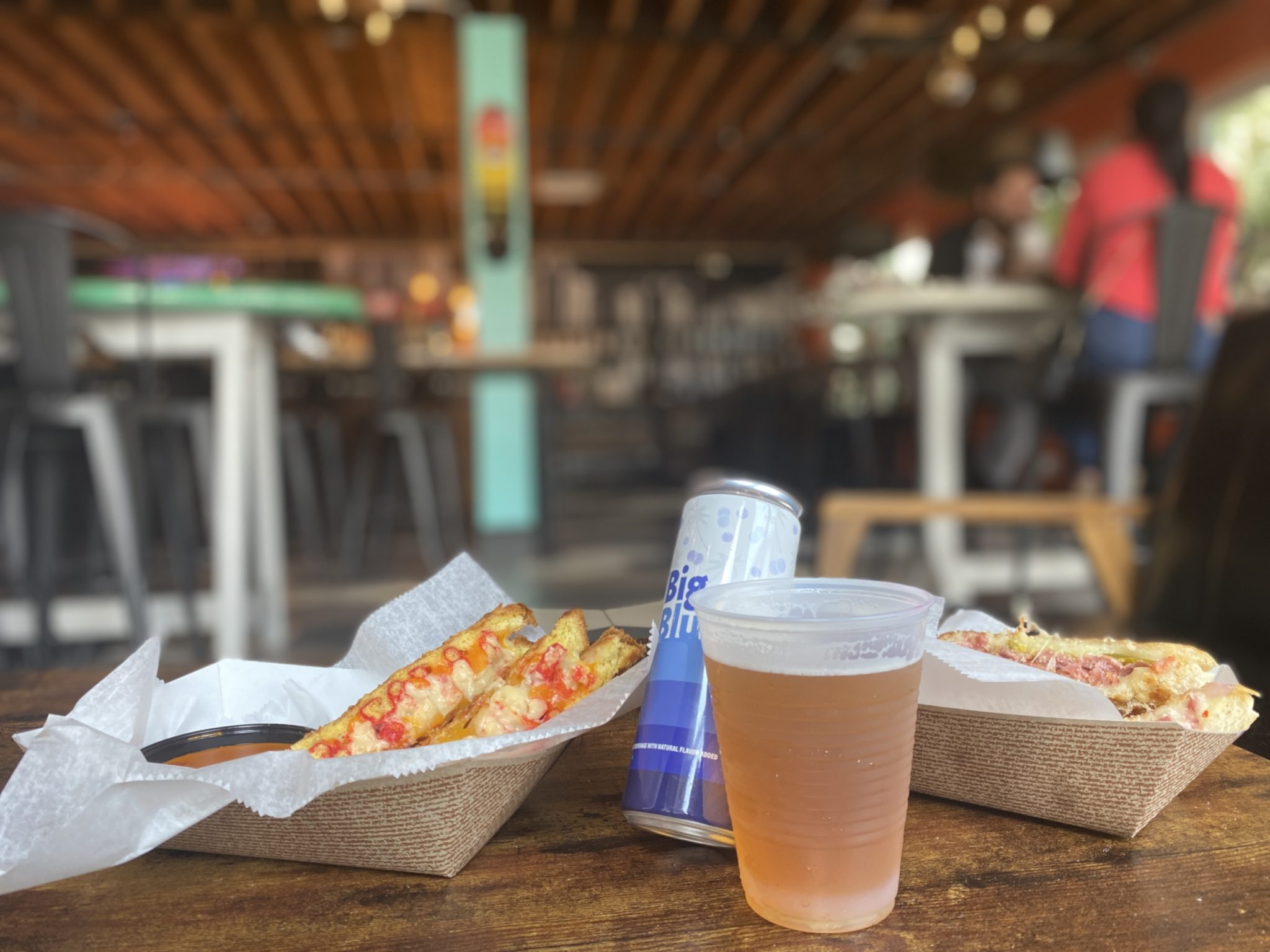 Brew Theory Taproom and food from Grilled Cheesus | Image credit: Dani Meyering
NEWS! Brew Theory Marketplace food hall is coming to Apopka, Florida in Summer 2023. The 12,000 square foot space opening in the new Apopka City Center will house Greater Orlando's favorite restaurant concepts, a full liquor bar, Brew Theory taproom and various retail tenants. It will also feature exquisite landscaping, a beer garden, tremendous outdoor seating and indoor seating.
More Downtown Orlando Breweries
Motorworks Brewing: 131 N Orange Ave Ste 106, Orlando, FL 32801
Sideward Brewing: 210 N Bumby Ave suite c, Orlando, FL 32803
Gatlin Hall Brewing: 4721 S Orange Ave, Orlando, FL 32806 (great beer garden)
Rockpit Brewing: 10 W Illiana St, Orlando, FL 32806
Deadwords Brewing: Brewery and restaurant, 23 N Orange Blossom Trl, Orlando, FL 32805 (great food and weekday specials)
Broken Strings Brewing: 1012 W Church St, Orlando, FL 32805
ORLANDO BREWERIES OUTSIDE OF DOWNTOWN
Tactical Brewing Co.
Located in picturesque Baldwin Park, craft beer fans will love Tactical Brewing Co's creative styles of beer and artistic beer labels. But the best thing about this Orlando brewery is that it is veteran owned. When my husband and I visited, he loved the props and creative use of tactical gear in some of the décor.
Each weekday you can enjoy a different event, including Old School Video Game Night on Tuesdays. Check out the brewery's website for the full schedule.
4882 New Broad St, Orlando, FL 32814 | www.tacticalbeer.com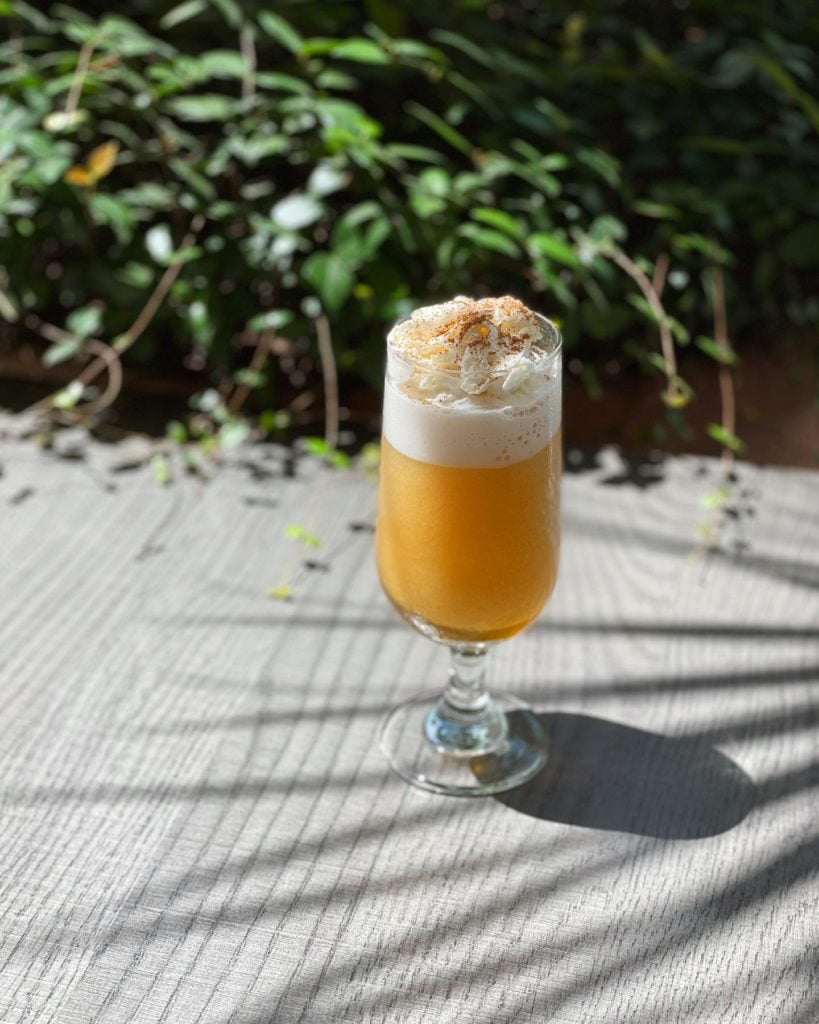 "Mo Muggles Mo Problems" Butterbeer inspired Sour Ale | Image credit: Tactical Brewing
Crooked Can Brewing Company
Crooked Can in Winter Garden is one of the most iconic craft breweries in Central Florida. Not only is their beer widely distributed and loved, but Crooked Can also has one of the best atmospheres. Located at Plant Street Market, Crooked Can is part of an indoor/outdoor market full of local food and beverage vendors that is fun to stroll before grabbing a delicious craft beer.
The indoor taproom has a great atmosphere, but the outdoor beer garden is hard to beat. Enjoy live music every Friday, Saturday and Sunday while sitting outdoors. There are lots of events throughout the year so be sure to check the calendar.
426 W Plant St, Winter Garden, FL 34787 | crookedcan.com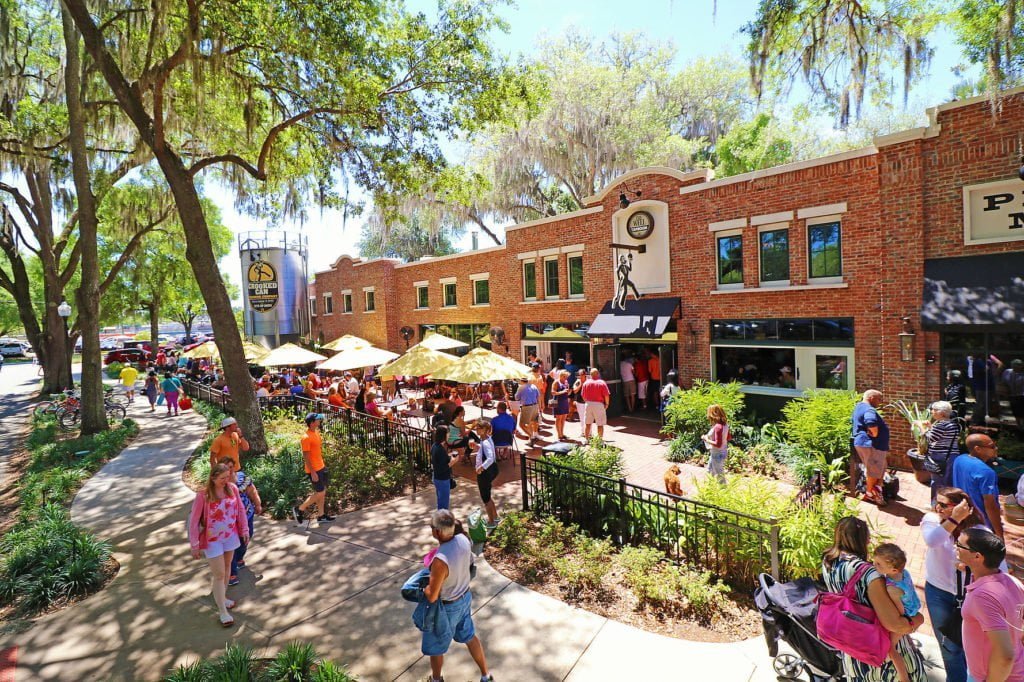 Image credit: Plant St. Market
Hourglass Brewing – Two Locations
Many people like to credit Hourglass Brewing with ushering in the craft beer movement in Orlando, myself among them. I've been visiting Hourglass Brewing since they were located inside a small home on 434 in Longwood. Years ago they moved to a larger taproom, with a second taproom that focuses on their sour beers.
The brewery has since expanded to include a second location in Orlando's Hourglass District.
I love the art shows that are hosted throughout the year at the Longwood location and all the movie nerd décor. Their events throughout the year, at both locations, are some of the most fun offerings at any craft brewery in Central Florida, so be sure to check their schedule.
2500 Curry Ford Rd #4, Orlando, FL 32806 and 480 S Ronald Reagan Blvd Ste 1020, Longwood, FL | hourglassbrewing.com
Image credit: Hourglass Brewing
More Orange County Breweries
Ellipsis Brewing: 7500 Tpc Blvd #8, Orlando, FL 32822
Dead Lizard Brewing Company: 4507 36th St, Orlando, FL 32811
Three Odd Guys Brewing: 48 E 5th St, Apopka, FL 32703
Half Barrel Beer Project: 9650 Universal Blvd #143, Orlando, FL 32819
Home State Brewing: 16016 New Independence Pkwy #100, Winter Garden, FL 34787 (GREAT Beer Garden)
Toll Road Brewing: 101 W McKey St, Ocoee, FL 34761
Ravenous Pig Brewing: 565 W Fairbanks Ave, Winter Park, FL 32789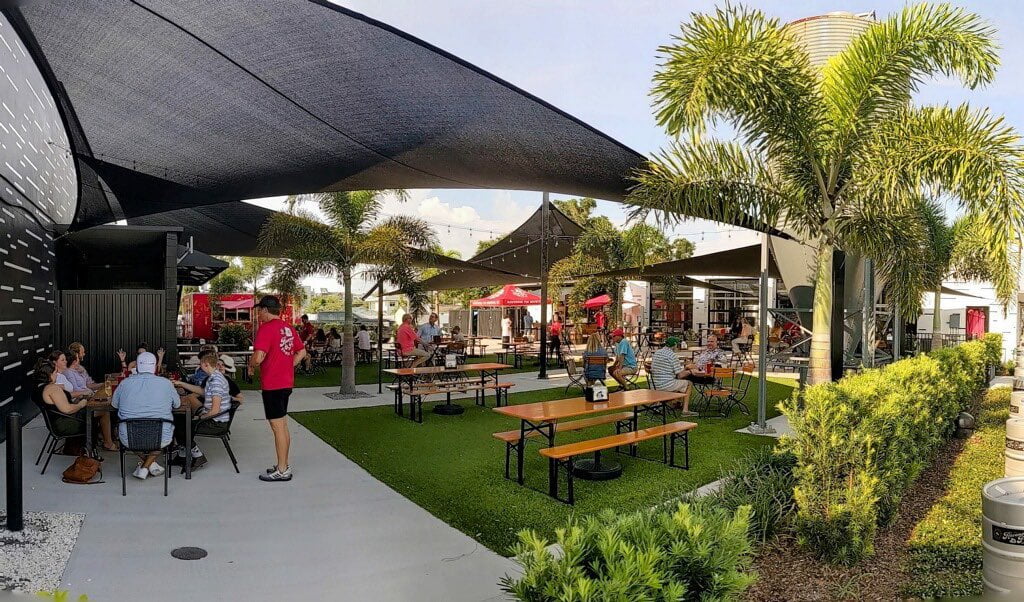 Beer Garden at The Ravenous Pig | Image credit: The Ravenous Pig
BREWERIES TO EXPLORE OUTSIDE OF ORLANDO
Bowigens Beer Company – Two Locations
Bowigens in Casselberry is the epitome of a neighborhood brewery. The taproom is small and intimate, full of friends gathered to celebrate a love of great beer. You'll find some of the most creative and delicious craft beer in the Orlando area at Bowigens.
While there is no kitchen, there are multiple restaurants located in the same shopping plaza as Bowigens that offer takeout. Outside food is allowed in the taproom. Check out the brewery's website and social media for the latest events and beer releases.
1014 FL-436, Casselberry, FL 32707 | www.bowigens.com
This successful local brewery now includes Avalon Park, with more space, and nearby food.
3801 Avalon Park E Blvd, Orlando, FL 32828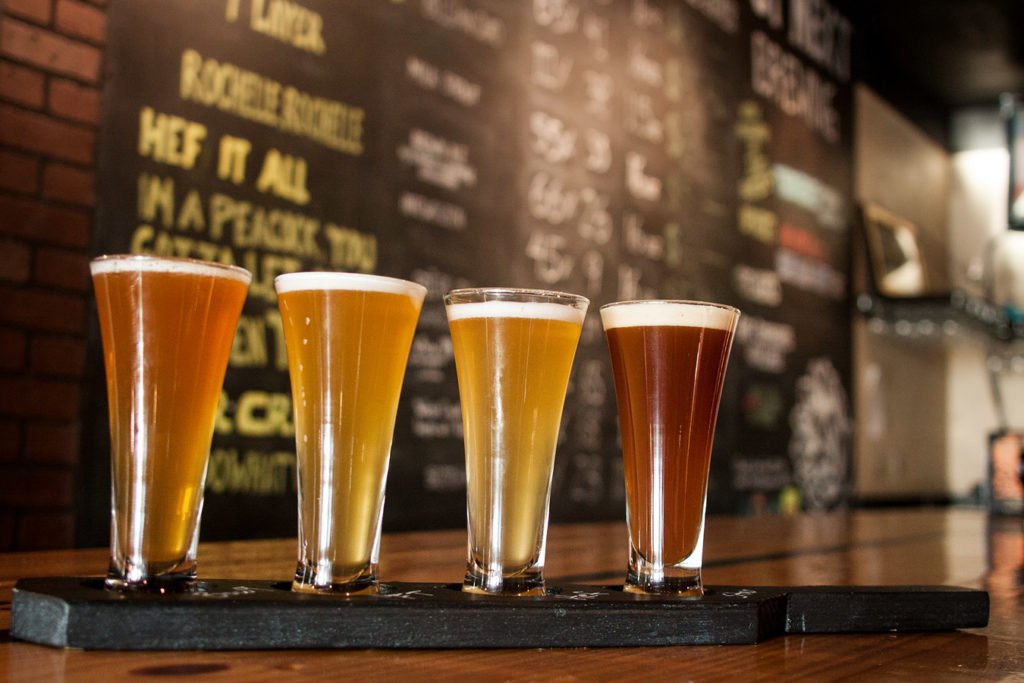 Bowigens Beer Company flight at Casselberry Taproom
Oviedo Brewing Company
Oviedo Brewing Company, located in the Oviedo Mall, offers Seminole County residents a fantastic place to grab craft beer and delicious food. The inside taproom and dining room are spacious and ideal for dates, gatherings of friends, and family-friendly fun.
A small outdoor patio is available as well. The beer is delicious and locally inspired, but the food is a surprise star too. My husband and I have indulged in burgers and flatbreads here and have yet to be disappointed.
1280 Oviedo Mall Boulevard #1095, Oviedo, FL 32765 | www.oviedobrewingco.com
Sanford Brewing Company – Two Locations
As you might imagine, Sanford Brewing Company got its start in historic downtown Sanford. Its original location on Sanford Avenue is loved by many for its indoor / outdoor taproom and dining room. Sanford Brewing Company now has a second location inside the Maitland City Center, a mixed-used development that my husband and I love to visit. There's always a great variety of craft beer, and we've never been disappointed in any of the beer we've tried.
If you decide to visit the Maitland location, I recommend grabbing food next door at Houndstooth Kitchen. You can walk over and order a beer from Sanford Brewing as you enjoy the delicious sandwiches made at Houndstooth.
400 Sanford Ave, Sanford, FL 32771 and160 Independence Ln Suite B, Maitland, FL 32751 | sanfordbrewing.com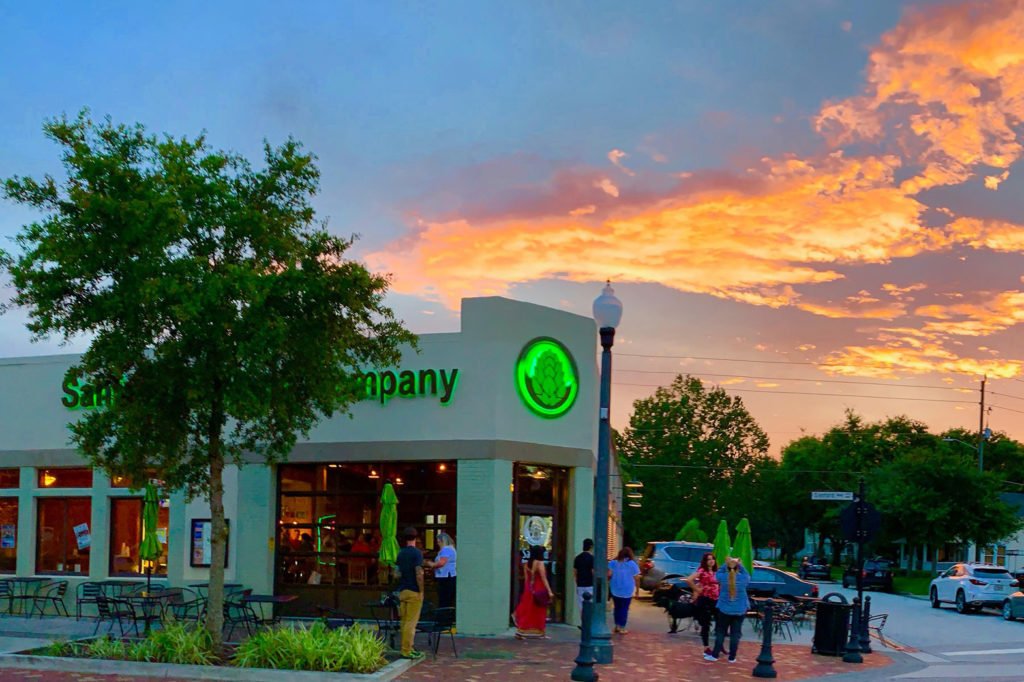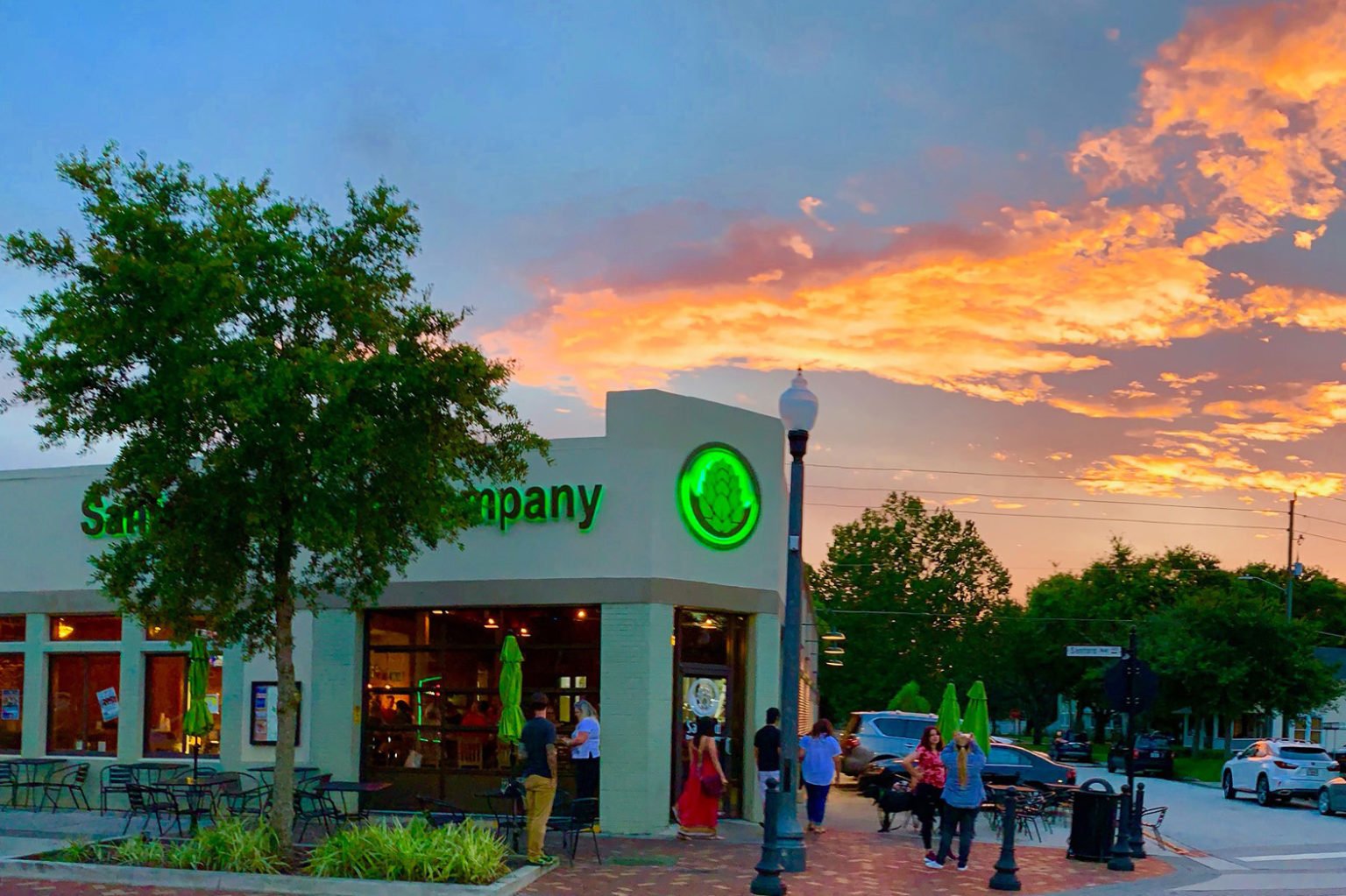 Image credit: Sanford Brewing Company
Deviant Wolfe
Deviant Wolfe is a brewery that epitomizes how connected to the community craft beer can be. This small business loves giving back by sponsoring multiple charity events throughout the year as well as hosting special events. The taproom is comfortable, a little masculine, and a great place to hang out and enjoy the unique atmosphere of historic downtown Sanford.
Deviate Wolfe offers all of its own unique craft beer, plus occasional varieties of kombucha and guest taps too. A new food menu, including options for kids, is a great addition to this local brewery.
121 W 1st St, Sanford, FL 32771 | deviantwolfebrewing.com
Beer Yoga | Image credit: Deviant Wolfe Brewing
Orange County Brewers
What started as downtown Orlando's only craft brewery is now a beloved brewery in Lake Mary. This location also serves as a Tin and Taco location. My husband and I love pairing their tacos or Mex Fries with Orange County Brewers' great beer. Happy hour is available on weekdays, there is live music on the weekends, and during the week you can partake in bingo and trivia nights. Besides beer, there is a full bar, and a nice outdoor patio.
1117 International Pkwy suite 1701, Lake Mary, FL 32746 | theocbrewers.com
Orlando International Airport location in Terminal C is now open!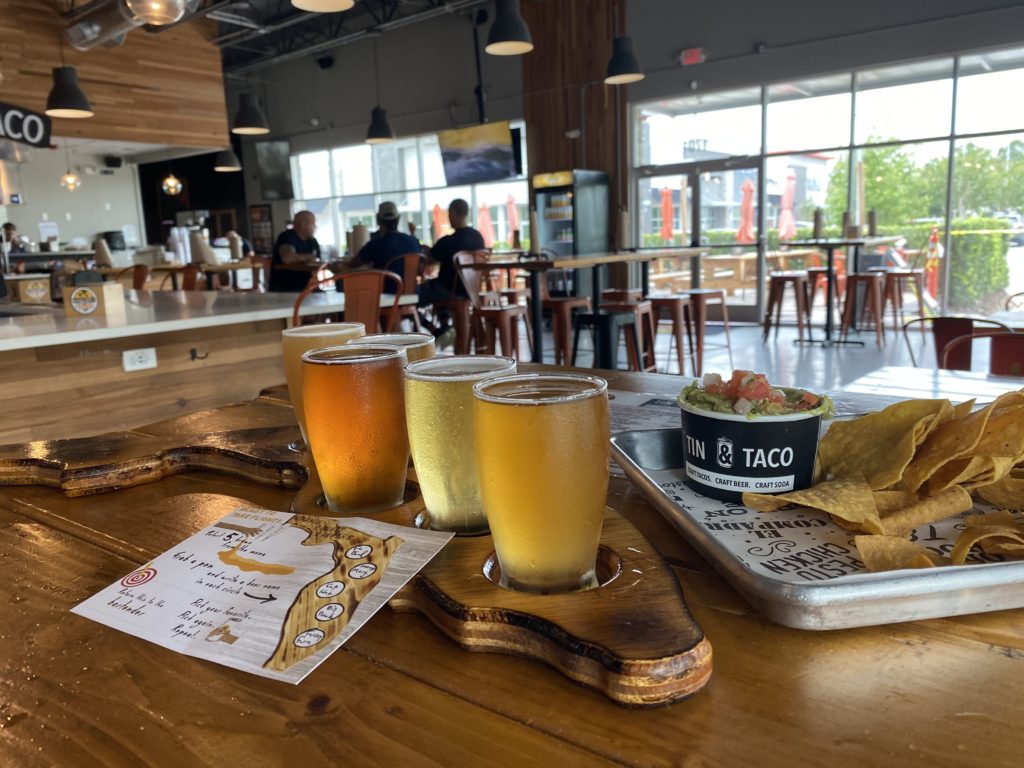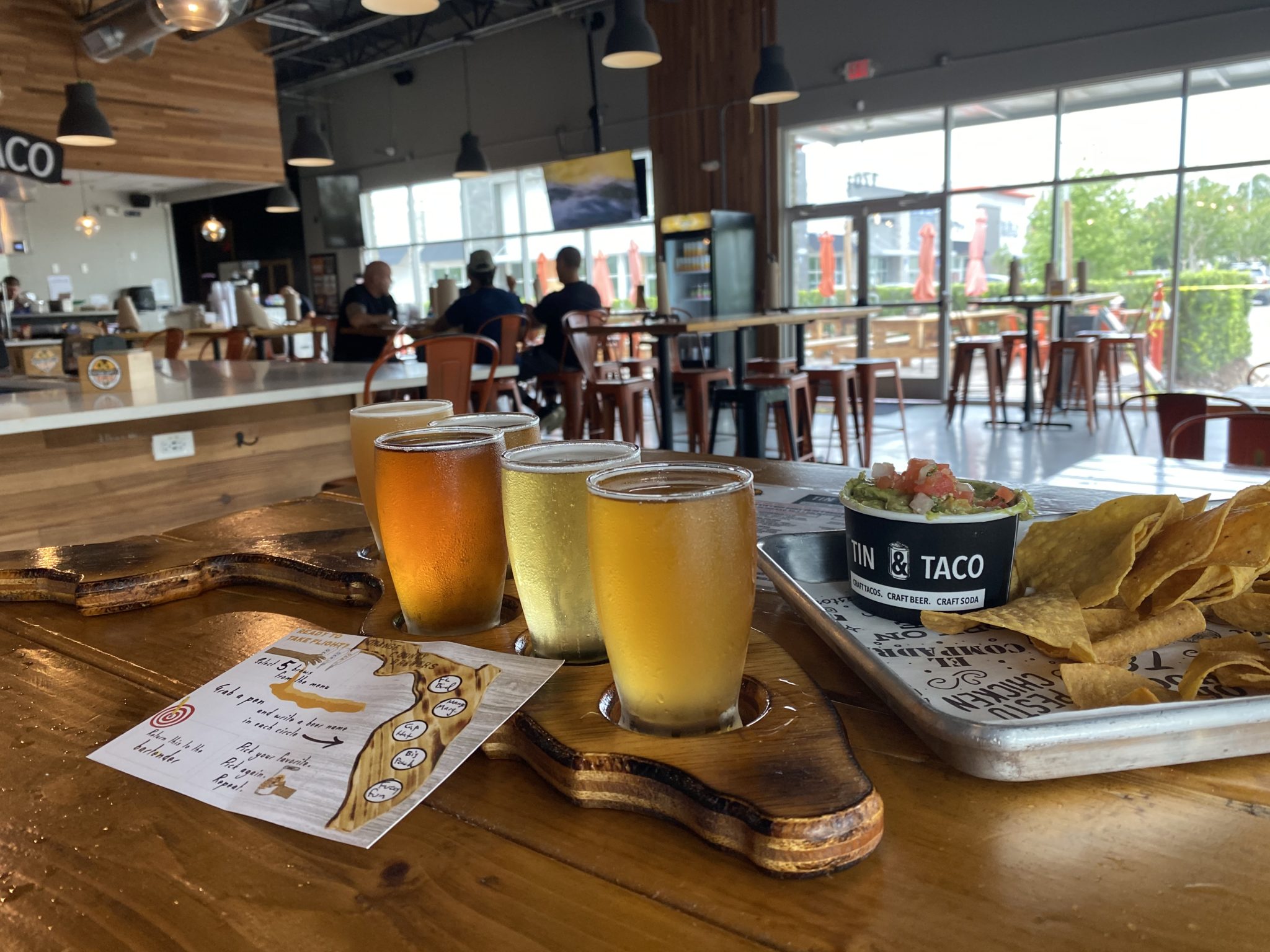 Orange County Brewers and Tin & Taco | Image credit: Dani Meyering
More Seminole County Breweries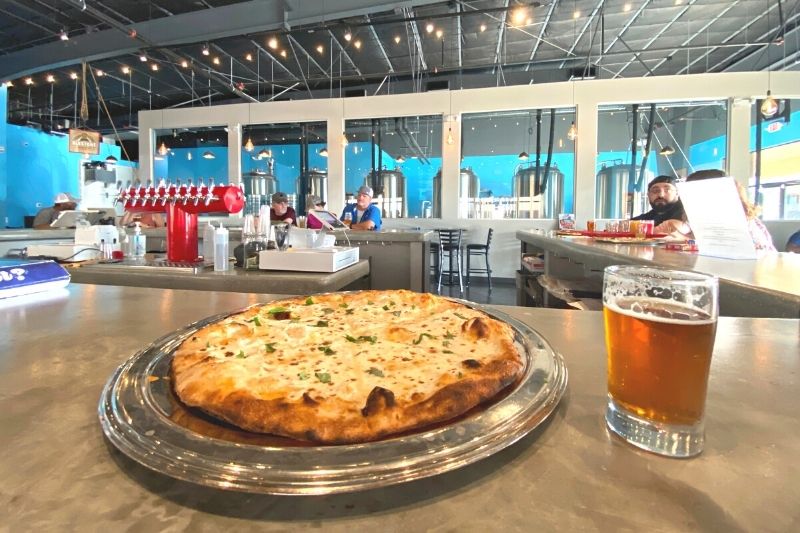 White pizza and craft beer at Alestone Brewing Company in Longwood | Dani Meyering
Volusia County Breweries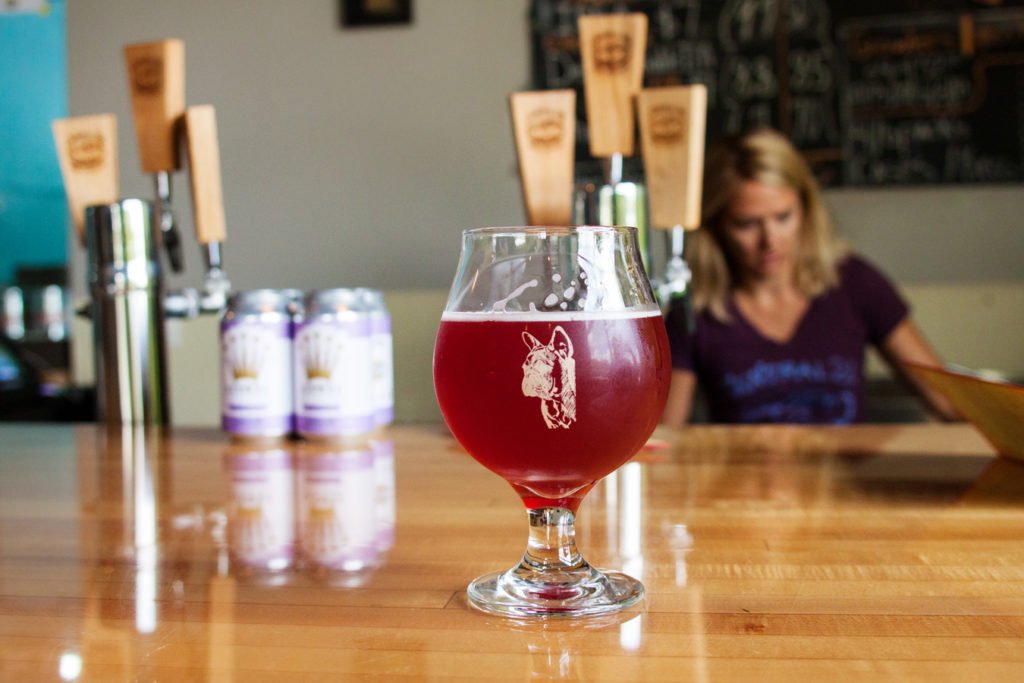 Central 28 Brewing Company
Lake County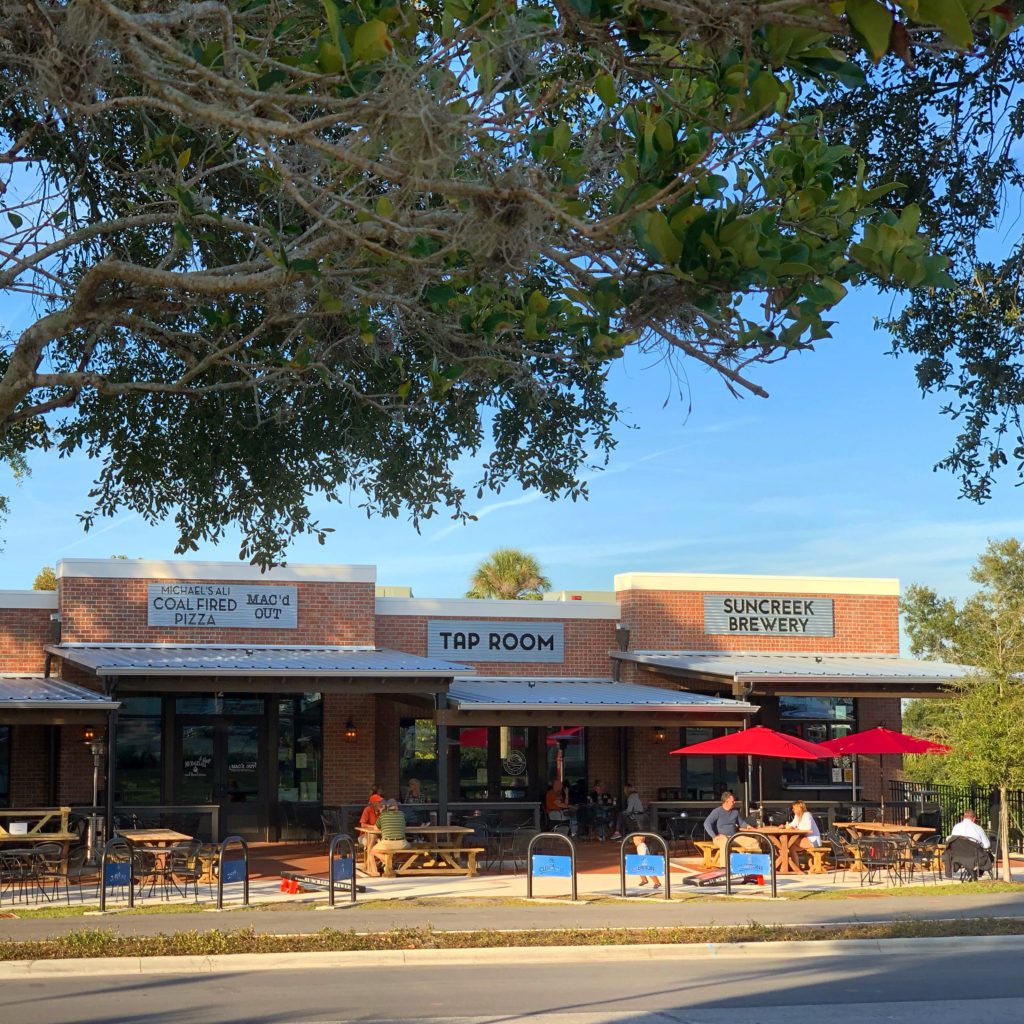 Suncreek Brewery
Related: A Date Day Trip to Historic Downtown Clermont
UNIQUE BEER EXPERIENCE: MY BEER SPA
It would be remiss of me to overlook the Beer Spa located on South International Drive, near the attractions area. This unique spa is earning rave reviews from beer lovers (including myself) around Central Florida. Cheers!
MORE IDEAS
Heading to Tampa? Check out St. Pete Breweries and Breweries in Dunedin.
Orlando Date Night Guide is a free guide to the best of Orlando! We're supported by our advertisers when they buy digital ads, listings, content, and through affiliate links, so some things you read might be paid for or if you buy something thru a link on our site we might get a commission.