Enjoy a budget-friendly night out with this list of 75 free things to do in Orlando!
Trying to save a little money? You don't need a huge budget in order to plan a romantic and memorable date night with your partner. We've compiled a list of our favorite free things to do in Orlando, from monthly festivals to art and walking tours, local attractions, and more.
PS — Feel like a road trip? Check out 50 Free Things to do in Tampa Bay!
And if you've got kids along for the ride, here are 40+ BEST Free Things to Do with the Kids in Tampa Bay
1. Popcorn Flicks in the Park
Watch a free classic family-friendly movie outdoors in Winter Park's picturesque Central Park on the second Thursday of each month. Popcorn Flicks in the Park is hosted by Enzian Theater, an independent cinema in Maitland that's one of our date night favorites. Pack a picnic and some blankets and enjoy the free fun.
2. The Charles Hosmer Morse Museum of American Art
The Morse Museum is a hidden gem in Winter Park home to the most comprehensive collection anywhere of Louis Comfort Tiffany glass. Inside, find a collection of jewelry, lamps, sculpture, and American art in addition to a full chapel interior with its own private viewing room. Admission is free for everyone on Friday evenings from 4-8pm, November-April.
3. Thornton Park District Thursday Night Market
This night market takes place every Thursday from 6-10pm. Peruse goods from local artists and vendors, check out local food trucks, listen to music and take advantage of the abundant outdoor seating. This event is dog-friendly, so bring your pup! While you're in the area, complete your date with ideas from our date night itinerary for a Thursday night in Thornton Park.
4. Lake Apopka Wildlife Drive
Love nature? Hop in the car and take your time driving along the 11-mile Lake Apopka Wildlife Drive. This one-way drive through a stunning habitat is a haven for birds and other Florida wildlife, including alligators. One of our readers, Joe, suggests going early in the morning and then stopping for breakfast at Mary's County Kitchen. There is no cost to enter. Plan to spend about an hour on the drive. Check out the official website for a map and guided audio tour.
Continue the fun by checking out one of Florida's scenic highways. There are several here in Central Florida.
5. Sanford Art & Jazz Night
Held on the 3rd Saturday of each month from 6-9pm in Sanford, this free event showcases the area's unique galleries and businesses. Stroll Historic Downtown Sanford while enjoying live music and visiting nine participating locations. Check the event's Facebook page for the full scoop on upcoming events.
6. Diverse Word Open Mic
Diverse Word is Orlando's longest running open mic. Attend to perform and/or listen to poets and other artists every Tuesday night from 7:30-10pm at Downtown CREDO North Quarter.
7. Oakland Nature Preserve
Located in Oakland along the scenic West Orange Trail, this nature preserve features several hiking trails (all under 1 mile), a welcome center, bike racks, and a wooden boardwalk that leads out to Lake Apopka.
Discover more secluded hiking spots around Orlando.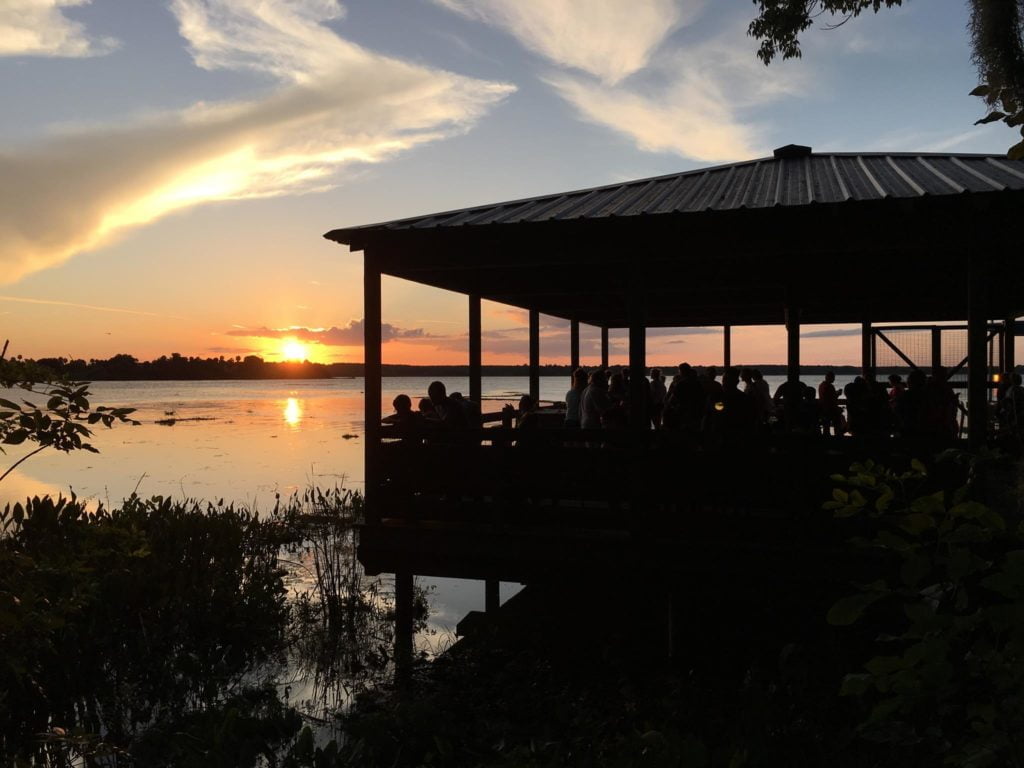 Oakland Nature Preserve at sunset. Image credit: Oakland Nature Preserve
8. Hike Lake Lotus Park
As the weather cools down, nothing beats an afternoon spent outdoors. Head to Lake Lotus Park in Altamonte Springs for a walk along the 1.7-mile trail, spotting wildlife and visiting the wildlife exhibit along the way. Be sure to read our guide to Lake Lotus Park before going so you know the hours of operation and what to bring with you.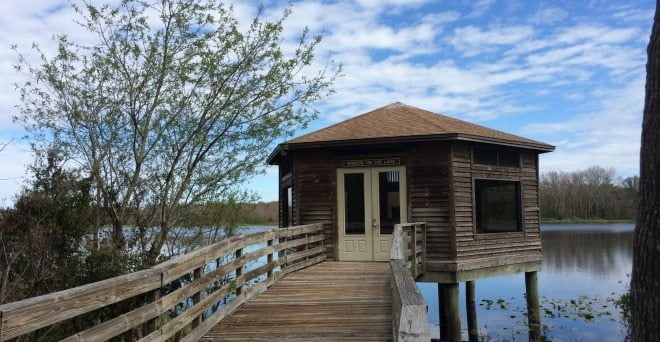 Lake Lotus Park is free to enter
9. Orlando Public Library Local Wanderer Program
All you need is a library card from Orange County Library System to take advantage of free admission to local venues like Orlando Museum of Art and Central Florida Zoo. It's all part of the library's Local Wanderer program, which offers a limited number of free passes to local cultural venues.
10. Rollins Museum of Art
Get artsy with a visit to Rollins Museum of Art, located on the Rollins College campus in Winter Park. Admission to the museum is always free. After perusing the collection, stick around campus for a stroll through the scenic grounds.
11. Self-Guided Mural Tour
Set out on foot or on a bike and go mural hunting. The Mills 50 District has a helpful listing of murals and locations to help you plan out a route. Or, follow our self-guided street art tour. We've also got a fun murals + menus itinerary, pairing local murals with nearby restaurants.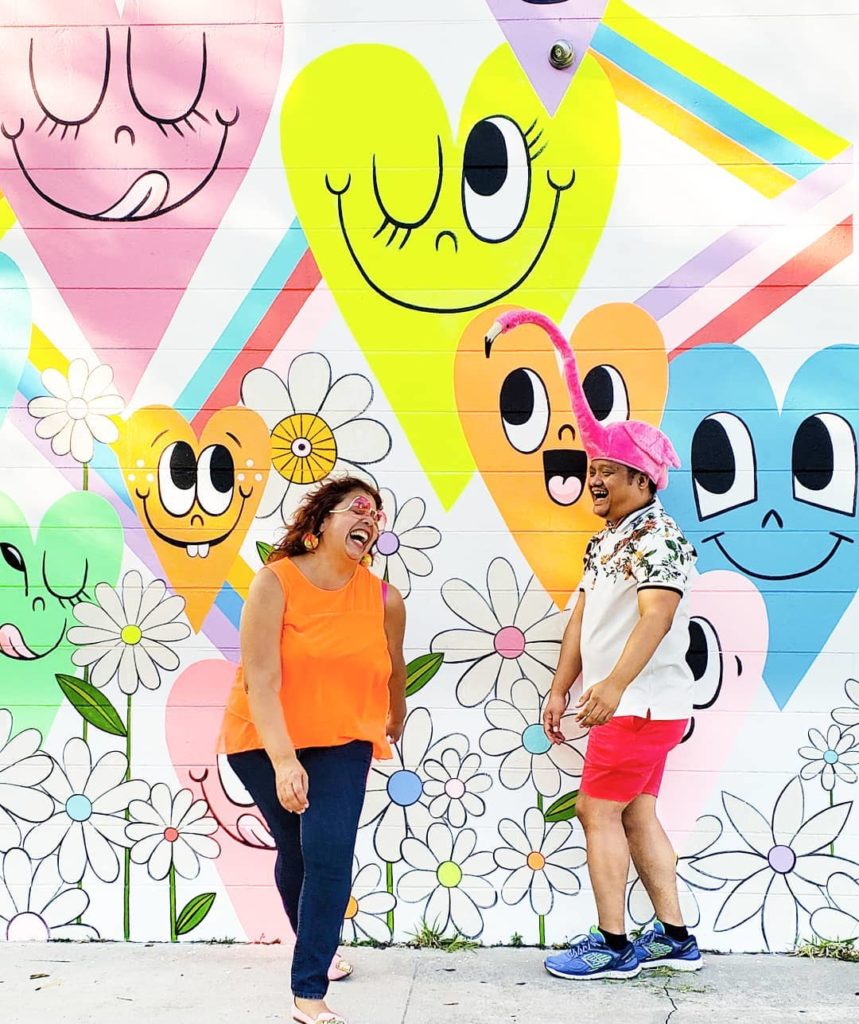 Image credit: Rose Torres @floridamomonthego
12. Alive After 5 in Sanford
If you haven't visited Historic Downtown Sanford for date night yet, what are you waiting for? Enjoy a lively evening of free entertainment during the monthly Alive After 5 street party. Held on the second Thursday of each month, each free event features a different theme as well as live music, food and drink for purchase, and more. FYI: This event series takes a break during the months of July and August.
13. Mead Botanical Garden
Located in Winter Park, Mead Botanical Garden features hiking trails, boardwalks, a butterfly garden, biking paths, and dozens of picturesque settings for a romantic date day picnic. Plus, admission to the gardens is always free. The gardens connect to the Orlando Urban Trail, so bring along bikes and ride to downtown Orlando before returning to the gardens for lunch.
14. Kraft Azalea Garden
Another Winter Park gem, Kraft Azalea Garden is a local (and free!) public park treasure situated on the shore of Lake Maitland. The 5.22-acre park boasts waterfront views, winding paths, benches, and cypress trees. Admission is free.
15. MoviEola in Lake Eola Park
Enjoy Lake Eola Park's free outdoor movie series, MoviEola, taking place seasonally and during the holidays. Each movie event features fun pre-movie activities as well as food and beverage for purchases. Movies are screened outdoors on the East Lawn, between Washington St. and Central Blvd. by the playground. Check Facebook for upcoming events.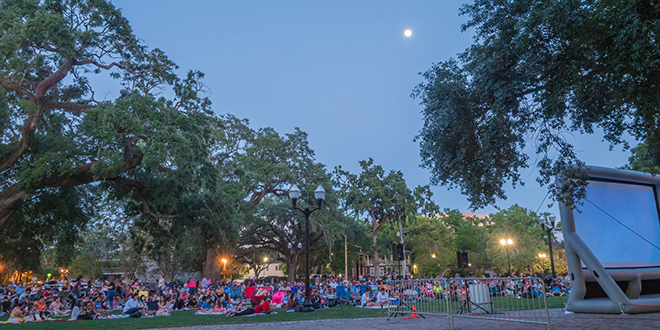 Movieola at Lake Eola Park | Image credit: City of Orlando
16. Orlando Critical Mass
Meet other members of the community and gain confidence riding your bike on the street during this fun monthly bike ride. You can cruise the streets of downtown Orlando with Orlando Critical Mass on the last Friday of each month. Rides begin at Loch Haven Park; check the Facebook page for start times each month.
17. Orlando Urban Trail
The Orlando Urban Trail is an excellent (and safe) way to get to several city hotspots. The nearly 3-mile Orlando Urban Trail begins in Ivanhoe Village, snakes through the Mills 50 area, and connects by way of a street route all the way to Mead Garden in Winter Park, weaving alongside lakes and passing through cultural hot spots. Consider walking, biking, or skating along the trail while seeing the city in a whole new light.
18. West Orange Trail
Another favorite trail among cyclists, runners, and walkers, the West Orange Trail extends 20.8 miles from Winter Garden to Apopka. Park your car at West Orange Trail Bikes & Blades, then bike, walk, or skate along the paved rail-trail until you make it to Winter Garden. Along the way, you'll pass a butterfly garden, nature preserve, and the small town of Oakland before arriving in downtown Winter Garden, where you can rest and relax at Plant Street Market.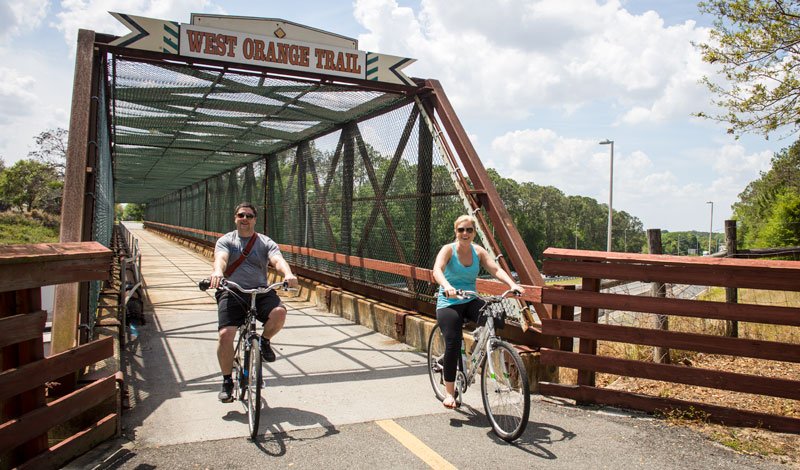 19. 3rd Thursday Gallery Hop
Celebrate art and community while enjoying free admission to some of downtown Orlando's best art galleries during the monthly 3rd Thursday Gallery Hop.
20. See Art Orlando Self-Guided Tour
Wandering through downtown Orlando, you've liked spotted a few of the installation art pieces dotting Lake Eola Park and the surrounding areas. Chances are, those pieces are part of the See Art Orlando Public Sculpture Community Project. The best way to experience the art is by downloading the free map online and embarking on the self-guided tour. The descriptions in the guide give you additional insight and information on each piece.
21. Lake Nona Sculpture Garden
Located on the grounds of the phenomenal Lake Nona Wave Hotel, you can stroll the Lake Nona Sculpture Garden for free. You do not have to be a guest of the hotel to enjoy this incredible garden filled with sculptures from world-renowned artists and lush palm trees. Put this at the top of your list for free things to do in Orlando.
22. Harry P. Leu Gardens (First Monday)
Regular admission to Leu Gardens is $10, but visit on the first Monday of most (not all) months and you'll get in for free! Once inside, stroll the lush themed gardens and tour the historic Leu House Museum. Explore the rose garden, palms, lake overlook, butterfly garden, and more throughout the 50+ acre property. Check this page for details on current free admission days.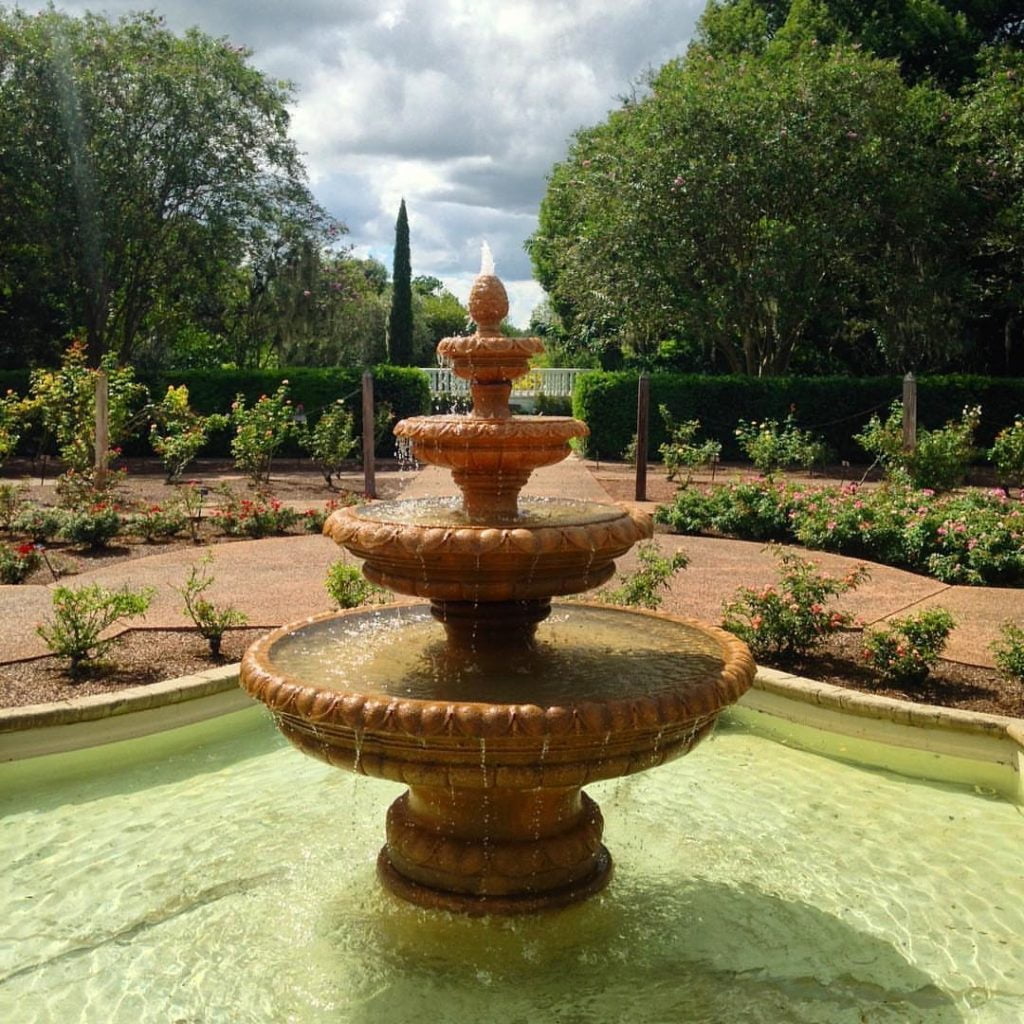 23. Bar Trivia
Inject a bit of healthy competition into date night by playing bar trivia. We love Earth Trivia, which you can catch at various venues in Orlando throughout the week.
24. Seminole State Planetarium Events
Get a closer look at the night sky by peering into a telescope! Seasonally on select Thursday evenings, the staff of the Seminole State Planetarium hit the road with telescopes in tow and set up shop at a local park or business around Central Florida for Telescope Thursdays. The community is welcome to attend and take a peek at the beautiful night sky. Events typically last from 7-10pm.
The planetarium also hosts periodic star parties, which invite the public to the planetarium for an evening of telescope observations, planetarium dome shows, speaker presentations, and more.
Note – Currently the planetarium is closed for an extensive reimagining of the space. It is expected to reopen in January 2023 with a week-long "Space Week" celebration.
25. Pack a Picnic
Orlando is home to dozens of scenic parks perfect for a picnic date night. Some of our local favorites include Central Park in Winter Park, Lake Lily Park, and Kissimmee Lakefront Park, among others.
26. Live music at East End Market
East End Market features an array of local vendors selling everything from gourmet cheese to craft beer, gigantic gooey cookies, and local coffee. Outside the market, you'll find one of Orlando's best patios, complete with free live music most Saturday afternoons between 2-5pm. Check the market's Facebook posts for upcoming events.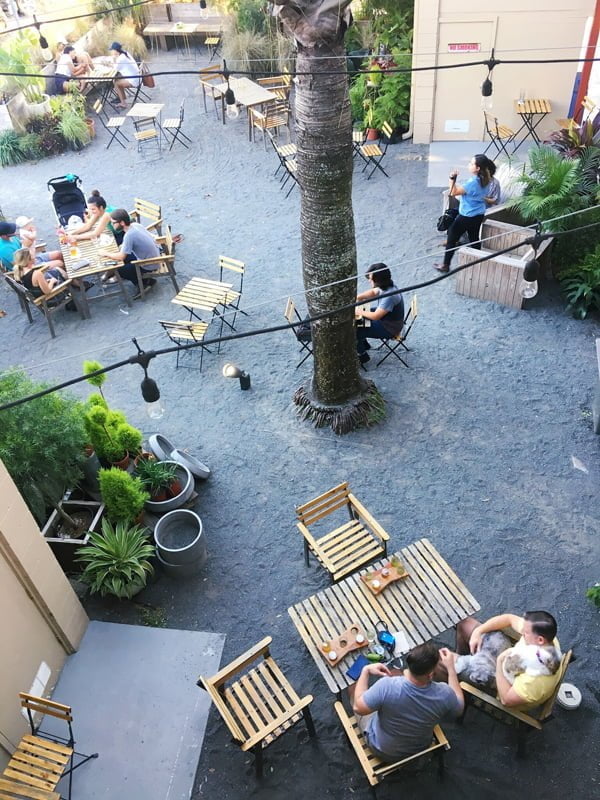 Image credit: Arlene Laboy
27. Orlando Brewing Brewery Tour
Orlando Brewing got its start in 2006 as one of Orlando's first craft breweries and has since grown into a local favorite for quality, organic beer. In fact, it's the only USDA certified organic brewery in the state of Florida. Get a behind-the-scenes glance at the brewery operation by taking the free brewery tour offered Monday – Saturday at 6pm. Just check in with a server when you arrive to obtain a ticket. And PS — the brewery is dog-friendly inside and out.
Important note: Orlando Brewing will be changing locations soon, heading to North International Drive. The free tours may, or may not, be offered at this new location. We will provide an update once we have more information.
28. Adopt a Dog for the Day
Are you and your boo dog lovers but can't afford to have a furry friend of your own just yet? Local rescue Pet Rescue by Judy has a Dog 4 a Day program in which you can adopt a dog for the day. Take your pup out for a hike or visit a dog-friendly establishment around town. There is no fee to participate in this program, but the rescue appreciates photos and a report on the dog. Just fill out the application online to get started.
29. Museum Day
While this annual event hosted by Smithsonian Magazine only happens once a year, it's worth mentioning, especially since several Orlando museums participate. Held annually in September, Museum Day grants you free admission for two to museums throughout the country. Past participating museums in Orlando include the Albin Polasek Museum & Sculpture Gardens, Orange County Regional History Museum, Orlando Museum of Art, and The Mennello Museum of American Art.
Exploring museums on Museum Day is a special occasion for free things to do in Orlando.
30. Lakeridge Winery
Florida has some wonderful wineries and wine bars to sip and savor, Lakeridge Winery in Clermont among them. This local winery in Clermont boasts a full lineup of festivals in addition to free wine tours and tastings seven days a week. Tours typically last around 45 minutes. You'll love the stunning estate, set on a beautiful 127-acre property.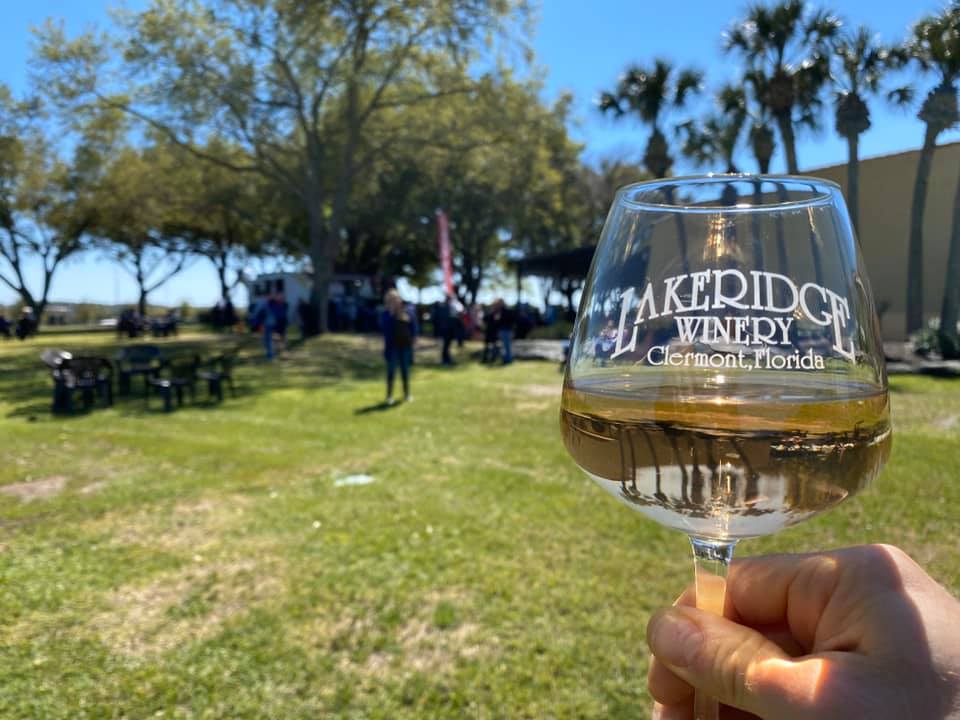 Image credit: Lakeridge Winery
31. Visit a Nature Park
We love these nature parks near the theme parks (most of them are free!). Or, pack a picnic and head to one of these secluded hiking spots. Time in Florida's beauty of one of the most relaxing free things to do in Orlando.
32. Quantum Leap Winery
Florida's only sustainable winery, Quantum Leap Winery, is located right here in Orlando's Mills 50 district. Take a free tour of this environmentally-friendly winery by visiting during open tasting room hours and requesting a winery tour.
33. Sanford Porchfest
Every February, local homes in Historic Downtown Sanford transform into stages for local musicians at Sanford Porchfest. Attendees of this completely free grassroots outdoor music festival can stroll at their leisure, stopping to listen to performances along the way.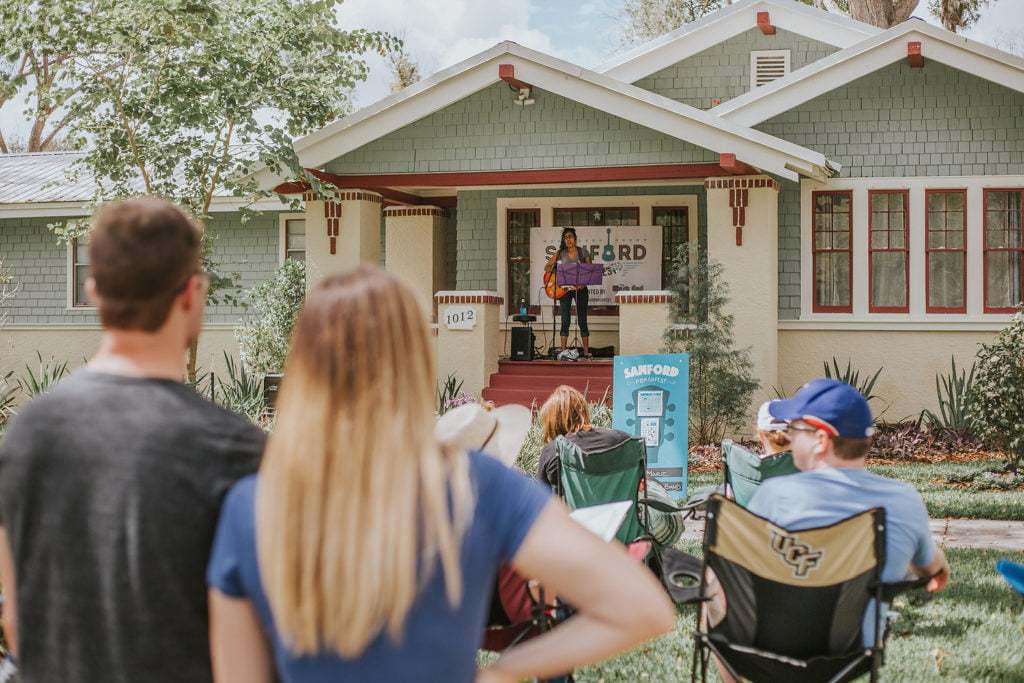 Sanford Porchfest, photo by Benevolence Photography
34. Disc Golf at Barnett Park
Looking for a new sport to try together? Give disc golf (also known as frisbee golf) a try. The Orlando Disc Golf club hosts meetups and championships, or you can give the sport a whirl on your own by visiting Barnett Park, which features an 18-hole course.
35. CityArts
CityArts is a gallery collective in downtown Orlando housing six unique galleries with regularly rotating exhibits. During this artsy date, you'll have the chance to view works from local and international artists in the inviting space free of charge.
36. Disney Springs
A Disney date night can be just as fun outside of the theme parks. Disney Springs is a mega outdoor complex featuring endless dining, entertainment, and shopping venues to explore. But visiting Disney Springs is just as fun without spending a dime. Bring along some water and snacks, people watch, window shop, and stop to listen to one of the live performers for a fun and free afternoon. Parking is free, too!
Kids coming along? These hidden things to do at Disney Springs aren't free, but they are relatively affordable and will entertain the kiddos.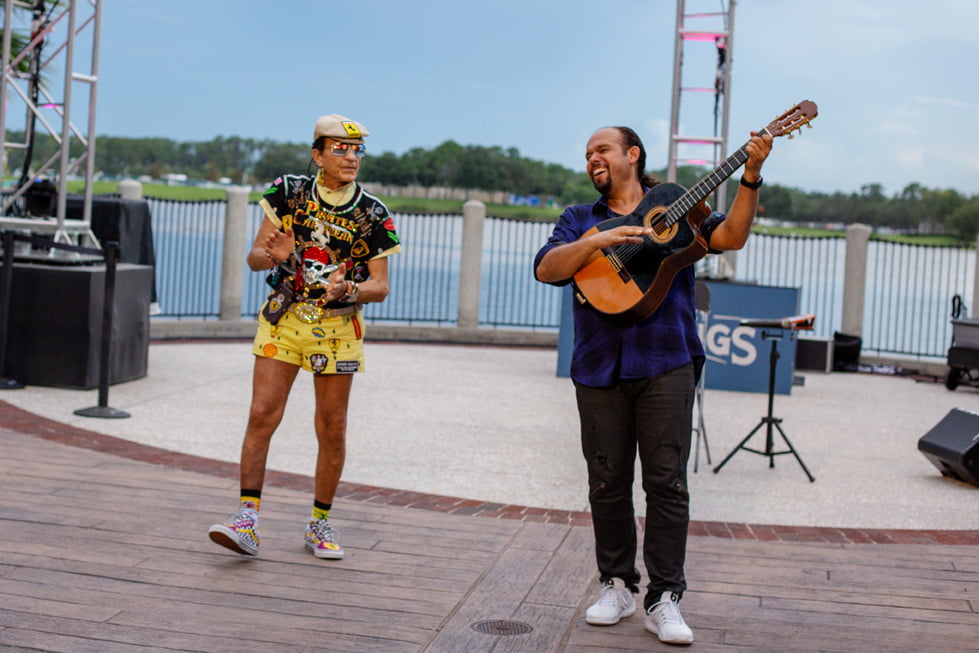 Waterview Park performer | Image credit: Stephanie Patterson
While eating and drinking at Disney Springs isn't free, you can save quite a few bucks with Happy Hour at Disney Springs.
37. Old Town Kissimmee
Sure, it's touristy, but it's also free to explore so why not give it a try? Visit Old Town in Kissimmee for a variety of free events, including car shows, karaoke, live music and more. When you've got company in town this is one of the best free things to do in Orlando.
38. Jack Kerouac House
Once the home of author Jack Kerouac, this cottage home in College Park (now called the Kerouac House) was refurbished and now houses writers-in-residence. The house is open to the public during select events, including readings (most of which are free and BYOB) from the current writer in residence.
39. Cranes Roost Park
Sunset views, outdoor festivals, and free outdoor movies are just a few of the activities held at Cranes Roost Park in Altamonte Springs. Up the romance factor by taking a walk along the one-mile long boardwalk at sunset. This is one of the best local free things to do in Orlando.
40. Casselberry Art and Music in the Park
Food trucks, live music, and artisan goods comprise Casselberry Art and Music in the Park, a monthly community event held at Lake Concord Park. Expect to find a variety of food trucks along with local businesses and artisans. There's no cost to peruse the local goods on display while listening to live entertainment. Events are held on the second Friday of each month from 6-9pm.
41. Check out Hontoon Island State Park
Visit an island right here in Central Florida! Hontoon Island State Park is located along the St. Johns River near DeLand and can only be accessed by ferry. There's no fee to park and admission is free. Once on the island, explore the hiking trails and picnic areas at your leisure. This is without a doubt one of the best free things to do in Orlando.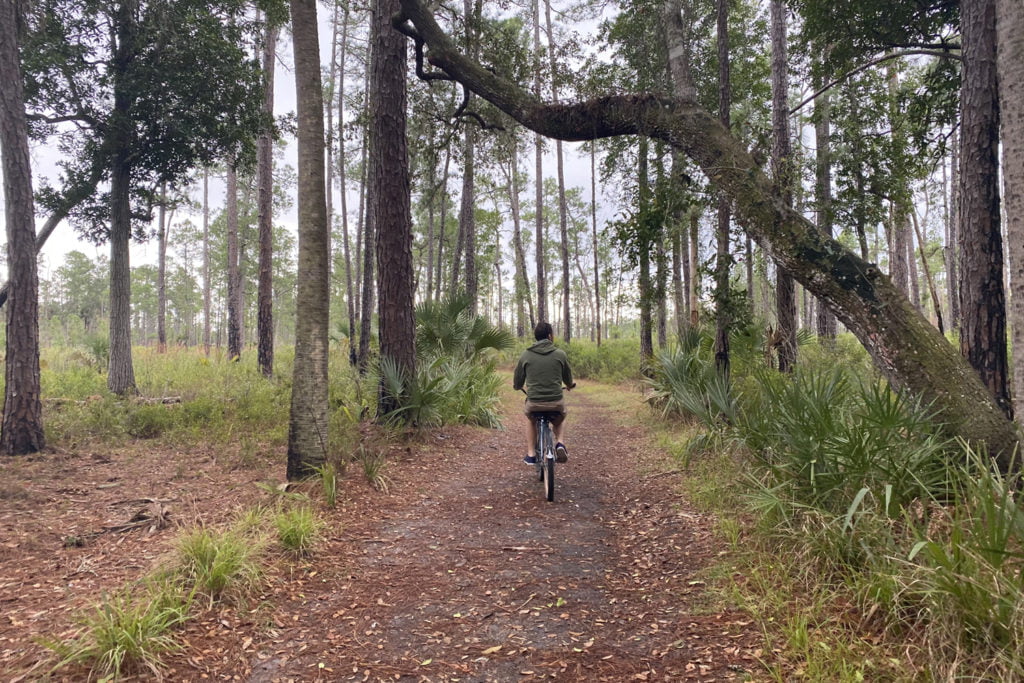 Image credit: Dani Meyering
42. Nerd Nite Orlando
Held monthly, Nerd Nite Orlando invites attendees to Stardust Video & Coffee for a night of drinking and thinking. This free to attend event includes three 15-20 minute presentations from a variety of local speakers dishing on what they "nerd out" about.
Know before you go: there's an option to purchase a $5 ticket, but it's not required, and although the doors usually open at 6pm, the talks don't kick off until around 7pm. Check Nerd Nite's Facebook page or website for details on upcoming events.
43. Historic Walking Tour of Downtown Orlando
Every first Friday of the month from October – May you can embark on a free, guided tour of the Downtown Historic District. You heard right, FREE! Tours feature architectural and historic information about some of downtown Orlando's oldest and most historic buildings.
Tours begin at 9:30 am at Discover Downtown – the Downtown Orlando Info Center (201 S. Orange Avenue) and last 1.5 hours. Space is limited. RSVP by clicking here.
44. Instagrammable Spots
Play tourist for the day and snap some new couple selfies together at some of the most picturesque locations in town, some of which are free to visit. Explore our picks for the best spots. Get more inspo from our guide to Orlando's most beautiful places.
45. Volunteer
With so many fantastic non-profit organizations right here in Orlando, you can make a direct impact on our local community by having a volunteering date night. Volunteering is a great way to connect with your partner while also doing good and helping those in need. Best of all, it's one of the best free things to do in Orlando.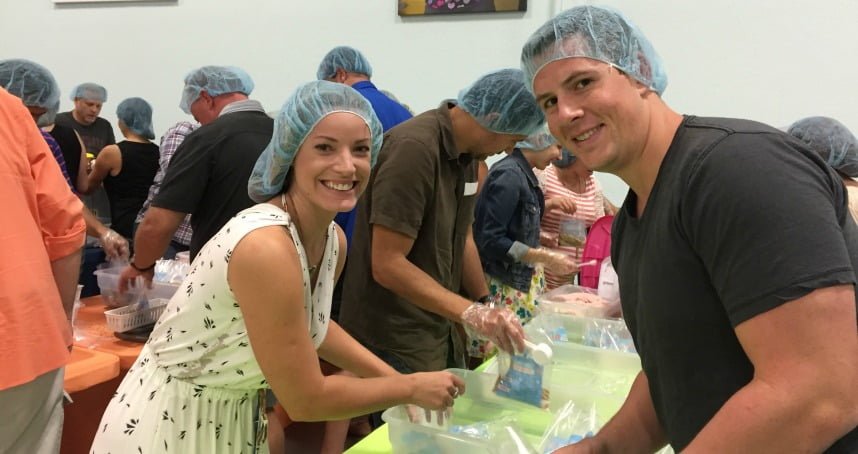 46. Fleet Farming Swarm Rides
Combine your free date night with giving back to the community by joining Fleet Farming, our local urban farming program, on one of their monthly swarm rides. This pedal-powered team hops on their bicycles to tend to yards throughout the Audubon Park community which have been transformed into mini food-producing farms, aka farmlettes. You can join the cause and do good twice a month – all you need is a bike, closed toe shoes, a snack, and sun protection to participate.
47. Music at the Casa
Note: Music at the Casa is temporarily on hold.
Casa Feliz was once a private residence built by James Gamble Rodgers II, a notable architect in Winter Park's history. Today, it stands as a historical home museum open several days a week. Visit between noon and 3pm on Sundays for Music at the Casa, a free open house with live music. Guided docent tours are also available.
48. Trivia at Bikes Beans Bordeaux
Bikes Beans & Bordeaux is a neighborhood bicycle-themed cafe in Audubon Park popular with cyclists and foodies alike. There's a special almost every day of the week ($3 mimosas, anyone?) in addition to a packed events calendar. Visit on a Monday around 6:30pm for weekly Curtis Earth Trivia.
49. Date Night in the Plaza at Cranes Roost Park
This new seasonal event series provides couples with a FREE night out complete with live music and interactive games. The theme of the evening and activities change with each event, so make it a regular date night. Food trucks and vendors are also on site. Check the City of Altamonte website for upcoming event dates.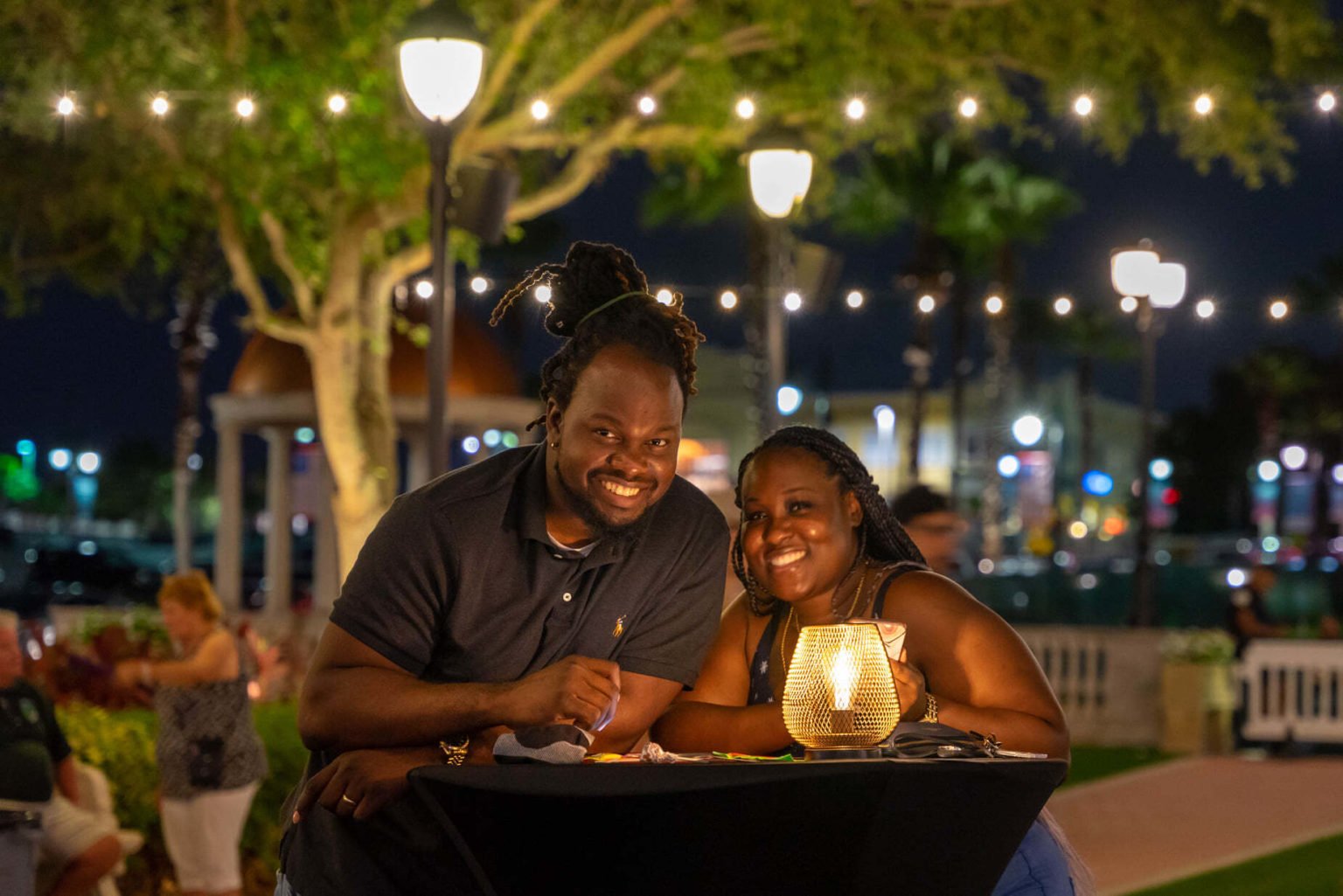 Date Night in the Plaza at Cranes Roost Park | Image credit: City of Altamonte
50. Dinky Dock
You don't need to embark on a road trip in order to spend a day at the beach; we've got a "beach" of our own just a short car ride away in Winter Park. Dinky Dock is a 1.5-acre park complete with a swimming area, grills, docks, and picnic tables. Pack your swimsuit and lunch and make a day of it.
51. Visit Celebration
There are loads of ways to do date night in Celebration, but for totally free fun, set out and explore the waterfront walking paths or line up your visit with one of the community's monthly or annual events. Car shows, Oktoberfest, the weekend farmer's market, and nightly "snowfall" during the holidays all offer endless entertainment.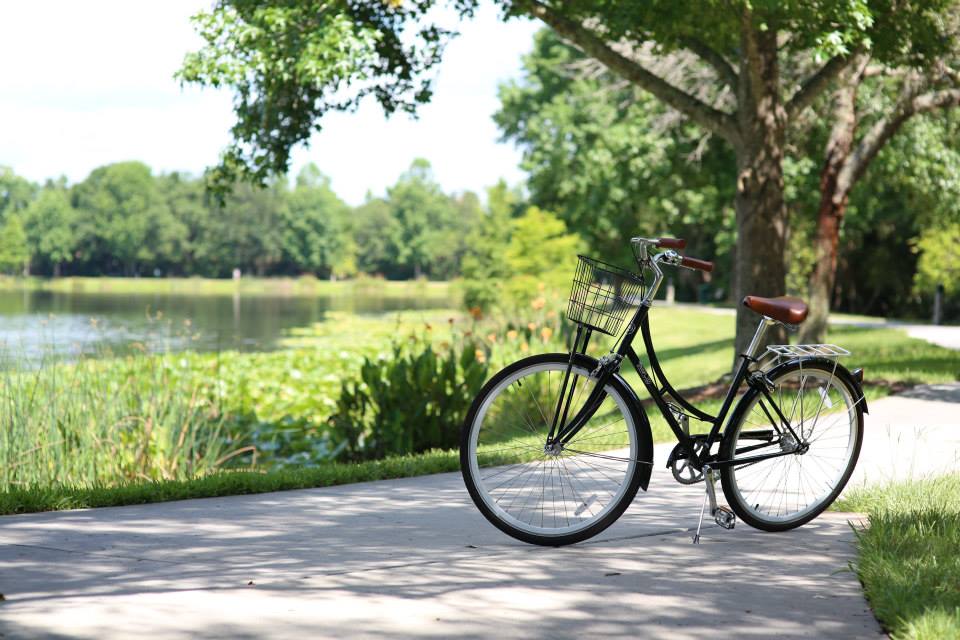 Image credit: Celebration Bike Rental
52. Ten10 Run Club
Love running and beer? Join the Ten10 Run Club at Ten10 Brewing Company for a free weekly night run. This group of running enthusiasts meets at the brewery every Tuesday night at 6:30pm. There are several routes to choose from including a 2-mile, 5k, and 10k loop. All abilities and pace levels are welcome.
53. Last Wednesdays at A&H
Enjoy free admission to the current exhibition of the Maitland Art Center Gallery. Then grab a drink (a broad selection of both nonalcoholic or alcoholic beverages) and watch the sunset over the iconic lily pond in the Main Gardens. Every last Wednesday of the month.
54. Orlando Farmers Market
Farmers' Markets are one of the easiest free things to do in Orlando. Visit Lake Eola on a Sunday afternoon and immerse yourself in one of the city's best free weekly events. After walking around the lake, head to the weekly Orlando Farmers Market where you'll find produce, food, and beverage along with dozens of artisan vendors. Catch the market on Sundays from 10am-3pm.
55. Historic Downtown Winter Park Walking Tour
You don't need to spend a lot of money to enjoy a date night in Winter Park. Partake in totally free fun (and get in a little exercise) by visiting all 20+ sites on the self-guided historical walking tour of Winter Park. You can download the map online and save it to your phone or visit the Winter Park History Museum to pick up a free walking map brochure.
56. St. Anne Shrine in Lake Wales
Interesting Florida ruins are just a short road trip away at the St. Anne Shrine in Lake Wales. The shrine, built in 1920, is a shadow of its former self, but the altar and several surrounding stone structures still remain and are free to explore.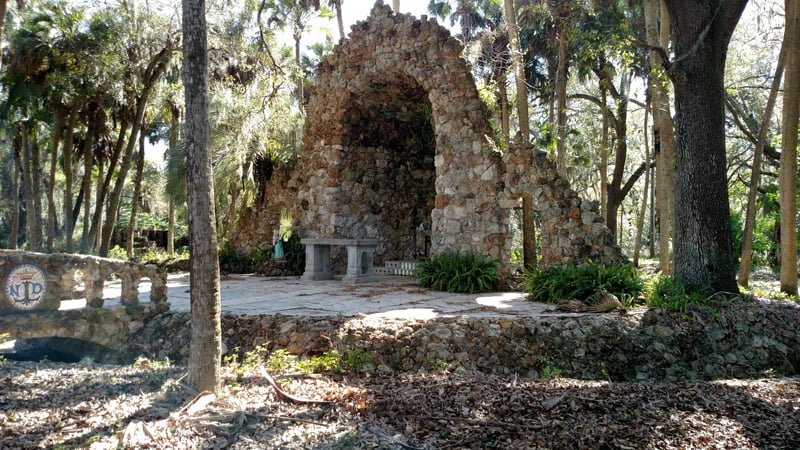 Image credit: Jan W. on TripAdvisor
57. The Alfond Inn Art Tours
A hotel in Winter Park may be the last place you expect to find an impressive art collection, but prepare to be surprised by the gorgeous contemporary art collection on display at The Alfond Inn. This hotel located just off Park Avenue offers free guided tours of their in-house art collection on the first Wednesday of each month.
58. WineART in Lake Mary
Head north of Orlando on the first Wednesday of each month to visit the WineART Marketplace in Lake Mary. This free community event in the Downtown Lake Mary District features live music, dozens of artists and merchants, food trucks, and a beer & wine garden. Food and drink are extra, but the rest of the event is totally free.
59. Orlando Fringe
We're huge fans of the annual Orlando Fringe Festival held at Loch Haven Park each May. While there is a fee to see individual shows (and you'll need to purchase a Fringe button), it doesn't cost a dime to relax in the outdoor Fringe lawn, where you'll find cheap eats and free outdoor performances by local musicians.
60. Lake Eola Park
Located in the heart of downtown Orlando, visiting Lake Eola Park just never gets old. Stroll around the 0.9-mile paved loop encircling the lake, wave hello to the resident swans, share a picnic lunch, watch the sunset, see an outdoor movie, and more; the options for a free date night are endless.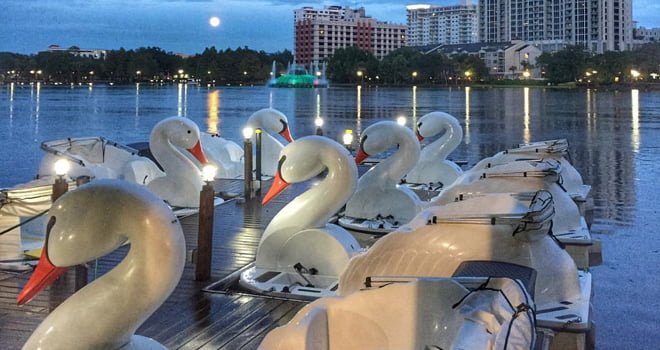 61. Timucua Arts Foundation Free Concerts
With the mission of sharing and inspiring art and performance with the community, the Timucua Arts Foundation is a local non-profit that hosts regular open house concerts for the community. The events are free, although if you're able to, there's a suggested donation of $10-$20. Bring along a bottle of wine from home or food to share as well.
62. Sunset Cinema at Crane's Roost Park
Adding to Orlando's ever-growing roster of free outdoor movie venues, Crane's Roost Park in Altamonte Springs hosts Sunset Cinema seasonally on select Saturdays. Pack a picnic, then settle in on the lawn in front of the Plaza tower for the show.
63. Brew & View Outdoor Movies at Ivanhoe Park Brewing Co
Enjoy a free outdoor movie under the stars every Friday evening. We love that Ivanhoe Park Brewing provides one of the most fun free things to do in Orlando. There's no cost to enjoy the film, but beer and food are available for purchase if you can spare a few bucks. Check out upcoming movies here.
64. Fridays on the Plaza in Downtown Winter Garden
Jazz, acoustic, classics and more. Each Friday, Downtown Winter Garden hosts a free outdoor concert featuring a roster of rotating musicians. Concerts take place at the Centennial Plaza Gazebo each Friday night from 7-9pm. Check out Downtown Winter Garden's full event calendar for more info.
65. Disney Springs Water Transportation
Need a break from walking around Disney Springs? Hop aboard the free water taxis (there are 3 boat launches in Disney Springs) and enjoy a ride to select Disney resorts on the water taxi route.
66. Animal Kingdom Lodge
Home to more than 30 species of exotic animals, Disney's Animal Kingdom Lodge is a stunning resort worth visiting even as a non-guest. FYI: your best bet for parking at any resort as a non-guest is to have a dining reservation scheduled.
67. DIY Campus Tour at Rollins College
Situated near the shore of Lake Virginia, Rollins College in Winter Park is a beautiful campus just waiting to be explored on a DIY campus tour. Meander through campus with the free Historic Campus Tour as your guide, which contains a numbered map of the campus in addition to videos and more information on each stop.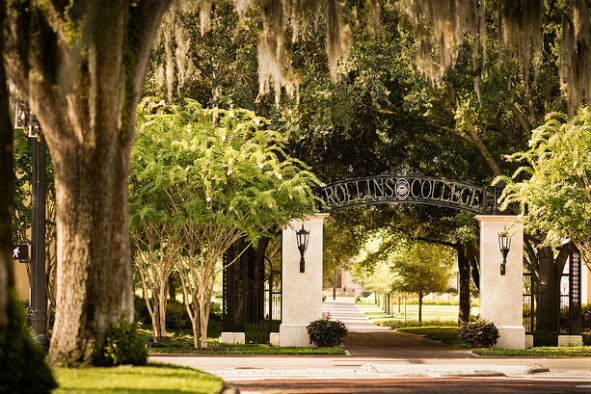 Image credit: Rollins College
68. Geocaching at UCF Arboretum
The UCF Arboretum features 82-acres of native plant life and several nature trails, as well as 6 hidden caches for you to find. The difficulty level is on the easier side making the area ideal for first-time geocachers.
69. Seminole Wekiva Trail
This scenic paved rail-trail in Seminole County features a 14-mile long trail as well as several trailheads with amenities. The Seminole Wekiva Trail is also one of the county's showcase trails. Consider exploring the first seven miles of the trail by bike, cruising along the shaded path through quiet neighborhoods.
70. Cady Way Trail
Linking Orlando to Winter Park, and joining with the Cross Seminole Trail, the Cady Way Trail is a 7-mile trail ideal for a bike ride with your partner. The trail also runs past Lake Baldwin, a great spot to stop for a picnic.
71. Winter Park Farmers' Market
Find the Winter Park Farmers' Market setting up shop at Central Park's West Meadow on Saturdays from 8am-1pm. The market takes place along Park Avenue, which is a great place to walk around together after browsing the local goods.
72. Grand Bohemian Gallery
We've got not one, but two Grand Bohemian Gallery locations in Central Florida: downtown Orlando at the Grand Bohemian Hotel Orlando, and in Celebration at the Grand Bohemian Hotel Orlando. The galleries are both free to explore. Downtown, the gallery is open seven days a week, but you'll need to contact the front desk prior to your visit for information on the Celebration gallery.
73. Disney's BoardWalk
Like Disney Springs, Disney's BoardWalk is a walkable hub for dining, entertainment, and more. During non-peak times, you are usually able to park on the property for free without a dining reservation. Once on the boardwalk, catch live performers and games. If you visit in the evening, stick around for a decent vantage point on the Magic Kingdom fireworks. It's one of the best free things to do in Orlando.
74. Free Family Fun Day at Mennello Museum
Head to the Mennello Museum on the second Sunday of each month for free admission, free docent tours, and free art activities during Free Family Fun Day. Each month is themed around the current art exhibition at the museum.
75. Spend the Day in Winter Garden
Downtown Winter Garden is ideal for a totally free day outside of Orlando. Stroll Plant Street perusing the shops, take a walk along the West Orange Trail, or attend one of the numerous free events. Fridays on the Plaza features free live music every Friday evening from 7-9pm. A few other favorites include the Saturday Winter Garden Farmer's Market and seasonal events like the Summer Sidewalk Sale.
More Free things to do in Orlando for date night: