Elevate your date and let your inner adrenaline junkie out. There's no need to get your passport ready to hop on a flight to Costa Rica. Places like Tree Trek Orlando and many others offer ziplining in Orlando. And if flying on a zipline in Orlando is not your thing, you can discover ropes courses throughout Orlando.
Updated February 2023 by Brie Gorecki
Seminole Aerial Adventures
At Seminole Aerial Adventures at the Central Florida Zoo, you can zip your way through the Uplands course ($35.95-$39.95) and complete 1.5 hours of fun with 15 game elements and 7 zip lines.
If you're feeling more adventurous, complete the Uplands course and then add on the Rainforest course for an additional $10. This course takes around 2.5 hours to complete and includes 33 elements and 13 zip lines. The Rainforest adventure can only be done after completing Uplands on the same day.
Tickets must be purchased in advance. If you show up without a ticket, entry will be contingent on availability. Everyone is encouraged to arrive 15 minutes before their scheduled flight time.
Seminole Aerial Adventures
3755 S Highway 17 92, Sanford
407-330-0767; centralfloridazoo.org
Gatorland Ziplining
The Screamin' Gator Zip Line at Gatorland will take you along 1,200 feet of high flying, heart pounding adventure. Explore some of the finest zip line towers in the world, let alone one of the best places to go ziplining in Orlando. Standing over seven stories tall, these amazing towers feature multilevel launch pads and breathtaking views from high above the treetops. Plus, you'll be zipping right over the alligator enclosures. How's that for adrenaline-fueled fun? The zip line course ends in a side-by-side dual zip line where you can race your sweetie to the finish line.
The cost for this 2-hour experience is $69.99 and includes all day admission to Gatorland – one of the best deals in Orlando!
14501 S Orange Blossom Trl,
Orlando, FL
407-855-5496; gatorland.com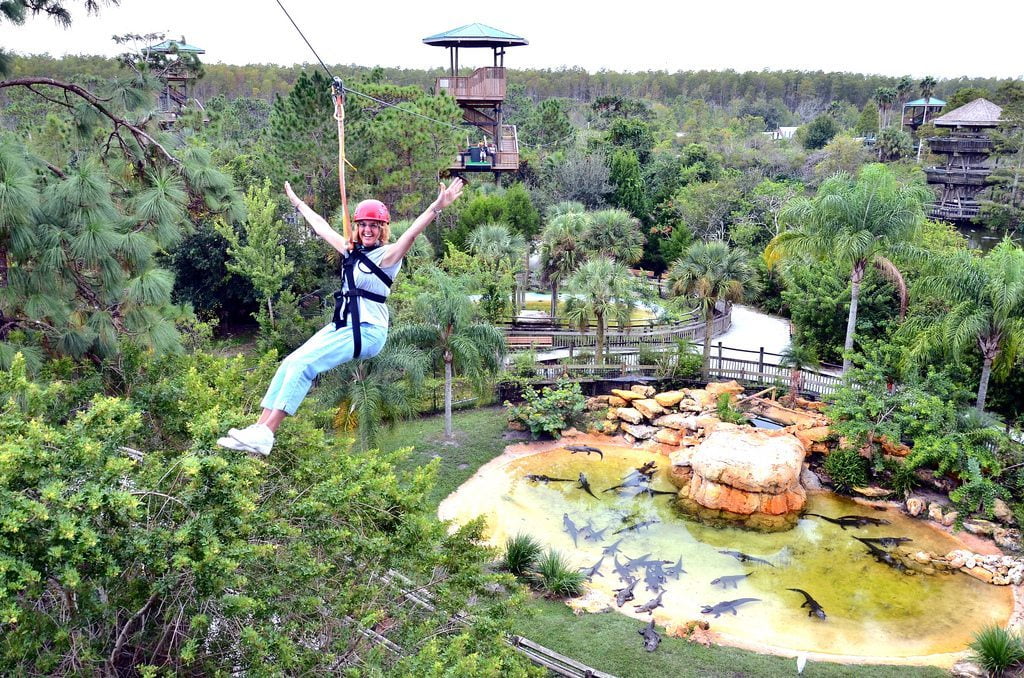 Screamin' Gator Zip Line | Image credit: Gatorland
Orlando Tree Trek Adventure Park
An aerial park filled with oodles of obstacles and challenges, Orlando Tree Trek Adventure Park features a giant 425' Zip Line, obstacle courses that vary in height and challenge level. Set on over seven acres of natural pines, this adventure park will have you zipping, climbing, and leaping all afternoon.
The zip line highlight of the park is the giant 425-foot zip line is located in the adult course. There are also two separate kids rope courses.
Including brief training session, the course will take you around 2-3 hours to complete. Admission is $59.95 plus tax for adults.
7625 Sinclair Rd.
Kissimmee, FL
407-390-9999; orlandotreetrek.com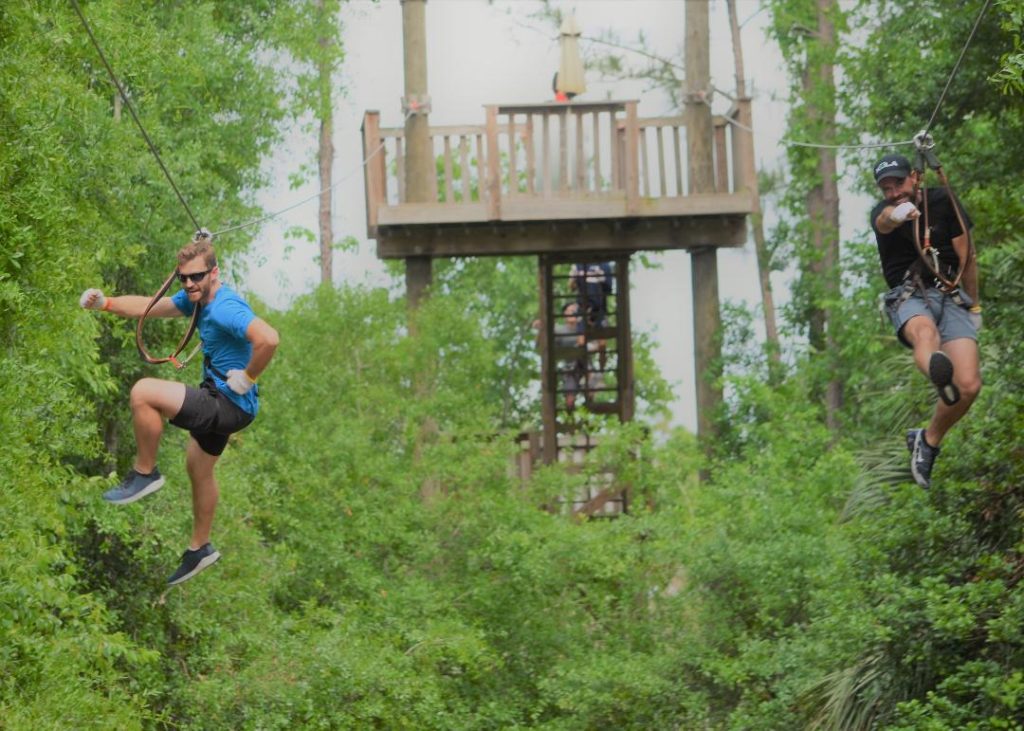 Image credit: Orlando Tree Trek Adventure Park
Brevard Zoo Ziplining and Ropes Course
The Brevard Zoo is not just home to some awesome wildlife; it's also where you'll find Treetop Trek Aerial Adventures. Beginners can enjoy the Canopy Walk ($39.95) which includes 21 elements and two zip lines 20 feet above ground.
Seeking more thrills? The Challenge Reloaded ($59.95) includes everything in the Canopy Walk plus additional challenges and thrills. At 40 feet above the ground with 600 feet of ziplining, you'll zip over the wetlands and past the gators. This course features a total of 35 game elements and 14 zip lines and will take anywhere from 2.5-3 hours to complete.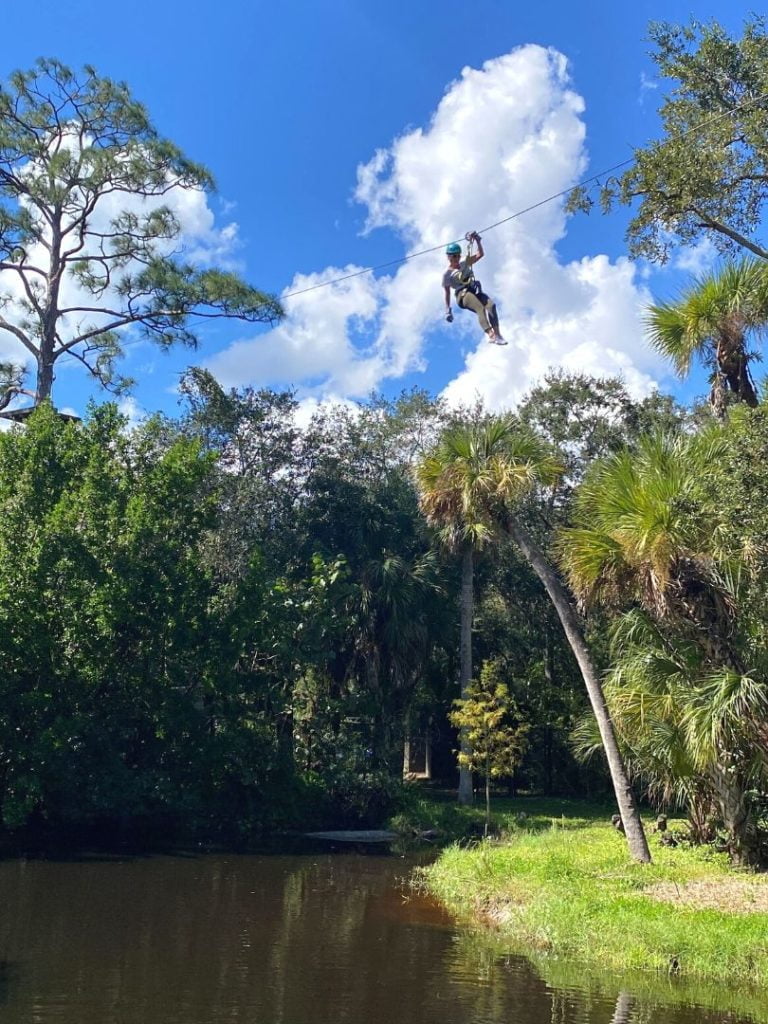 Treetop Trek Ziplining at Brevard Zoo – Dani Meyering
The Black Diamond Challenge ($74.95), which includes everything in the Challenge Reloaded, kicks it up a notch with even more challenges added. This option is sold in-person only.
If you're pressed for time but want the thrills, you can do the Zip Only ($49.95) which will take you on 9 zips around the zoo with heights of up to 50 feet above ground.
Reservations are recommended.
8225 North Wickham Road
Melbourne, FL
321-254-9453; www.treetoptrek.com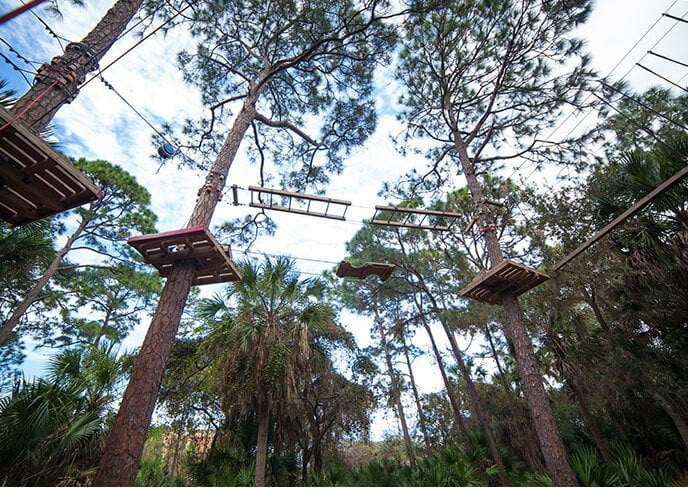 Image credit: Treetop Trek
Canyons Zip Line & Canopy Tours
Located in Ocala on an old limestone quarry, this outfit offers 2.5-3 hours of adrenaline-pumping fun with its epic Big Canopy Tour ($109.99) where you'll enjoy 9 zip lines, 2 rope bridges, and a heart-pumping rappel. An Express Tour is also offered ($79), which will give you the opportunity to experience 5 of the zip lines and 1 rope bridge. For those wanting something a little less challenging, you can try the Sky High Tour ($55.99) with 3 high flying zips through Sky High Canyon.
You can even visit for a nighttime zip line ($89). It's technically not a place to go ziplining in Orlando, but it is well worth the drive. Read our previous review of this experience.
8045 NW Gainesville Rd. (CR 25A)
Ocala, FL 34475
352-351-ZIPS; www.zipthecanyons.com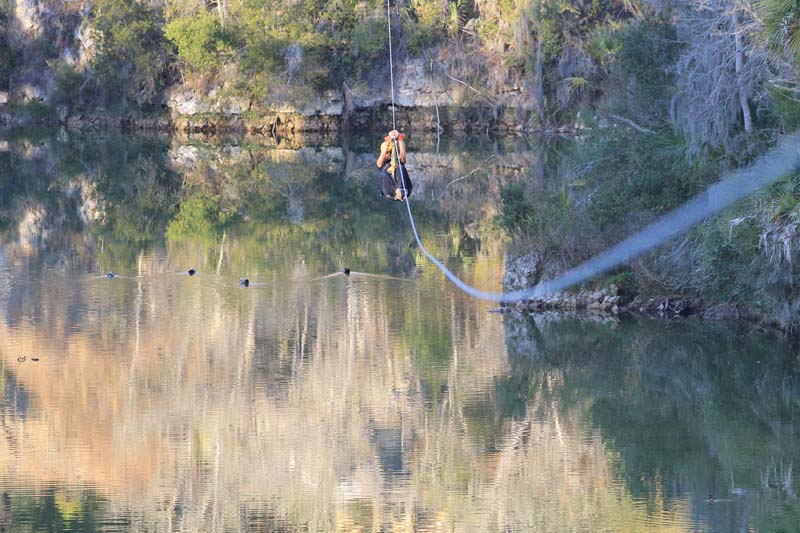 Image credit: Zip the Canyons
Daytona Beach Zipline Adventure
Daytona Beach Zipline Adventure remains closed due to cleanup from Hurricane Ian. They hope to reopen soon.
Mixing zip lines and aerial course challenges, Daytona Beach Zipline Adventure offers loads of adventure. Technically it is not a place for ziplining in Orlando, but it is worth the drive. Add it on to a weekend beach trip in Daytona or just stop by for the day. The Full Combo package ($49.76/person) includes both adventure courses plus access to all ten zip lines. This option will take you about 2.5 hours to complete.
If you're shorter on time, opt for the Course 1 + Big Zips combo ($45.07/person) which includes all of Course 1 plus all of the zip line portions from Course 2 and takes about 1.5 hours to complete. You can also do just Course 1 and its four zip lines for $33.80/person.
1000 Orange Ave
Daytona Beach, FL
386-882-8016; daytonazipline.com
Ropes courses in Orlando
TAMPA AREA
There are four more zip line adventures to experience west of Orlando in the Tampa area.
Check out all the details from our sibling site, Tampa Bay Date Night Guide, here: tampabaydatenightguide.com/ziplining-tampa-bay.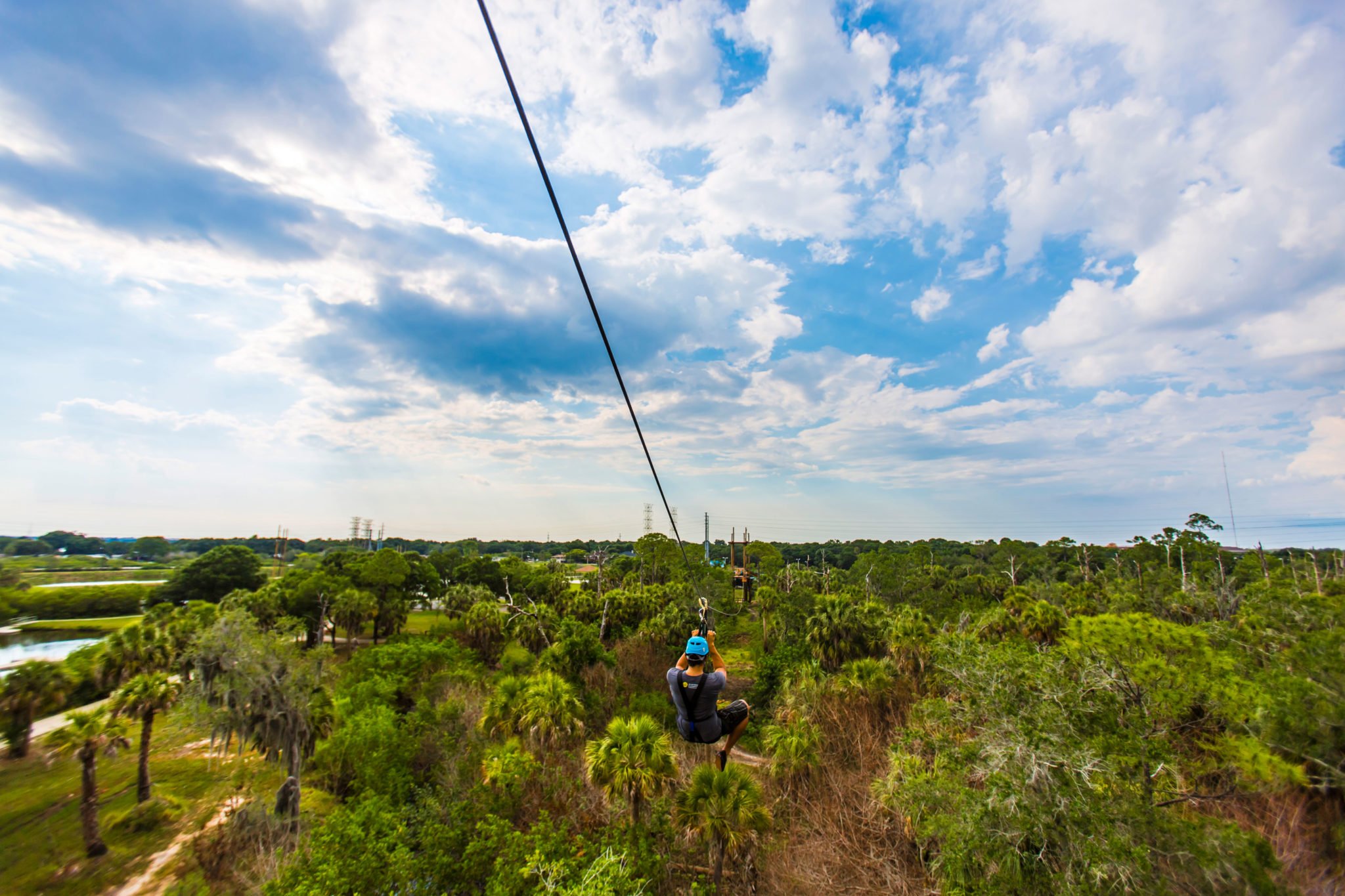 Feature image credit: Gatorland Screaming Gator for ziplining in Orlando
Orlando Date Night Guide is a free guide to the best of Orlando! We're supported by our advertisers when they buy digital ads, listings, content, and through affiliate links, so some things you read might be paid for or if you buy something thru a link on our site we might get a commission.