Let patriotic love explode this 4th of July in Orlando while celebrating our nation's freedom and independence. What better way to commemorate the festive holiday than in grand fashion? We've brought you a smorgasbord of events from well-loved fireworks shows to ticketed events. Choosing just one is the hard part.
Whether you splurge on a grandiose evening or keep it simple, all things 4th of July are right here.
1. Fireworks at the Fountain
When: Monday, July 4, 2022 from 5-10pm
Where: Lake Eola Park
Cost: FREE
This year marks the 45th Annual Fireworks at the Fountain celebration in downtown Orlando at our city's iconic Lake Eola Park. The fun kicks off at 5pm with live entertainment, family-friendly activities, and food/drinks available for purchase from on-site vendors. You're allowed to bring picnic blankets, chairs, and a cooler filled with your favorite snacks and nonalcoholic drinks to enjoy. Dogs are welcome, too.
If you want to make a day of it, arrive earlier in the day and check out World of Beer Downtown Orlando's Red, White & Booze brunch beginning at 11am. Highlights include specialty cocktails and firecracker sliders. (2022 date has not been announced)
The epic fireworks display will begin at 9:15pm. The finale will include a dazzling display set to a patriotic performance from the Orlando Concert Band.
This event is FREE and open to the public.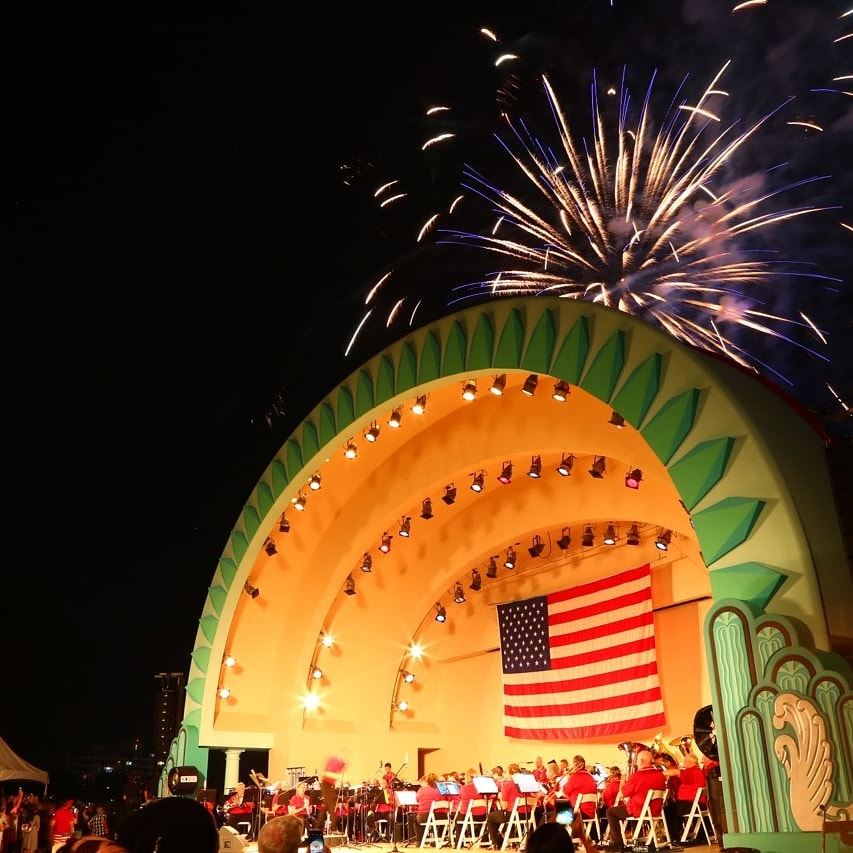 Fireworks at the Fountain (2019) | Image credit: City of Orlando
2. Disney Fireworks
When: July 3 and July 4
Where: Magic Kingdom and Epcot
Cost: Included with theme park admission
Nightly fireworks displays at Magic Kingdom and Epcot are magical any time of year. But during 4th of July weekend, patriotic magic is added! You can catch the display at Magic Kingdom each night, or head to Epcot for the nightly show including fireworks, music and special lighting effects.
Make 4th of July in Orlando unforgettable with a Disney Fireworks Cruise. Cruises leave from Disney's Yacht and Beach Club Resort and chart a course to the International Gateway near World Showcase Lagoon for a celebration including fireworks, lasers and synchronized audio. There are also a few options in the Magic Kingdom resorts area.
If you're on a budget, check out one of these spots for viewing Disney fireworks outside the parks.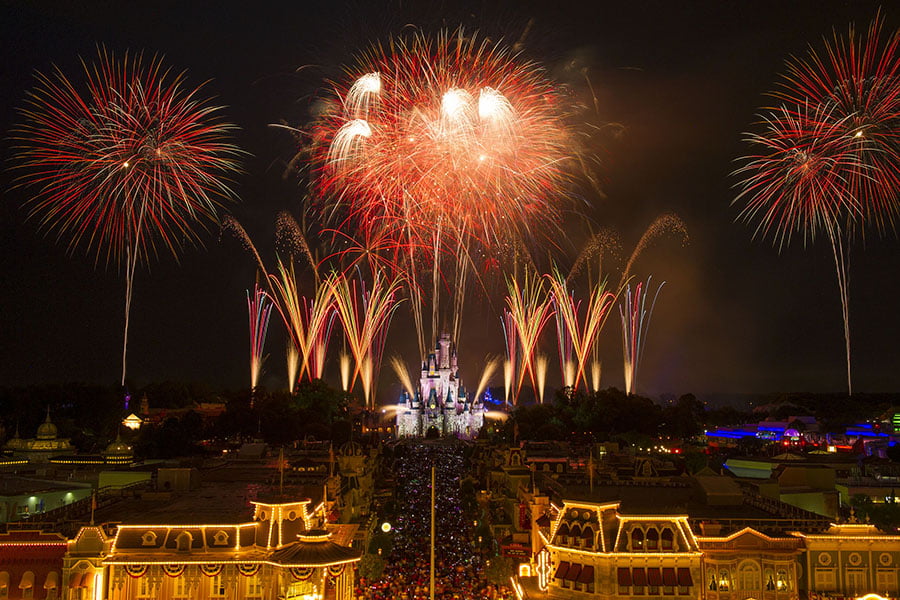 Image credit: Walt Disney World Resort
3. Promenade at Sunset Walk Star Spangled Weekend Celebration
When: July 1 – 4, 2022
Where: Promenade at Sunset Walk (Margaritaville Resort Orlando)
Cost: FREE
Head to this walkable entertainment and shopping hub for a full weekend of Independence Day celebrations. Sunset Walk's Star Spangled Weekend Celebration takes place Friday to Monday. Activities include live musical performances at the Promenade Plaza, an evening car show, street performers, and an artisan market. On Monday, July 4, enjoy more free entertainment at Promenade Plaza followed by a fireworks display at 9:30pm.
Margaritaville Resort Orlando will also have free entertainment Saturday and Sunday, plus fireworks viewing.
Related: Plan a live music and pub crawl at Sunset Walk
4. 4th of July Fireworks at Orlando Resorts
Want to go all out with a long weekend getaway? Several Orlando resorts host fabulous 4th of July fireworks displays that are exclusive to resort guests.
At Orlando World Center Marriott, Explore the all new River Falls Water Park with Falls Lagoon Pool, 7 thrilling waterslides, kids splash zone, 575ft. lazy river and daily activities. Join them every evening at 9pm and watch the laser light show from Falls Lagoon pool deck or from your private pool view balconies.
End the weekend with a literal bang by watching a fireworks display on Sunday, July 3. Upgrade to the special fireworks package for extra perks like a $50 resort credit and late checkout at 2pm.
Or, book a swanky weekend staycation at Grande Lakes Orlando, home to JW Marriott Orlando and The Ritz-Carlton Orlando, Grande Lakes. Lawn games for the family and special dining menus at Highball & Harvest and Knife & Spoon are a few of the perks. Spend your days exploring the expansive property and participating in guided outdoor adventures like fishing, kayaking, and falconry. The weekend culminates in a fireworks display for overnight guests on Monday, July 4 at 9pm.
For a double dose of fireworks, head to Omni Orlando Resort at ChampionsGate. Fireworks will light up the sky Saturday, July 2 and Monday, July 4 at 9pm.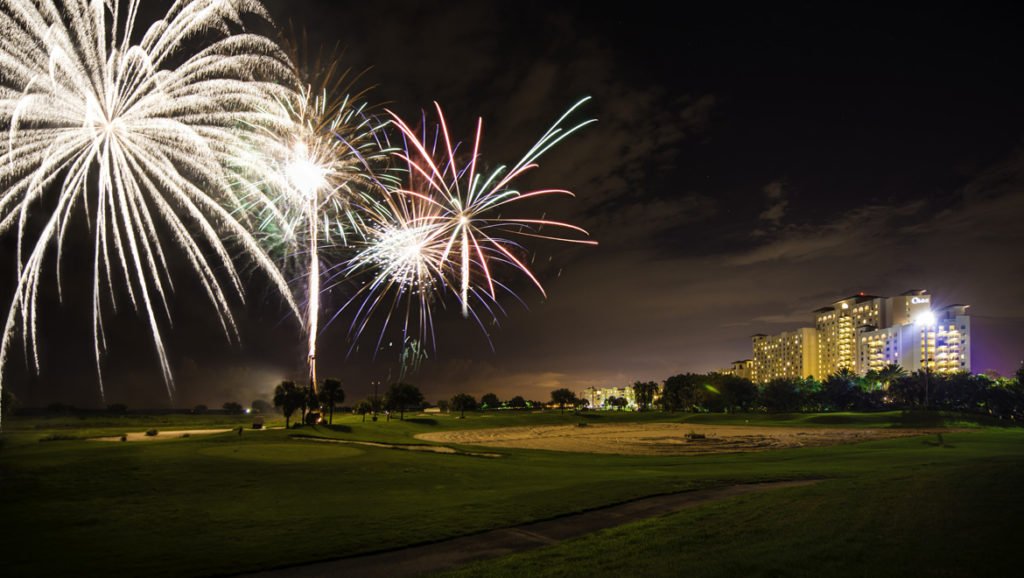 Image credit: Omni Orlando Resort at ChampionsGate
5. Red Hot & Boom at Cranes Roost Park
This infamous celebration typically takes place each year on July 3 in Uptown Altamonte's Cranes Roost Park, and it is BACK for 2022. The City partners with XL106.7 to bring a groovin' good time during this legendary event. Performers featured on the iconic floating stage include Em Beihold, Sofia Carson, JVKE (pronounced JAKE), Leah Kate and more. Food vendors are scattered around Cranes Roost Lake to keep grumbling bellies at bay.
The event kicks kicks off at 4pm and ends with a 25-minute firework feast for the eyes. The event will go on rain or shine! Parking can be tough so consider a rideshare service or taxi. Dress comfortable, and remember to hydrate.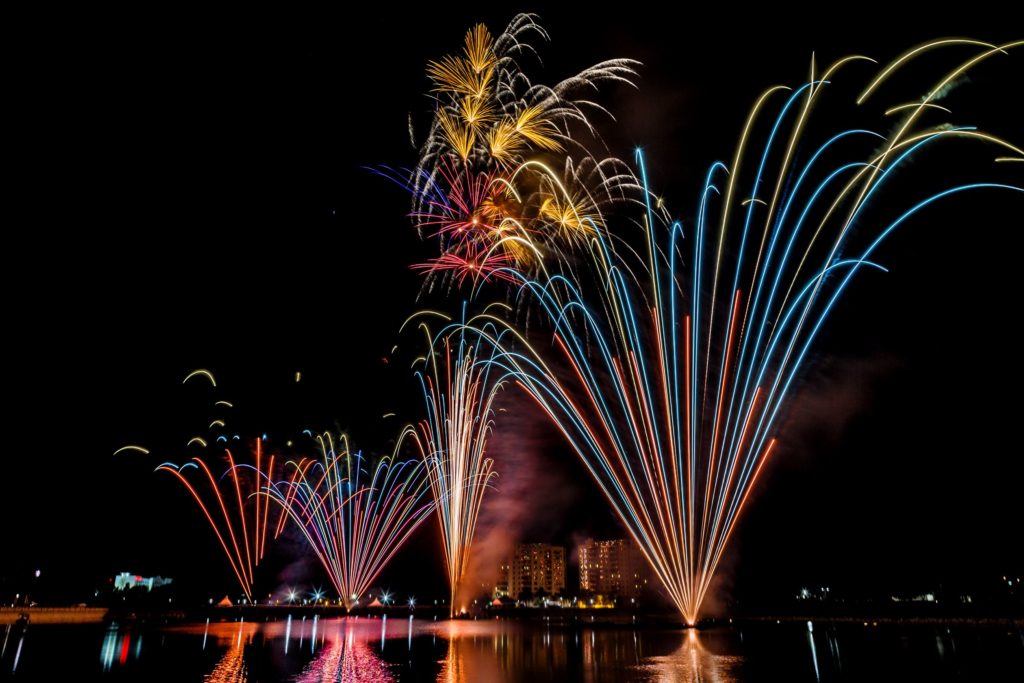 Image credit: City of Altamonte
6. Monumental 4th of July in Kissimmee
When: Monday, July 4, 2022, 6pm – 9:30pm
Where: Kissimmee Lakefront Park
Cost: FREE
For those living on the southern side of Orlando, take a short jaunt to Kissimmee Lakefront Park. The City of Kissimmee is hosting Monumental 4th of July, a booming firework spectacular on July 4 at 9:00pm.
7. Red, White and Blue Americana in Downtown Winter Garden
When: July 1 – 2 + 4, 2022 (no events on Sunday July 3)
Where: Downtown Winter Garden
Cost: FREE
Celebrate all weekend long, small town style, at Downtown Winter Garden's Red, White and Blue Americana event. The full lineup includes:
Red, White and Blues on the Plaza: live music performance on July 1 from 7-9pm
Farmer's Market Independence celebration on July 2 from 8am-1pm
Annual All American Kids Parade on July 4 at 10am
Fireworks display on Lake Apopka at Newton Park on July 4 at 9:15pm
Downtown Winter Garden is also decked out in patriotic decor. Parking is available at several locations on N. Dillard Street. No personal fireworks nor alcohol is permitted. Bring a chair or blanket.
8. SeaWorld Orlando
When: July 1 – 4, 2022
Where: SeaWorld Orlando
Cost: Included with theme park admission; reserved seating for fireworks and parking additional
Dive into ocean depths this Independence Day at SeaWorld Orlando. The park's nightly firework show, Ignite 360, is getting a special finale boost all weekend long. Rockets will glare red along with pyrotechnics and lasers for a unique demonstration of patriotism. Reserve your seating to witness this one-of-a-kind display and engage in Electric Ocean, a nighttime event full of lights, music, sea creatures and DJ entertainment. The fireworks display is included with regular park admission.
The nightly fireworks showtime is TBD. Fireworks can be viewed from the Orca Encounter Pathway, The Waterfront, and Bayside Stadium. The latter provides the best view, and reserved seating can be purchased at the park for $39. Park admission and parking are additional.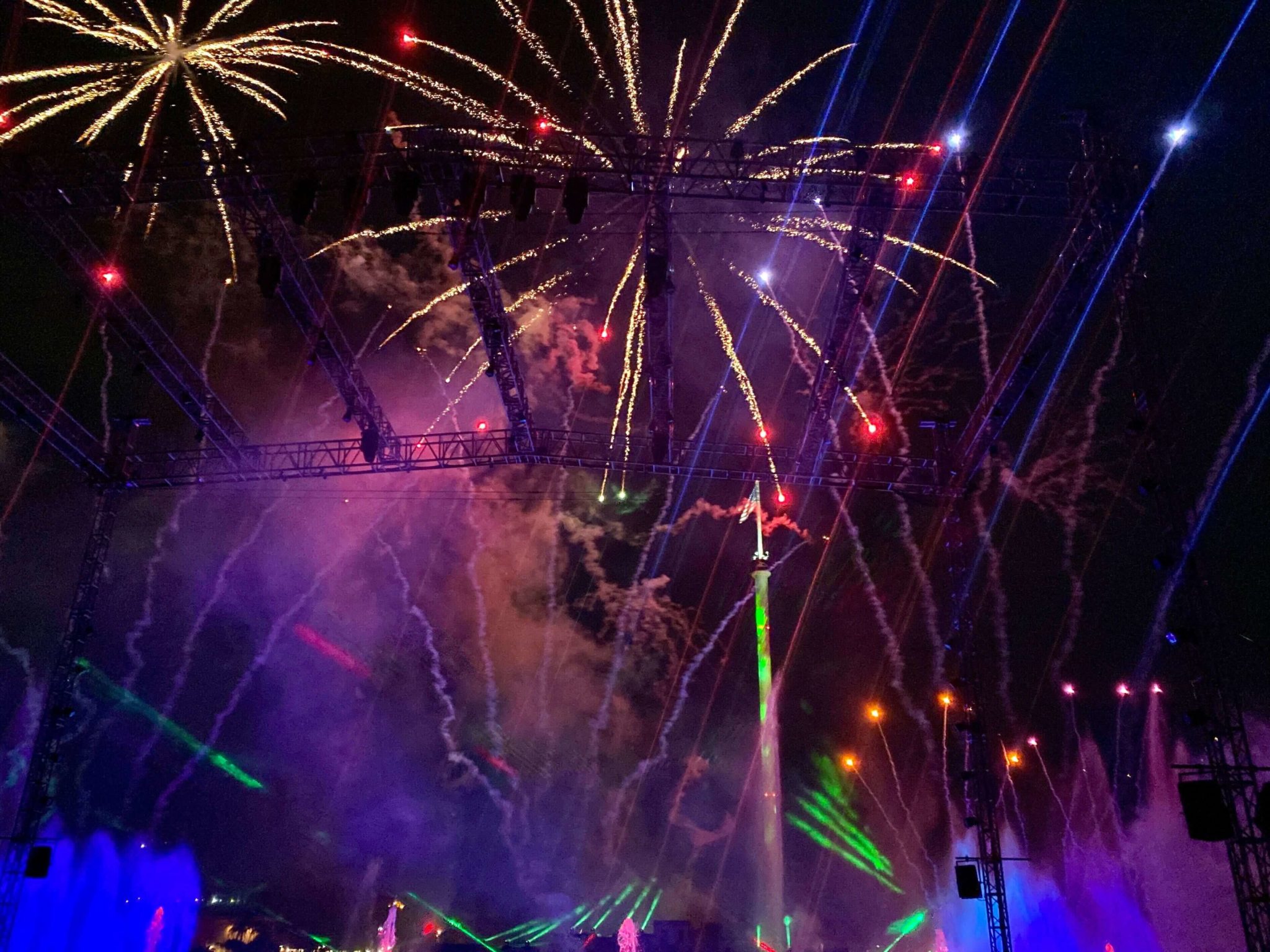 Ignite 360 SeaWorld Fireworks
If you want to make a weekend full of watching fireworks then consider the NEW SeaWorld Fireworks All-Inclusive Happy Hour Party, available only on Saturday nights. Advance reservations are required.
9. City of Clermont Red, White and Boom
When: Monday, July 4, 2022 from 7-10pm
Where: Waterfront Park in Historic Downtown Clermont
Cost: FREE
Clermont's all-American waterfront fireworks celebration is a local favorite. This year's Red, White and Boom 4th of July event includes food trucks, live music from The Actual Bank Robbers, and ending with fireworks. The fireworks begin at 9:15pm with a dazzling display over Lake Minneola. Additional viewing is available at Victory Pointe.
Pack a blanket to enjoy this free fireworks display. Consider arriving early to explore downtown Clermont, including new hotspots along Montrose Street.
Alternatively, Winter Garden is nearby with its own fireworks over Lake Apopka.
10. Star Spangled Sanford
When: Sunday, July 4, 2022 from 7-10pm
Where: Riverwalk / Fort Mellon Park area
Cost: FREE
Plan a full day in Sanford strolling the streets to visit your favorite local restaurants and breweries followed by evening fireworks. The sparks will fly over Lake Monroe just after sunset. The show will be set to music and will last for about 20 minutes. Make sure to pack blankets and chairs for comfy viewing along the water. There's a Star Spangled Sanford Kids' Zone too!
ALSO TRY:
4th of July Events in Orlando
Red, Hot, and Blues on the Plaza
Friday, July 1, 7:00pm – 9:00pm
Downtown Winter Garden, Centennial Plaza
The Grimes Alley Blues Band will usher in the holiday weekend with classic blues combined with country tunes. Enjoy the live music from nearby dining patios or swings, or bring a chair for a front row seat.
FREE
Orlando Big Band Patriotic Concert
Saturday, July 2, 7:30pm
Ritz Theater Sanford
Local Big Band celebrates Independence Day with a concert of patriotic songs.
$23 – $30
Freedom on the Waterfront – with fireworks
Sunday, July 3, 5:00pm
Mount Dora
Festivities begin at 5 PM with live music, featuring Kid's Zone with lots of fun activities, food trucks, beverages, and plenty of fun for everyone. This year former Season 14 American Idol contestant Alexis Gomez with opening act David Letourneau will be playing live music on the stage. The festivities at Elizabeth Evans Park will end with fireworks over Lake Dora.
FREE
Great American Block Party
Sunday, July 3, 5pm
Lake Nona and Boxi Park
Block party with live entertainment, carnival games, and more!
FREE
AdventHealth July 4th Watermelon 5k
Monday, July 4, 7:30am
Park Avenue, Winter Park
Join friends, family and neighbors for a morning celebration with ice cold watermelon and American pride.
$33 – $43
July 4th Bike Parade
Lake Avalon – Avalon Park
Monday, July 4, 5:30pm
Line up at YMCA at 5pm with decorated bikes, strollers, and wagons. Line up at 5pm, parade at 5:30pm. Preregister if you want to participate
Independence Day Open House
Monday, July 4, 9:30am-4pm
The Charles Hosmer Morse Museum of American Art
The Museum is open for free on Independence Day in conjunction with the City of Winter Park's 27th Annual 4th of July Celebration. This year the celebration is moved to Martin Luther King, Jr. Park – Community Playground.
FREE
July 4th Watch Party
Monday, July 4, 6pm
The Veranda at Thornton Park
Watch party from the streets of Thornton Park, balconies available for rent, head to verandaevents.com or (407) 408-6804 for more info
LMSA July 4th Cruise & Raft Up
Monday, July 4, 6pm
Lake Monroe Sailing Association
More details TBD, please check Facebook event for any update
4th of July at the Tower
Monday, July 4, time TBD
Citrus Tower
From the Florida Citrus Tower Instagram page: Amazing 360 view of the fireworks. Tickets are $25 a piece, & they go on sale Monday, June 20th for active members only, then on Monday, June 27th for the general public. Spots are limited & tickets will go quick, so head into Citrus Coffee ASAP to snag your spot.
'MERICA Trivia Night
Tuesday, July 5, 7:30pm
Crooked Can Brewing
It's a glorious 4-round Trivia show about all things the U.S.A.
Things to do on 4th of July Weekend
Besides 4th of July fireworks and events, there are plenty of ways to celebrate the holiday weekend together. From the best natural parks to explore together to our favorite spas and resorts. Get away from the crowds and explore these creative things to do on 4th of July weekend.
Thirsty? Check out these breweries in Orlando to visit this 4th of July.
Wanna get away? Plan a trip to one of these amazing 4th of July getaways.
Need to cool off? Check out these Springs Near Orlando to visit this 4th of July and the best beaches for 4th of July.
4th of July Fireworks and Events TBD for 2022
Some of our favorite events have not yet been confirmed for 2022, but we've listed them here and will update accordingly if more details become available, so check back often.
Florida's Space Coast Smoke on the Water & Fire in the Sky
When: July 2 – 4, 2021 times vary – 2022 Dates TBD
Where: Florida's Space Coast (Port Canaveral, Cocoa Beach and Cocoa Village)
Cost: FREE
Give your 4th of July celebration a beachy twist by heading east to Florida's Space Coast! The coastline has a dazzling lineup for this year, with fireworks displays nightly from July 2 – July 4.
The festivities begin on July 2 in Port Canaveral, where you'll be able to watch fireworks over the harbor from The Cove at Port Canaveral or the Exploration Tower. If you're interested in setting up a blanket on the beach and watching sparks fly over the ocean, head to Cocoa Beach on July 3. Stake out a spot on the beach, or watch from the Westgate Cocoa Beach Pier. On July 4th, celebrations will take place at Riverfront Park in Cocoa Village. Activities include fun for the whole family, food, and a performance by the Brevard Symphony Orchestra at 8pm, followed by a fireworks show over the Indian River Lagoon.
Fireworks are scheduled for Port Canaveral around 9pm on July 2, Cocoa Beach around 9pm on July 3, and Cocoa around 9:15pm on July 4.
2022 Dates TBD, but there is City of Rockledge 35th Annual Independence Day Picnic.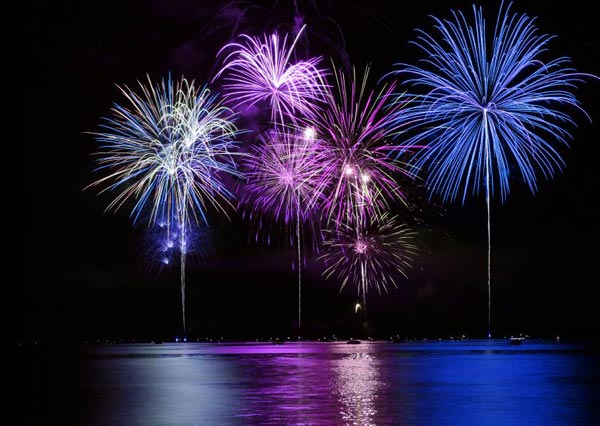 Image credit: CocoaBeach.com
Universal Studios Orlando
*DETAILS TBD for 2022*
Back in 2019, Universal Studios Florida celebrated with a massive gathering for celebratory shenanigans July 4th – 6th. Taking place at the Music Plaza, the weekend included a lineup of special entertainment and a Character Dance Party, culminating with pyrotechnics and confetti cannons. Nothing has been announced yet for 2022, so stay tuned and check back here for updates in case that changes.
Light Up I-Drive at ICON Park
*DETAILS TBD for 2022*
Spend an enchanting evening with a view like no other atop ICON Park's Wheel! This Orlando staple literally lights up I-Drive with a light show and fireworks each year. Details are TBD for 2022.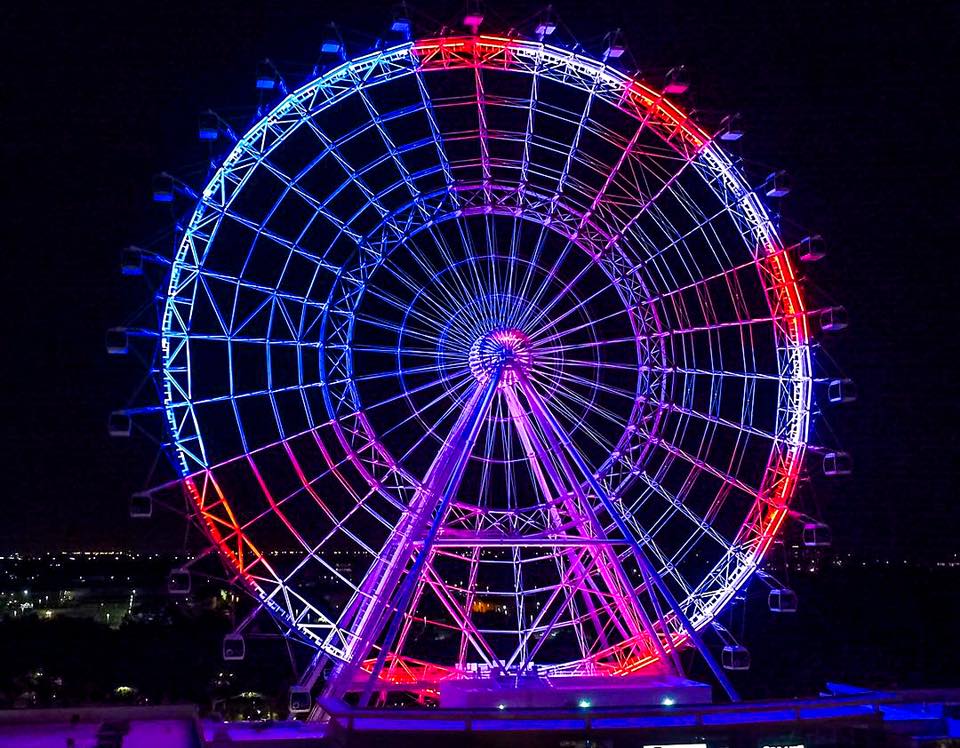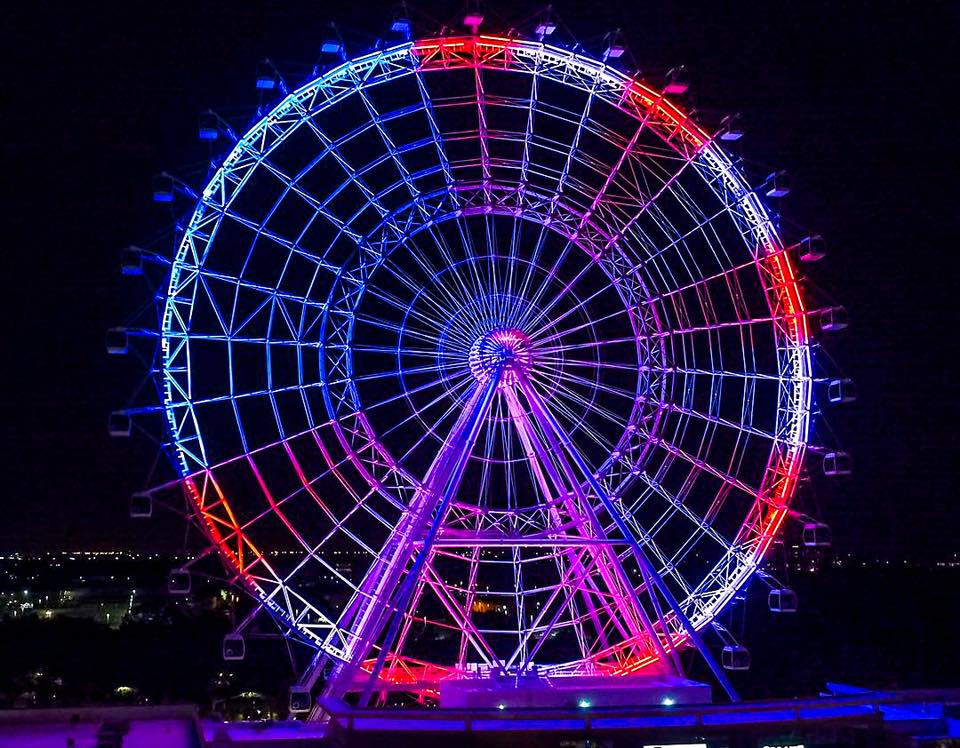 Image credit: ICON Park
Heading to Tampa for the 4th of July? Check out Tampa Bay Date Night Guide's Fourth of July Fireworks and Events!
Also check out 75 Free Things to do in Orlando.
Feature image credit: City of Orlando