It's easy to get stuck in the same ol' dinner and a movie rut when it comes to planning your weekly date, but our city is bustling with events, activities, specials, and other great opportunities for an 'out of the ordinary' date night. Orlando may be sprawling and full of unique neighborhoods to explore, but don't overlook these things to do in downtown Orlando.
We've compiled a list of 35 date ideas with everything from trivia night to improv comedy to dinner deals, and it's all happening right here in the heart of downtown Orlando.
Updated August 2022 by Meghan Roth
1. Escape from The Great Escape Room
Escape room games are all the rage right now in Orlando and make for a memorable and unconventional night out. You'll have 60 minutes to escape the locked room by solving puzzles, finding clues, and working together to escape crack the code to the locked room. Orlando has plenty of escape room options. Read all about them here.
2. See an improv show at SAK Comedy Lab
Couples who laugh together stay together. Improv shows happen nightly but make sure to check out Duel of Fool's, the signature Improv show. A full listing of shows can be found on the SAK website.
3. Explore Orlando's art galleries
There are endless places to explore the arts downtown including CityArts Factory, Snap! and many more. Oh, and let's not forget the Third Thursday Gallery Hop!
4. Bike around town
Get fit while sightseeing together! Instead of driving around, rent bikes at one of the many Lime Bikes stations located throughout downtown Orlando.
5. Do a happy hour pub crawl
Instead of settling on one restaurant for date night, head downtown for happy hour and explore a few local options. Some of our local happy hour favorites include The Stubborn Mule and Eola Wine Company.
RELATED: Unique Bars in Orlando
6. Paddle around Lake Eola in a swan boat
The swan paddle boats are a fixture of Lake Eola park and make for the perfect leisurely afternoon activity. Rentals are $15 per half hour and no reservations are needed.
7. Attend Thornton Park's Monthly Wine & Art Walk
Featuring live music, art, DJs, and wine pours at local businesses, this Thornton Park District event taking place the 2nd Thursday of each month and is not to be missed. After getting your map and glass for $15, wander around indulging your senses and taste-testing to your heart's content.
8. Zen Out at Sunday Yoga in the Park
Work off those carbs from brunch at this fun community yoga event that takes place every Sunday at 11am. Bring $10, your yoga mats, water, and a towel. Soak up the scenery of Lake Eola Park while perfecting your down dog and chaturanga as a team.
9. Munch through the Sunday Farmer's Market at Lake Eola Park
This weekly farmer's market has much more to offer than fresh fruits and veggies including local food and art vendors. Don't miss the fresh coconut stand! This event pairs perfectly with Yoga in the Park and a Sunday brunch nearby.
10. Catch a show at the Dr. Phillips Center for the Performing Arts
If you have yet to visit the Dr. Phillips Center, it's time to put on your date night best and enjoy a show together. Stop at a nearby restaurant, like Kres Chophouse, before the show to complete your fancy night out. Here's our guide to making the best out of a Dr. Phillips Date Night.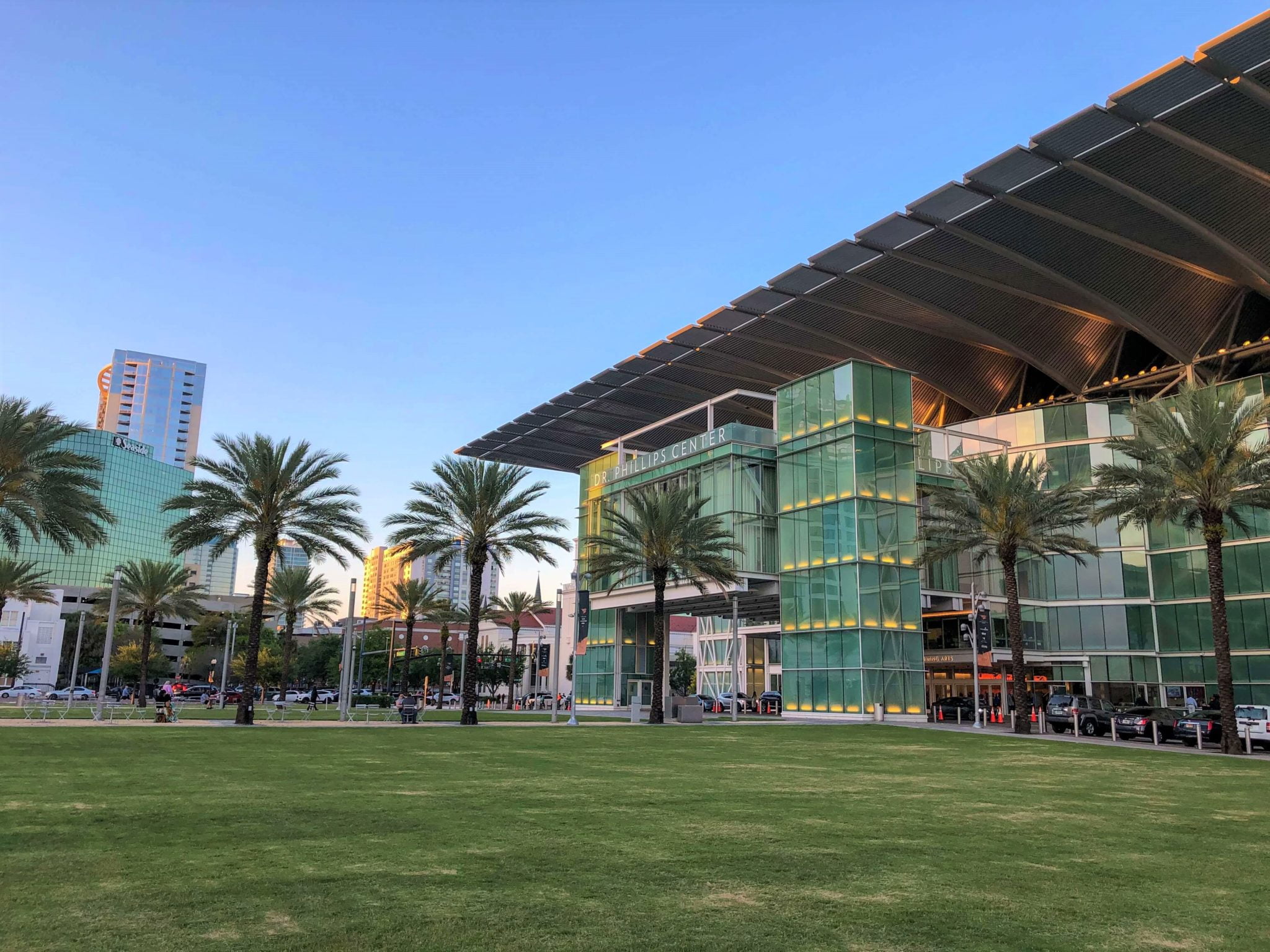 Dr. Phillips Center Downtown Orlando – Beth Bell
11. Watch an outdoor movie during MoviEola
Grab a picnic basket, chairs and a blanket and head to Lake Eola Park for this outdoor movie event. Movies are shown the last Friday of each month through May (and beyond – stay tuned for the fall schedule). The movie typically begins at 8:15pm, but the event officially begins at 6pm so feel free to arrive early.
12. Grab smoothie bowls at RAW Juicing and Detox
Have a healthy date night with an Instagram-ready smoothie bowl from RAW in Thornton Park. Options include acai, tropical, and more.
13. Play Bingo at Hamburger Mary's
Check out this local favorite and enjoy a good ol' fashioned game of bingo Tuesday nights beginning at 7:00pm.
14. Visit the Orange County Regional History Center
Spend the afternoon learning about Central Florida's history with exhibits exploring aviation, African American history, our natural environment, theme parks and more. Admission is $8. On the Third Thursday of each month, they offer free admission from 6 to 8 p.m.
15. Book a spa day
There are several great spa locations to choose from downtown including Poseidon Spa at the Grand Bohemian and Allora Day Spa.
16. Enjoy boozy pops at The Pop Parlour
These aren't your average popsicles – cool off with a booze-infused popsicle at The Pop Parlour. Choose from flavors such as Bellini, Lemon Mint Julep, and more. Classic popsicles without alcohol added are also available and fun flavors are constantly rotating.
17. Celebrate Taco Tuesday
Get your fix at one of Orlando's many taco hotspots, like Tin & Taco, Gringos Locos, or F & D Cantina.
RELATED: Taco Spots that will impress your date
18. Movie night at CMX Cinemas Plaza Café 12
Give movie night an upgrade by heading downtown to the Cinemas Plaza Cafe where you can enjoy plush seats, a full food menu and beer/liquor bar in addition to your chosen flick.
19. Sip wine flights at Eola Wine Company
Flights each contain 4 wines and 10 different options are available ranging from $12-$18 per flight. A food menu (flat breads, cheese boards, etc.) is also available.
20. Check out an event at Amway Center
Amway Center is downtown's hub for concerts, sporting events, and more. Attend an Orlando Magic or Orlando Solar Bears game in season, or check out Michael Buble in concert on August 10, 2022.
21. "Speak easy" at Mather's Social Gathering
Featuring dapperly dressed bartenders, this stylish hideaway can be found on the third floor of a historic furniture store in downtown Orlando. Cocktails are made with boutique spirits, seasonal fruit, and house-made bitters, cordials, and syrups. Small plate appetizers are also available. But proper attire is required for guests: No shorts, flip flops, or ball caps will make it past the doorman.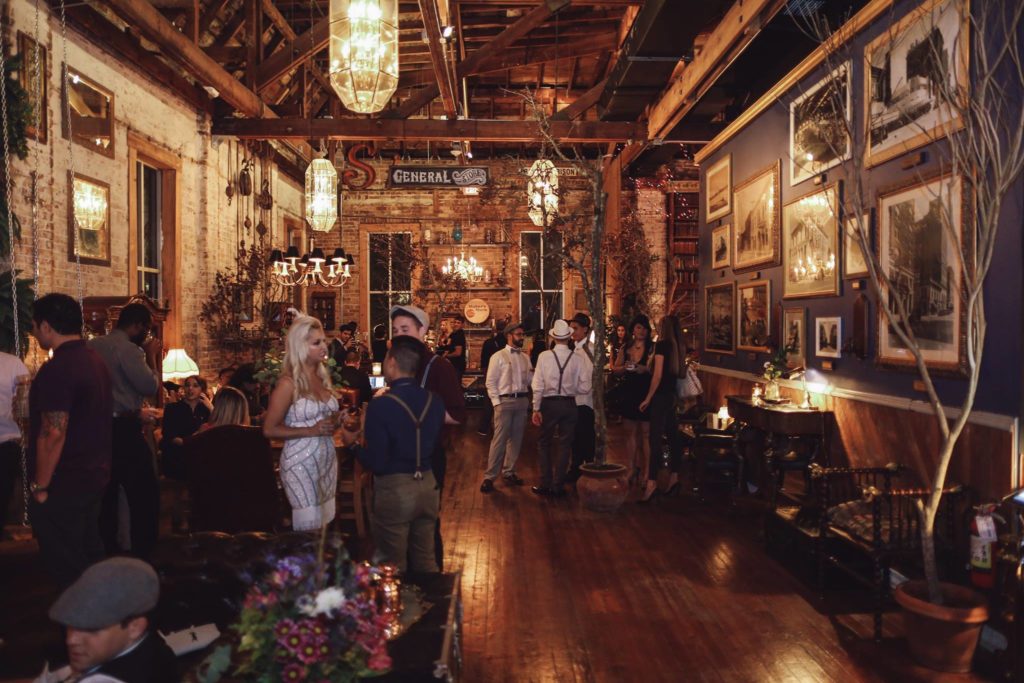 Image credit: Mathers Social Gathering
22. Enjoy Wine & a Charcuterie board at Bösendorfer Lounge
Lounge in style at the Grand Bohemian and sip wine while sharing the Bohemian Hunter's Board. Visit on Friday or Saturday nights for live soul and jazz music while dining and admire the swanky atmosphere.
23. Play a game of trivia
Check out trivia at one of downtown's hot spots such as: Persimmon Hollow Brewing Company – Lake Eola (Wednesdays at 7pm) or Graffiti Junktion – Thornton Park (Wednesdays at 7pm).
24. See a live theater at Mad Cow Theatre
Mad Cow Theatre is a great budget alternative to the Dr. Phillips Center – enjoy theatre shows ranging from $31-$45. Current shows can be found online at the Mad Cow Theatre website.
25. Check out an event at The Abbey
There's always something going on at The Abbey, a theatre, lounge, bar, and event venue all in one. Check their website for fun events such as PJs and a movie night, sing-a-longs, movies out loud, and 80s night.
26. Book a staycation at a downtown Orlando hotel
Stay close to home while experiencing something new together. Options include The Grand Bohemian, Aloft, EO Inn and more.
27. Have a picnic in the park
For a budget-friendly date night, pack your own dinner and set up a blanket in Lake Eola Park. Visit before sunset for the most romantic ambiance and a beautiful view of the Lake Eola fountain. Make sure to check the events calendar before you go for any special events that may be happening in the park.
28. Go on a ghost adventure
American Ghost Adventures offers nightly ghost adventure tours downtown Orlando beginning at 8pm. Check their website for more information and rates. Or head to Greenwood Cemetery for the FREE monthly moonlit walking tours.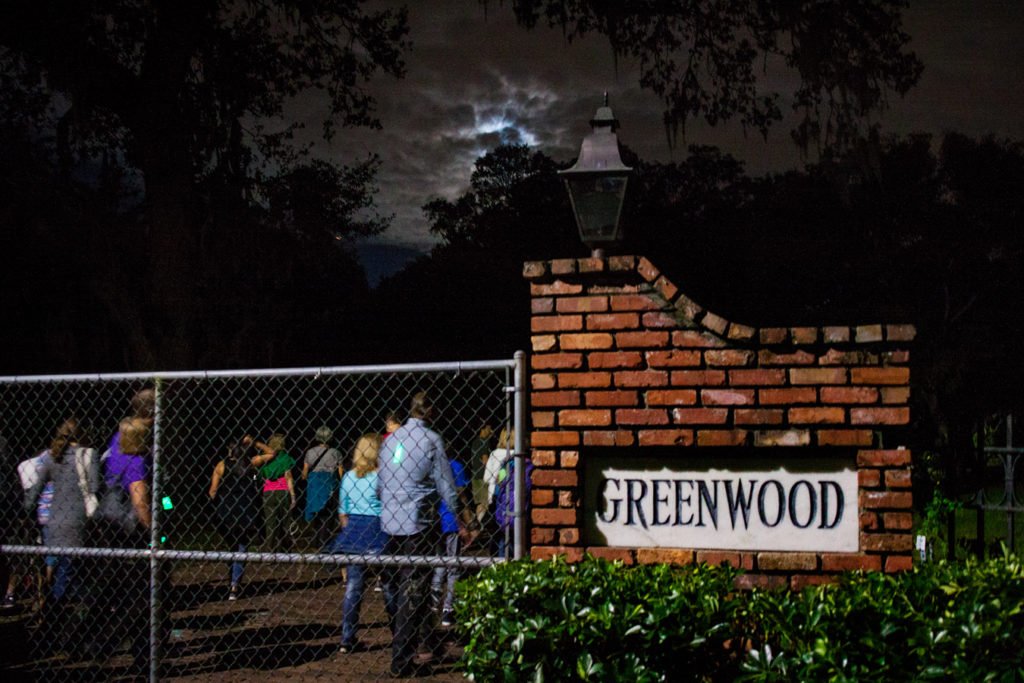 Greenwood Cemetery Tour | Image credit: Stephanie Patterson
29. Attend an event at the Orlando Public Library
Even if you aren't an avid reader, the library has a ton to offer, including: movie marathons, cooking classes, yoga, and more. Some events require advance registration with your library card, while others are open to the public. Here's a list of upcoming events for adults.
30. Try Your Hand at Axe Throwing
BATL axe throwing is the premier axe throwing facility in Florida. BATL Orlando is located in the heart of downtown Orlando in the Church Street Market Place. Pricing starts at $34 per person and can be booked ahead of time or day of.
31. View the City Beautiful from Above
Against the backdrop of boundless city views, visitors to the AC Marriott Hotel by Downtown Orlando's SkyBar rooftop terrace can enjoy Spanish-inspired tapas and bites, artisanal cocktails, and local craft brews from its 18th-floor perch. Check out their Vino with a View Wednesday, with 1/2 off all glasses of wine from 4:00pm – 7:00pm.
Read more: Orlando's Best Rooftop Bars and Restaurants
32. Cheer on the Home Team
Whether you're a sports fan or just want to mingle, don your best team-colored threads to one of Orlando's biggest sporting events. You can watch an intense game of hockey and cheer on the Orlando Solar Bears or put on a jersey and root for the Orlando Magic at the Amway Center. Don't miss one of Orlando's lively soccer matches, where you can join a sea of locals dressed in purple, celebrating another Orlando City Soccer win at Camping World Stadium.
33. Take Your Date to New Heights
Blue Swan Boulders opened in Orlando's Creative Village in 2020, bringing Orlando its premier climbing center. Bouldering is a unique challenge, a great workout, and an opportunity to push your limits – whether you're brand new to climbing or have been at it for years. It requires no special equipment or previous experience, making it the perfect recreation activity for all ages and fitness levels.
34. Create Your Our Masterpiece
Try your hand at fluid painting with The Dirty Pour Project. Book your own private pour party in a local park, join a public pour party at a local brewery, or schedule a private class. Check the website for the latest offerings.
35. See a Show at Häos on Church
This newcomer to Church Street in downtown Orlando is a hybrid bar, restaurant, and performance venue perfect for date night. Shows upstairs run the gamut from cabaret and burlesque to dance and more. Downstairs, enjoy lively performances while you dine in the evening and during weekend brunch. FYI – there is an artist fee upon entry to help support the performers.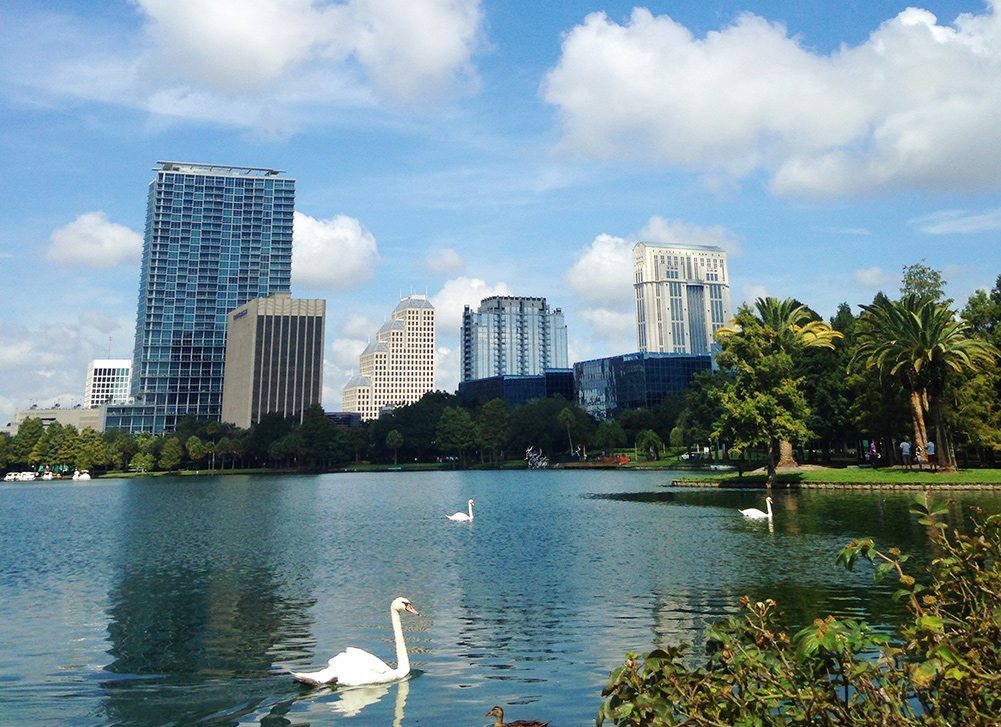 Photo credit: Stephanie Patterson