Celebrate Halloween in Orlando with these top picks for the area's most haunted happenings!
Halloween starts early in Orlando. You can partake in frightful festivities starting as soon as September. Start planning your couples costume, stock up on your favorite Halloween goodies at the store, and do date night at one of these fantastic Halloween events in Orlando.
We'll be updating this list frequently as 2022 dates are confirmed so check back often for spooky new updates.
Also check out these fall date night ideas:
Editor's note: As 2022 dates are confirmed they will be updated below
ORLANDO HAUNTED HOUSES AND EXPERIENCES 2022
UNIVERSAL ORLANDO'S HALLOWEEN HORROR NIGHTS
Select nights September 2 – October 31, 2022
So far four houses have been announced for Halloween Horror Nights 2022.
Halloween – Come face to face with Michael Myers and go back to where it all began. Step into terrifying moments from the 1978 horror classic, Halloween.
Universal Monsters: Legends Collide – you're about to get caught in the middle of an epic battle between The Wolf Man, Dracula and The Mummy, together for the first time ever.
The Horrors of Blumhouse – Enter the worlds of two horror masterpieces from Blumhouse as you face the most terrifying moments of Freaky and The Black Phone.
The Weeknd: After Hours Nightmare – travel into the mind of singer-songwriter The Weeknd to visit the twisted fantasies that inspired his hit album.
Admission to Halloween Horror Nights is NOT included in theme park admission and must be purchased separately.
Related: Check out our tips for a Halloween Horror Nights Date Night!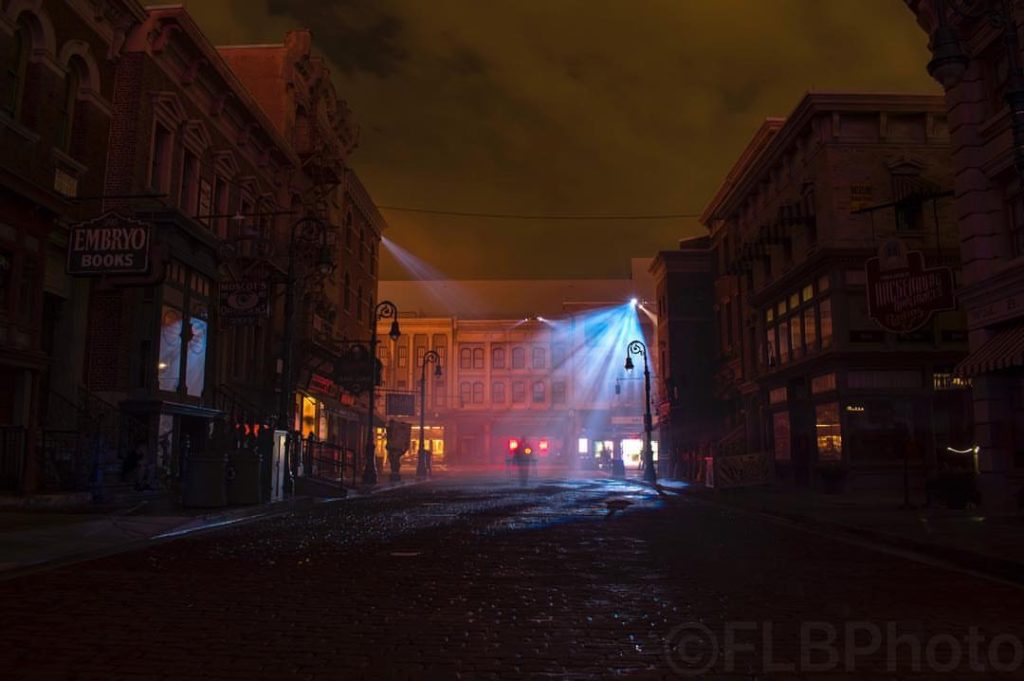 Image credit: @thefloridalocal
HOWL-O-SCREAM AT SEAWORLD ORLANDO
Select nights September 9 through October 31, 2022
SeaWorld Orlando
Howl-O-Scream returns for its second year in Orlando for 2022. Explore themed scare zones, brave haunted houses, ride your favorite coasters in the dark. – including the brand-new Ice Breaker Coaster.
Check out live Halloween-themed performances, including a new show "Lurking in the Deep: An Adventurer's Tale" and more. The multiple-themed bars are a major highlight – liquid courage!
Note: Howl-O-Scream is a separately ticketed event and is NOT included with regular theme park admission. Spring for a 2-park pass for $99.99 which will also get you access to Howl-O-Scream at Busch Gardens Tampa Bay on a separate night.
SeaWorld Orlando's Howl‑O‑Scream Event Info 2022:
Captain's Revenge – Drowned in Darkness (house)
Blood Beckoning (NEW house)
Beneath the Ice (house)
Cut Throat Cove (zone)
Frozen Terror – Alive in the Ice (zone)
Sea of Fear – (NEW zone)
Cargo Carnage (NEW zone)
Sirens Song (returning show)
Sirens Last Song Bar
SCREAM N' STREAM
Select nights October 1 – October 31, 2022
Oviedo Mall
$64 – $84 per car
Scream n' Stream's drive-through experience, located at Oveido Mall this year, is completely contactless and suitable for the whole family. This year's experience will be interactive, inviting you to drive through a top-secret military facility dubbed Station 5. You'll be armed with laser guns to blast your way out of the facility as you encounter a classified weapons project: monster soldiers!
SCREAM N' STREAM 2022 Zones:
Revenge of the Fog Queen
Play Date
Birthday Clown
A Petrified Forest
Select nights through October 29, 2022
Opening night September 30, 2022
1360 E. Altamonte Dr., Altamonte Springs
$29.50 for all three trails, $42.50 for VIP including three trails and a backstage tour
What separates this haunted house from its counterparts? For starters, this haunted house features outdoor trails in the woods where you never know what will be lurking around the next corner.
A Petrified Forest offers backstage tours every night they're open (the only Central Florida haunted attraction to do so) so you can see what it takes to be part of the attraction. In addition, they offer special days for various guests.
Saturday, October 15 is Kids Day, filled with trick-or-treating, a costume contest, and other fun games. Wednesday, October 12 is a private event welcoming everyone with special needs to attend and experience the trails. Patrons are allowed to go at their own pace with help from staff.
Finally, if you're into absolute terror, October 19 and 26 are Total Eclipse Nights, nights where you're only given one glow stick as you journey through the trails with no other source of light. Eek!
TIP: Since this attraction is outdoors, be sure to wear clothing and shoes that aren't expensive and can get dirty.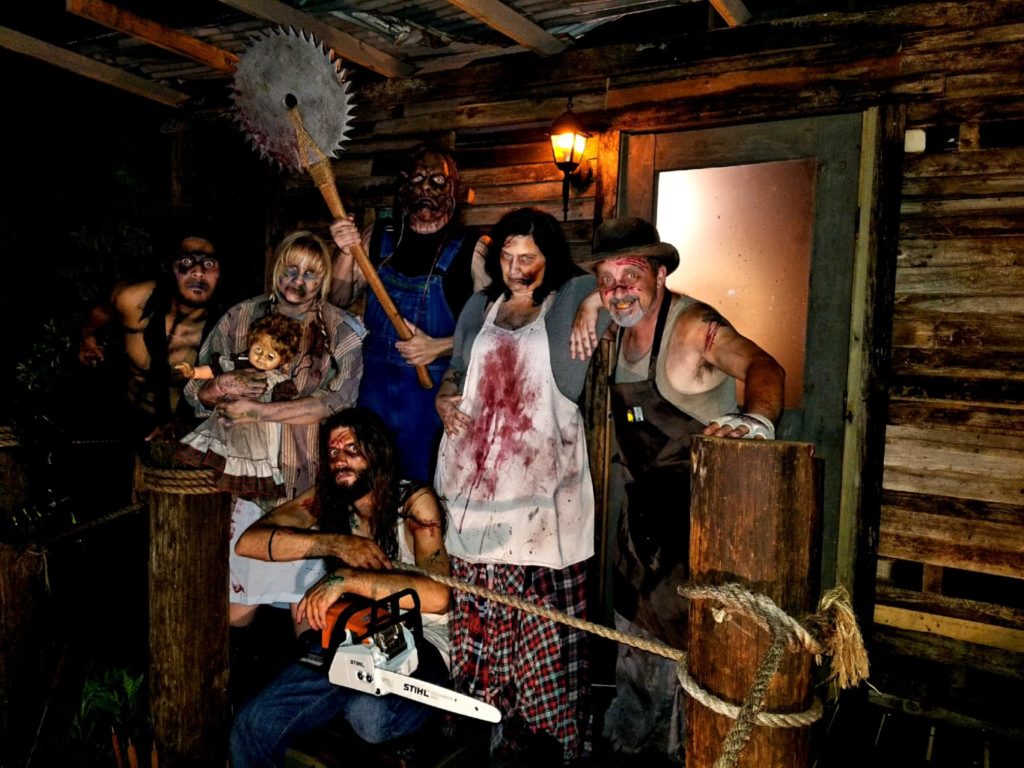 Image credit: A Petrified Forest
MORTEM MANOR
Open year round
Mortem Manor allows you to get your scares all year long, not just during October. Located in Kissimmee, this year-round haunted house was named one of the "Scariest Haunted Houses In America" by the Travel Channel. Your tour will take you through two stories of the manor.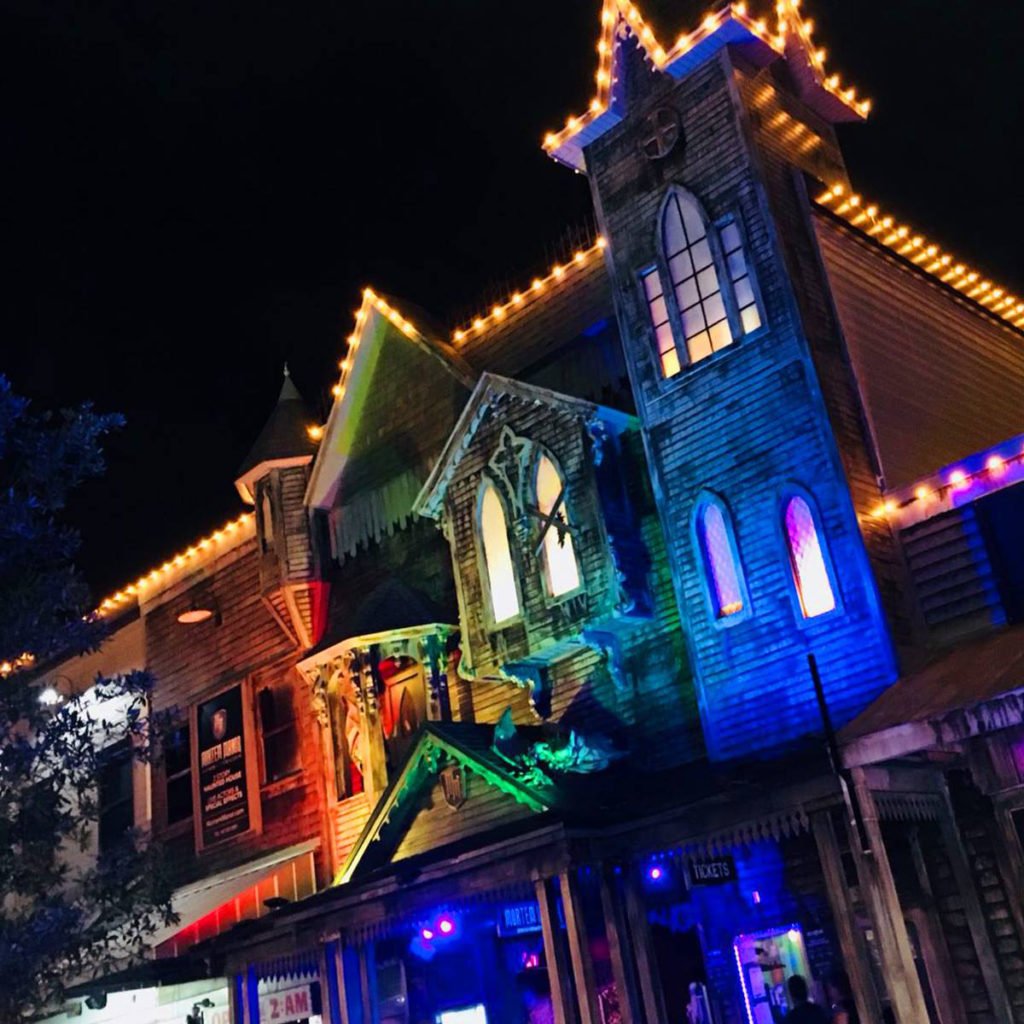 Image credit: Mortem Manor
SCREAM-A-GEDDON
Select nights September 9 – October 31, 2022
Not your average haunted house, Scream-A-Geddon is a full blown horror park in Dade City complete with six separate attractions plus a Monster Midway and designated beer garden. Enter the Ravenhill Asylum to explore at your own risk, visit a demonic village, immerse yourself in the mind-bending and disorienting Rage 3D (spoiler alert: there are clowns), get lost in an inmate-controlled prison and more. Several of the attractions have an interactive option in which brave souls may be sent off to hidden rooms or isolated from their group.
Related: The Best Halloween Events in Tampa Bay
ORLANDO HAUNTED HOUSES AND EXPERIENCES 2021 – Dates for 2022 TBD
THE HAUNTED ROAD: A DRIVE-THRU HALLOWEEN EXPERIENCE
Select nights September 30 – November 7, 2021, 7:10 p.m. to 2 a.m.
The Haunted Road is returning to Orlando for 2021 with a completely contactless drive-thru Halloween experience. 2020's experience focused on twisted fairytales, but this year will spook you to the core with eerie occurrences and ghostly appearances. Park your car along the road and turn off your headlights–if you dare–to experience even more intensely scary encounters along the way. As an added bonus, this is a longer experience than your typical haunted house, taking 40-50 minutes to complete. Limited timed-entry tickets are available for $10.99+. Regular tickets begin at $16.99 per person.
But the night doesn't have to end when the road does… Upgrade your date night to include The Barnyard and enjoy pop-up performances, purchase delicious smoked BBQ and beverages, and attempt to awaken the spirit of the dead butcher in a walk-in haunt experience.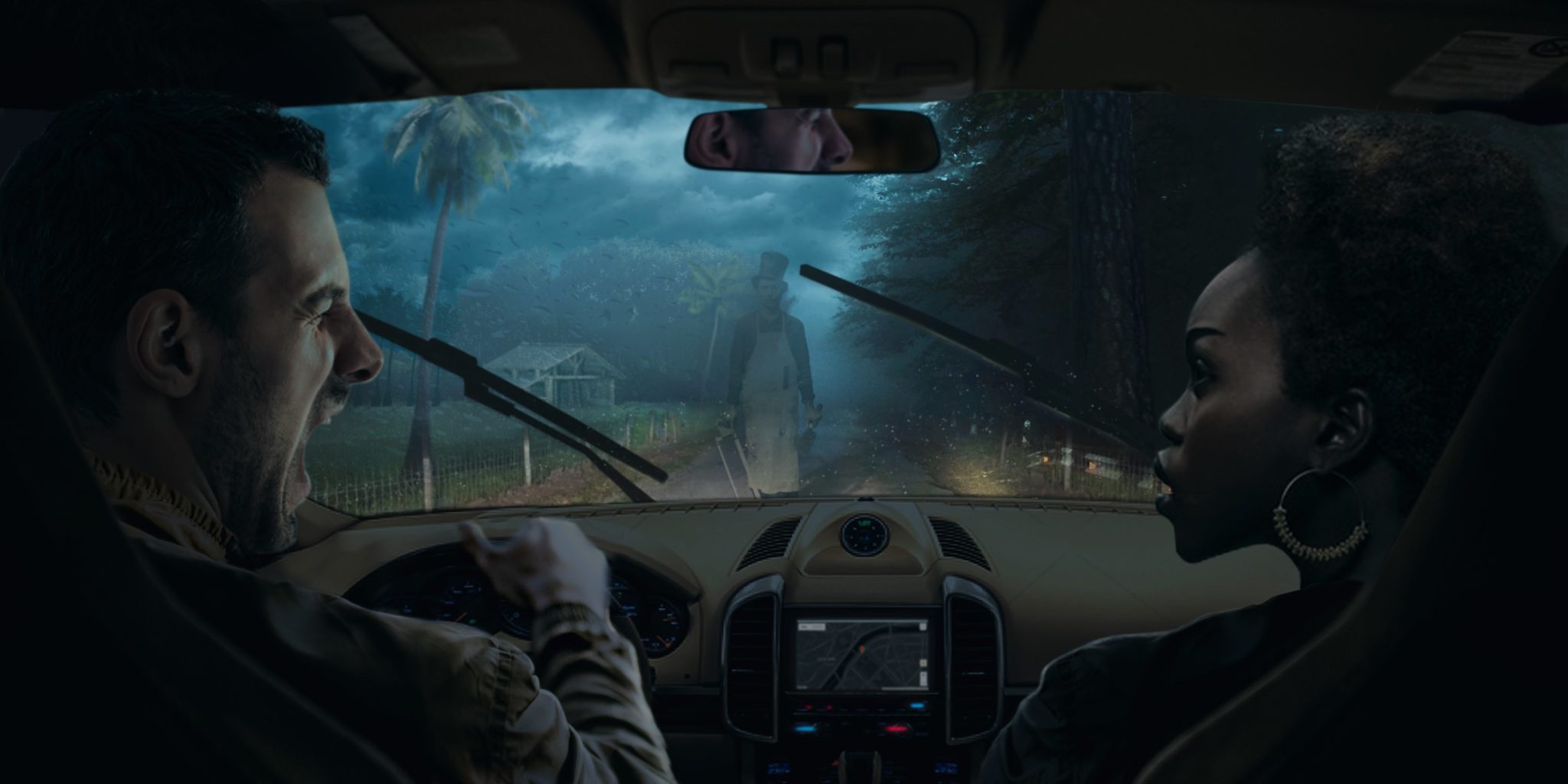 Image credit: The Haunted Road
Brew & View Spooky Series at Ivanhoe Park Brewing Co
Friday nights September 3 – October 29; FREE
The Ivanhoe Park Brewing Co. parking lot will transform into an open-air movie theater every Friday this fall! Park lawn chairs and blankets to enjoy Halloween favorites every Friday night. Food trucks and vendors will be on site to complete the movie experience. The first Friday of each month is family-friendly, while all other weeks are more suitable for adults. Catch classics like Hocus Pocus, Halloween (the original from 1978!), Gremlins, and more.
ENZIAN'S 13 FILMS OF HALLOWEEN
Select dates October 5 – 30, 2021 – (2022 not yet confirmed)
Catch a classic Halloween movie at Enzian Theater and sip on one of the theater's themed cocktails of Halloween available throughout the month. Also check out Eden Bar's annual Halloween party in October, which is happening on October 30 this year.
MUST READ: Where to See Halloween Movies in Orlando this October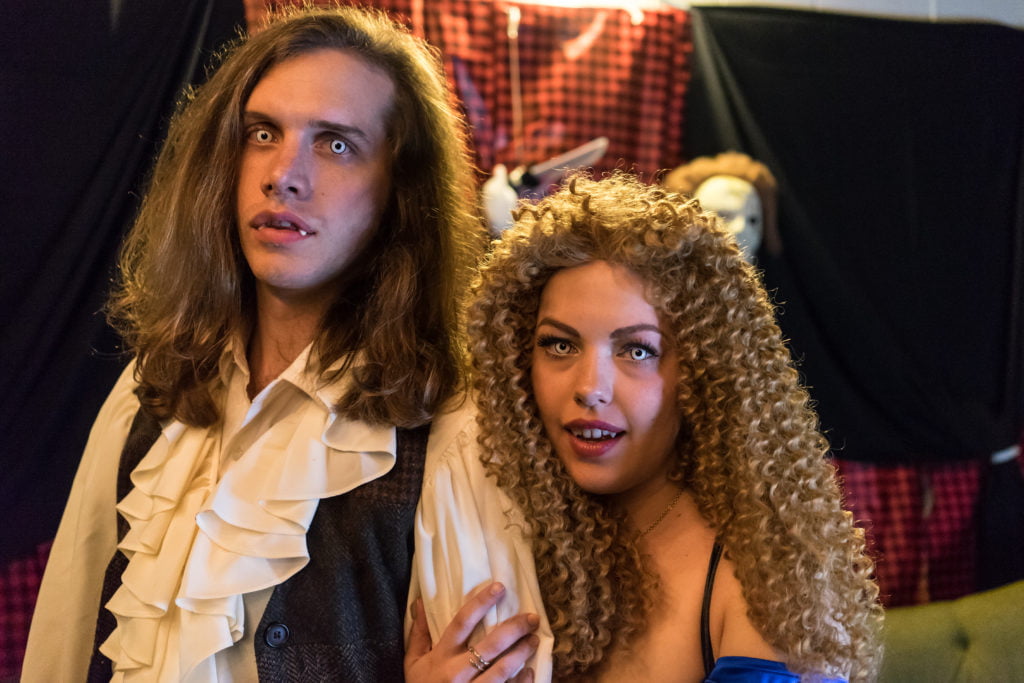 Image credit: Enzian Theater / Eden Bar
Interactive Halloween Movies at Garden Theatre
Garden Theatre in Downtown Winter Garden has two Halloween-worthy interactive movies on the calendar this October. Catch a screening of the iconic Nightmare Before Christmas or revisit a cult classic with The Rocky Horror Picture Show. There will be pre-show entertainment 30 minutes before each movie begins. Tickets are $15.
Nightmare Before Christmas: Sunday, October 16, 2022 doors at 6:30pm
The Rocky Horror Picture Show: Saturday, October 30, 2022 doors at 8pm and Sunday, October 31, doors at 8pm
MUST READ: Where to See Halloween Movies in Orlando this October
MORE WAYS TO CELEBRATE HALLOWEEN IN ORLANDO
These 2022 dates ARE CONFIRMED
Halloween Trivia Night
Tuesday, October 4, 7:30pm
Crooked Can Brewing Company
Halloween related questions from anything and everything Halloween.
Halloween Trivia Night
Thursday, October 6, 7:30pm
Persimmon Hollow Brewing Company (Flamingo Crossings Town Center, FL)
Halloween related questions from anything and everything Halloween.
Milk Mart Spooky Soirée
Sunday, October 2, 2022, noon-6pm
The Milk District – The Nook on Robinson
The best way to kick off the season is with a lazy Sunday full of shopping and eating, right? Come out and shop for new Halloween decor, costume pieces, and all kinds of unique local goodies.
Michael Pink's Dracula
October 20–23, 2022
Steinmetz Hall – Dr. Phillips Center
Pulse-quickening theatrics take center stage in this heart-pounding story of seduction and sacrifice.
The Night Market and Zombietoberfest
Saturday, October 22, 2022, 5-10pm
The Audubon Park Garden District's Night Market at Audubon features locally and regionally made crafts, food trucks, vintage, art, photography, DJ, live music, cash bar and fortune tellers. Part of Zombietoberfest, it is Orlando's most original Halloween festival.
Spooky Empire
October 21 – 23, 2022
Check out Florida's premier horror convention just in time for Halloween in Orlando! This annual convention takes place Orlando Orange County Convention Center and includes vendors, a film and tattoo festival, music, celebrity speakers, and more for lovers of the spooky season. Single day passes are $40 – $60, and weekend passes are $80 (when purchased in advance).
Winter Garden Halloween Experience
October 21 – October 31, all day with special programming on Friday/Saturday/Sunday evenings
Why celebrate Halloween on one day when the fun can last 10 days! Activities include outdoor animated Halloween Light Shows on City Hall as well as live music, shows, and pop-up street performers on Friday/Saturday/Sunday evenings; a hay maze; holiday-themed photo locations; decorations and light displays; merchant themed decorations and food items; fall themed Farmers Market, and more!
All events are FREE admission.
Avalon Park Spooktacular
Saturday, October 29, 2022, 5-9pm
Downtown Avalon Park's Halloween Event will feature trick or treating, performances, bounce houses, and a number of food trucks. Best of all, admission to this Halloween event in Orlando is totally free.
Other Halloween Events 2021 – Dates for 2022 TBD
2022 dates are still being confirmed. 2022 information will be updated as dates are confirmed
ICEBAR ORLANDO'S Dia De Los Muertos Halloween Block Party
Sunday, October 31, 2021, 5pm-2am – (2022 not yet confirmed)
Head to International Drive for ICEBAR Orlando's Dia De Los Muertos Halloween Block Party. Celebrate Halloween with bone-chilling cocktails and atmosphere, thrills and chills and costume contests. Event admission starts at $15.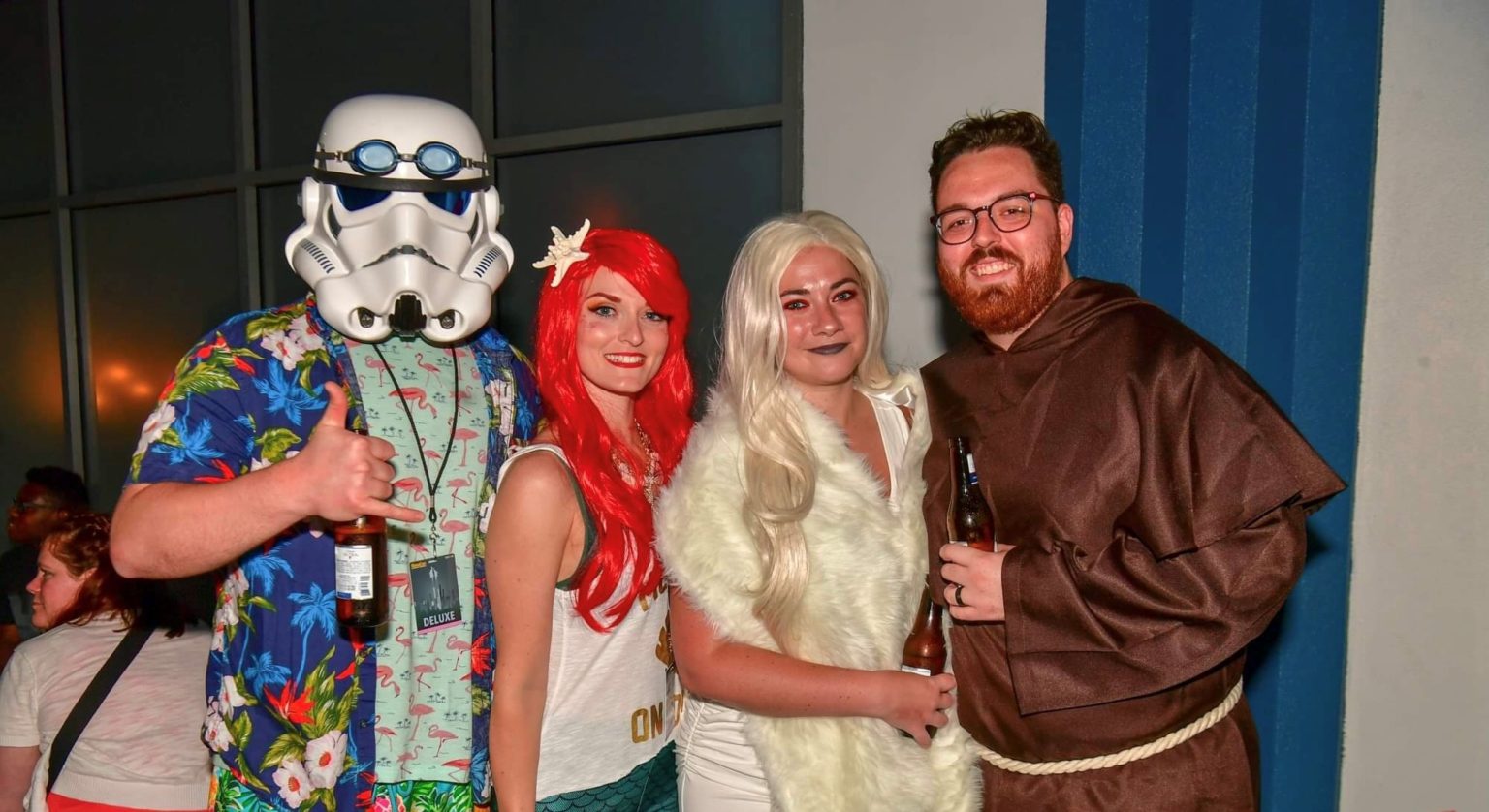 Image credit: ICEBAR Orlando
GAYLORD PALMS GOBLINS & GIGGLES WEEKENDS
September 10 – October 31, 2021 – (2022 not yet confirmed)
This year's Goblins and Giggles Weekends at Gaylord Palms features an escape room, a Monster Mash bash, Jack-o'-Lantern walk and much more. Couples won't want to miss the Spookeasy bar experience, a haunted hideaway straight out of the prohibition era featuring spine-chilling craft cocktails and a spooky atmosphere. Other themed offerings include a nightly 9pm Halloween light show in the atrium.
WonderWorks Outta Control Spooktacular Magic Dinner Show
October 1- 31, nightly at 6pm with additional show at 8pm select nights – (2022 not yet confirmed)
Join Jack the Trickster and Kevin as they present their frighteningly funny, family-friendly, monster-mashup of magic and comedy with a special Halloween flair. Objects will move on their own, the lights will flicker, and tables will even levitate inches away from your face.
SpookNona
Select nights October 7 – 21, 2021 – (2022 not yet confirmed)
Lake Nona's annual Spook Nona will be taking place in Town Center the entire month of October with a Pumpkin Patch at Boxi Park, Monster Movie Nights, Grave Yard Smash Party, and other activities and treats the whole family will enjoy.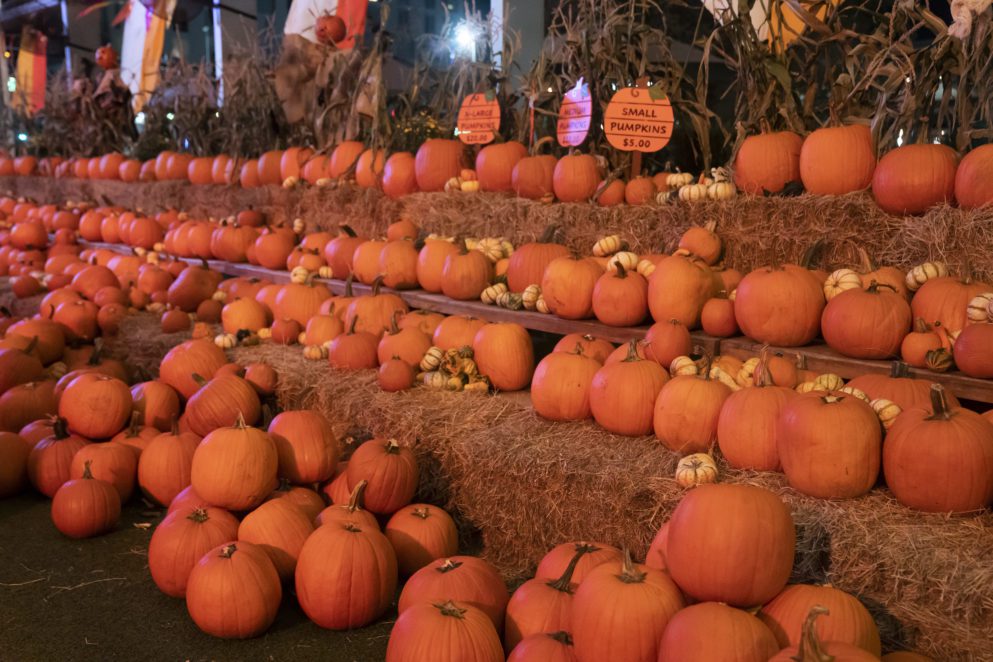 Image credit: Lake Nona
Gatorland's Gators, Ghosts And Goblins
October 9, 10, 16, 17, 23, 24, 30, 31, 2021 – (2022 not yet confirmed)
Stroll through spooky areas, search for Cryptids in "The Crocs and Cryptids Zone" where you might find Gatorland's very own Skunk Ape, then grab your Lederhosen for Frank & Stein's Ooky Kooky Octoberfest, featuring live music from an undead polka band as well as German Beer and food for purchase! Guests can wear costumes, just nothing scary or gory. The Halloween activities are included with regular park admission.
13th Annual Dia de los Muertos & Monster Party
Thursday, October 21, 5:30-11pm (opening reception) – (2022 not yet confirmed)
This unique art exhibition at CityArts will be paired with an outdoor experience on opening night that will feature food, drinks, entertainment and spooky art vendors. Tickets are $5/person for the event, and $40 for the outdoor dining experience.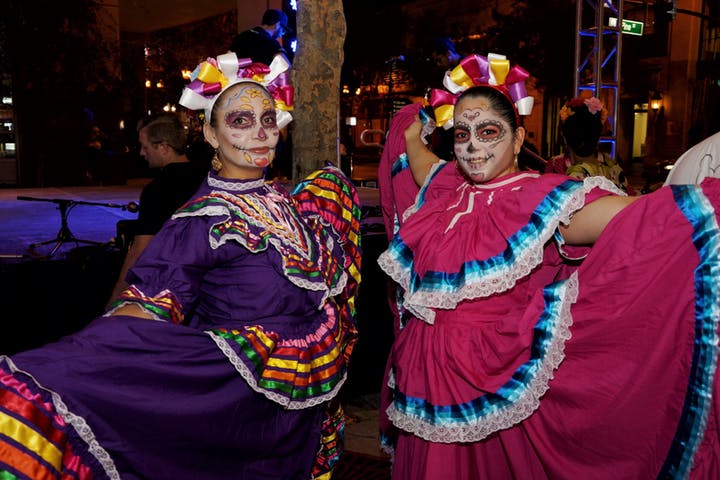 Image credit: CityArts
Paranormal Investigations at the Waterhouse
October 22, 23 and 29, 2021, 6:30-10:30pm – (2022 not yet confirmed)
For years, people have shared stories of moving furniture, flickering lights, and disembodied voices at the Victorian Waterhouse Residence on Lake Lily. To explore these mysteries, Art & History Museums of Maitland has partnered with American Ghost Adventures. During your visit, you will have a chance to try out some ghost investigation equipment, learn about the different types of haunts, and discover more about the people who lived and sometimes died at the Waterhouse Residence. Three tours per night at 6:30, 8:00, and 9:30. Tickets are $45.
Halloween Week at The Pub Orlando
October 22 – October 31, multiple events – (2022 not yet confirmed)
Head to The Pointe on I-Drive for multiple Halloween week happenings at The Pub. Festivities include a Spooky Empire Zombie Walk pre-bash (October 22 from 12-3pm), the Pub's annual Halloween costume contest with a $500 grand prize (October 23 beginning at 9pm), the 1st Annual Pub Pumpkin Carving Competition (October 26 from 6-8pm) and the 1st Annual Kids Costume Brunch (October 30 from 12-3pm). Plus, get a free 16oz Pumpkin Beer anytime October 22 – 31 as long as you're dressed in your full Halloween costume.
Halloween in Havana – Nightmare on I-Drive
October 29 – 30, 11pm – 2am – (2022 not yet confirmed)
Dance the night away in your costume at Cuba Libre, located at The Pointe on I-Drive. There will be a costume contest both nights with prizes included $300 cash (first place), VIP bottle service for two (second place) and dinner for two at Cuba Libre Restaurant and Rum Bar (third place). Enjoy salsa, merengue, bachata and Latin fusion Friday night with DJ Benny Velez, and Latin open format with DJ Big Dave on Saturday.
Wekiva Island Halloween Costume Contest
Saturday, October 30, 7-10pm – (2022 not yet confirmed)
Head to Wekiva Island for a Halloween party and costume contest for a chance to win prizes. There will be food, live music and drink specials. Costumes are strongly encouraged, but not required to attend. FYI, you must be 21+ to enter the costume contest.
8th Annual Thornton Park District Halloween Block Party
Saturday, October 30, 9pm-2am – (2022 not yet confirmed)
Head to the Thornton Park District aka "Downtown for Grown-Ups" for this festive annual street party celebrating Halloween. Festivities include a costume contest with cash prizes ($500 – $1,000), DJ's Blue Star & LaLa, go-go dancers, stilt walkers & fire dancers from Vaudeville Entertainment, a Dark Arts indie market, outdoor bars and so much more. Tickets are $10 before October 30, and $20 the day of the event.
Feature Image credit: ©2018 Universal Orlando. All Rights Reserved.