Outdoor dining on International Drive in Orlando is truly a contender for great dining and date night experiences. International Drive (or I-Drive) has earned its fame as a major artery of things to do and see. From hotels and premium shopping to tourist attractions and dining experiences, International Drive stands out as a true showcase of the Orlando area.
With all the goings-on, dining al fresco on I-Drive is a fun way to enjoy a meal with plenty of visual interest. Check out some of our favorite patios, courtyards, and terraces for your next date!
And for an even more comprehensive list, check out our guide to 75+ Orlando Restaurants with Outdoor Dining.
International Drive Restaurants with Outdoor Dining
Let's start with three International Drive Restaurants with outdoor dining that stand on their own. Then we'll cover two International Drive destinations that offer multiple restaurants, The Pointe Orlando and ICON Park.
Café Tu Tu Tango
8625 International Drive, Orlando, (407) 248-2222
This art-themed spot features some of the very best Spanish-inspired tapas around. The outdoor dining is somewhat small, especially the outdoor portion of the bar. Still, the energy and unique views of International Drive are all right there.
Bottomless brunch on the weekends and Happy Hour all week. Don't miss the live entertainment on select nights!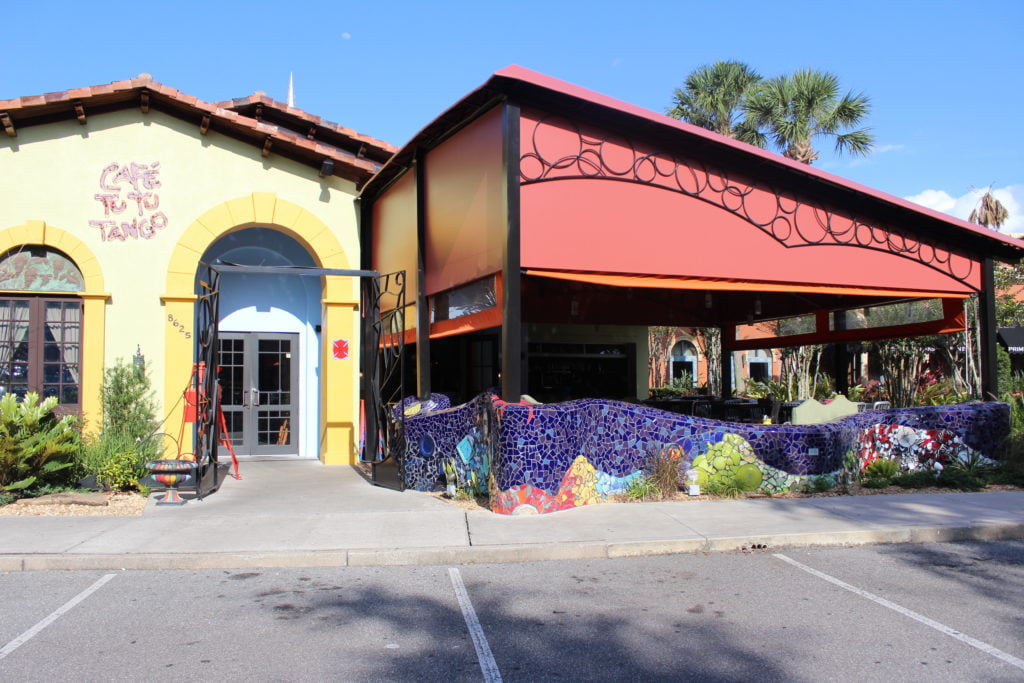 Image credit: Café Tu Tu Tango
Cooper's Hawk Winery
8005 International Drive, Orlando, (407) 956-3400
Handcrafted wines, modern cuisine, and a great wine club. Cooper's Hawk offers tastings and plenty of variety in vintages and food.
Mia's Italian Kitchen
8717 International Drive, Orlando, (407) 601-7130,
Mangia! at this authentic Italian kitchen, with a Sicilian leaning menu. Fresh pasta, and pizzas baked to order are just some of the gems at this cozy spot, where all guests are family. Take advantage of weeknight Happy Hours, and bottomless brunch on Saturday and Sunday.
Restaurants at The Pointe Orlando with Outdoor Dining
This outdoor retail complex on International Drive is a great destination for date nights. Several outdoor dining venues serve up delicious dinners with great views and people-watching. And, The Pointe Orlando experienced a recent refresh adding new energy to this iconic Orlando destination.
Cuba Libre Rum Bar
9101 International Drive, Orlando, (407) 226-1600
Contemporary Cuban cuisine is served in a tropical ambiance with upbeat Latin music. The outdoor dining here puts you in the heart of The Pointe Orlando. Happy Hour, late night menus, and live entertainment are all on the menu!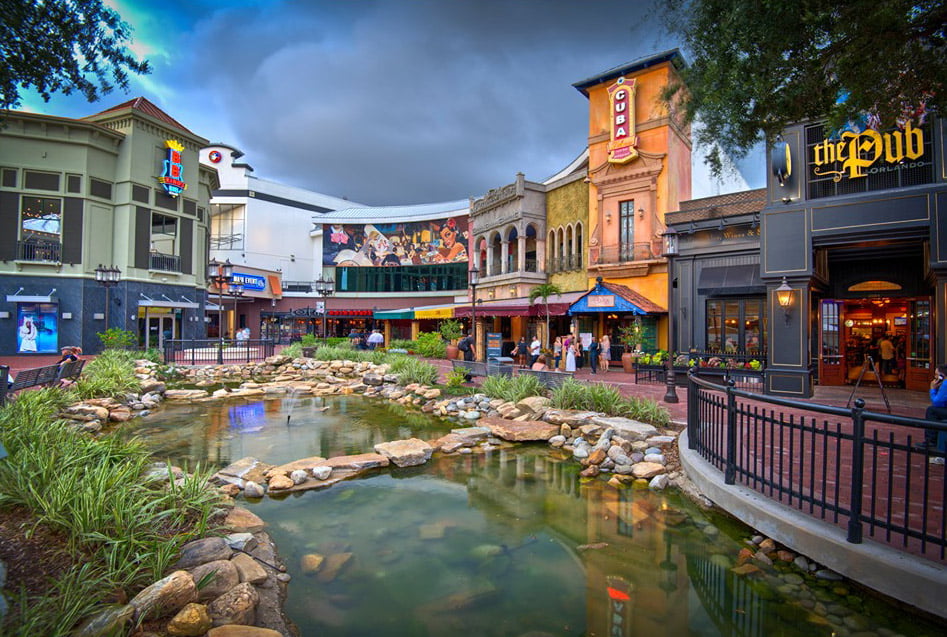 Outdoor Dining at The Pointe Orlando – image provided by The Pointe Orlando
The Pub Orlando
9101 International Drive, Suite 1003, Orlando, (407) 352-2305
Get your fish and chips on at The Pub. The popular pub is right next to Cuba Libre. The outdoor seating is limited here, but does put you in the center of it all.
Weekday Happy Hours, as well as all your favorite British and pub specialties, await.
JoJo's Shake BAR
9101 International Dr Suite 1208, Orlando, FL 32819, (321) 463-5656
Shake things up at the newest spot at The Pointe Orlando. JoJo's Shake BAR features fun 80's and 90's nostalgia with cocktails, mocktails, shareable eats, and mind blowing milk shakes. Outdoor seating at JoJo's offers views of The Pointe Orlando while still carrying on the fun vibes and fun music.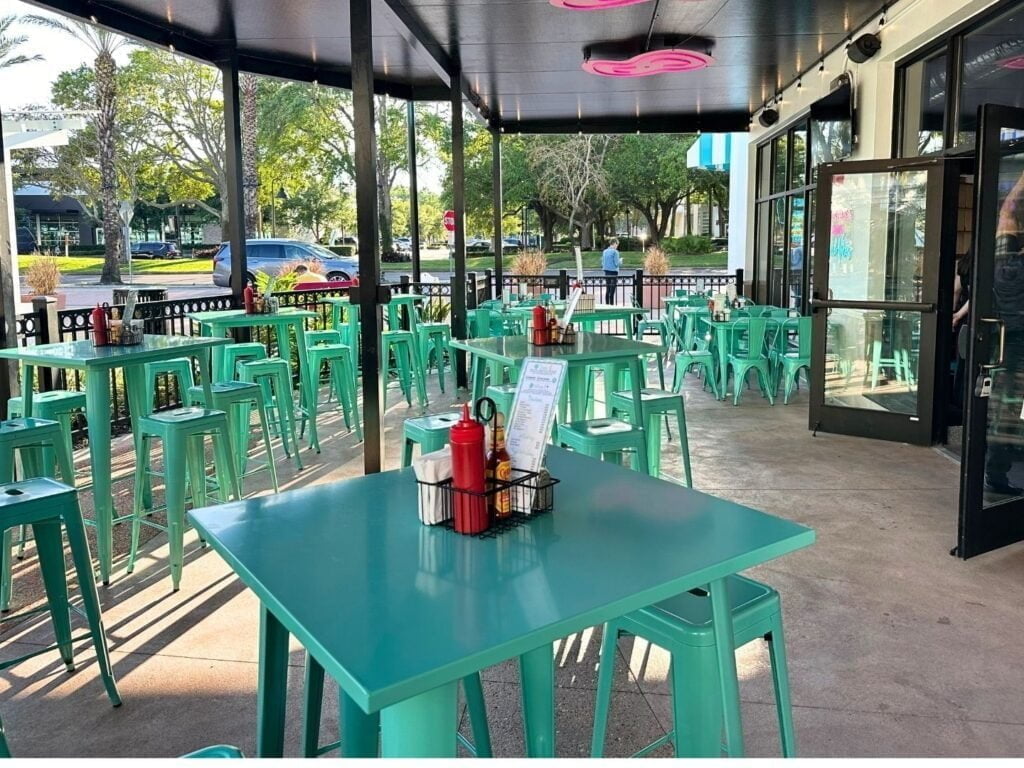 Outdoor Dining at JoJo's Shake BAR Orlando – Jodi Caballero
Hampton Social
9101 International Dr, Orlando, (689) 800-6760
Come out to chill in coastal style, with plenty of cozy outdoor seating, fresh seafood, and cocktails. Open late Thursday and Friday, and for brunch til 3PM on Saturday and Sunday. Don't forget the signature frosé and Hampton Social's mantra of "Rosé All Day!"
The Oceanaire
9101 International Blvd, Suite 1002, Orlando, (407) 363-4801
Voted one of the best seafood restaurants in the country, The Oceanaire is your choice for a romantic date night, full of fresh seafood, excellent wine and specialty cocktails. Enjoy your meal in their cozy sidewalk seating.
Besides having romantic outdoor seating, The Oceanaire is one of our favorite seafood restaurants in Orlando.
Blue Martini
9101 International Dr #1182, Orlando, FL 32819, (407) 447-2583
The place to see and be seen at Pointe Orlando is Blue Martini. The lounge is legendary and has one of the coolest outdoor lounge areas in town. This nightlife hot spot is equally popular with visitors and locals alike. And the outdoor seating area is large with lots of opportunities to soak up the vibes.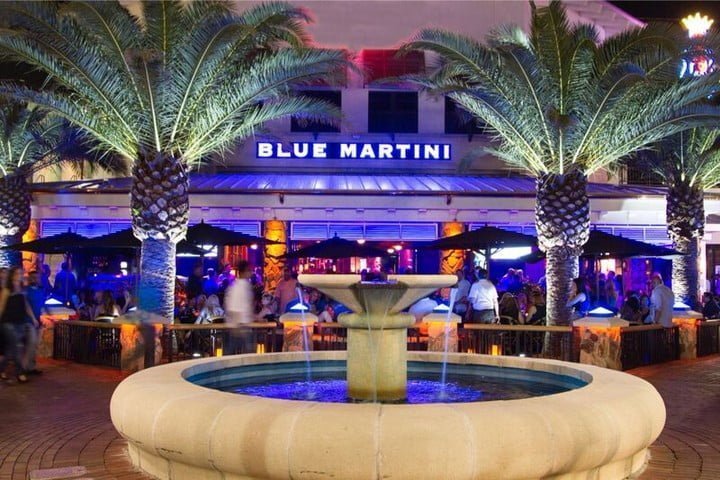 Outdoor Lounge at Blue Martini Orlando – @pointeorlando
Rodizio Grill
9101 International Drive, Suite 1220, Orlando, (407) 593-4422
Come hungry to this Brazilian Steakhouse, serving succulent cuts of the best rotisserie meats straight from the sword. The salad bar and Brazilian sides are always favorites, too!
Taverna Opa
9101 International Drive, #2440, Orlando, (407) 351-8660
Authentic Greek and Mediterranean dishes with both gluten free and vegetarian considerations are up for your enjoyment at Taverna Opa. The nightly belly dancing just adds a level to the experience.
Inside is definitely a party, and the outdoor seating offers some reprieve without missing out on the Mediterranean party atmosphere
ICON Park Dining on International Drive
ICON Park itself is an outdoor wonderland, known as Orlando's Hometown Playground, so it only makes sense that it would serve as home base to some of the most fun al fresco dining opportunities in the area. Choose from unique menus, great entertainment, and beautiful scenery, all in view of The Wheel, ICON Park's dazzling centerpiece.
Make it an iconic date night with our guide to Things to Do at ICON Park for Adults.
Sugar Factory
8371 International Drive, Suite 70, Orlando (407) 270-7082
Satisfy your sweet tooth (and then some), with the dreamy confections and fanciful cocktails on the patio at the Sugar Factory! There are plenty of choices for entrees, but the real attractions are the signature Goblets, smoking with dry ice, extreme milkshakes and sundaes for two!
Tapa Toro
8441 International Drive, Suite #260, Orlando, (407) 226-2929
This tapas bar and paella pit is famed for nuanced Spanish flavors, served with sangria of course. Enjoy Happy Hour, brunch, lunch, or dinner under azure skies, and be sure to catch the live flamenco dancing!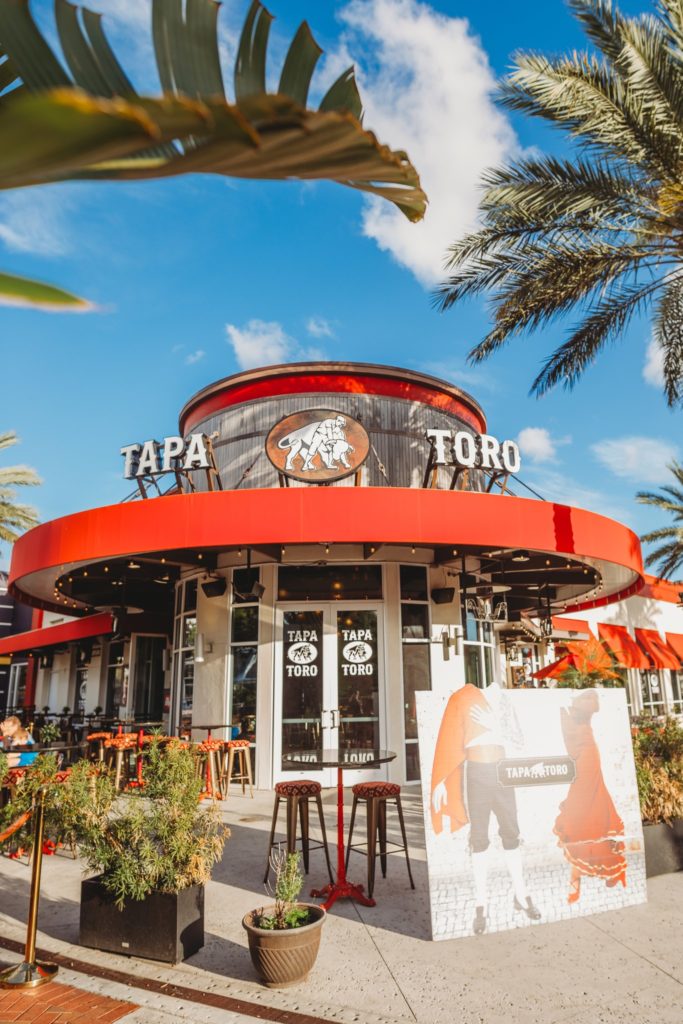 Image credit: Tapa Toro
Uncle Julio's Mexican From Scratch
8409 International Dr, Orlando, (321) 430-0600
Margarita of the month, anyone? Yes, please! Head to the courtyard at Uncle Julio's for Taco Tuesday, Fajita Friday, and Happy Hour to partake of traditional Mexican specialties, while people-watching.
Ole Red Orlando
8417 International Drive, Orlando, (321) 430-1200
Blake Shelton's entertainment complex in ICON Park offers delectable takes on Southern cuisine, served up with live music onstage. Dining outside isn't a problem as tunes are piped through to enhance your experience!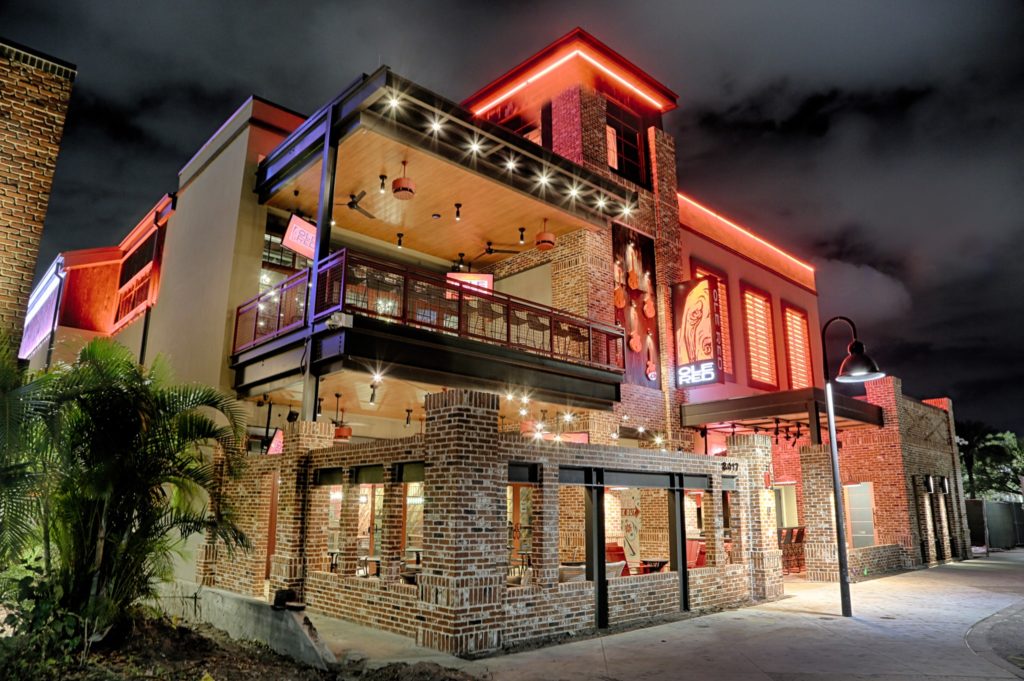 Image credit: Ole Red Orlando
Tin Roof Orlando
8371 International Drive, Orlando, (407) 270-7926
Bar bites, brunch, and Happy Hour at this combo restaurant and bar with live music served up throughout the week. The outdoor bar and dining area puts you at the center of ICON Park where you can see it all.
Yard House
8367 International Dr., Orlando, (407) 351-8220
You'll find one of the largest selections of draft beer at the ICON Park location of the Yard House. In addition, the huge menu covers the gamut, including apps, salads, pizza, sandwiches, and even provides a large selection of gluten free and vegetarian options. There's something for everyone, and it's best served on the terrace!
MORE OUTDOOR DINING:
Orlando Date Night Guide is a free guide to the best of Orlando! We're supported by our advertisers when they buy digital ads, listings, content, and through affiliate links, so some things you read might be paid for or if you buy something thru a link on our site we might get a commission.